Good morning!
First up I have some exciting news. :)
Due to my obsession with all things photography and the million pictures on my hard drives, I have decided to create a Daily Picture page where I will be featuring a daily picture in 4 fun categories.
Each day I will be updating each category with a new picture.
You can click the image below to be taken to the new page.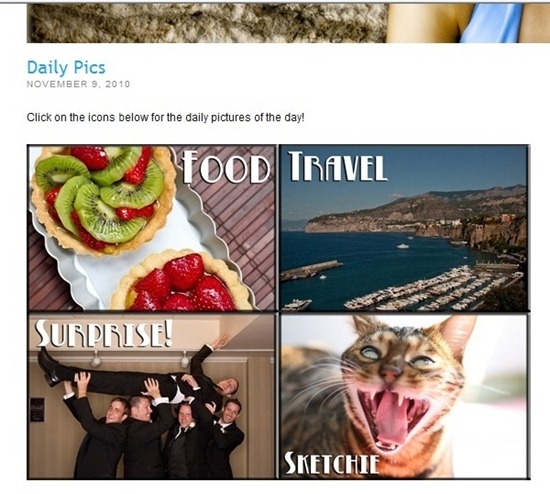 The question is, which category will be visited the most? ;) I'm pretty excited for the 'Surprise' category because I have soooooo many random pictures on my computer.
You can find the Daily Pics link in the category bar at the top of the page now: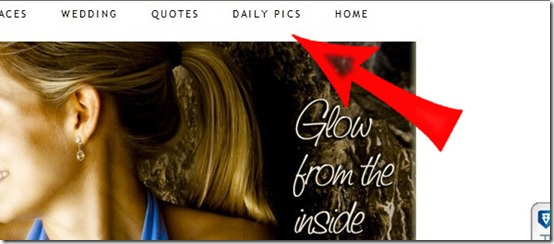 Secondly, I have also added an 'Archives' drop-down menu on the right side bar (underneath the search bar). Many of you have requested this lately, so now it is up! :)
Back to Channa Masala…
Do you ever go out to a restaurant and all you can think about is how much you can't wait to make that dish at home?
And you wish you hadn't stuffed yourself silly so you could go home, get hungry again, and make it that same night?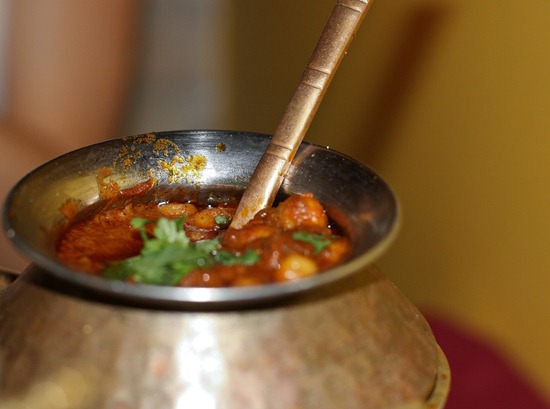 Ok, maybe that's just me…
Last weekend, I met up with Angela to go out to an Indian restaurant called Masala Bay. I ordered the Channa Masala with Saffron rice and it was to die for. They served me a hefty portion and let's just say my jeans were feeling a bit tight on my way out.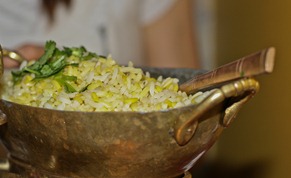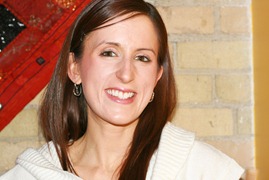 And by a bit tight, I mean that I had to undo the top button of my jeans on the drive home. ;)
The next day I made Channa Masala in the comfort of my own kitchen. Actually, twice in one week!
Spicy foods are perfect for those chilly Fall and Winter days, don't you think? They warm me up and get my temperature a-risin'. Before I know it, I'm peeling off a layer and guzzling a glass of cold water, imagining myself on a hot, sunny beach.
Winter, what Winter?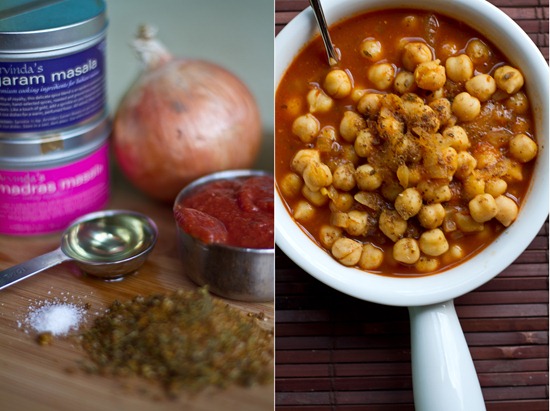 Channa Masala
Winter be gone! This dish packs some heat- have your drink ready! Umbrella optional.
Adapted from Arvinda's.
Ingredients:
4 cups chick peas, cooked
1 tbsp. oil
1 small onion, chopped
1/2 cup canned ground or crushed tomatoes, unsalted
1.5-2 tbsp. Madras Masala, to taste*
1-2 tsp. sugar, to taste (optional)
1.5 cup water (I used 2 cups and it was much too thin)
1/2 tsp. sea salt, or salt to taste
4 tbsp. cilantro, finely chopped, to garnish (optional)
1 tsp. Garam Masala, to garnish (optional)
Directions: Rinse chickpeas and drain. Set aside. In a medium-sized pan, heat oil on medium-high heat and add in chopped onions. Add ground/crushed tomatoes and cook for one minute. Add Madras Masala spice to make a paste (or you can make your own from scratch). Fry paste for a couple of minutes. Stir in cooked chickpeas and add water to make a consistent sauce. Add salt and sugar to taste. Cover and simmer for 10 minutes. Serve with basmati rice (optional). Serves 4.
Note: If you aren't using a spice mix, you can also make your own. See here.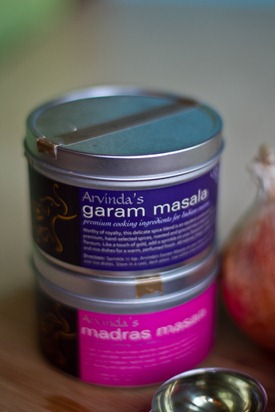 I love Arvinda's spices. I have had the pleasure meeting the owners of Arvinda's at the farmer's market and they could not be nicer people. They are a local business out of Oakville, Ontario.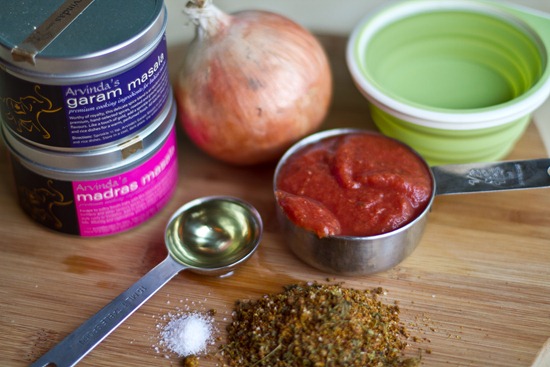 Lots 'o chickpeas.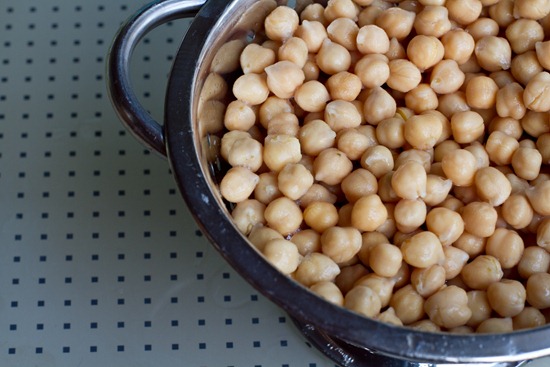 I doubled the original recipe so I would have lots of leftovers for the week ahead.
Leftovers rule and dishes drool.
Start by heating up the oil and adding the chopped onion.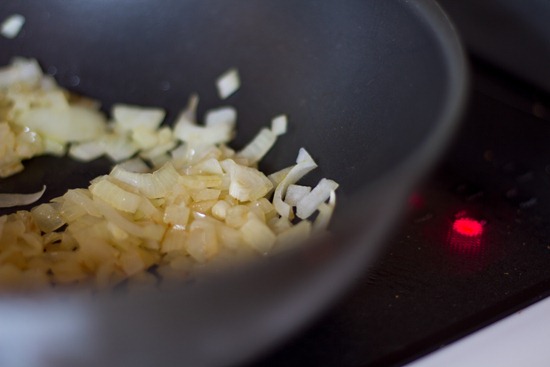 Cook on low until it caramelizes after about 5-8 minutes and then add the crushed tomato.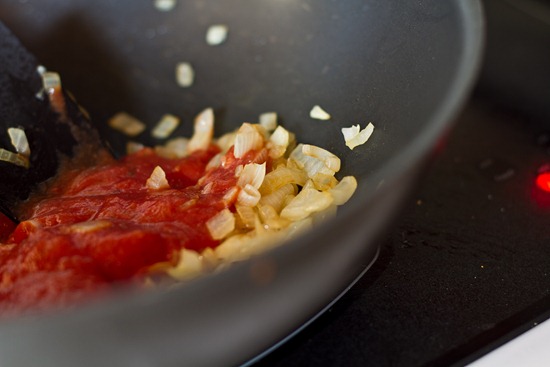 Cook for another few minutes and now add the Masala spice. I also added the salt at the same time because it was on my board, but you might want to wait until the end to taste test first to see if it needs any salt.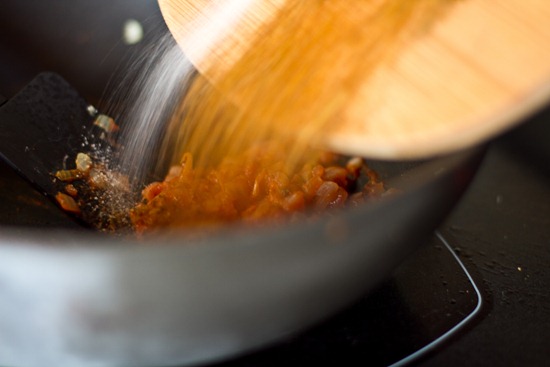 Stir well to form a thick paste.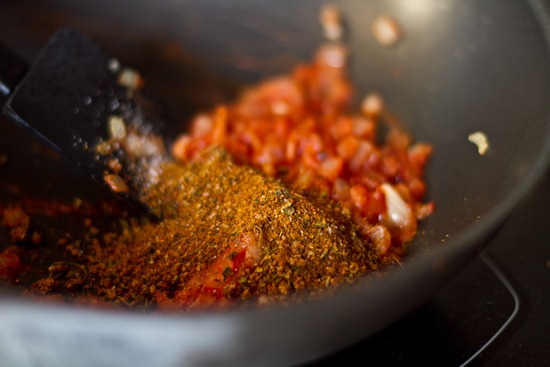 Looking good with the sunset pouring through the kitchen window.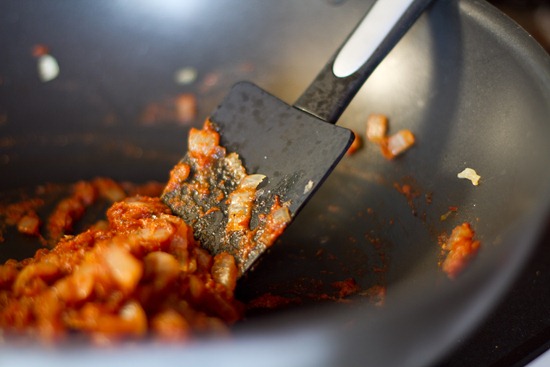 Now add the chickpeas and stir well.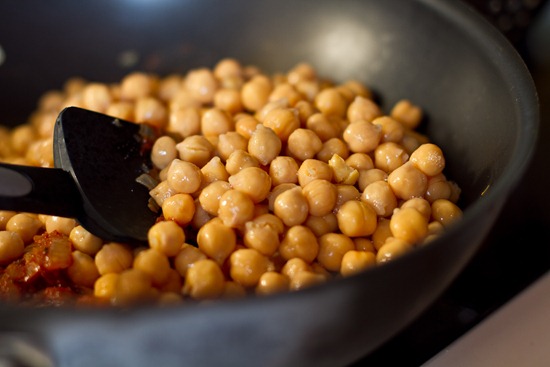 Add water and optional sugar.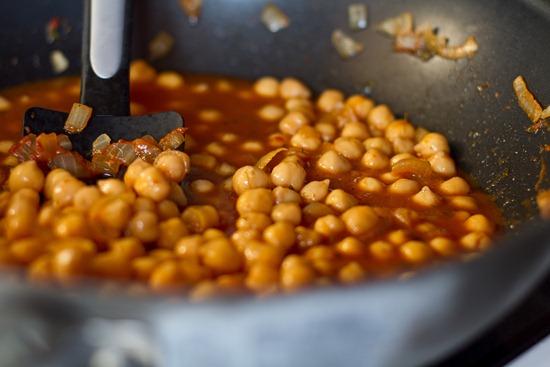 I used 2 cups of water, but I would suggest using 1-1.5 cups of water if you want it thicker and more paste-like. It was too thin for my liking.
Finally, simmer for 10 minutes. Sneak little bites from the skillet and go, 'Mmmm!'
That wasn't so hard, eh?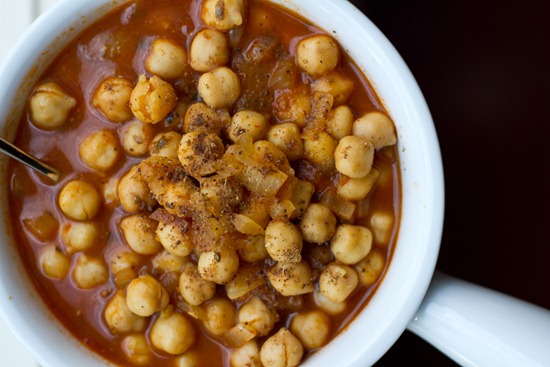 Garnish with Garam Masala.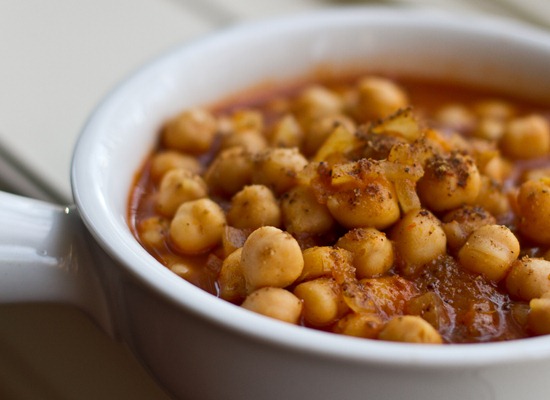 This dish is hot, hot, hot….almost too spicy for me, but I was a trooper. Hot flashes ensued, but I loved it.
Eric, on the other hand, will not go near spicy food, so I guess it is all for my belly!
Do you like spicy food? Are you an Indian food lover? Have you ever re-created any restaurant dishes at home?