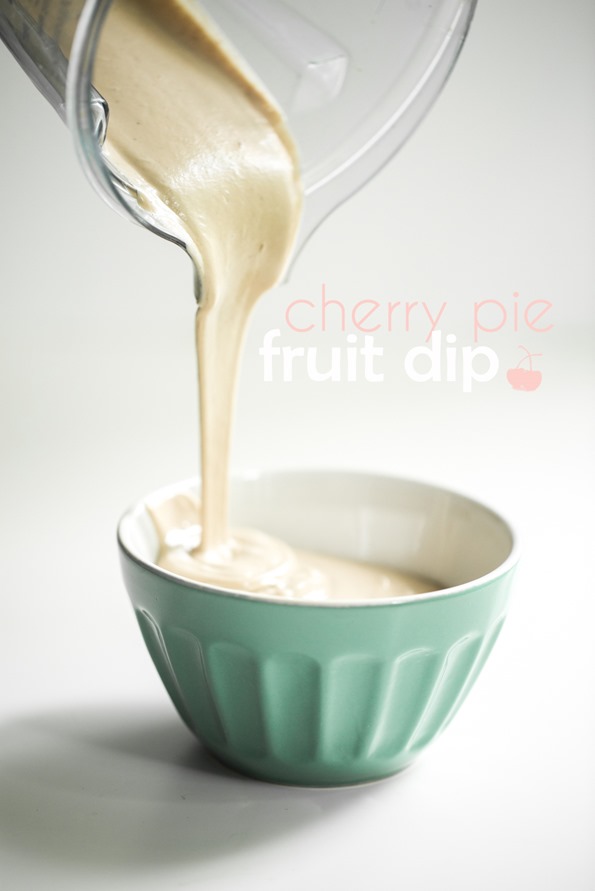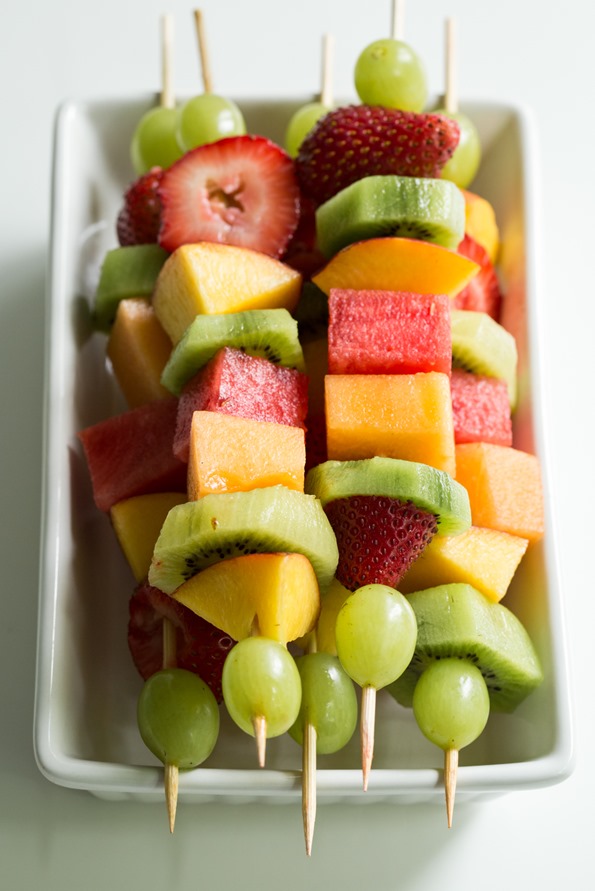 If you've ever wanted to fancy-up fresh summer fruit without much fuss, this is your solution. This dip is creamy and luxurious with a hint of cherry-vanilla flavour. Throw some fruit onto a kabob for a special event or just drizzle it onto a bowl of fruit for a quicker option. Heck, it's even great drizzled on granola and yogurt, pancakes, and fruit crisps. You can't go wrong if you tried!
I blended soaked cashews with almond milk, cherries, vanilla, and coconut syrup creating a decadent, lightly-sweetened dip free of dairy. Eric went crazy over this dip and he isn't even a dip person, so there you go. You will probably have to hide it.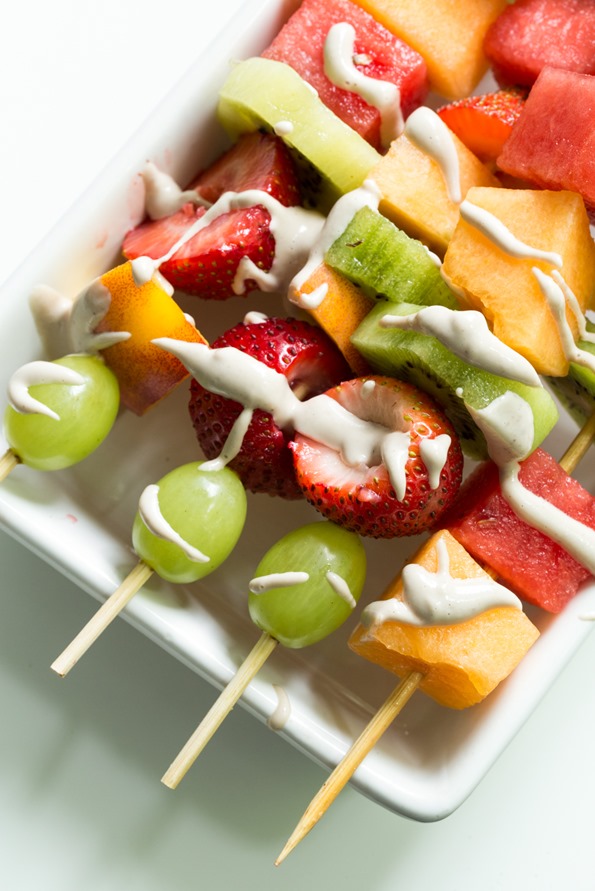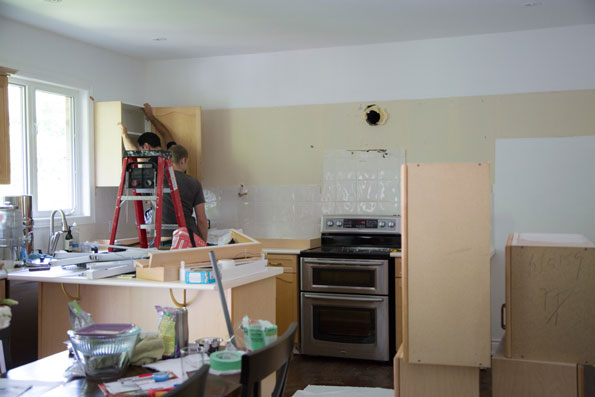 Sunday evening, we emptied our kitchen cupboards to prepare for the kitchen reno. The dishes, gadgets, glasses, appliances, and food now have a home in our previously empty dining room. On Monday, Eric and our friend Pete started to take the kitchen cabinets apart. Several hours later the kitchen was empty! I'm saying goodbye to a working sink, oven, counter tops, and dishwasher for the next month and a half or so. So far the biggest "emergency" has been my missing dark chocolate stash (the horrors!), so I can't complain too much. But have you ever seen a 31-week pregnant lady riffling through boxes to find her chocolate? It wasn't my proudest moment.
So here we have it – an almost blank slate. The sad, beige tiles will be ripped off today and the electrical work starts tomorrow. I created a new Instagram account for non-food related things (like renos, life stuff, pregnancy, etc) so you can follow along @theglowspot if you'd like to see updates!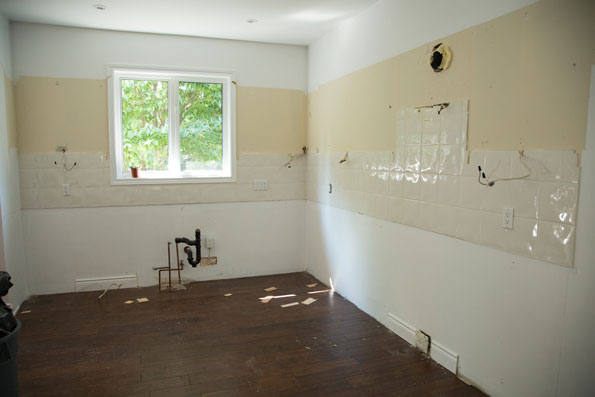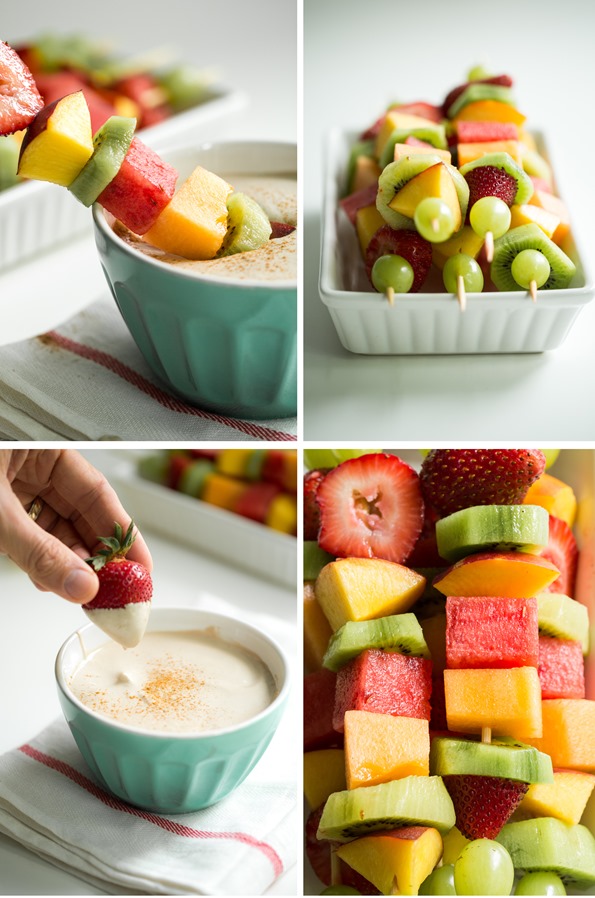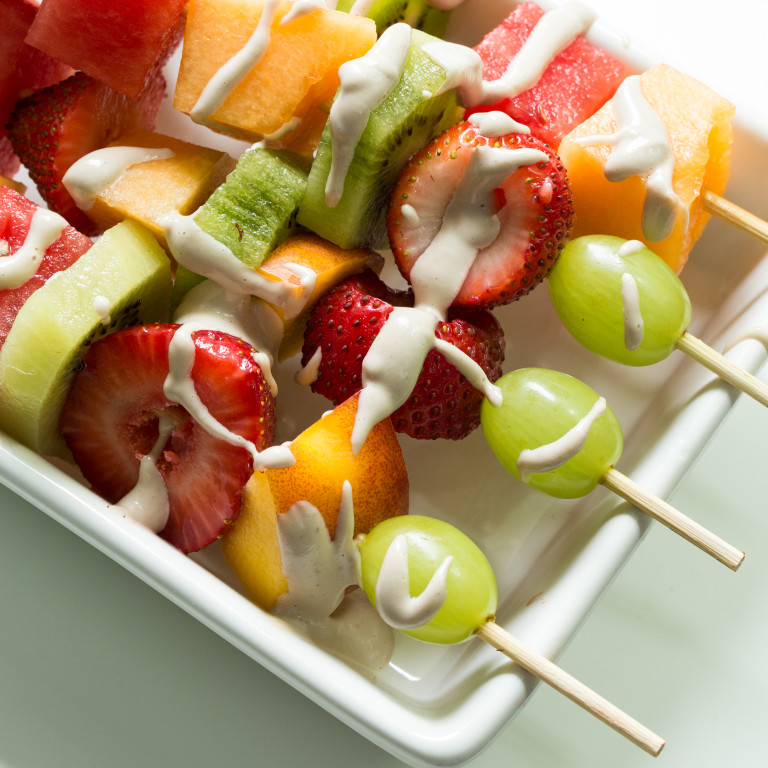 Creamy Cherry Pie Fruit Dip with Rainbow Fruit Kabobs
Vegan, gluten-free, grain-free, no bake/raw, oil-free, refined sugar-free, soy-free

Yield

1.5-2 cups
Prep time

Cook time

0 minutes
Total time

The creamiest non-dairy fruit dip ever! Soaked raw cashews form the base of this creamy, lightly sweet dip. Drizzle it on fresh fruit, oatmeal, fruit crumbles, pancakes, waffles, and more.
Ingredients
For the fruit dip:
1 cup raw cashews, soaked
1/2 cup + 1-2 tablespoon almond milk (or non-dairy milk of choice)
1/2 cup frozen or fresh pitted cherries
1 teaspoon pure vanilla extract
2-3 tablespoons coconut nectar syrup (or liquid sweetener of choice), to taste
for the kabobs:
Fruit of choice (I used strawberries, cantaloupe, grapes, nectarines, kiwi, watermelon)
Skewers
Directions
Place the cashews in a bowl and cover with an inch of water. Soak overnight or for at least 8 hours. If using a Vitamix you can get away with soaking for only 2-3 hours. Drain and rinse the cashews thoroughly.
Add the almond milk into the blender followed by the drained and rinsed cashews, pitted cherries, vanilla, and sweetener. Blend on low and increase the speed gradually until blending at full speed. Keep blending until the mixture is velvety smooth and doesn't have any texture to it. You can add a splash more milk if you need to help the blender along.
Chill the fruit dip for a few hours (or overnight) for the best flavour, but you can also enjoy it right away if desired.
Prepare the fruit kabobs (if making) or simply drizzle the fruit dip over a bowl of fruit.
The fruit dip will keep in a sealed container in the fridge for about 1-1.5 weeks, possibly longer.
Tip:
Tip: For a nut-free fruit dip option, try making coconut whipped cream instead. You can mix a bit of chia seed jam into it for a similar fruity effect.
Nutrition Information
(click to expand)