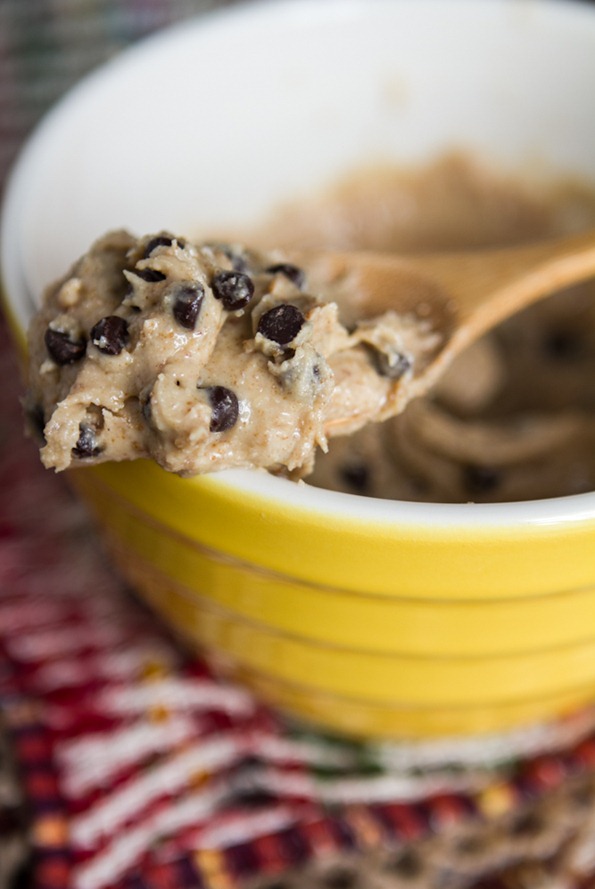 Doesn't this look like a big bowl full of cookie dough? Well, it's not…exactly. It's nut butter that tastes very similar to cookie dough. I made this cashew macadamia nut butter for my sister Kerrie and my cookie-dough lovin' niece and nephew. After clenching the jar for a few awkward seconds, my sister was finally able to pry it from my death-like grip. That's some good nut butter.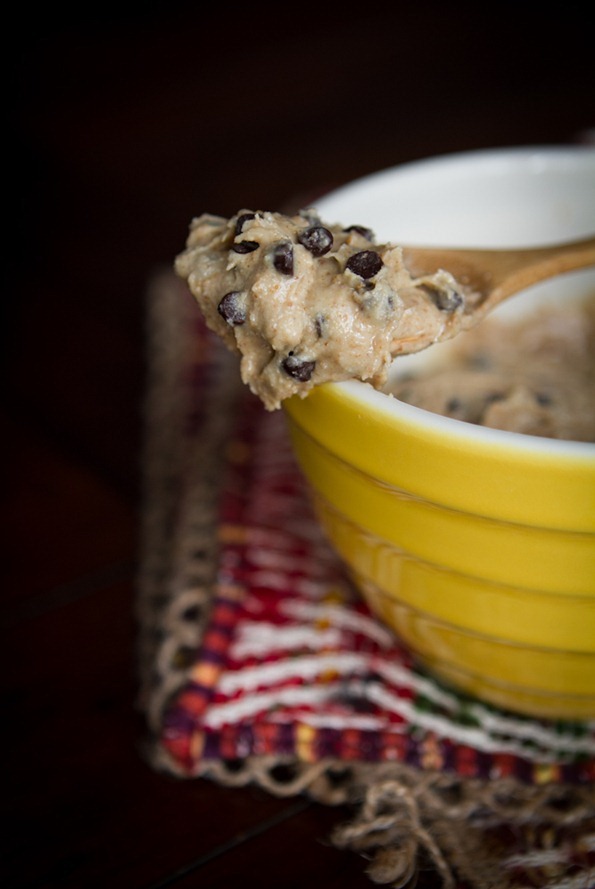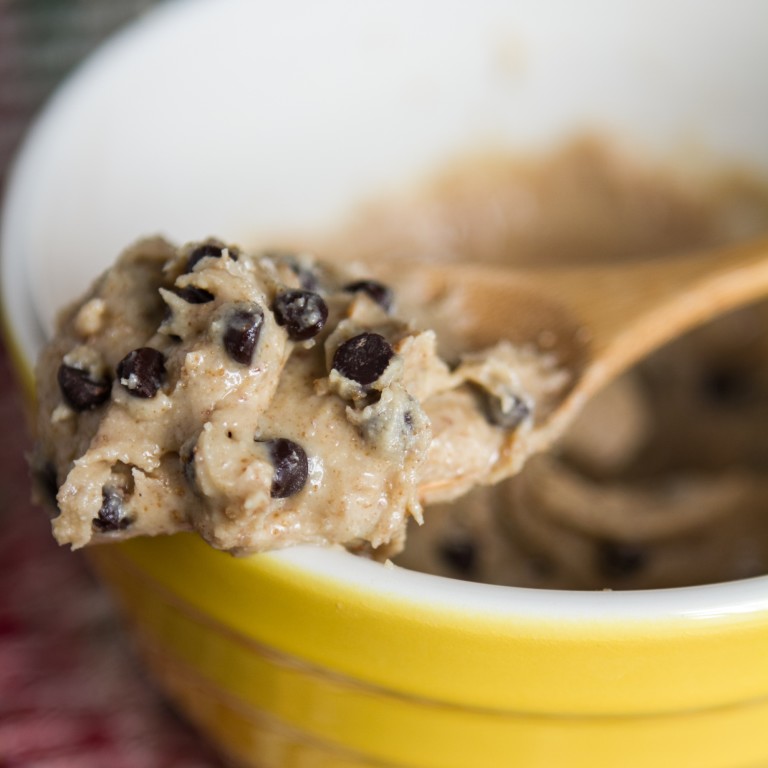 Cookie Dough Nut Butter
Vegan, gluten-free, no bake/raw

Yield

1 1/4 cup
Prep time

Cook time

0 minutes
Total time

Nut butter that tastes like cookie dough. No, you aren't dreaming!
Ingredients
2 cups raw cashews
1/2 cup raw unsalted macadamia nuts
2 tbsp coconut sugar
2 tbsp Sucanat
1/2 tbsp natural cane sugar
1/2 tbsp non-dairy buttery spread
1.5 tsp pure vanilla extract
1/4 + 1/8th tsp fine grain sea salt, or to taste
1/4 tsp cinnamon
1/4 cup mini dairy-free chocolate chips (I used Enjoy Life brand)
Directions
Place cashews and macadamia nuts into a heavy-duty food processor and process until the mixture resembles a smooth nut butter, stopping to scrape down the side of the bowl if necessary. This can take upwards of 10 minutes of processing, so be patient.
Process in the sugars, buttery spread, vanilla, salt, and cinnamon, adding gradually. The sweeteners will at first thicken the nut butter quite a bit, but keep processing and the heat will eventually melt the sugar and smooth out the nut butter once again. If it still looks too thick, keep processing! You can add a touch of coconut oil to get things going if you have to.
Now here is the hard part – when your nut butter is finished processing, you need to pop it into the fridge to chill. If you don't chill it, the chocolate chips will melt right into the nut butter and turn everything brown. Once it's chilled enough (I simply left it in the fridge for a few hours), give it a good stir and test a few chips to see if they melt. If they don't melt proceed with stirring in the rest of the chips. Store in the fridge in a sealed jar or container for 4 weeks (or longer). The nut butter will harden slightly when chilled but will soften again at room temperature.
Tip:
1) Macadamia nuts, thanks to their high oil content, create a super silky and decadent nut butter. I've found that processing cashew butter on its own creates a fairly thick nut butter which is why I've added mac nuts in this recipe to thin it out.
2) If you don't have coconut or Sucanat sugar, organic brown and natural cane sugar may work but you probably won't need to use as much since they are a bit sweeter. I do not recommend subbing the dry granulated sugar for a liquid sweetener like maple syrup as it can produce a strange, thick texture.
Nutrition Information
(click to expand)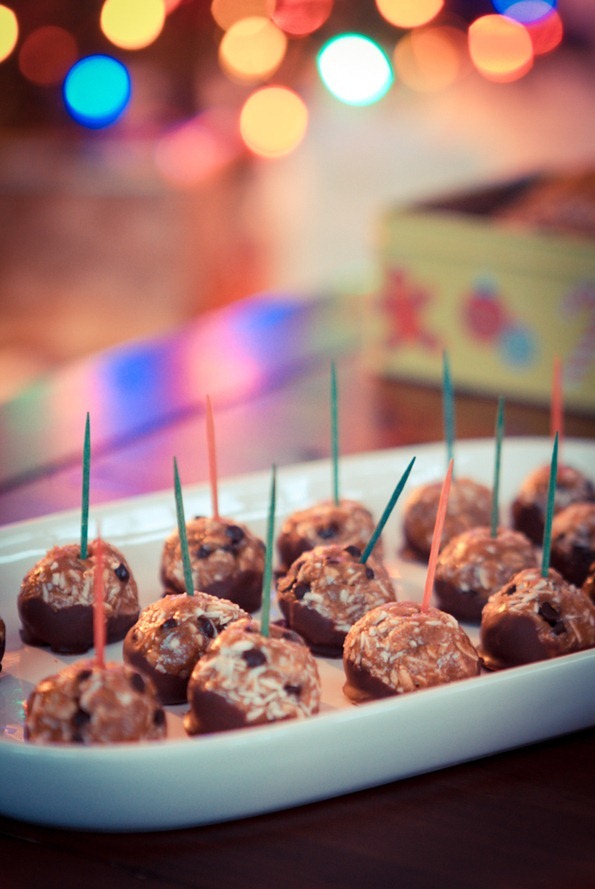 I had 1/2 cup of cookie dough nut butter left over so I promptly turned it into Double cookie dough balls for our Christmas party. They were gobbled up by kids and adults alike! This is my 5th cookie dough ball recipe since 2009. Given that it seems to be my mission in life to create the perfect vegan cookie dough balls, I can't say it will be the last.
Click here for the Double Cookie Dough Balls recipe.
~~~~
I may pop in again next week, but if I don't I want to wish you a happy, fun, and safe holiday! Thank you for filling my year with so much love and positive energy. This passion of mine wouldn't be nearly as fulfilling if it didn't involve all of you, inspiring me each day from the other side of the screen.