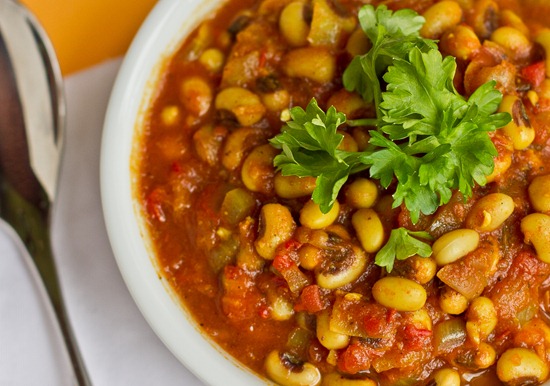 I know I am a little late with my New Year's Black-eyed pea recipe, but better late than never, right?
And to be fair, I totally wasn't feeling the Black-eyed peas on January 1st. I just could not bring myself to eat them.
I have what you call an 'on-again/off-again' relationship with Black-eyed peas. When I want them, I find them slightly more than tolerable and when I don't want them, I really don't want them. I also can't say I have ever had an actual craving for Black-eyed peas. Typically, I buy a bag at the beginning of the year and they do not resurface in my diet for 11 months.
From February until December, we are officially broken up.
With that being said, I really did enjoy this dish from Susan, despite all the Black-eyed pea relationship troubles of my past.
And Eric, who has been a notorious bean/pea hater all his life, had an awakening at lunch today….
I guess these peas can be lucky after all.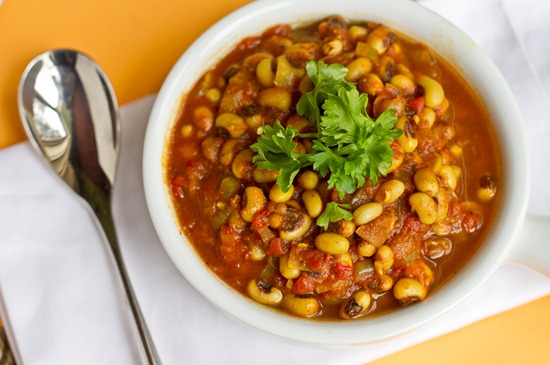 [print_this]
Black-Eyed Pea Masala
Adapted from Fat Free vegan Kitchen.
Yield: approx 6 cups
Ingredients:
1 tbsp extra virgin olive oil (or oil of choice)
2 cups uncooked black-eyed peas
1 large onion, diced
1 teaspoon ground cumin
1 teaspoon ginger-root, minced (or more to taste)
3 small cloves garlic, minced
Pinch of red pepper flakes
1 teaspoon turmeric
3 cups canned diced tomato (approx one 28oz can)
1.5-2 teaspoons garam masala, to taste (I use Arvinda's)
1-2 teaspoons sugar, or to taste
1.5 teaspoon salt, or to taste
Chopped parsley or cilantro, to garnish
Rice or bread, for serving
Directions: Optional: Soak the black-eyed peas overnight for 8 hours. This reduces cooking time, but it is not required and I skipped this step. Rinse the dried black-eyed peas and strain. Place into a medium sized pot with water about two inches above the peas. Bring the water to a boil and then simmer for about 20 minutes. Turn off heat and let peas stand in the pot while you prep the rest of the meal.
In a large skillet, add 1 tbsp of oil over medium heat and add the chopped onions. Cook, stirring, until onions soften, about 6-8 minutes. Add the cumin, ginger, and garlic and stir for about 1-2 minutes.
Add the drained peas and all remaining ingredients. Add 2 cups of water and bring to a low boil. Cover (if preferred) and simmer until the black-eyed peas are tender about 20-40 minutes, depending on how much your peas were soaked/pre-cooked beforehand. You can keep checking the peas to assess tenderness. They should be tender, but still chewy and slightly firm. Check seasonings and add more salt and garam masala if necessary.
Sprinkle with parsley and serve with brown rice or fresh bread. Makes approx. 6 cups.
[/print_this]
You can soak the peas in water overnight, but of course I forgot to, so I skipped this step. It will speed up the cooking time a bit if you soak them, but it is not necessary. I did what Susan calls a 'quick-soak' (or pre-cook), where you bring the peas to a boil, turn off the heat, and then let them stand in the pot.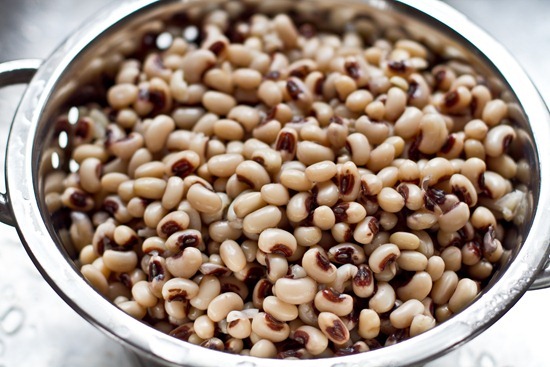 I brought the peas to a boil and let them stand for about 20 minutes while I prepped the rest of the recipe. It worked great.
Gather the ingredients…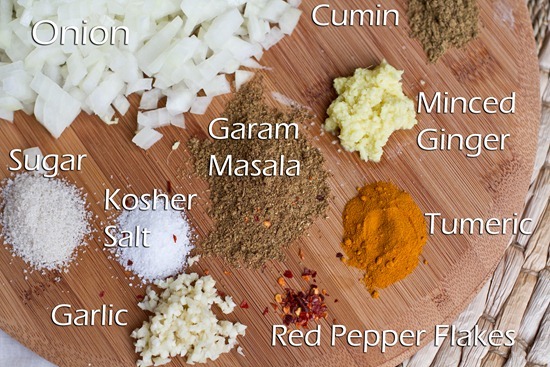 This dish packs a ton of healthy spices loaded with antioxidants…love that.
Crushed canned tomatoes…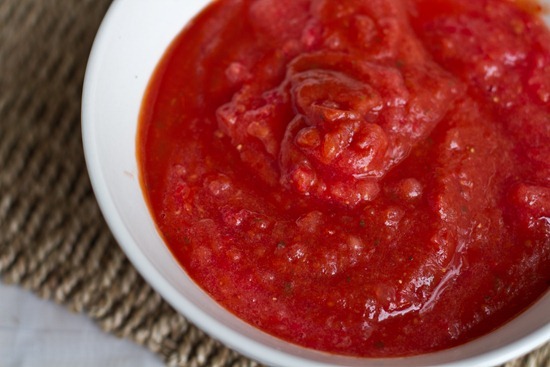 I only had 1 cup of crushed canned tomatoes, so I pureed 3 tomatoes in my food processor to make 3 cups. It works in a pinch!
I have also moved my laptop into the kitchen. It saves me running back and forth to the office to look up recipes all the time.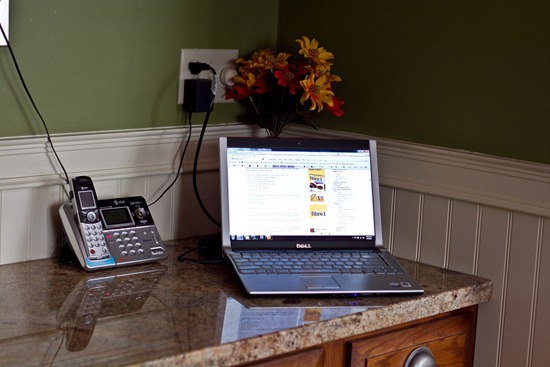 Add 1 tbsp of oil into a very large skillet and cook your chopped onion over medium heat for 6-9 minutes.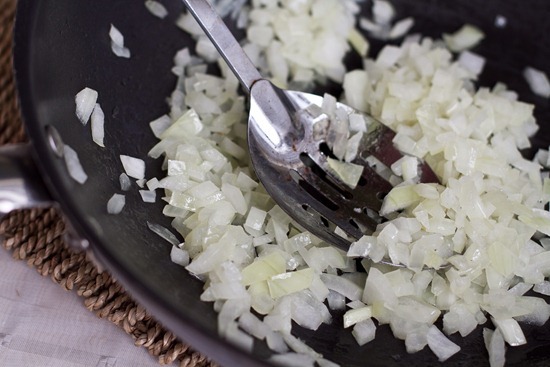 The onion will be tender and slightly translucent when it is cooked.
Add in the cumin, ginger, and garlic…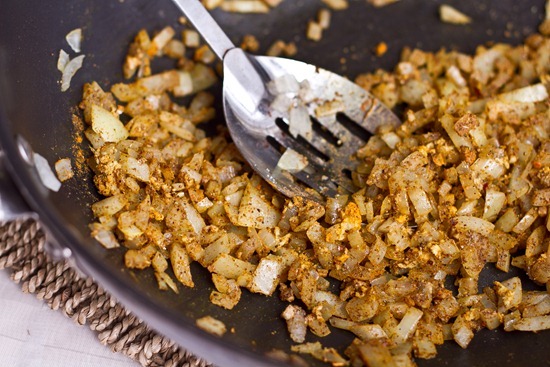 (I added all the spices at once but I do not recommend doing this and you will see why below.)
After a couple minutes, add in the drained pre-soaked peas and the rest of the ingredients. I recommend adding the spices slowly so you can adjust to taste.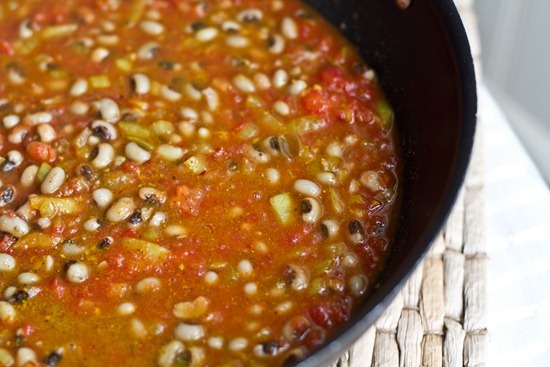 Bring to a boil and then simmer for about 20-25 minutes or so, until the peas are tender.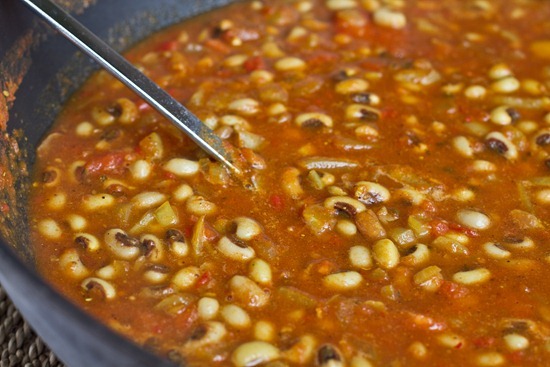 The original recipe called for 1 tablespoon of minced ginger and I found that the ginger taste was too strong for my liking. Unless you are a big ginger fan, I would recommend adding the ginger very slowly. I think I would have been fine with 1 teaspoon of ginger instead of a tablespoon.
I asked on Twitter if anyone knew how to counteract too much ginger in a recipe, and @bilbaobab suggested that I add a bit of sugar to balance it. The recipe calls for 1 teaspoon of sugar, so I added another 1.5 teaspoons and I found that it really helped downplay the ginger taste.
A great tip!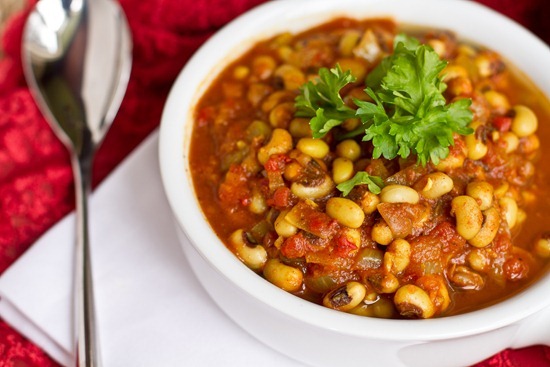 Whenever I have a recipe question I can ask it on Twitter and have an answer within minutes. It is a great resource for all kinds of things.
I made this masala in the morning after returning from the gym and I just let it sit in the pot for a couple hours until Eric and I were ready to have lunch. I found that the soup tasted better after sitting for a while, perhaps because the flavours develop a bit more with time. I suspect this dish will be even better the next day too.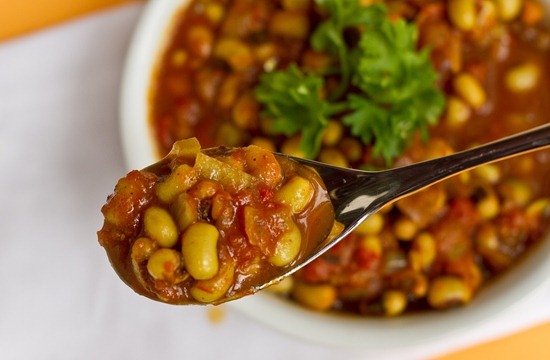 My biggest surprise was not the dish however…it was Eric's revelation…
After his second bite Eric said, 'This is good.'
and moments later…
'I think I am slowly but surely getting over my bean fear.'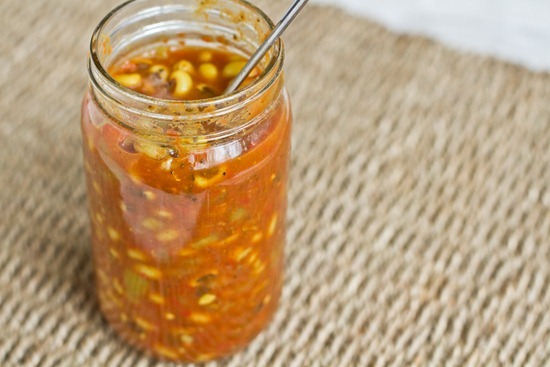 Only a couple years ago, Eric would not touch beans and now he is eating all types of beans and enjoying unusual dishes. I think he shocked himself too!
As for me, I enjoyed this dish (probably more than I thought I would initially), but I think I have had my      Black-eyed pea fix for a while. I will probably freeze the leftovers and heat some up on a frigid winter day when I am craving some heat.
It was really the perfect lunch on a stormy, cold day like today…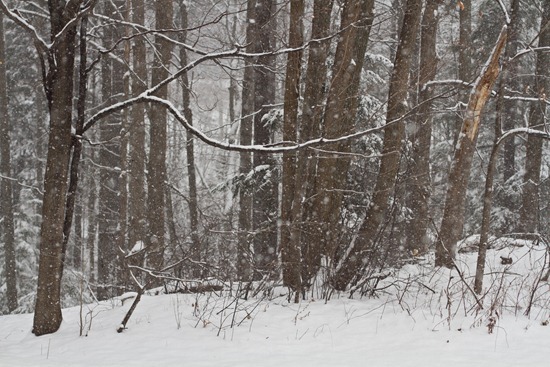 Are you a Black-eyed pea fan? Any good recipes to share?