Good afternoon!
I hope everyone is having a great day!
I realized last night after my slew of food videos and FAQ's, that I haven't done a beauty product review in a while! So here we go!!!
Beauty Product Review #1:
Maybelline Colossal Volume-Express Mascara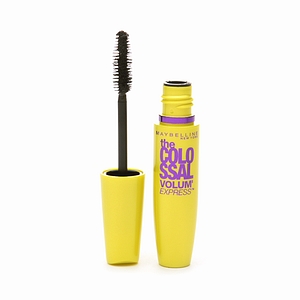 I was hesitant to buy this mascara without checking out the reviews on Makeup Alley first, but I was desperate! It was on sale and I decided what-the-heck.
My opinion? The brush was surprisingly almost clump-free. This surprised me because most of the volumizing mascaras that I have tried have been clumpy and gunky. This one wasn't. I gave the wand a quick sweep with a tissue before using. I was pleasantly surprised that I didn't get any clumps on my lashes. The mascara gave my lashes great definition, lots of volume, and still didn't weigh them down. I curl my lashes with an eyelash curler before applying mascara and I can always tell when a mascara is too heavy because it takes the curl out. This one didn't. Yawhoo! I just took a peek mid-afternoon and there was no flaking. I will have to wait until tonight to give my final stamp of approval though. I also judge a mascara based on how it looks at the end of a 10-hour day and how easily it comes off with makeup remover. This was rated 3.5/5 on Makeup Alley. I am a bit surprised that this isn't higher, but I find mascara reviews tend to be quite low across the board.
Speaking of which…
Neutrogena Ultra-Soft Eye Makeup Remover Pads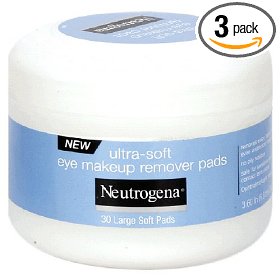 My opinion? I was not impressed with these! I admit, I was sucked into the idea of having a one-step makeup remover. I typically have always used a cotton swab with liquid eye makeup remover in the past. I loved the idea of having it all built into one! I wasn't impressed with this product though. The pads were almost dried out. They weren't moist enough to really take the make-up off. Yes, they are very soft and delicate, but this product just didn't deliver. I have to run a bit of water over them to really get them moist and able to work properly. Thumbs down! This product was rated 2.5/5 on Makeup Alley!
Dove Pro-Age Neck and Chest Serum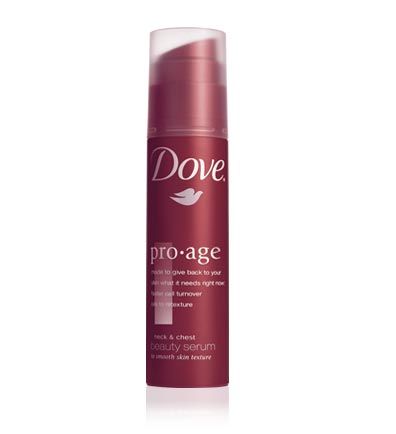 My opinon? I got this on clearance at the grocery store of all places! It was on sale for $2 so I couldn't say no. I love the idea of using a chest and neck serum because it is one place that I always overlook when moisturizing! I have been using it for a couple of weeks and I'm not too impressed. I have noticed a slight improvement in my skin (it is less dry), but not much. I think I would have better results with my regular Nivea cream! I wouldn't waste your money on it personally. I will continue to use it up, but I won't be buying it again. I just checked and this product was only rated 2.7/5 on Makeup Alley- guess I am not the only one!
~~~~~~~~~~~~~~~~~~~~~~~~~~~~~~~~~~~~~~~~~~~~~~~~~~~~~~~~~~~~~~~~~~~~~~~~~~~~~~~~~~~~~~~~~~~~~~~~~~~~~~~~~~~~~~
Have you tried any products lately that you just loved?? Have you come across any duds?? Share your opinions below!
"It's beauty that captures your attention; personality which captures your heart."
~Unknown