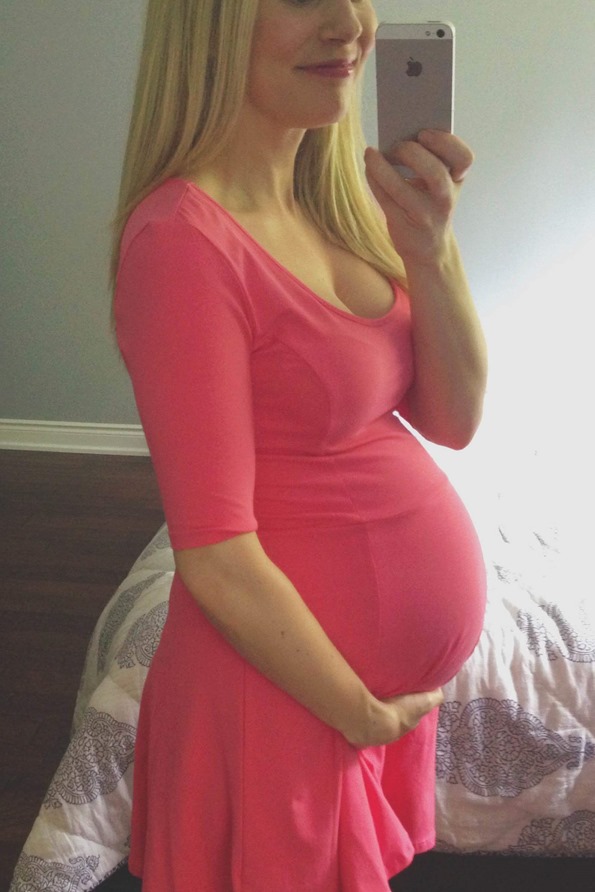 This week was sooooo not the best week. Anyone with me? I'm eager to be moving on to a fresh week. Almost anything that could've gone wrong this week did, including a few issues with our kitchen reno. I know it will all work out in the end, but it's hard not to get worn down by the day-to-day grind of it all.
Anyway, I think I will chose to move on to happier times. Such as, the 3rd annual Liddonfest that went down this weekend. It's a huge party that my brother-in-law throws for Eric's birthday. The weather was ah-mazing and it was so much fun to just forget about our week from hell and catch up with friends and family. After being on my feet for 8 hours, I crashed pretty hard in bed Saturday night!
This week, I started re-watching some of my childbirth/care videos (Laugh and Learn about Childbirth and Laugh and Learn about Newborn Baby Care) for a much needed refresher. I think I've forgotten about 50% of what I learned a few months ago. Maybe I do have preggo brain, after all! Anyway, it's good to be getting back into it again because the videos are super helpful and make me feel like I CAN DO THIS.
Guess who finally took the plunge and booked a maternity photoshoot? I wasn't going to bother getting maternity photos taken, but I thought I'd regret it if I didn't. Plus, it will be nice to have a couple to hang in the nursery! We'll probably do some photos in the master bedroom, maybe a couple in the nursery, and then some outside. I don't want anything over the top or cheesy…just simple and natural!
Last week, I started seeing an osteopath for my sciatic area pain. I was feeling pretty desperate and thought I'd give it a shot after my doula recommended it. Well, after a couple treatments my pain has improved so much. I really wasn't expecting much as I hadn't been to an osteopath before and didn't know what to expect, but it made a huge difference. I only wish I started to go sooner! This gives me hope that the next 6 weeks can be relatively comfortable.
Not much to report on the food front. I'm still struggling with the return of 1st trimester nausea on and off. Other days I want to eat everything in sight. Those hormones are strange things!
Baby girl is still entertaining me all day/night long. The newest thing I've noticed over the past couple weeks – her hiccups! She gets them once or twice a day and it's pretty adorable. We are getting so excited to meet her. I really can't say it enough. I'm really grateful for this incredible journey.
I'll leave you with a couple Sketchie sightings from this week. He's never far from the action…!