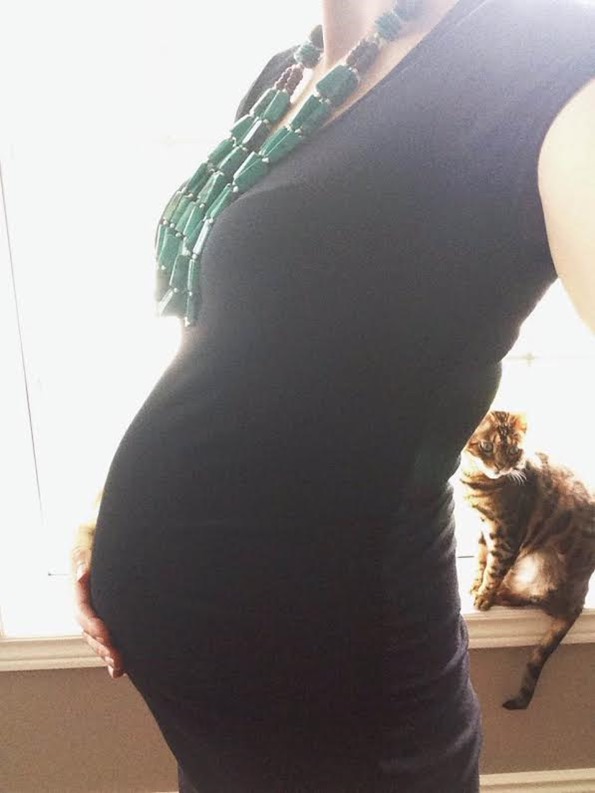 [hi Sketchie!!]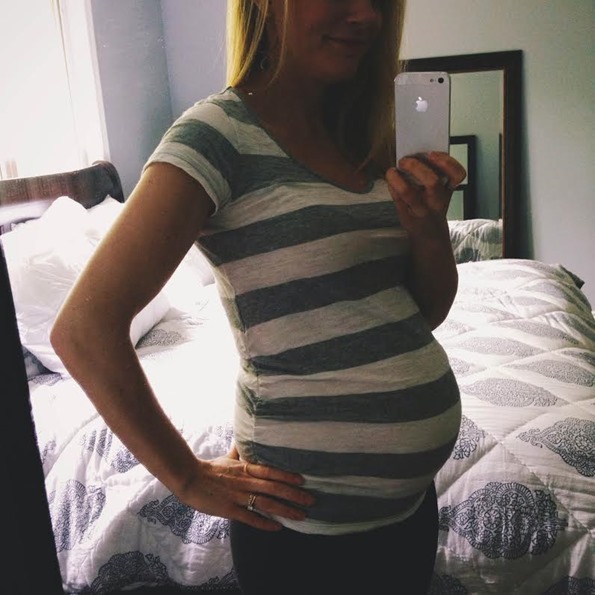 Hello, 6 months!!
Can you tell I've been eating a lot of watermelon lately? hah. Six months feels like a huge milestone in my pregnancy. I feel very blessed and thankful for my baby & body. My absolute favourite experience is when I feel her kick; it honestly makes me happy so many times throughout the day. I now realize where the "glow" comes from in pregnancy. At least for me, it's the happiness and connection I feel with her that fills me with gratitude.
I've realized lately that being pregnant has been a positive thing for my body image. For so much of my life I tried to have control over my body, but with pregnancy there's this perceived loss of control that feels very freeing at times. Sure there are those freak out moments along the way, but for the most part it's given me a new appreciation. My body now has a mind of its own and all I can do is sit back and enjoy the ride. It's a beautiful thing to just let go and embrace.
I haven't talked much about pregnancy symptoms on here and that's mostly because most of them don't feel overly newsworthy. I've had most of the common symptoms though. Most of my symptoms haven't interfered too much with my daily life. This week was a bit different though. I started to get bad rib pain on the lower right side of my ribcage which often radiates to my back ribs. I would describe it as feeling like a burning or pulling sensation. Or that the baby is pressing up against the base of my right rib cage. I heard it's quite common in the 3rd trimester, but it can happen earlier. Some women even get bruised or broken ribs from baby kicks! Isn't that crazy? I wouldn't be surprised if my ribs were bruised because they are very tender in this one area. My next OB appointment is Monday so I'm going to talk over the rib pain with the doc and see what he says about it. I'll keep you posted.
In the meantime, here's what I'm doing to get relief from the rib pain:
– Not sitting for long periods of time. I find it's most bothersome when I'm sitting down, so I'm using a standing desk station when sitting becomes too uncomfortable. Also at night, instead of sitting on the couch, it's much more comfortable to stretch out horizontally. I find I have almost complete relief when lying down and thankfully zero pain when I sleep.

– Better posture!! Slumping over when sitting or standing seems to make it feel a lot worse (not surprisingly). I constantly remind myself to open up my chest, pull my shoulders back, and create more space for the baby.

– Hot water bottle. I've been using a hot water bottle on my back once or twice a day (making sure it's not too hot). It's absolutely heavenly! I met with a prenatal chiropractor today and she recommended that I try ice on my back. She said that the heat, while comforting, can be a bit inflammatory, so I'm going to try using ice for a couple days and see if I notice a difference.

– Soft cup bras. I switched from underwire bras to soft cups for now because I suspected the underwire was making the rib pressure even worse.

– Prenatal massage. I received some prenatal massage gift cards for my birthday last month (thanks mom and Al!) so I figure now is a great time to put them to use! My first appointment was yesterday evening and it felt lovely.

– Chiropractor. My doula referred me to a prenatal chiropractor that she's been using for all of her pregnancies. I didn't know this, but apparently chiropractors can help with pelvic alignment (among many other things) which can actually help the baby move into position and facilitate labour. Sign me up.

– Dark Chocolate. Obviously.
Let's see what else went on this week baby wise? We had a meeting with our Doula and it went great. She spent a couple hours talking to us about the entire labour process from early contractions to recovery. I was happy that her info lined up with the info presented in the Laugh and Learn DVD that I watched recently. She also took note of any wishes we had for the birth plan. I'm not crazy about making grand plans for things that are so unknown, so I'm keeping my mind open about labour. While I love the idea of a natural labour, I'm also not against having an epidural if that's what it comes to. So we'll see how it plays out. My goal is to go as long as possible using the natural methods we have available (this is where the Doula will be a huge help), but I'm not going to put expectations on having one type of labour experience. Obviously, the main goal is a healthy baby at the end. My strategy leading up to labour is to learn as much as I can, prepare my body, surround myself with great support, and have an open mind about it.
In nursery news, Eric has been taking advantage of the nice evening weather and working on her dresser. So far he's patched it with wood filler, sanded, and primed it. I think this weekend he hopes to finish painting it. Pictures to follow soon!
Mr. Sketchie has taken a liking to the nursery lately – he loves sleeping in there when the sun comes in the window. Little does he know this quiet sanctuary is going to become something entirely different when the baby is here!
This below is his "I'm trying to catch some shut eye, stop bothering me" face. hah.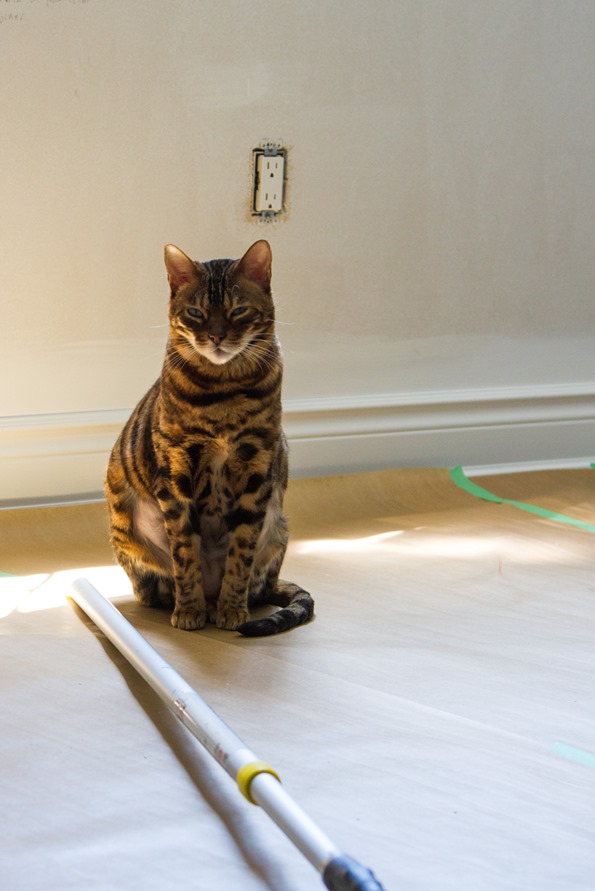 By the way, Sketchie is doing great. We're so thankful for everyone's support about his lymphoma. He's been on meds since March and I'm happy to report that he is doing amazing. The blood work is coming back good and he has been his normal self throughout. His severe diarrhea cleared up after about 2-3 weeks of being on the meds and we are so so grateful for that (as I expect he is too). I feel so lucky to have him in my life. It's amazing to think of the joy that he's brought us over the past several years. On that note, I'm going to go snuggle him…