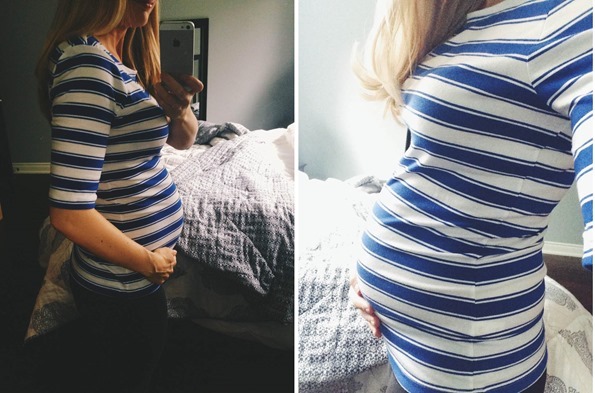 Friday marked my last birthday before I'll officially be a mom. Crazy stuff. I can only imagine how different our lives will be this time next year. I said to Eric that I just wish it was time already because I want to meet her so much. I keep picturing her in my arms and I just can't wait.
Eric is pretty fascinated with my growing bump and changing body. He rubs it all the time and he likes to play his guitar "for the baby" now and then. I sure love that guy. I like to joke around with the belly a lot. Sometimes I hide behind a wall and just stick out the bump until he looks up and notices it in the doorway. It's pretty ridiculous. Generally speaking I'm feeling pretty great in my own skin, but I do have moments when I don't feel the most body confident. It feels a bit like when I was a preteen and going through puberty with so many rapid changes only this time I have the years and experience behind me to trust the process and my body! This week some strangers commented on my pregnancy and I was SO happy and just beaming with pride. hah.
Maternity clothing:
My pregnancy wardrobe up until this point has been all about the stretchy black leggings/crops and fitted tees/tanks. I've been amazed by how comfortable my stretchy Lulu crops still are! I had to abandon my "groove pants" long ago though (the waistband just doesn't have as much stretch to it). I haven't had much luck shopping for maternity clothes yet. My main purchases so far have been some comfy maternity tees (v-neck and scoop neck) from Old Navy (I seriously bought about 6 of them in various bright colours!), a black Old Navy maternity t-shirt dress (below), and a cropped denim jacket from Garage (not maternity, also below) which I think looks pretty cute with a bright fitted tank/tee and black crops. I think the name of the game this summer will be all about the flowy summer dresses and comfy casual wear!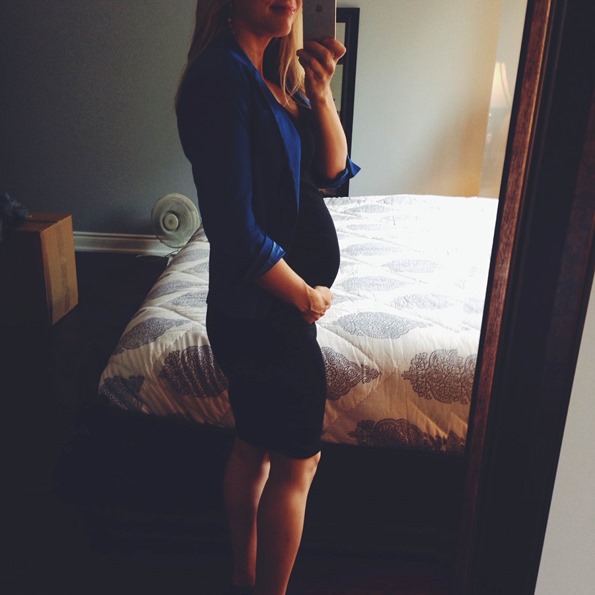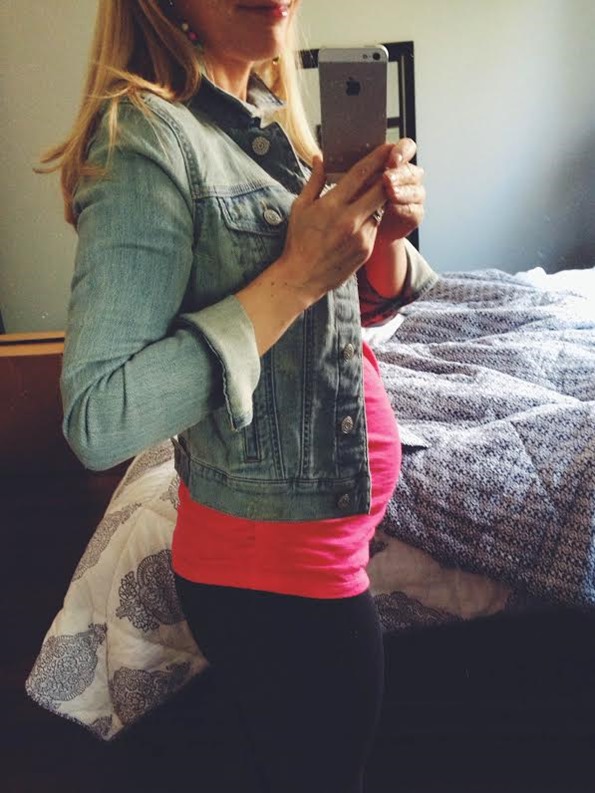 Latest appointment:
I had an appointment with my OB this week and the anatomy scan results came back normal – whew! I did find out that I have a low lying placenta (the placenta attached low and is partially blocking the cervix right now), but the doctor reassured me that it's quite common and there's a good chance it will move up and out of the way in time for my due date. One of my sisters had this with her first pregnancy and she said it moved up by 33/34 weeks. I'm hoping for the same so I have the option of a vaginal delivery. I have a follow-up ultrasound in about 6 weeks.
How I'm Doing:
Comfortable sleeping has been a challenge over the past few weeks. I'm now putting a small pillow between my legs when I'm on my side and this helps a lot. I'm also taking more bathroom breaks than I ever thought possible (and I have a small bladder to begin with). Other symptoms include lower back pain and some pelvic area pain on and off (which I hear is just normal stretching). I feel a bit moody or emotional at times, but I've actually been surprised by how level my emotions have been overall. Another thing I've noticed lately is that I can't eat a lot of food at one time – my belly just feels too full and uncomfortable. Small meals are the way to go! On a scale of 1-10 (with 10 being amazing), I would say I'm feeling a solid 8 across the board this month. Gotta love the 2nd trimester.
Shower planning begins:
It looks like I'll be having my baby shower the 3rd weekend in July. I'm so excited that my mom and sister are going to fly out for it and we'll get to spend some time together! I'm told that I need to get on the ball and create a registry. =) I've been working on a document with ideas and registry must-have lists from other bloggers, but that's about all I've done so far. Any tips or suggestions on newborn essentials are greatly appreciated! What did you absolutely need and what did you think you needed that you really didn't?