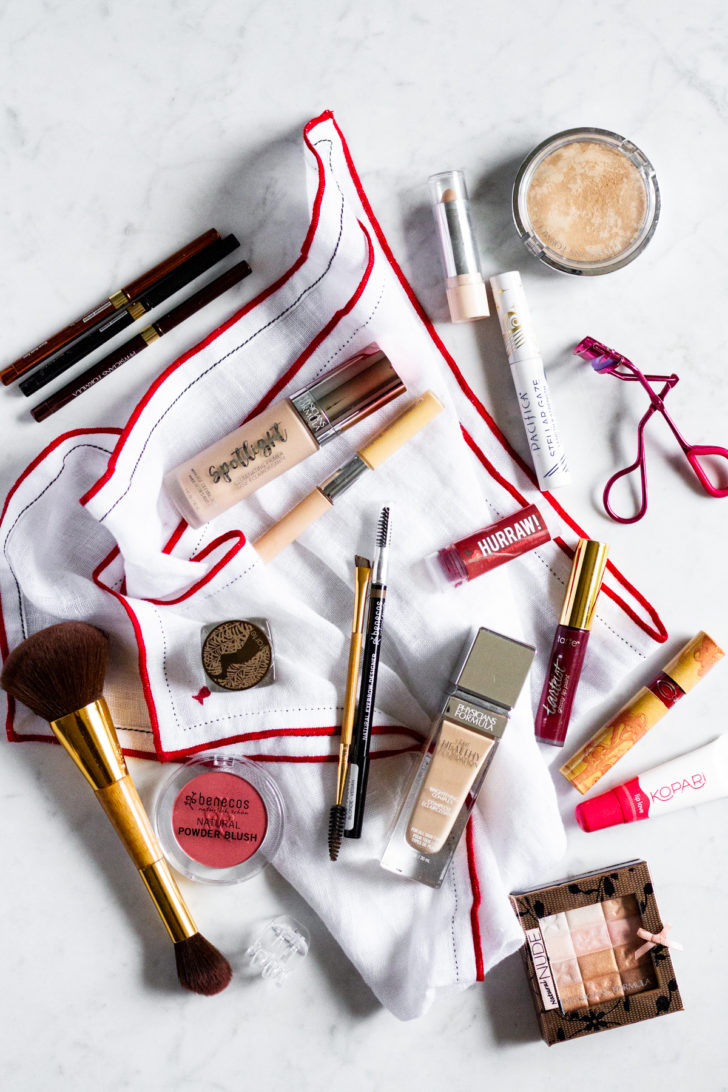 I recently did a poll on my Insta Stories to see if you would be interested in a "what's inside my makeup bag" post, and 95% of you said "heck yes!!!", so here it is! Putting this post together has also been a good way of filling the lack of recipe creation lately. I'm currently on an elimination diet to test for allergies (the worst!!) and basically can't eat anything fun, so there hasn't been much testing going on over here. It isn't forever though! I keep telling myself that I will be a normal human being again someday, hah. But I'm soooo grateful that I'm already seeing improvements in my allergic reactions since cutting out the ingredients that my test found I'm sensitive to. I'll keep you guys posted if you're interested.
Read on for the deets on my current go-to makeup products. If you haven't checked it out yet, be sure to read my Favourite Skin Care Products post too.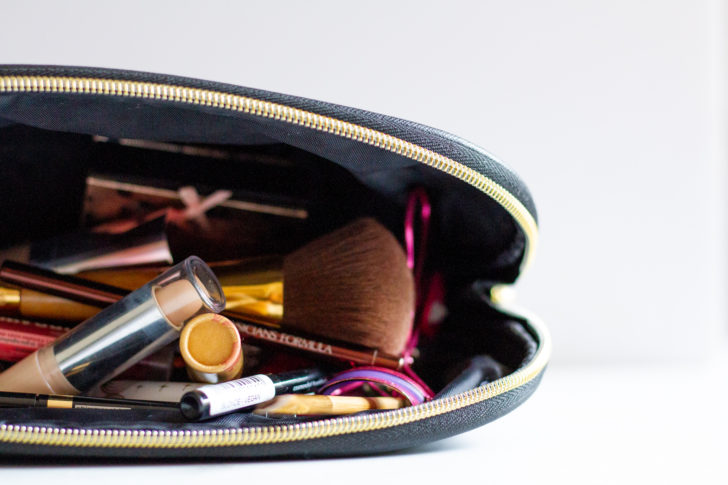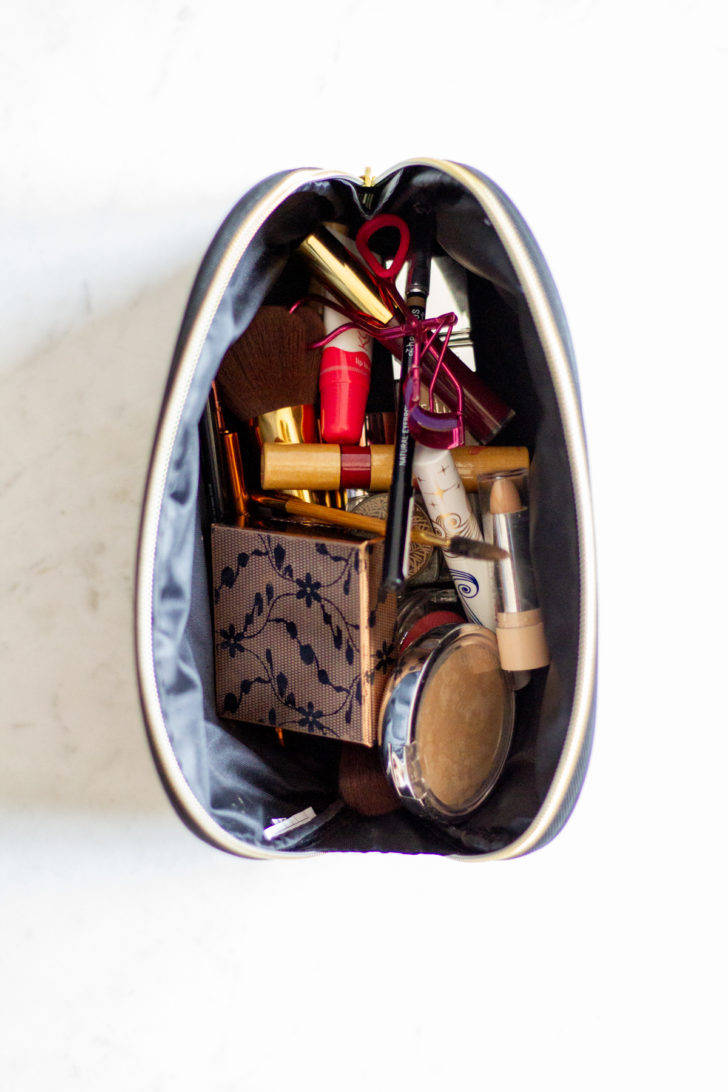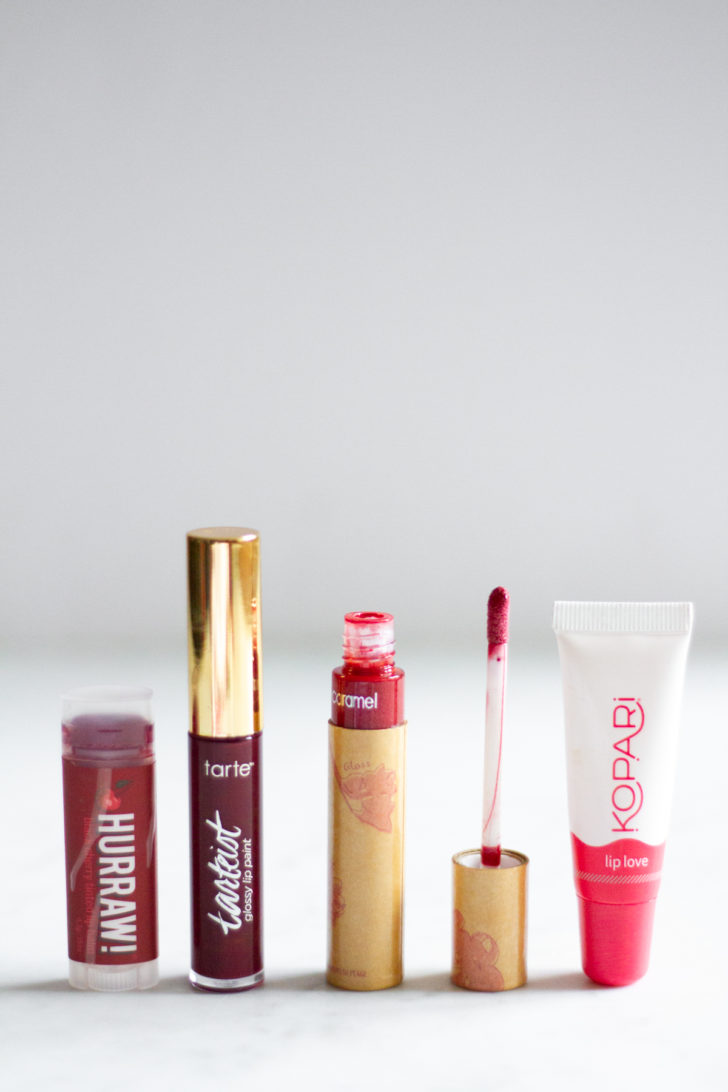 Lips:
I'm going to kick this off with my favourite category—lips!
Shade: Black Cherry
Cruelty-free, vegan
This tinted balm is perfect for kicking around the house! I love the subtle hint of colour this black cherry hue adds.
Shade: WCW
Cruelty-free, vegan (Note: Tarte is now owned by a parent company, KOSÉ, which is not cruelty-free.) :(
One of my fave lip gloss colours of all time. *heart eyes for berry tones* Biggest gripe? The tube is messy and lip gloss always explodes out the sides when I close it.
Shade: 805 Raspberry Red
Cruelty-free, vegan
This is a close runner-up for my favourite gloss shade. I actually like this one's ingredients and packaging better than Tarte's (no explosions!).
Cruelty-free, vegan
Ohhhhh yeah. You know I'm obsessed with this gloss. I talked about it in my Favourite Skin Care Products post too. I think of it as a 2-in-1 product because it's a good lip moisturizer when you're just lounging around the house (a little bit goes a long way), and it works as a fantastic "top coat" on top of lip colour to add a glossy sheen.
Dr. Hauschka Lip Gloss (*new)
Shade: 03 – Blackberry
Cruelty-free
Silky soft and made with mineral-based pigments, this is my newest go-to lip colour! It's long-lasting and the Blackberry shade (03) is just perfection!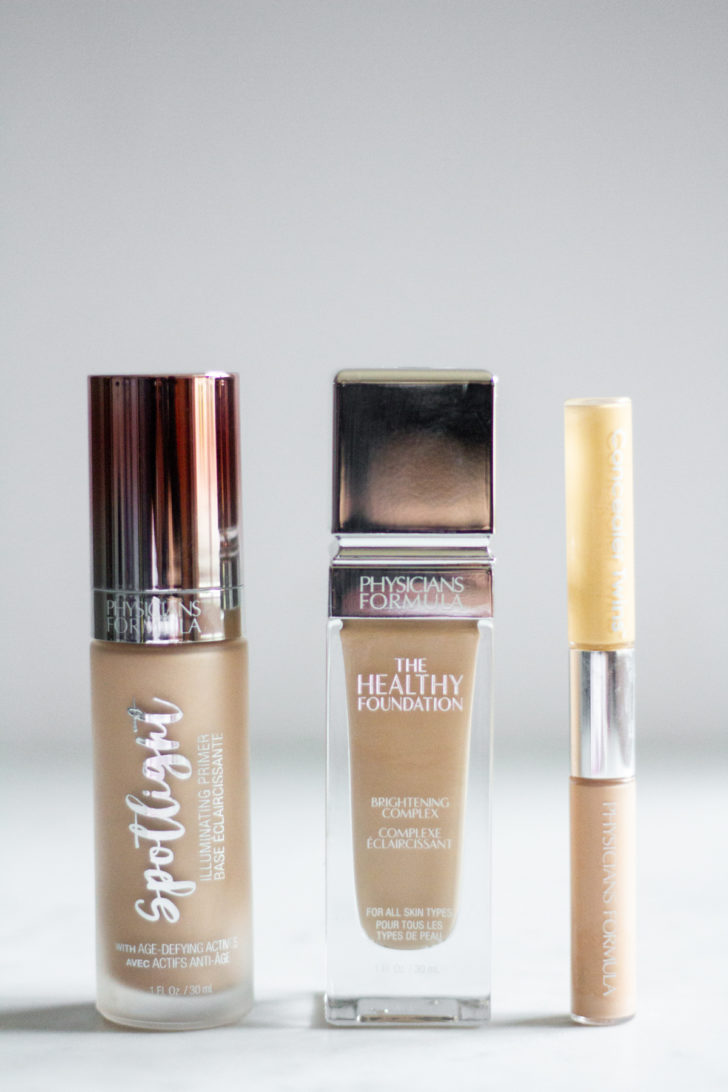 Foundation + concealer:
Physicians Formula Spotlight Illuminating Primer
Shade: Glow
Cruelty-free
This is a primer, but I use it on top of foundation as a highlighter on my cheekbones, temple area, and bridge of nose. I love how refreshed it makes my skin look even when I haven't slept much. I tried it as a primer and wasn't overly wowed, so I prefer to use it on top.
Physicians Formula The Healthy Foundation with SPF 20
Shades: LN4 and MN4 (I mix the two shades in the summer)
Cruelty-free, vegan
Oh BOY have I tried out a lot of vegan foundations. So, so many misses. This one was good enough to keep using, so that's progress! My biggest complaint is the packaging (it's awful, quite frankly, because it's hard to get the product out and I'm not a fan of the applicator stick). Their shade selection is also quite limited. I have to mix two shades in the summer to get my perfect match! I also wish the ingredients were more natural, so I guess you could say I'm still on the hunt for my holy grail vegan foundation! This one will definitely do in the meantime.
Physicians Formula Concealer Twins Cream Concealers
Shade: Yellow/Light
Cruelty-free
I don't use the yellow shade as I find it's too noticeable on my skin tone, but I do use the light shade for around my eyes. I'm not sure if I'll repurchase this concealer as it's super light and doesn't cover that much. I also wish they had more shades!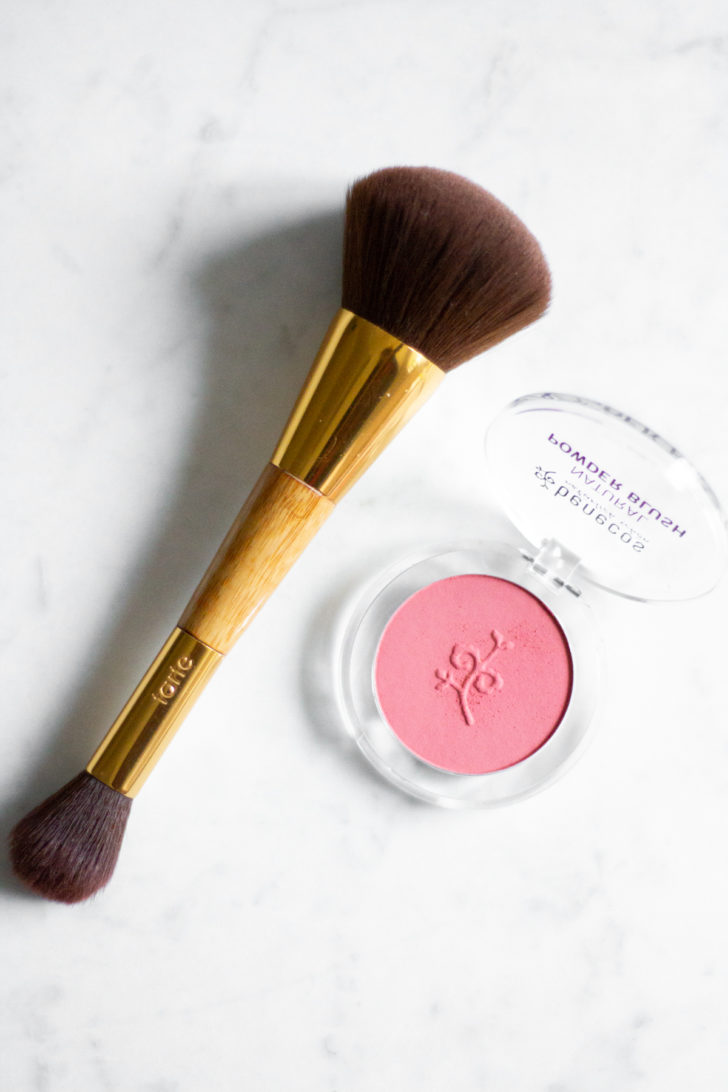 Blush + brush:
Shade: Sassy Salmon
Cruelty-free
I don't normally go for such a bold blush shade, but I fell in love with this one! It really pops off my cheeks and a little bit goes a long way. It's my new go-to.
Tarte Amazonian Clay 12-Hour Blush
Shade: Paaarty
Cruelty-free
This blush was sent to me as a free sample from Sephora a year ago, and I used it until every last bit was gone! I'm not sure if I'll repurchase because I'm loving the Benecos so much.
Tarte Bronze & Glow Double-Ended Contour Brush
I love this double-ended brush. I use the small end for blush and the large end for translucent powder.
You might be wondering…Ange, where is the bronzer? The contour powder?! Lol. I don't use them because anytime I have tried to apply them I turn out looking like I have dirt on my face. So I just kind of gave up! But this tempting 50% off sale at Sephora is making me want to try the Tartiest PRO Glow Highlighter & Contour Palette!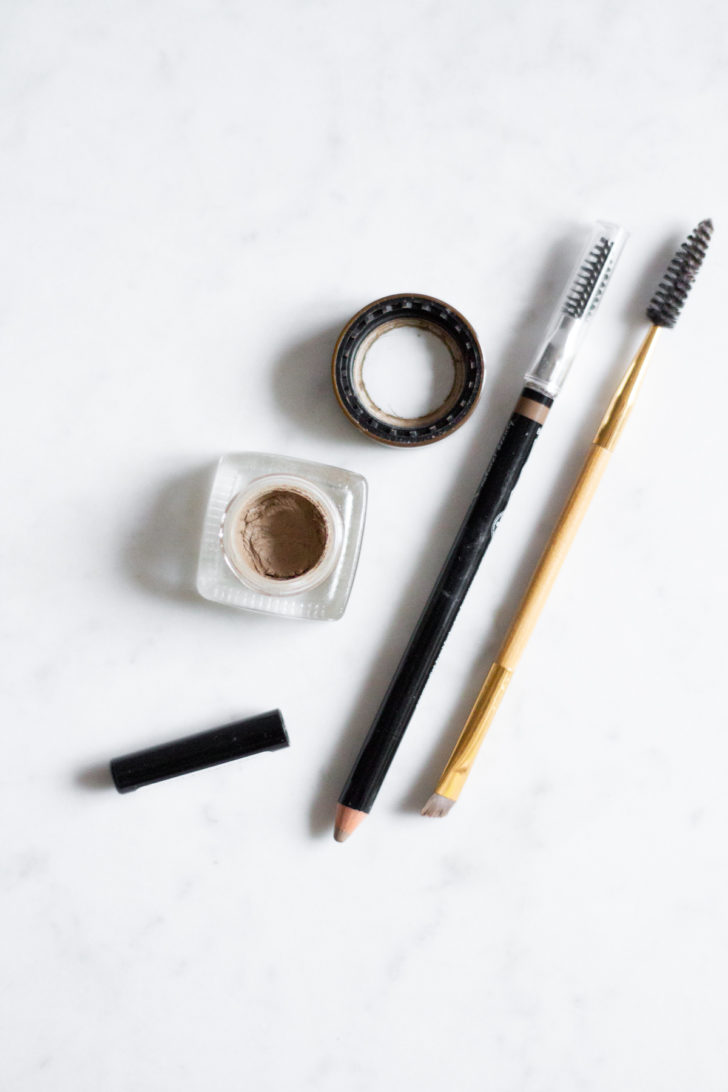 Eyebrows:
My brows have always been light and pretty much nonexistent (thank you to my dad for those genes!), so if I want to feel put together, I will ALWAYS do my brows. I first use the Benecos pencil to fill in patchy areas, and then I use the Tarte mousse with the bamboo angle brush (which is included!!) to bring it all together. Really love this combo for my brows! So easy, long-lasting, and doesn't smudge.
Benecos Natural Beauty Eyebrow-Designer
Shade: Blonde
Cruelty-free, vegan
Tarte Amazonian Clay Waterproof Brow Mousse
Shade: Ash Blonde
Cruelty-free, vegan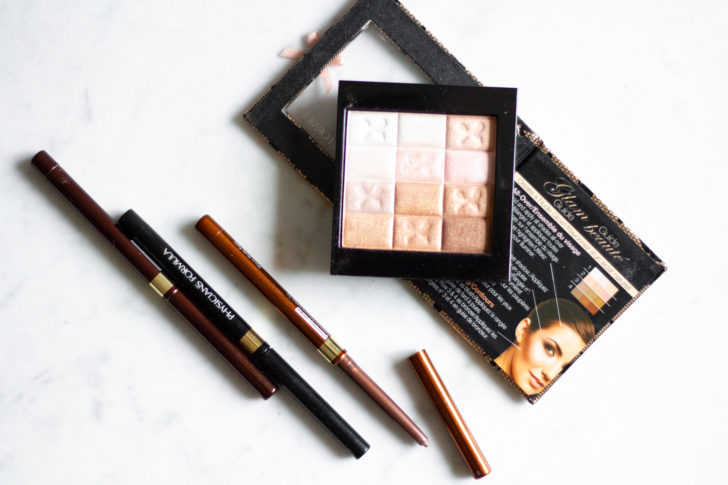 Eyeshadow + eyeliner:
Physicians Formula Shimmer Strips Custom Eye Enhancing Eyeliner Trio
Shade: Warm Nude
Cruelty-free
I don't use eyeliner everyday, but I always use it when I'm going out somewhere special, especially in the evening. I love this trio because it comes with black, brown, and bronze shades, which are the ones I normally gravitate toward.
Physicians Formula Shimmer Strips All-In-1 Custom Nude Palette For Face & Eyes
Shade: Natural Nude
Cruelty-free
I love this all-in-1 palette because you can use it as a cheek bronzer, over your eyelids, or anywhere you want a pop of shimmer on your face!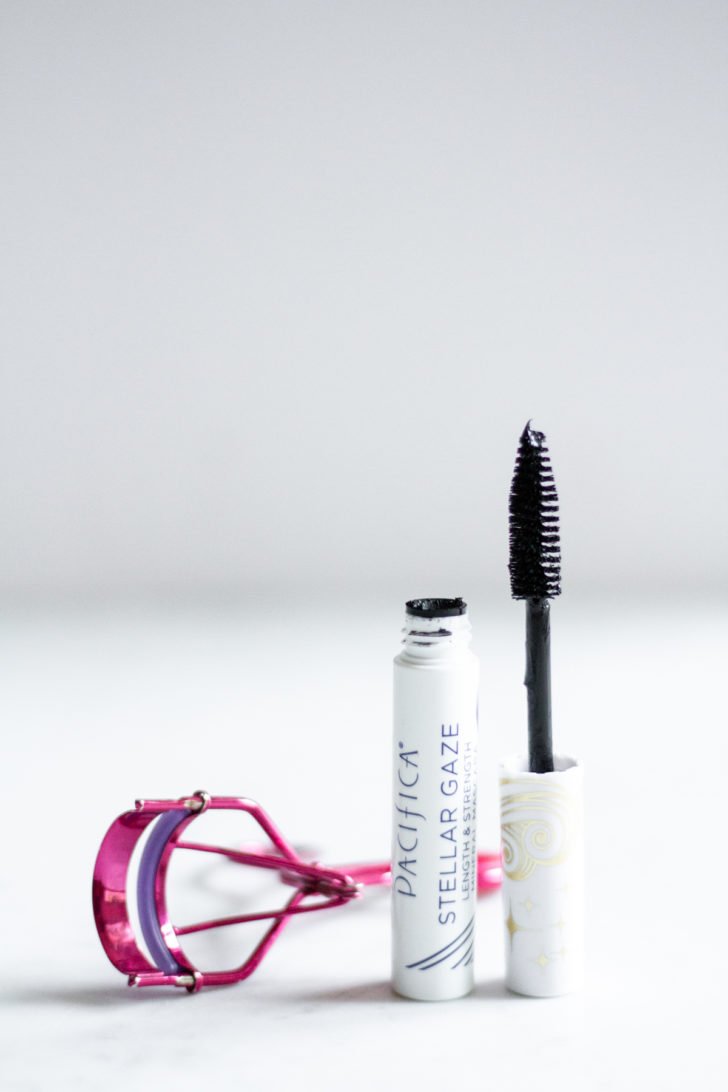 Mascara + eyelash curler:
Pacifica Beauty Stellar Gaze Length & Strength Mascara
Shade: Supernova (black)
Cruelty-free, vegan
I've tried out a lot of vegan mascaras and this is my favourite "everyday" mascara that I've been using for a few years. It's light and perfect for daytime, but you can layer it for a slightly more dramatic look too.
My eyelash curler is by Sephora!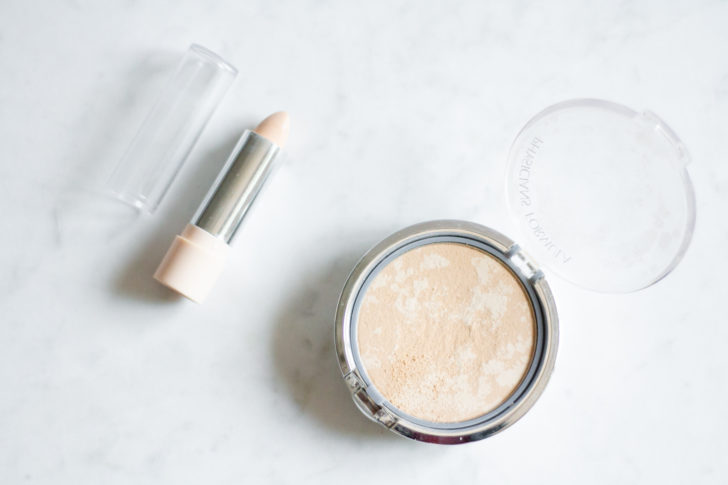 Powder + concealer:
Physicians Formula Mineral Wear Talc-free Mineral Face Powder
Shade: Translucent Light
Cruelty-free
I have to say, this isn't my favourite setting powder by any means. In fact, I find it goes on too powdery and I wish it were more dewy, so I use a very light hand when applying it. In the past I would use powder all over my face thinking that I had to get rid of any and all shine, but lately I only use a bit on my nose and a tiny bit on my forehead. I find using less powder really lets my natural (and makeup-accentuated!) glow shine through.
Update: I've been using 100% Pure Fruit Pigmented Foundation Powder and I quite like it! It is vegan, cruelty-free, and free of 1,000 toxins.
Physicians Formula Gentle Cover Concealer Stick, Light
Shade: Light
Cruelty-free
I use this occasionally if I need to cover a pimple. I think the shade is a bit too light for my skin tone though so I probably won't repurchase.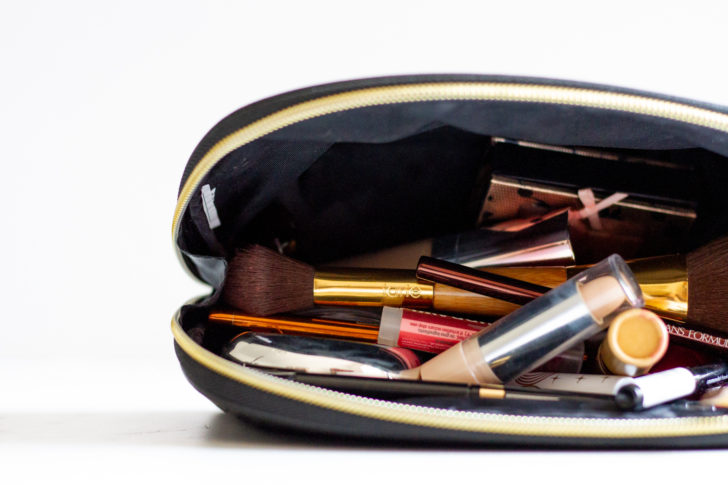 PS: My black and gold makeup bag is from Shoppers Drug Mart!
Do you have any fave makeup products to share? Be sure to let us know in the comments below!