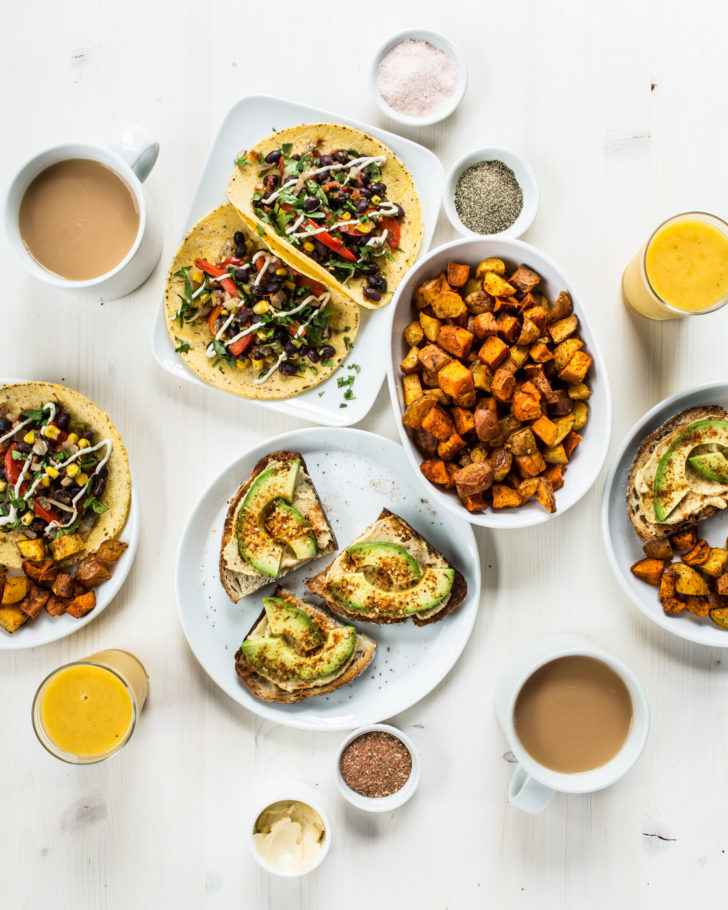 Are you doing anything for Mother's Day this weekend? I'm looking forward to a special Mother's Day performance at Adriana's school. Earlier this week Adriana said, "I made something for you Mommy, but IT'S A MOTHER'S DAY SURPRISE! I can't tell you!!" Then, two seconds later: "It's a homemade oven mitt!" Toddlers' lack of impulse control just cracks me up, lol. (She may or may not have been singing me the Mother's Day performance song all week long, too!) We'll probably do something laid-back like brunch and a visit to the park with friends on Sunday (although I don't know what Eric has planned). I hope your weekend is fun and filled with good food! Read on for some of my fave brunch recipe ideas…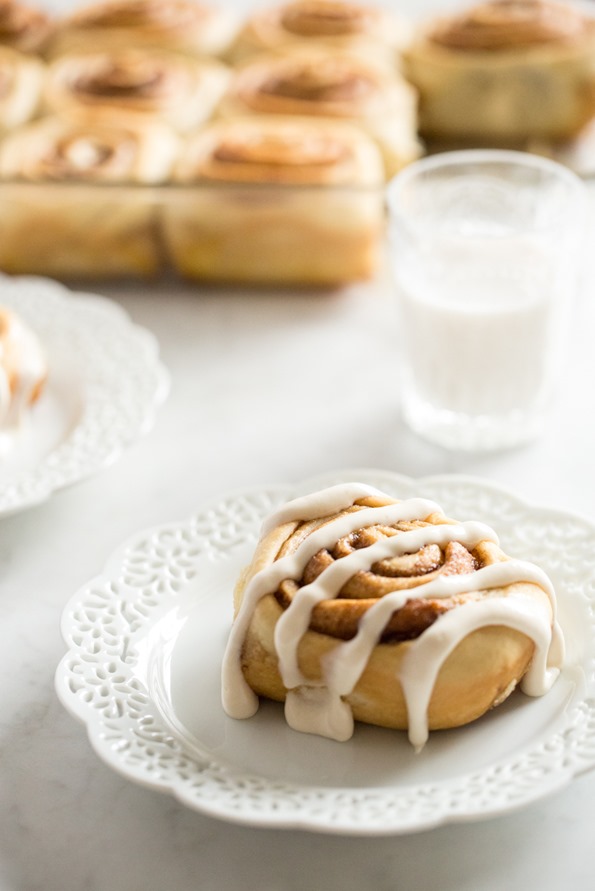 With a little night-before prep, you can have these dreamy cinnamon rolls baking away while mama is still in bed catching zzz's.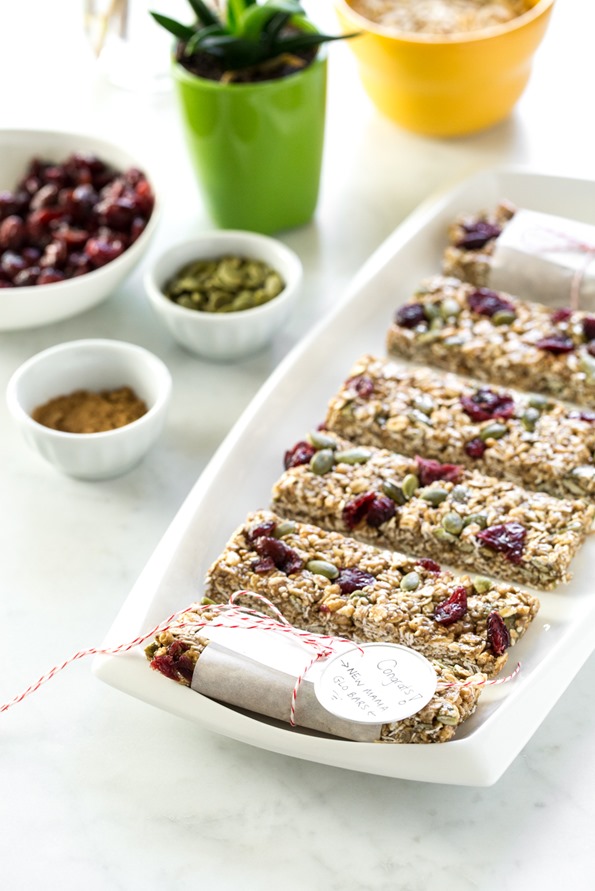 Loaded with ground flax, oats, sesame seeds, and coconut oil, my no-bake New Mama Glo Bars are perfect for anybody celebrating their first Mother's Day this year. (But these addictive bars are sure to be a crowd-pleaser for all!)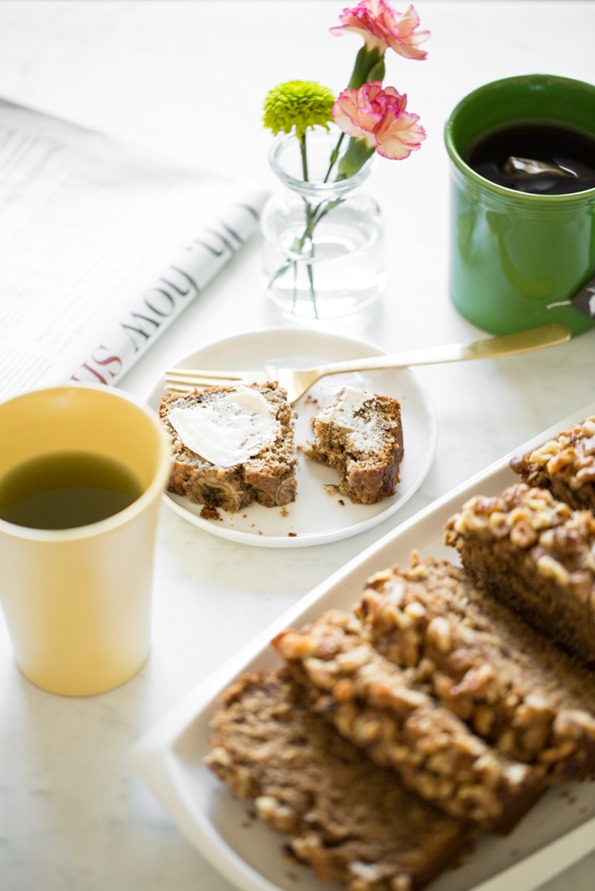 I've heard from so many of you who have made and loved my vegan banana bread—the recipe has almost 650 comments to date! I can't say I blame you…it's a big winner in our house as well (a loaf barely makes it through the day) and requires just 10 minutes of prep work, too. Just be sure to get a head start on this recipe if you're serving it for brunch as you'll need an hour for the loaf to bake and cool. This recipe will always have a special place in my heart because I developed and photographed it while 9 months pregnant with Arlo!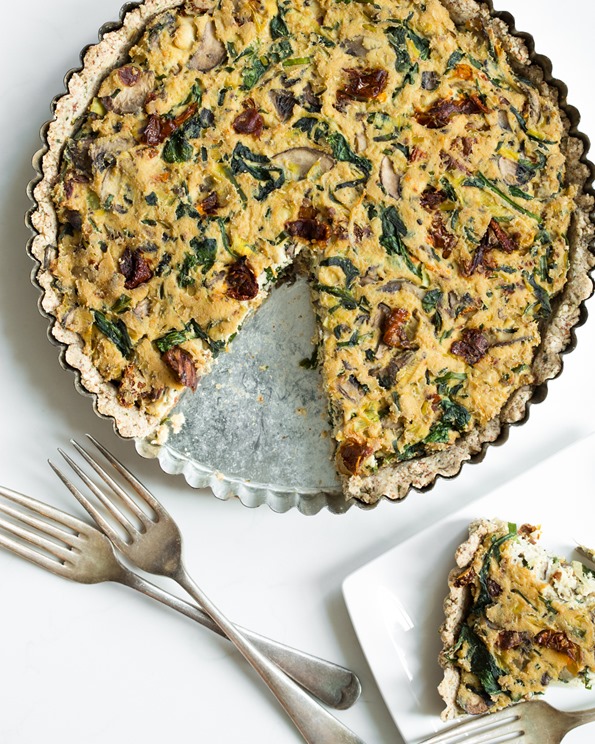 4. Sun-Dried Tomato, Mushroom, and Spinach Tofu Quiche
For a savoury brunch addition, try my protein-packed tofu quiche with a delicious oat and almond press-in crust. Feel free to play around with whatever veggies you have on hand, too—asparagus, peas, and broccoli are a nice trio for spring.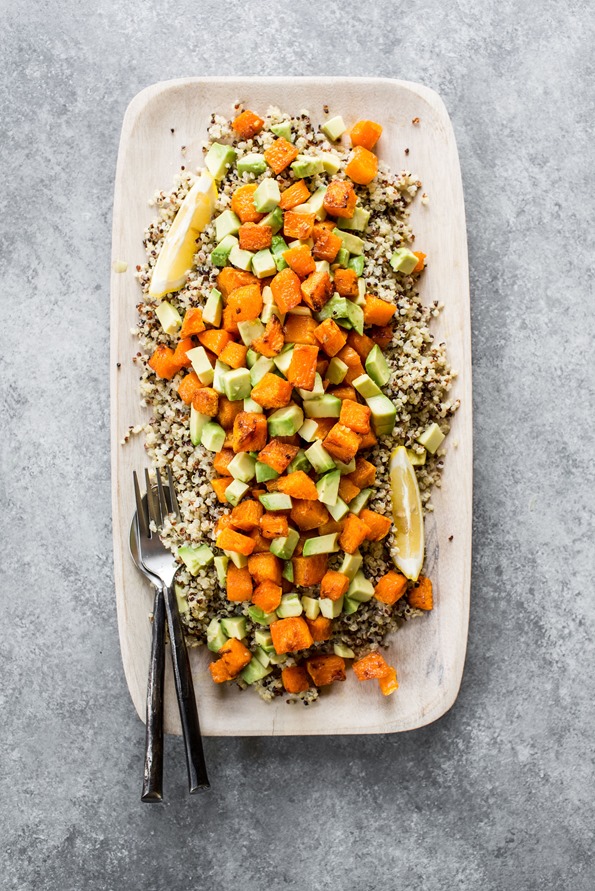 5. A Simple Roasted Butternut Squash Salad
Use up the last of your winter squash with this 5-ingredient butternut squash salad. I love how just a few ingredients can come together to make such a lovely side dish for brunch! (And plant-powered bonus points for the quinoa's hearty protein boost.)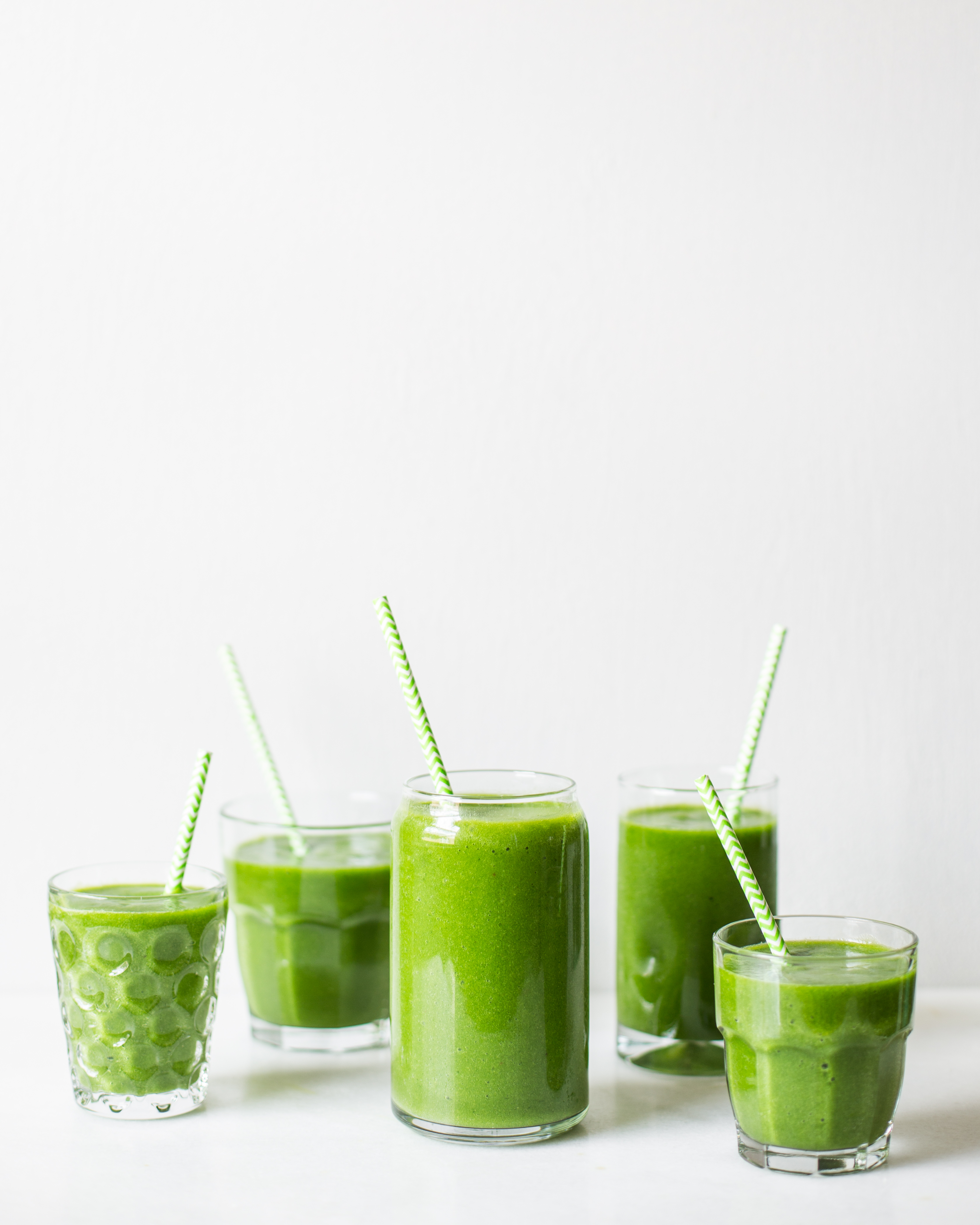 6. Family Size Reset Button Green Smoothie (Oh She Glows Every Day, p. 25)
Get the whole family in on some energizing green smoothie lovin' with this tropical fruit-packed smoothie fit to feed a crowd!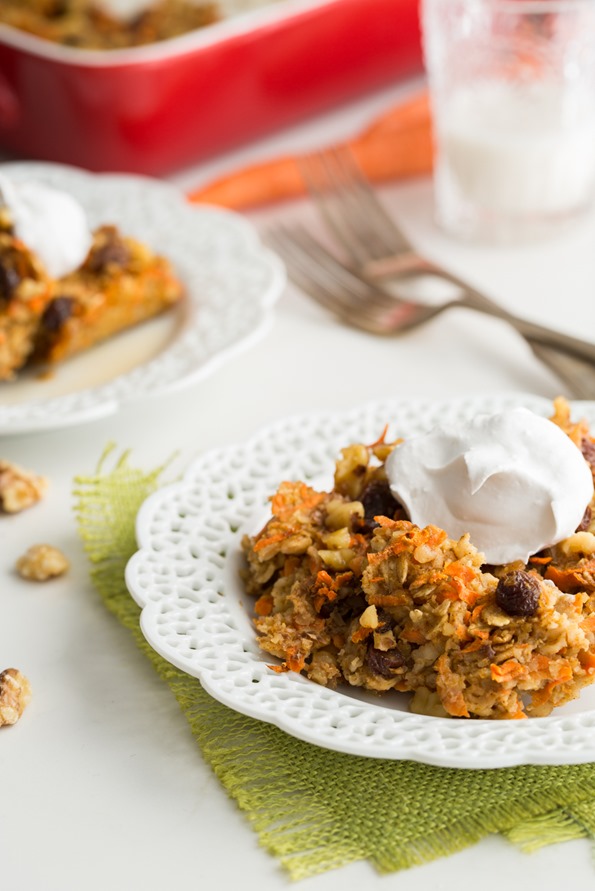 7. Heavenly Carrot Cake Baked Oatmeal
This oatmeal has all the irresistible sweet-spicy flavours of traditional carrot cake without any refined sugar, plus leftovers freeze like a dream (though I doubt there'll be any!). You can even prep it the night before so all you have to do the next morning is pop it in the oven to bake.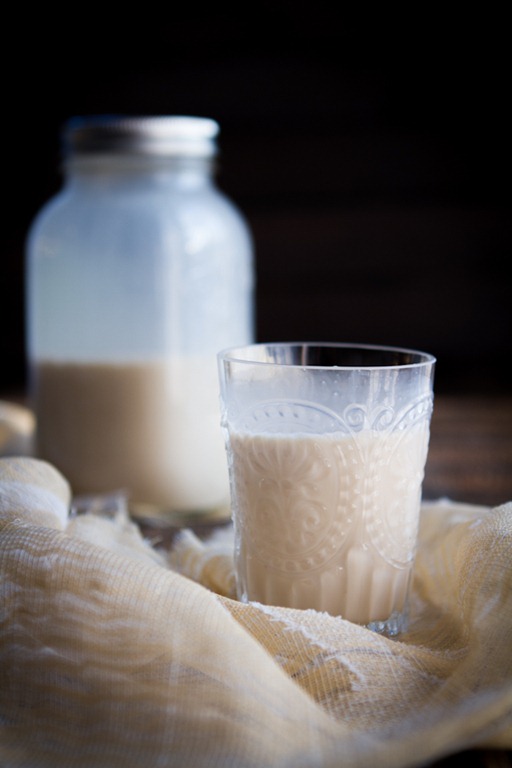 8. Vanilla-Cinnamon Almond Milk
This is my go-to homemade almond milk recipe. It's delightful served in a smoothie, with cereal or granola, foamed up for a latte, or in a glass all on its own! You could also use it in my Heavenly Carrot Cake Baked Oatmeal (shown above) for an extra pop of creamy vanilla goodness.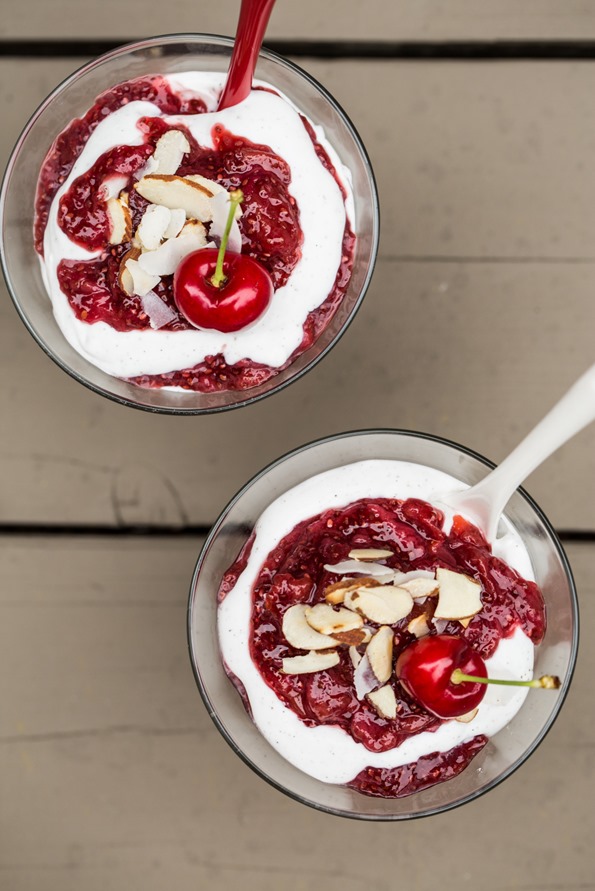 9. Cherry-Strawberry Chia Seed Fool with Vanilla Bean Coconut Whipped Cream
These creamy, dreamy, vegan berry fools are a cinch to whip up! Pop your coconut milk cans in the fridge the day before to solidify the cream, or make the coconut whipped cream a couple days ahead and store it in the fridge to help things come together even more quickly morning of!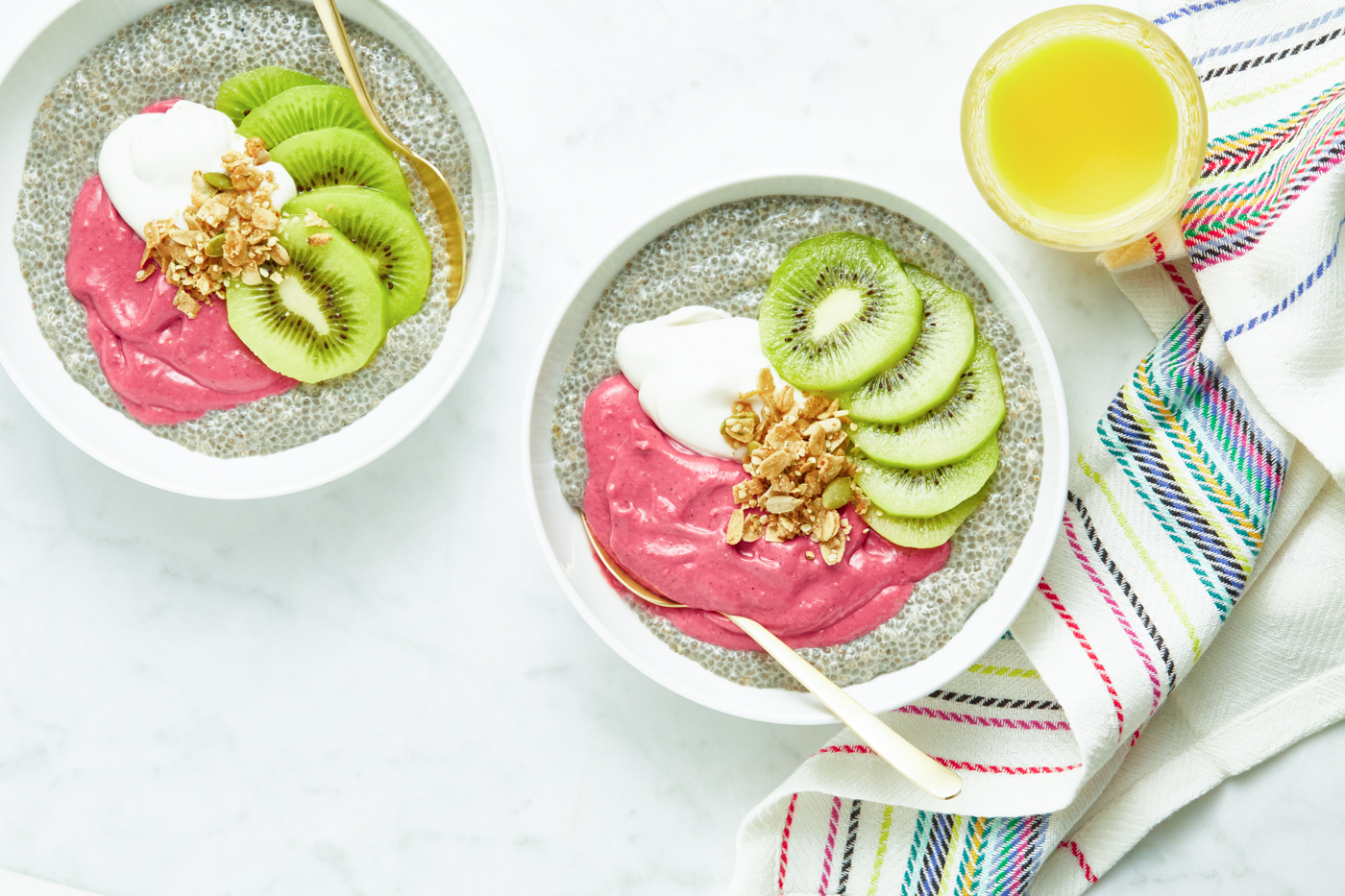 10. Raspberry Mousse Chia Bowl (The Oh She Glows Recipe App: iOS/Android)
I love the bright pink colour of this gorgeous vegan raspberry mousse, and it's amazing swirled into a hearty chia bowl for brunch. Top bowls with your favourite fruit and a dollop of coconut whipped cream! It's also fun layered in small glasses for chia pudding parfaits.
Photo credit, top photo, photo #5, photo #6: Ashley McLaughlin.