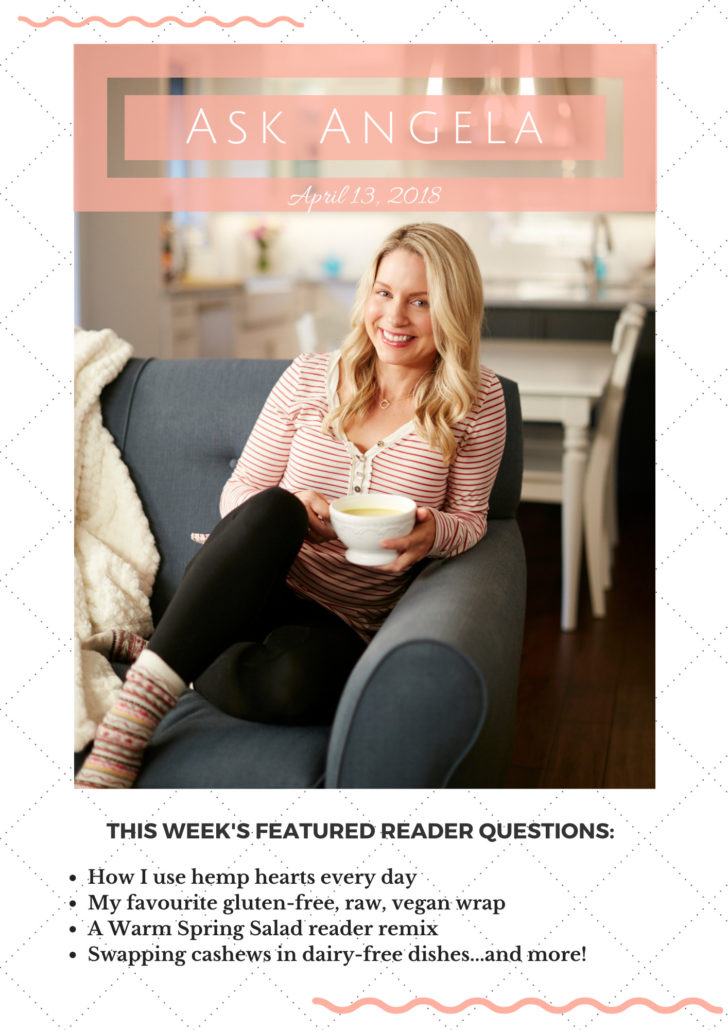 First of all, holy moly…thank you all for your support for our Webby Awards People's Voice Award nomination! I can't even convey how much it means to us. We're so nervous/excited to hear the results on April 24th! Voting is open until April 19th if you'd like to give us one final push. :)
Without further ado, here are this week's featured reader questions…it's a great batch, and I'm loving the Comment of the Week by Kristen, too! Lots of great meal planning ideas in there.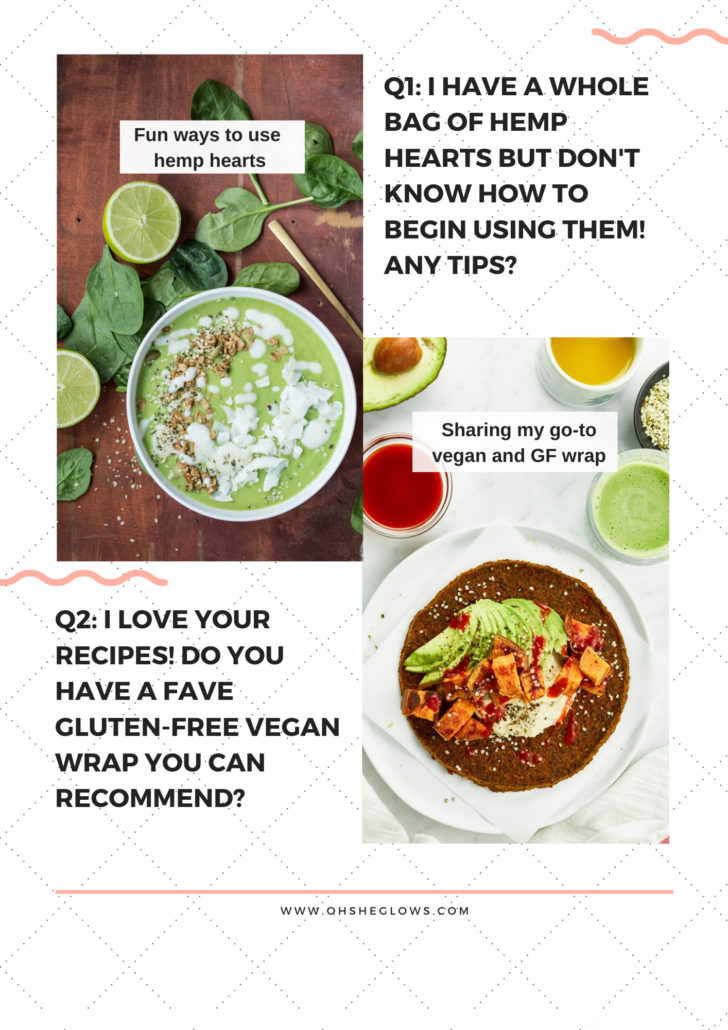 Q1. Do you have any tips for using hemp hearts? I have a big unopened bag of them in the cupboard and don't know where to start! Thank you!
I love this question because we're big fans of hemp hearts in our house! I love to add them to smoothies and energy ball/granola bar recipes, chia seed pudding or overnight oats (either mixed in or sprinkled on top), stirred into pasta for a protein boost, sprinkled on avocado toast, or blended into nut/seed milks and salad dressings—but the possibilities are endless…they're so versatile! If you'd like to use my recipes as a guide, searching "hemp hearts" in the search bar will lead you to any OSG recipes calling for them. I'd love to hear what you make with them!
Q2. Hi Angela, thanks so much for all your wonderful recipes. I haven't found one I don't like yet. I do have a question though: I am gluten-free and haven't found a good, gluten-free, vegan wrap that does not fall apart when you try to roll it. Do you have any suggestions? Thanks again.
Hey Silvia, Thank you for the kind words! My go-to raw flax wraps are made by Wrap It Up Raw. They're delicious and hold together amazingly. You can find out where they're sold on Wrap It Up Raw's store locator page (exciting news…Metro Ontario just started carrying them!). Hope this helps!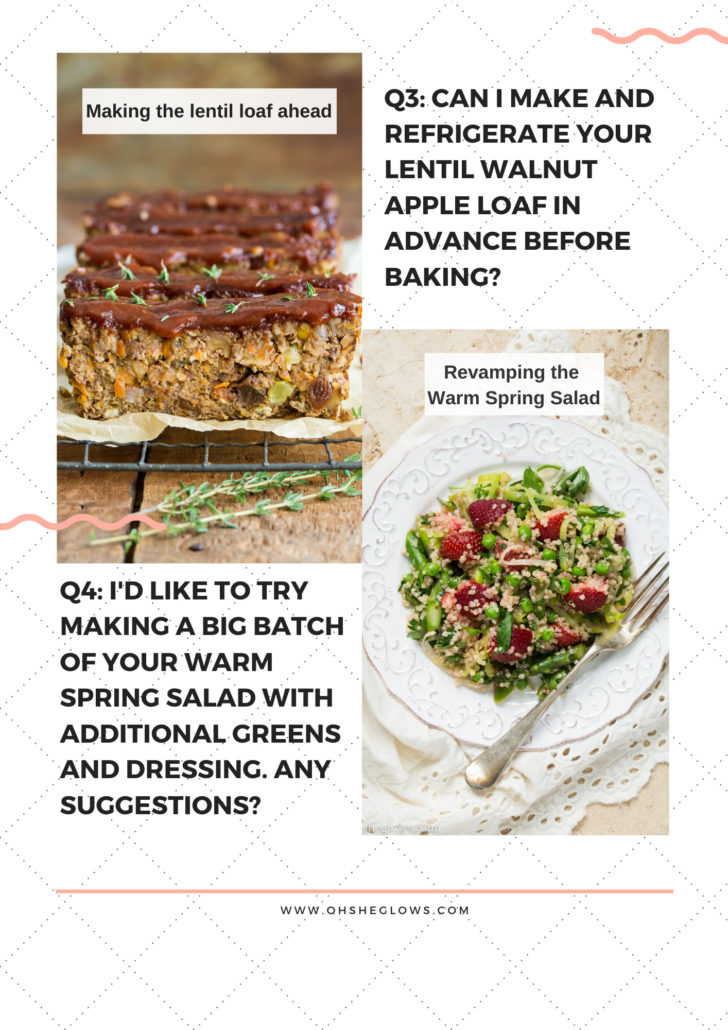 Q3. Can I prep your Lentil Walnut Apple Loaf in advance and refrigerate it for baking the next day?
Hey Roz, Yes, you can absolutely prep the loaf a day in advance and refrigerate until you're ready to bake—just be sure to wrap the loaf pan tightly before refrigerating so it doesn't dry out. If the loaf is going into the oven cold (straight from the fridge), you'll likely need to cook it for a bit longer than called for…maybe 5 to 10 minutes more. Alternatively, you can bring the loaf to room temperature first and then bake as directed.
Q4. I'm thinking about making your Warm Spring Salad, but adding more greens and dressing to make an even larger portion. Do you think it would be better to add spring mix, spinach, or butter lettuce? I was also thinking about adding some raw shaved brussels sprouts and some mint or basil along with the parsley. :)
Hey Sara, I love your idea of adding greens and extra dressing…I honestly think that would be amazing. Butter lettuce sounds delightfully crunchy, but I think almost any variety should be fine. If you decide to go with a lettuce that wilts quickly (such as a delicate spring mix) I would opt to add it just before serving. Heartier veggies like kale or shaved brussels should be fine added in advance. Also, I'm not sure if you've tried this Make-Ahead Thanksgiving Panzanella recipe yet, but it's to die for…and from the sounds of your comment, might be right up your alley!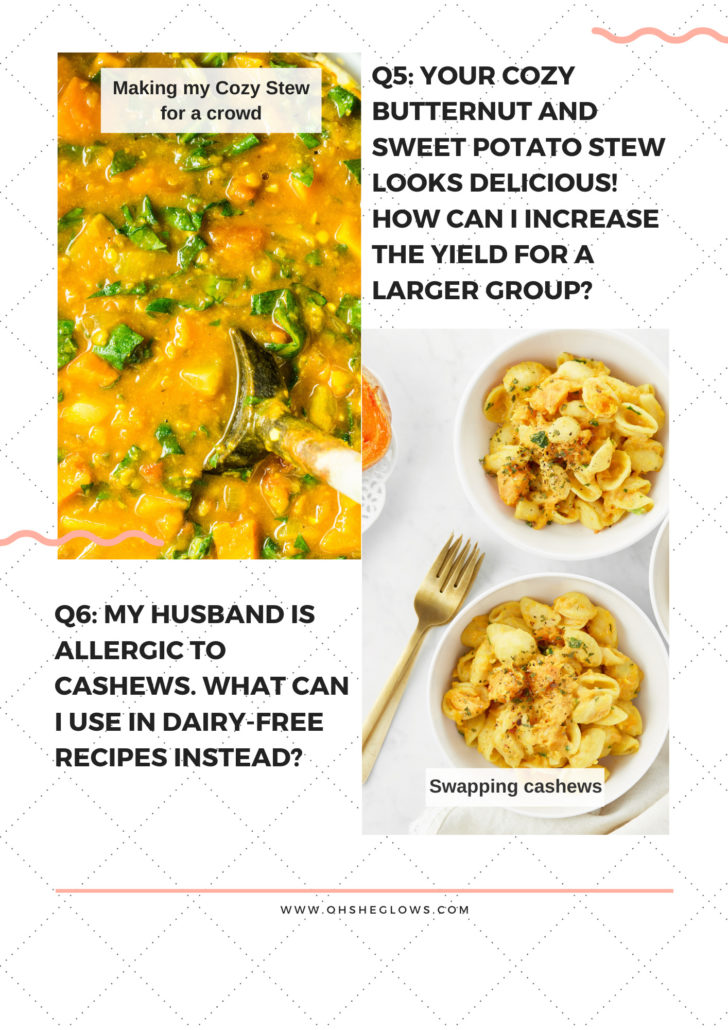 Q5. Hi Angela, I am about to make your Cozy Butternut and Sweet Potato Red Lentil Stew. Really looking forward to trying it…yum! It's great to hear another reader has tried the recipe without tomatoes, too. I have a question about upping the quantities. I need to make the stew for 13+ people, and I see your recipe yields 11 cups (2.75 quarts). I am English and a little unfamiliar with measuring in quarts. Do you have any tips for making enough Cozy Stew to feed my guests?
Hey Georgie, Happy to help! Eleven cups is also equal to 2.6 litres…I'm not sure if this info helps at all? So, if you're making the stew for 13 people, I think you'd probably want to double the recipe, if not triple it. I estimate that this recipe (as written) serves 6 as a starter (at just under 2 cups/500 mL per person), but if you're serving the stew as a main, I think 4 servings may be a safer estimate. Doubling soup recipes can be a bit tricky as sometimes you don't need to fully double the liquid, and sometimes you need to use less salt, too…so my advice would be to add the liquid and salt slowly as it cooks, to your taste. I'd love to hear how it goes!
Q6. I'm trying to use less cheese and dairy at home, but I find that so many non-dairy recipes call for cashews or cashew cream instead. My husband is allergic to cashews so that isn't an option for us. Is there a universal swap for cashews in dairy replacements, or does it depend on the recipe? I'd love to make your All-Purpose Vegan Cheese Sauce and other vegan recipes, but have been struggling to figure out how to replace the cashews. Thank you!
Hey Valerie, A cashew allergy can make swapping tricky for sure, but don't despair as it can be done! I'd say it depends on the recipe, but I'm happy to help you troubleshoot if you have any specific ones in mind. If you leave a comment with the recipes you'd like to make first I can reply with my substitution ideas (it's fun brainstorming for me…I'm kind of a nerd like that). Sometimes you can swap raw cashews for raw sunflower seeds, such as in my All-Purpose Vegan Cheese Sauce recipe (see the tip for the deets!). I've also heard you can use macadamia nuts as an alternative to cashews in some recipes, but I haven't tried it yet.

"Angela, Thank you so you so much! I wanted to share a snapshot of our staple rotation meals made possible because of you! You've made a majorly positive impact on my family's health and well-being. And having everything in the App is a dream! You have a talent that is valued and appreciated. ❤
Here are our staple OSG meals:
Breakfast
Zucchini Bread Muffin Tops, 5-Minute Oatmeal Power Bowl, Heavenly Carrot Cake Baked Oatmeal, Hidden Greens Chocolate Protein Smoothie, Flourless Thumbprint Breakfast Cookies
Lunch
Endurance Crackers, hummus, cucumbers, blueberries, strawberries, and pistachios
Dinner
Our Perfect Veggie Burgers with Whitewater Burger Sauce (using Sir Kensington vegan mayo), Speedy Veggie Noodle Bowls, Roasted Butternut Squash with Almond-Pecan Parmesan, Crispy Smashed Potatoes with Avocado-Garlic Aioli, Adriana's Fave 10-Minute Pasta, Soul-Soothing African Peanut Stew, Cauliflower Mashed Potatoes with Easy Mushroom Gravy
Snacks
Crispy Peanut Butter Chocolate Chip Cookies, One-Bowl Jumbo Chocolate Chunk Cookies, Vegan Banana Bread
Dessert
Fail-Proof Vegan Chocolate Cupcakes with Salted Buttercream
Thanksgiving
Saweet! Potato Crumble with a Crunchy Nut Crumble
If we have a cold
Hot Detox Tonic, Restoring Citrus Tonic
We also love making your Cheerful Vegan Nachos (with your delicious All-Purpose Vegan Cheese Sauce) for a fun dinner! We also make and freeze your veggie burgers for an incredible, easy-to-prepare dinnertime treat. We invest the time to make a big batch, wrap them in freezer paper, put them in a labelled freezer bag, and then have an awesome and wholesome dinner ready for busy school nights! ❤"
Hey Kristen, WOW, you're on fire! Thank you for sharing all of your meal ideas…I always find it so inspiring when readers mention what they're making, and comments like yours never fail to make me remember those forgotten recipes of OSG's past! And I love that you make the loaded nachos for dinner…we do that too from time to time and it's always a hit. Thank you for all of your support and kind words!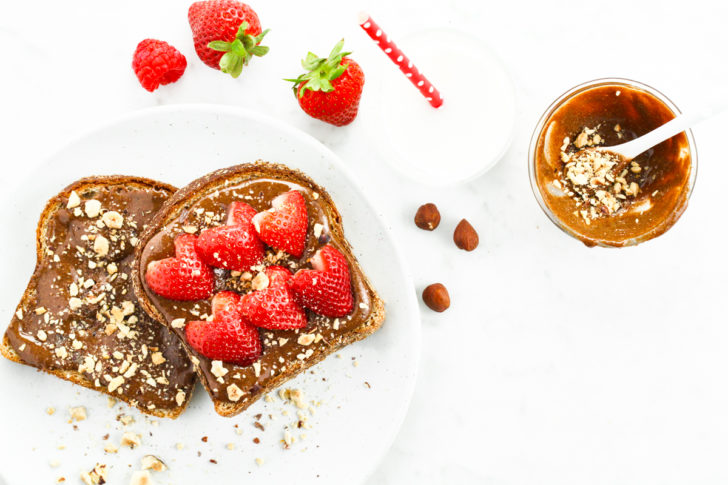 Just a quick note that I added a revamp of my Homemade Mocha Nutella to the app…and wowza it's good. Also, the iOS version of our app is still on sale for 99 cents (for the next several days) if you want to take advantage!