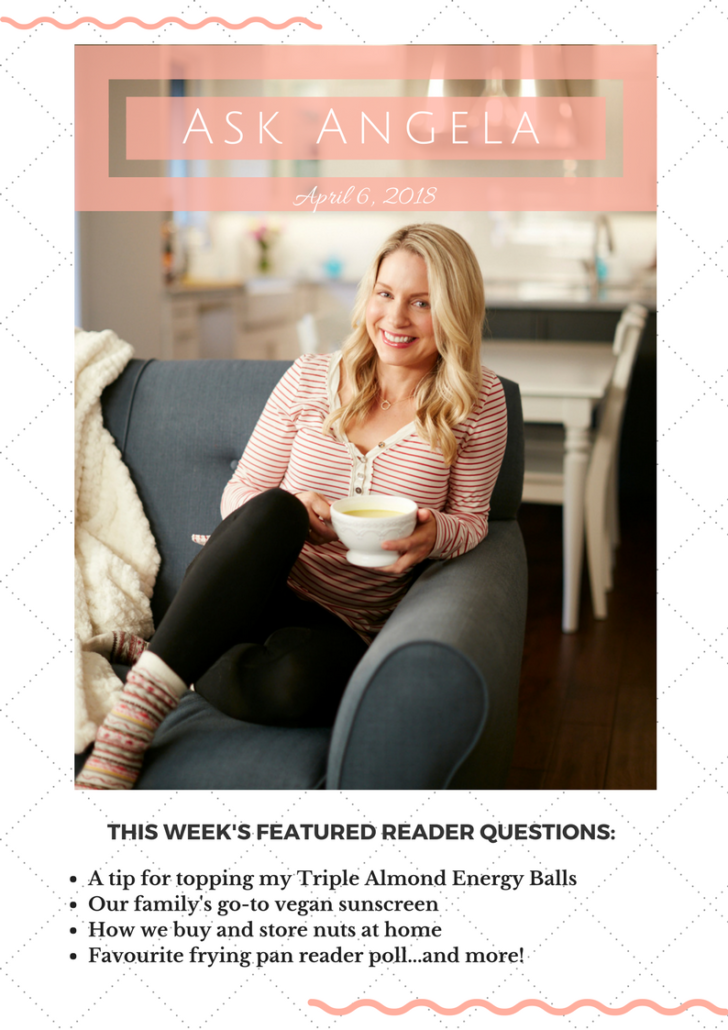 Happy Friday, friends! Before diving in, I want to share some fun news in case you missed our newsletter yesterday…The Oh She Glows Plant-Based Recipe App has been nominated for a WEBBY AWARD! It felt like such a long shot when I applied a few months ago (apparently they had over 13,000 applications come in from around the world!), but then I thought of all the praise and encouragement you've given our app and decided to just go for it—no harm trying, right?! I'm still in complete shock over finding out we were nominated, and so proud that we're the only 100% plant-based app in our category. I gotta say it feels pretty awesome to be reppin' the veggies. :)
If you enjoy our app, I'd be so grateful if you took a minute to vote for us! I can't thank you enough for your support and for all of the encouragement that has been coming in this week. :)
Q1. Your Triple Almond Energy Balls are so delicious and healthy that I had to make them twice in the past two days! My only question is how you make the toppings stick to the balls and stay put? I can't get the coconut to stick as much as I'd like to.
Hey Mary, Oh good question! I find lightly wetting the energy balls helps the shredded coconut, ground nuts, and hemp hearts stick when rolling. I just added this tip to the recipe directions as I realized I forgot to mention it. Enjoy that triple almond goodness! They are a favourite around here.
Q2. With the weather getting warmer, I'm wondering if you can share which vegan sunscreens you would recommend (including one for the kiddos)? #AskAngela
Hey Leslie, Our whole family uses the same vegan sunscreen and we love it! It's a clear SPF 50 spray by Alba Botanica. I actually wrote about it on My Favourite Skin Care Products page here in case you want to read more. I hope this helps!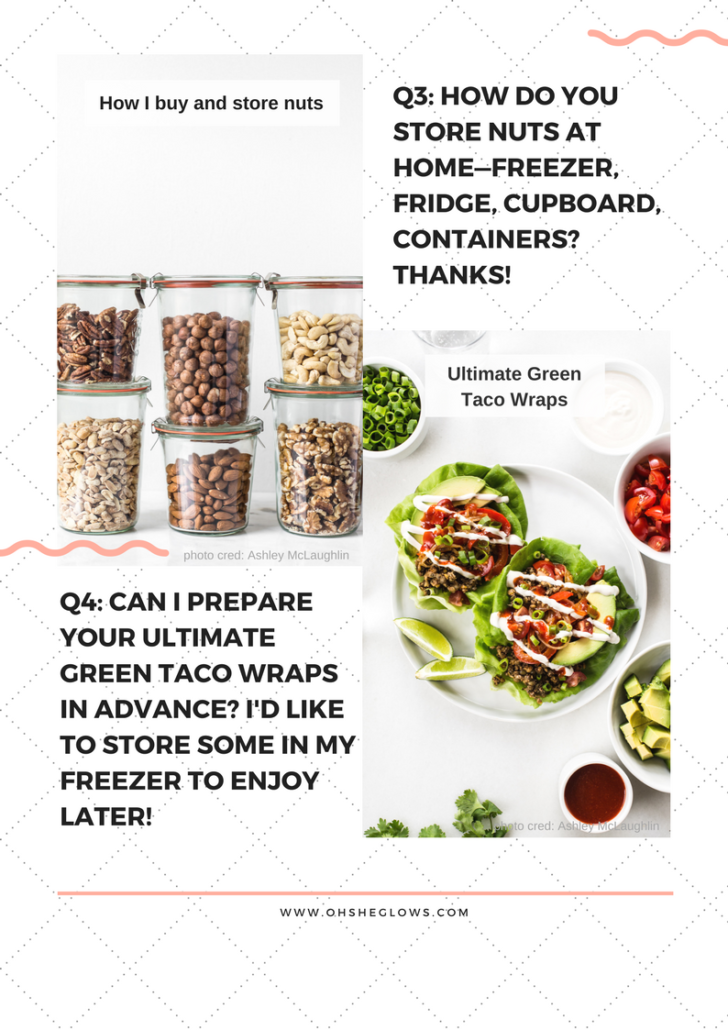 Q3. How do you store nuts in your house? In the fridge, or in the pantry using an airtight container? Also, do you use ground flax seed often? I bought a large bag at Costco and I hate the strong flavour it imparts on my baking. Do you have any suggestions for me?
Hey Liz, We usually buy nuts in small quantities from bulk bins as we need them, so I don't tend to freeze them as I'm not buying large enough amounts to need longer storage. If I was going to, though (say if there was a sale on!), I would freeze a stash in an airtight bag or container. Also, I hear you on ground flax…I find the flavour of some brands' pre-ground flaxseed off-putting—almost like it's spoiled or rancid. I use Bob's Red Mill brand when I don't have time to grind my own. You can freshly grind flaxseeds in a blender or coffee grinder and then store those in the freezer or fridge. See if you like the flavour better when ground fresh. If that doesn't help you enjoy them, you may be able to swap ground chia seeds in baking (chia seeds absorb more water, though, so you may need to use less than called for) depending on the recipe.
Q4. I am wondering whether your Ultimate Green Taco Wraps with Lentil-Walnut Taco Meat can be prepared in advance, and frozen. As for leftovers, do you reheat those in the microwave, or on the stove top? Thanks.
Hey Grace, I haven't tried freezing the taco meat before, but if you try it please let me know how it goes. I can't see why it wouldn't freeze just fine! As for reheating, we don't have a microwave so I would opt to reheat the thawed "meat" on the stovetop along with a splash or two of oil to add some moisture back.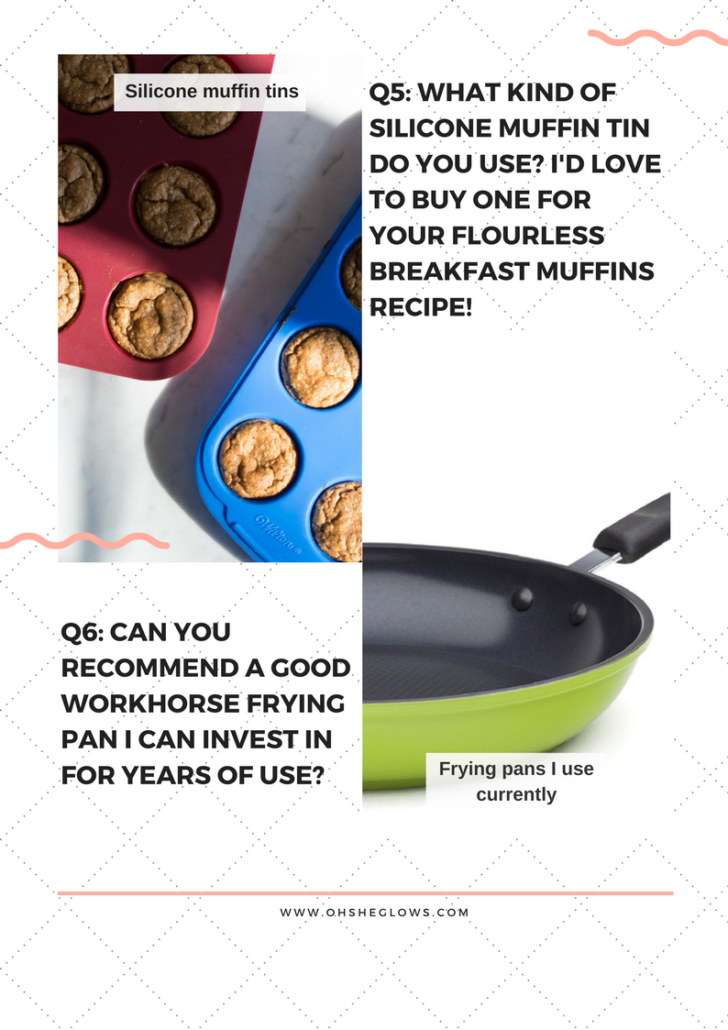 Q5. I'd really like to make your Flourless Bite-Sized Breakfast Muffins, but don't have a silicone muffin tin. I've been wanting to buy one anyways, so is there a brand you'd recommend before I do? So many of the ones I see online don't get great reviews. Thanks!
Hey Rosie, For sure! Mine are Wilton brand. I like them well enough, though I do find that I need to wash them by hand as they come out with a white residue when I put them in the dishwasher.
Q6. Hi Angela, I have an Ask Angela question about non-stick frying pans. My husband and I are looking for an extra-large workhorse frying pan—something that I can cook a million veggies on high heat in. We both work full-time, and I only have 20 minutes to get dinner on the table with two little kids who want to hug my legs the whole time. I'd like to invest in something that will last for years—we're willing to spend more for a pan that is going to be used every day. Please give us the gold standard recommendation! (PS: No cast iron please because we can't keep up with the maintenance. Sad but true.)
Hey Stephanie, I love this question! It's funny because I've been on the hunt for that "gold standard" my whole life it seems. Right now I'm using a 12-inch Green Earth Frying Pan by Ozeri and a stainless steel wok by Calphalon, but I wouldn't say that either of them are the workhorse you're probably looking for. I thought this would be a fun time to ask fellow OSG readers if they have any suggestions for us. So, does anyone out there have any recs to share? Please feel free to chime in on Facebook, Twitter, or the comments below. We're all ears!

"I've tried my fair share of your recipes and love them all, but I must say your new Nutty Crusted Butternut Squash Bowl is a new favourite (currently eating the leftovers)! Something about the flavor and texture almost reminds me of chicken fingers, but better? I don't know maybe I'm crazy but they're absolutely delicious! I whipped together a quick sauce to dip them in and I was so pleased with the results that I thought I would share! If you're a fan of spice, I highly suggest whisking together some tahini, lemon juice, Frank's Red Hot Sauce and warm water. Super simple and the pairing of sweet squash & spicy sauce is to die for! Thanks for sharing. Xx"
Hi Cayley, we were on vacation visiting my parents when I saw your comment, and I couldn't help reading it out loud! We all think your dipping sauce sounds ah-mazing…and so simple too. I love that you can make the squash on its own, and a dipping sauce to go with it is pure genius!! Thanks for sharing your idea. Enjoy the leftovers!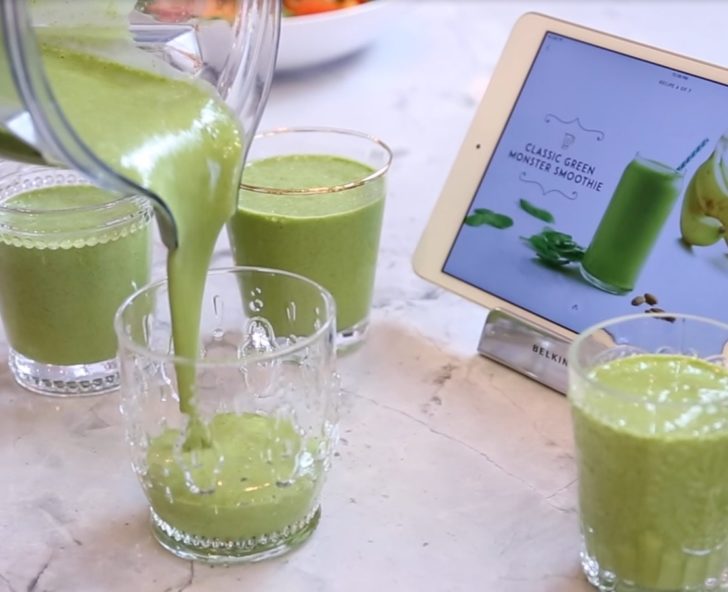 Psst…to celebrate our 2-year app-iversary, The Oh She Glows Recipe App is on sale for 99 cents until April 11th! You can download our app in the Apple Store or Google Play Store.