Boy have we ever soaked up the sunshine on our vacation! I wish I could bottle this warm sunny weather and take it back to Ontario with us. While we're getting settled, I thought I'd share the next roundup of Things I'm Loving Lately. And a quick note that there will be no Ask Angela post tomorrow due to the holiday. If you're celebrating this weekend, I hope you have a very happy Easter!!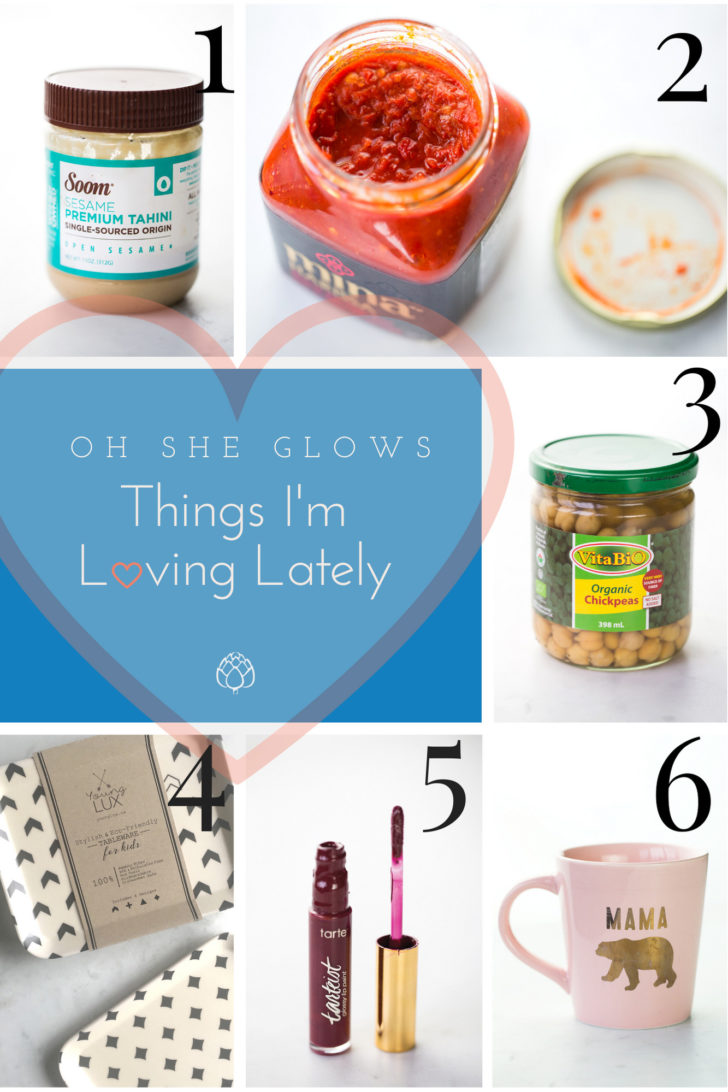 1. Soom Pure Ground Sesame Tahini
On an impulse, I added this tahini to my Naturamarket.ca order (the website where I buy my beloved Nutpods!) and ended up falling in love with it! I adore how smooth and luxurious this tahini is, plus it has that nice "runny" texture that's perfect for drizzling—some brands I've tried in the past can be quite firm and dry with a layer of separated oil that's difficult to mix in. Its flavour is so rich and nutty too.
2. Mina Harissa paste
I'm a bit late to the party trying Harissa, but once I did there was no turning back. While I'm by no means an expert on traditional Harissa pastes (and I've yet to try making a homemade version!), I really enjoy Mina's Harissa as it's super flavourful and preservative-free, too.
3. Vita Bio Organic Chickpeas (Jarred)
These chickpeas are a great option when I don't have time to soak and cook my own chickpeas, and I also love that they're stored in glass as opposed to tins. If I don't recycle the jars, I like to throw them in the dishwasher to reuse for overnight oats or homemade salad dressings. Just a word of caution though: these jarred chickpeas have a jelly-like coating (as opposed to the liquid state of aquafaba), but it's nothing a good rinse can't fix. (At first I was mega creeped out though! lol.)
4. Young Lux Plates
Young Lux reached out to me last month offering to send our kids some of their bamboo plates to try out. I was actually planning to put an order in myself after seeing the brand pop up on social media, so I gladly accepted their kind offer! The kids adore their new plates, and I have to say, so does mama—their modern/stylish design is a nice change from the usual kid-friendly look (a parent can only take so much neon green and orange…ya know?), plus it's free from plastics, too…woohoo! My only small complaint with the plates so far is that I've noticed some light staining on them. This could be because we use a natural dishwasher detergent (which doesn't work super well), but I'm not sure. Young Lux does say that the plates are dishwasher safe.
5. Tarteist Glossy Lip Paint in WCW
This lip "paint" by tarte is my go-to lip colour. I adore a rich berry tone and this one has so much pigment—I simply tap a few dots across my lips and then blend all over with my finger for a quick pop of colour. I top it off with my fave Kopari Coconut Lip Glossy for shine and moisture.
6. Mama Bear Indigo mug
It's no secret that I'm a bit of a collector (okay, hoarder!) when it comes to Indigo's mugs…they're just so cute and have the best catchy sayings and puns. This Mama Bear mug is one of my favourites, and I find its large 16-ounce size perfect for my French press coffee with all the fixin's! Sadly, that one appears to be out of stock, but there's a similar 13-ounce version here that might make a sweet Mother's Day gift, if you're on the hunt!