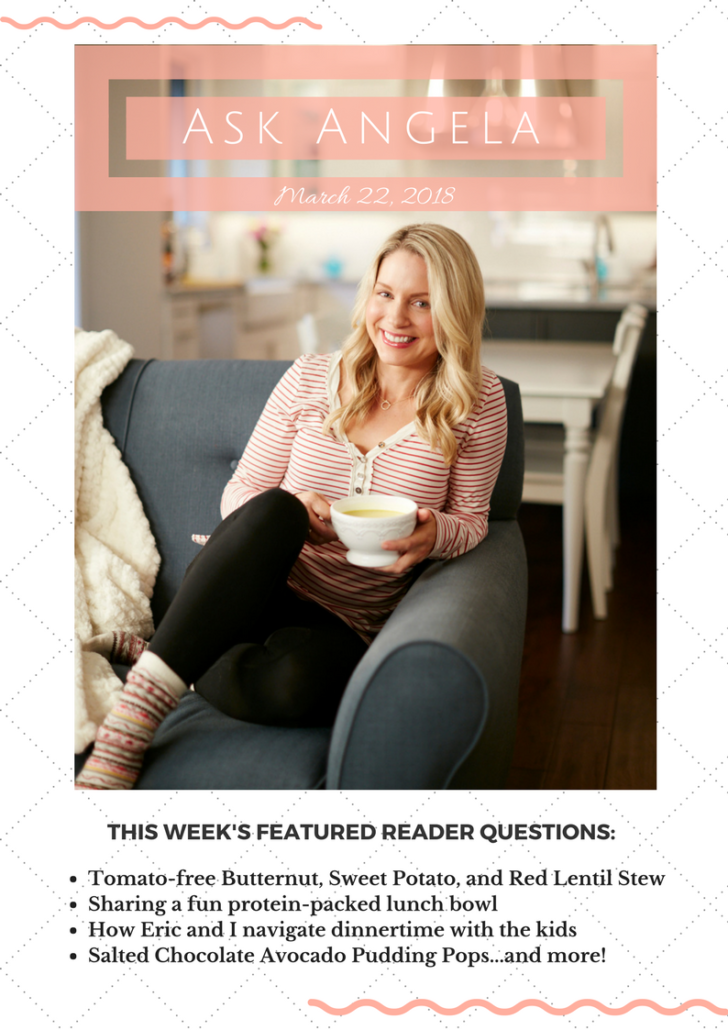 It's spring, it's spring!! I was outside the other day when it hit me that I can now officially say that winter is behind us (according to the calendar, anyway…I think it'll be a while before it actually feels like it here). The winter of '18–'19 was a challenging one for me, and I feel so ready for a fresh start (I think I've said this about ten times so far in 2018!)
I'm popping in a day early with Ask Angela because I just couldn't wait to share this week's fun questions. I hope you enjoy this batch as much as I did, and please keep those questions rollin' in…they give me something to ponder when I'm up in the middle of the night, lol.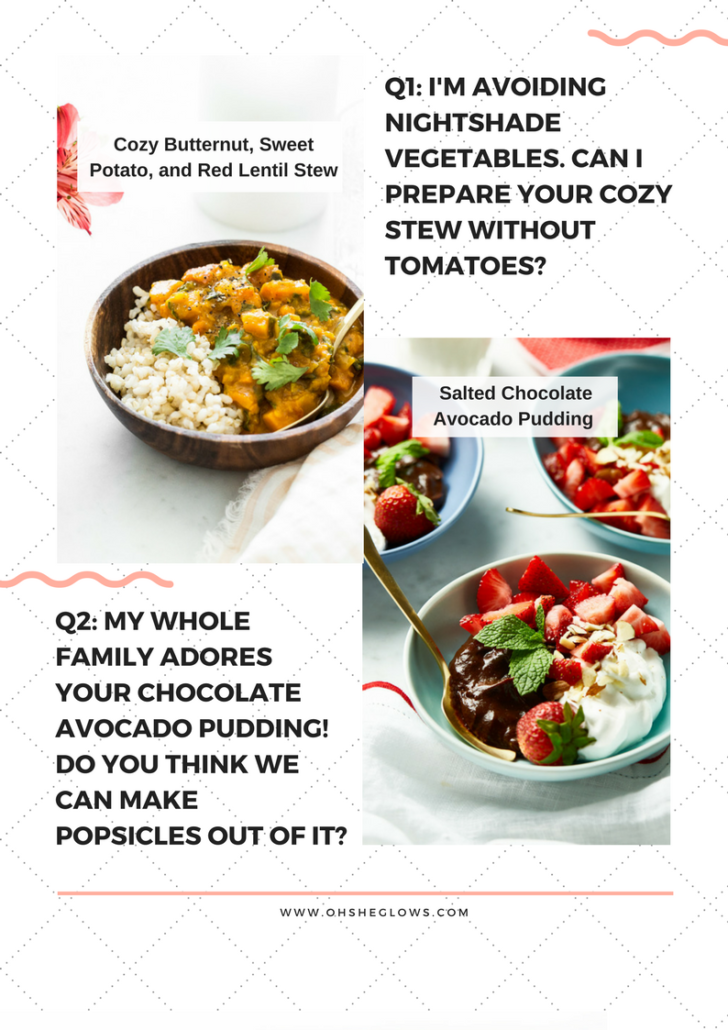 Q1. Hi there, your Cozy Butternut, Sweet Potato, and Red Lentil Stew sounds absolutely delicious. I am trying to adapt a week's worth of meals for a lady who is allergic to vegetables in the nightshade family. (So no tomatoes.) Have you ever tried making this without the tomatoes?
Hey Georgie, Your question came at just the right time…I was planning on making a batch of this stew for dinner that very night! (We've been on a huge Cozy Stew kick this week!) So, after receiving your question, I decided to give it a spin, and held off adding the canned tomatoes and tomato paste until the very end. I tasted the stew without the tomatoes and it's still quite good! I do think you can get away without using tomato products, however since there's no acidity from the tomatoes it's especially important to add the apple cider vinegar called for at the end to balance the flavours. You may even want to use a bit more vinegar to up the acidity (I'd recommend adding slowly to taste). You'll find the stew will be thicker without the liquid from the canned tomatoes, so you may also want to add a bit more broth as you cook it…although a super thick and hearty stew never hurt anybody, I suppose. :) I'd love to hear how it goes if you try it out, Georgie!
Q2. Hi Angela, My husband and I as well as our family of five boys really enjoy your recipes—Oh She Glows is my go-to site for plant-based yummy food =) We just tried the Salted Chocolate Avocado Pudding Bowls and they were a hit. I'm wondering if you ever made pudding pops with that recipe, and if so how the avocado held out…I have never frozen avocado myself.
Hey Sarah, Wow, five boys!! How do you even have time to make this pudding? Heh. I'm so happy to hear how much you all enjoy the recipes! My kids love popsicles, so I tried out your avocado pudding pops idea and the frozen version worked pretty well—the pops came out chewy, dense, and fudgy! I did find it a bit tricky spooning the pudding into molds as it is quite thick, and you may need to push the pudding down a few times to get the air bubbles out as you go. Not a big deal, though! The popsicles were also a bit challenging to remove from the molds (I had to put the mold under hot water for a while to loosen them up), but in the end they tasted great and I didn't find the avocado flavour (which is subtle) changed due to freezing. Also, if you happen to have the Bonus Recipe Bundle from my Oh She Glows Every Day pre-order promotion, you might want to give my Dreamiest Dark Chocolate Fudgsicles recipe a try too. Those pops are made with a decadent base of melted dark chocolate, coconut milk, and banana…obsession-worthy!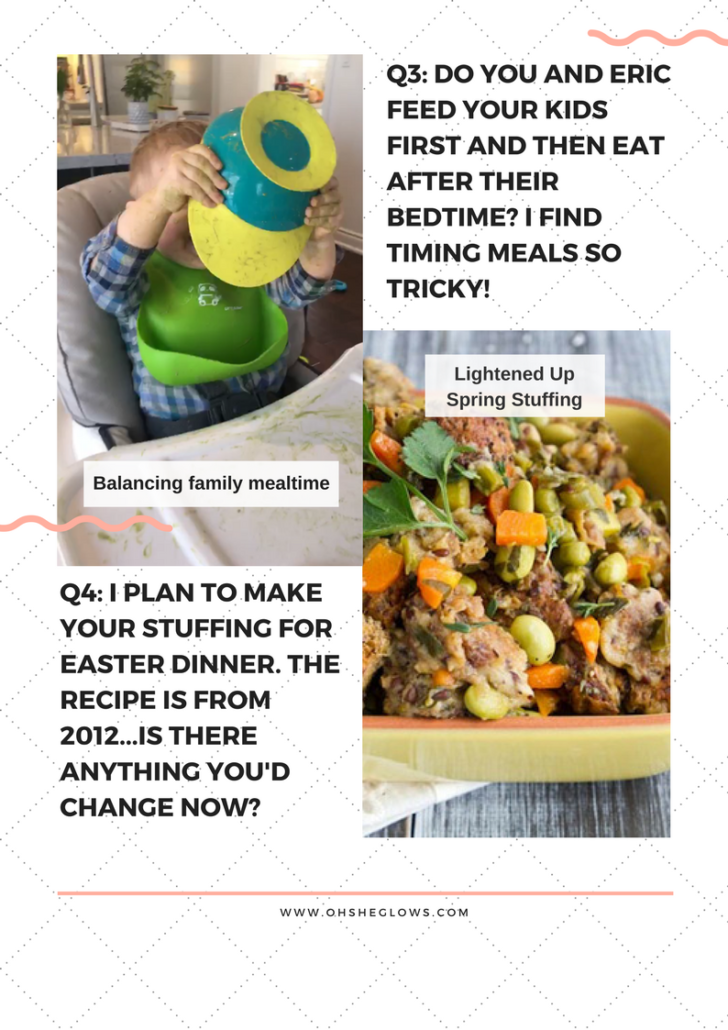 Q3. Do you feed the kids first and then eat after they are in bed? I struggle with this and am wondering if you have any suggestions. (Note from Angela: A little context—Jess' question came in after I did a couple Insta Stories showing me making my Cozy Butternut, Sweet Potato and Red Lentil Stew early evening, and then finishing off the cooking process after my kids were tucked in for the night.)
Hey Jess, I can so relate to your struggles with this! We tend to play it by ear schedule-wise and change it up depending on the day (weeknights and weekends are vastly different around here), how the kids are feeling (are they hangry, happy/content, etc.), and what dinner foods we have on hand. Adriana and Arlo tend to eat quite early (we call it the 5 o'clock Seniors' Special, hah), so during weeknights Eric and I will often eat a bit later after they go to bed. Occasionally, I'll be hungry enough when the kids are ready to eat and I'll eat with them at the same time…it just depends! On weekends we always try to eat together since I tend to have more time to plan and cook special meals. In sum, we pretty much fly by the seat of our pants most days, but I've come to realize that's what parenthood is all about (at least for us).
Q4. Love to make your Lightened Up Spring Stuffing for Easter, but since it's an older recipe, I'm wondering if there is anything you'd change to update it. Or is this one of those tried-and-true Oh She Glows recipes that is just as awesome today as a few years ago? ?
Hey Sue, Oh yes this is an older recipe from 2012! Somehow it feels like just yesterday that I posted it too. It's been a while since I've made it, but I remember really loving this lightened up take on stuffing. I'll put this on my list of recipes to revisit this spring as it would be a great one to re-test and add to the app. The crusty seed & cranberry raisin loaf that I used in the recipe added so much to the overall dish, so I would suggest using a similar loaf as the base if you can. The pops of cranberry and raisin were really nice (if you're into that!), although I'm sure sourdough would be nice too and you could always add dried cranberries separately if you use a different variety of bread. I'd love to hear what you think if you try it…maybe a test run is in store before the big day?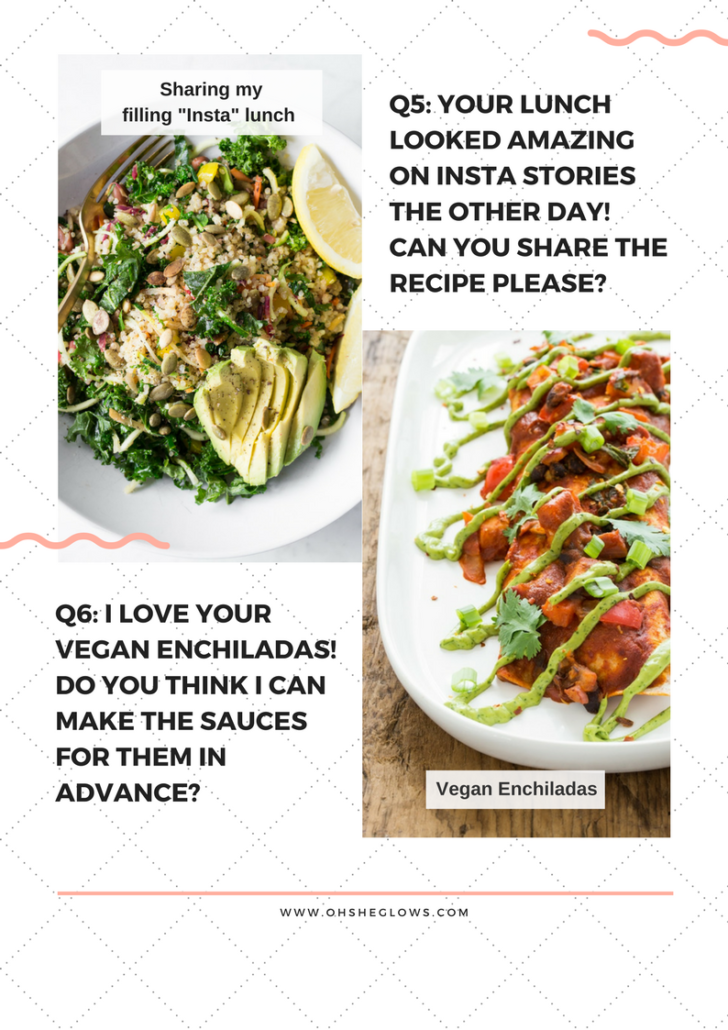 Q5. Hi Angela, You posted a tasty looking lunch idea on Insta Stories yesterday and it was gone from your story before I could screenshot the ingredients you listed. Do you mind sharing what was in it and how you made it? I need more green in my life this spring!
Hey Becca, Absolutely! It was such a great lunch that I was actually debating whether to turn it into a recipe on the blog and app. For this dish, I was lucky to have some leftover cooked quinoa on hand—I find it always helps a meal come together quickly, so I used that as my starting off point for a fast lunch. I added a tablespoon or two of avocado oil to a large skillet along with some stemmed and chopped curly kale, diced bell peppers, spiralized zucchini and carrot (sometimes I use this julienne peeler if I don't want to pull out the spiralizer), my leftover cooked quinoa, as well as some drained and rinsed canned pinto beans. I stirred it all together and sautéed the mixture over medium heat while adding fresh lemon juice, salt, red pepper flakes, garlic powder, and pepper, all to taste. Once the veggies were tender, I portioned it into bowls and topped it with sliced avocado, a generous dollop of hummus, and a handful of nuts and seeds (like hemp hearts, sunflower seeds, chopped walnuts, etc.). It was sooooo tasty and left us feeling energized without being weighed down.
Q6. Hi Angela, I've made your Enchilada recipes many times, but this time I want to free up my time just before serving so I have a chance to catch up with my guests. Can I make the Enchilada Sauce a few hours in advance (or even the day before)? How about the other enchilada sauces you drizzle on top, like the Avocado Cilantro Cream Sauce, or Cilantro-Lime-Garlic Cashew Cream? Love every recipe I have tried from both of your cookbooks!
Hey Beth, Thank you so much for your kind words and support for my cookbooks…that means the world to me. You can definitely make the Enchilada Sauce (and filling) in advance (they should keep in the fridge for several days). If you're planning to whip up the Avocado Cilantro Cream Sauce from my Vegan Enchiladas, I'd say it's probably best made fresh whenever possible as avocado spoils quite fast and this sauce contains over a cup of it. When it comes to advance prep, you might have a bit better luck using the Cilantro-Lime-Garlic Cashew Cream (from my Next Level Vegan Enchiladas) as that recipe contains much less avocado (only 2 tablespoons). If you do make the Avocado Cilantro Cream Sauce ahead of time, I'd suggest keeping the sauce in an airtight container and pressing a piece of plastic wrap on top of the sauce before sealing with the container's lid—this should help prevent it coming into contact with air. You may need to scrape off and discard any discoloured avocado sauce on top just before using. I hope you have a great time hosting, and please let me know how things work out if you do make either of the sauces in advance!

"Angela, Thank you! You've done it again and make feeding my toddlers so much easier. Your Flourless Bite-Sized Breakfast Muffins are perfect. Easy to make, delicious, nutritious, and plenty of ingredients that my three-year-old can help me measure. These will be in regular rotation here."
Hey Melissa, Oh that's great news!! I'm so glad to hear you and your toddlers love the muffins. Sounds like your three-year-old is already a baking pro. :) They're a big hit over here too!