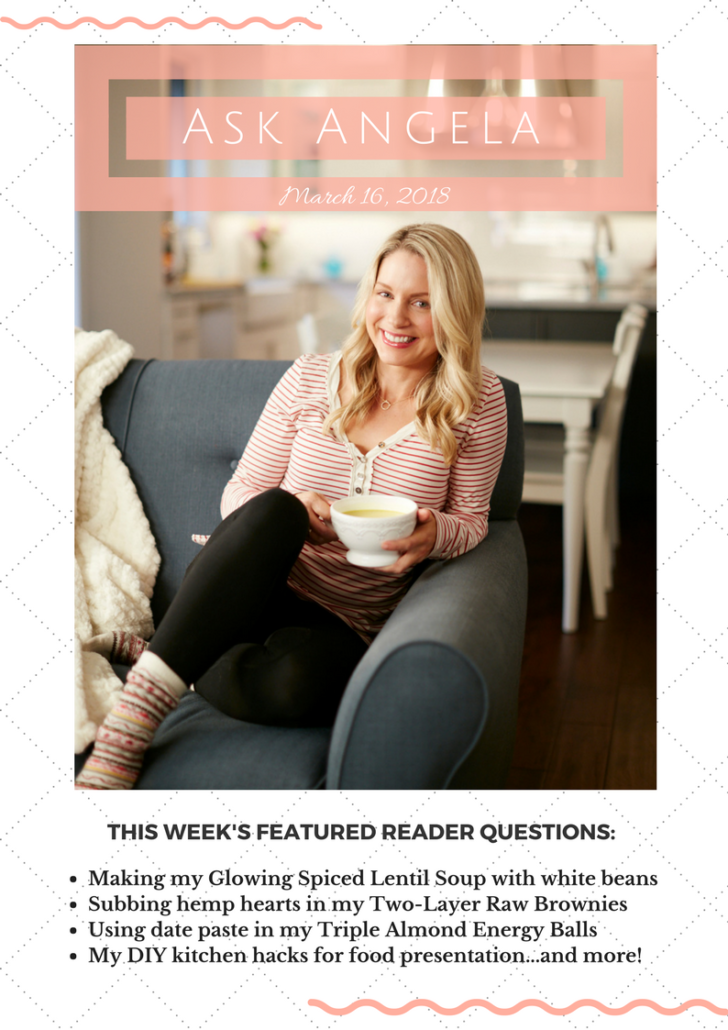 Hey everyone, I hope you're enjoying a fun March break if you're off this week! We finally decided to book a quick trip to Arizona to visit my parents…even though after our December holiday travel shenanigans I vowed I wouldn't fly with Arlo again until he's older and less squirmy…lol. Spoiler alert: he is at peak squirminess these days, but when you're over winter, you're over winter, am I right? I think we're all counting down the days until we are soaking up the sun!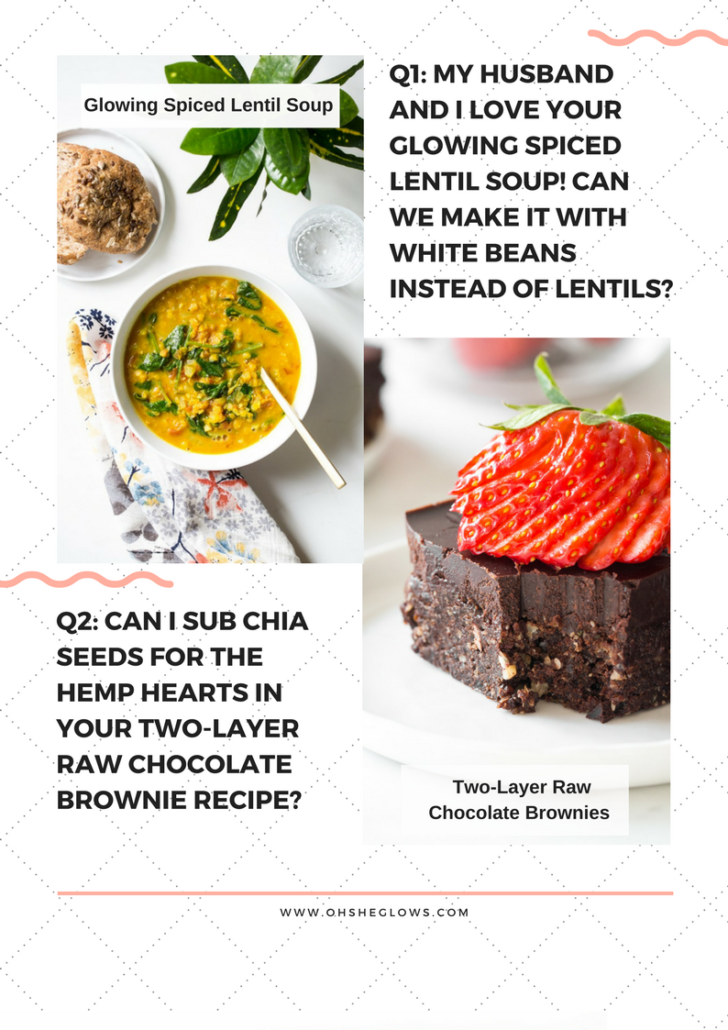 Q1. Hi! My husband and I LOVE your Glowing Spiced Lentil Soup. Amazing. We were thinking of switching it up a tad and using white beans instead of lentils. Any thoughts?
Hey Reagan, So happy you both love it so much! It's on regular rotation over here. :) I recently tested a version with canned white beans (added at the end with the spinach) and reduced the broth to 1 cup since there were no red lentils soaking it up. To be honest, I didn't like this alternative as much as the original—maybe because I reduced the liquid and that threw off the flavours, or maybe I'm just so used to the tried-and-true Glowing Spiced Lentil Soup recipe at this point! #changeishard, lol. I also used light coconut milk instead of full-fat and that could've made the soup less rich and tasty than usual. I'd probably suggest making the recipe as-is and then adding a drained can of beans at the end if you're looking to add beans for texture. I'd love to hear how it goes if you try it out!
Q2. Could I swap chia seeds for the hemp hearts in your Two-Layer Raw Chocolate Brownies?
Hey Katrina, Chia seeds are much crunchier than those soft and tender hemp hearts, so I probably wouldn't opt for a 1:1 ratio swapping them here. I was curious about your question so I decided to try out a hemp heart-free version for you! I used 1 1/2 cups walnut pieces (this amount doesn't include the 1/3 cup walnuts called for at the end of the recipe) and 1 tablespoon of chia seeds. It worked great! As I mentioned, chia seeds are pretty crunchy, so if you don't mind the extra crunch factor, you could probably double up to 2 tablespoons of chia seeds based on preference. I found the cocoa powder's flavour was a bit more intense in this version, so you may want to try adding a bit less than 1/2 cup cocoa powder to taste.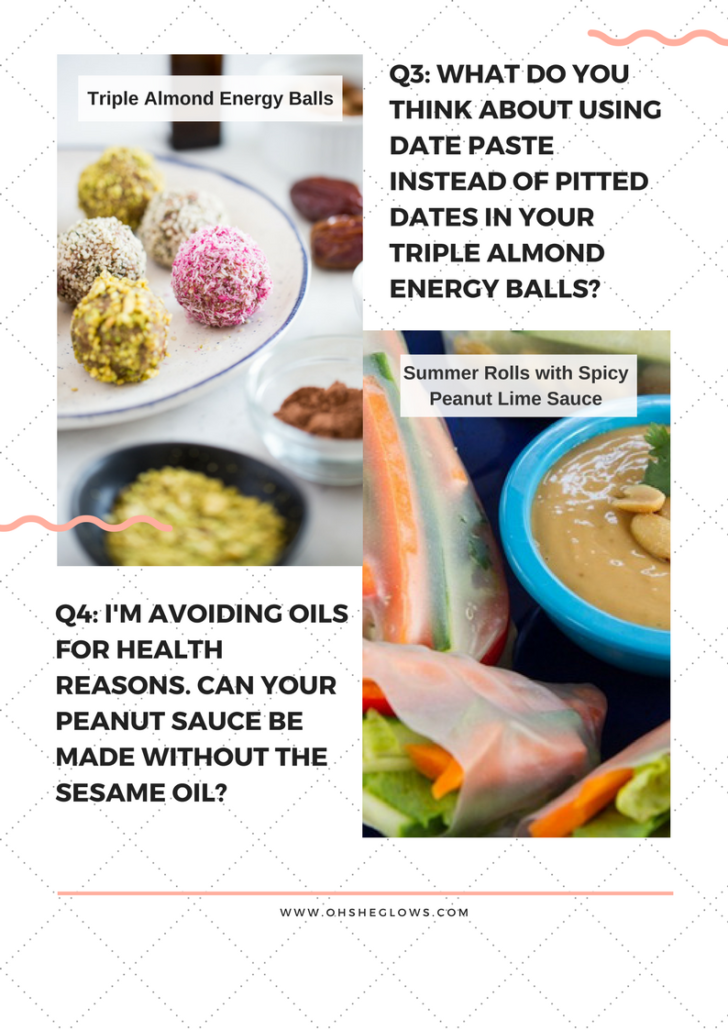 Q3. Could I use date paste instead of pitted Medjool dates in your Triple Almond Energy Ball recipe?
Hey Donna, I think date paste is a blend of pitted dates and water, so I can't see why you wouldn't be able to make it work with a bit of experimenting! My main concern is whether the date paste would bind the dough as well as the pitted date version. I would try starting with 3 to 4 tablespoons of date paste and going from there until the right dough consistency is achieved. If it's still too dry (or simply not sweet enough), add a bit more date paste and process it again. You may also need to use a bit less water if the date paste contains some on its own.
Q4. Your Spicy Peanut Lime Sauce reminds me of the peanut sauce I used to get at Thai restaurants. Delish! However I am trying to reverse heart disease by avoiding oil in my diet, so I can't make this sauce with the sesame oil called for. Any suggestions?
Hey Rebecca, I'm so happy you love this peanut sauce so much! I tried a version swapping the sesame oil with an equal amount of water and it worked great. The peanut sauce might not be quite as rich-tasting, but since there's 1/4 cup peanut butter in the sauce I found that it was still plenty creamy!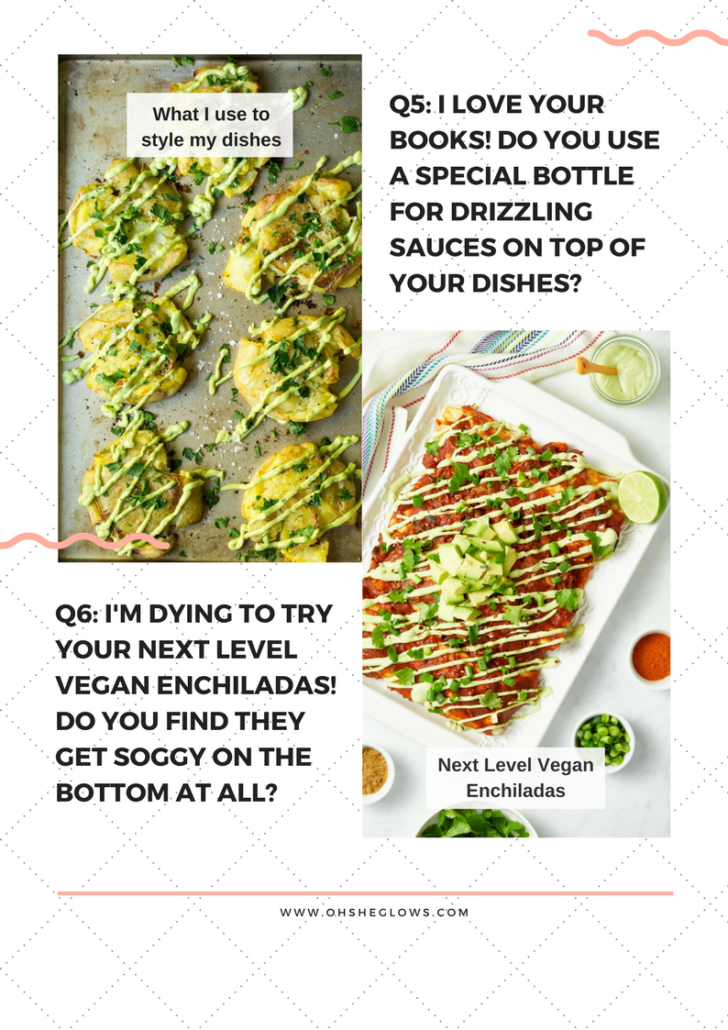 Q5. Hi Angela, I love your books and am curious if you use a particular bottle for garnishing foods with chocolate drizzles, salad dressings, etc. My presentation could do with some improvement!
Hey Arn, Oh can I relate to your struggle with food presentation! I've been wanting to pick up one of those cute lil' squeeze bottles for decorating, but it keeps slipping my mind! Normally, I just use a small spoon or fork for drizzling or a baggie with the corner snipped off for "piping." Nothing too fancy going down over here! ?? In the photo of my Crispy Smashed Potatoes (above), I filled a small bag with the Avocado Garlic Aioli and snipped off a corner to create a little hole. Then I "piped" the sauce on my potatoes from there. Of course this isn't necessary for the dish (I can tell you it tastes just as delicious with straight-up dollops of sauce!), but it sure looks pretty.
Q6. Do you find your Next Level Vegan Enchiladas get soggy on the bottom? I am dying to try them but really don't like soggy enchiladas :-)
Hey Trish, They can get a bit soggy depending on the type of tortilla that you use. I'd suggest using a heartier tortilla like the Food for Life Ezekiel 4:9 Sprouted Whole Grain Tortillas. I like those ones because they're thick and dense, and should hold up a bit better than traditional white flour tortillas in this recipe.

"I've made your Glowing Spiced Lentil Soup so many times and my family loves it! Today my nine-year-old son asked specifically for this dish and I felt like I should comment how much we enjoy it! I have also made it with the tiny black lentils when I don't have the red ones. The black lentils seemed to take longer to cook, but they had a great earthy flavor too. Thank you for the recipe!"
Hey Jill, That's so sweet your son specifically asked for this soup! A parent's dream. ;) I love that you make it with black lentils on occasion…I'll have to try that soon. A mix of lentil varieties might be fun too. Thanks for sharing!