What's this, I'm posting on a Monday?! ;) This post was ready to go last week, but since we had so much fun content already going out (Glow Getter, Ask Angela, and the next issue of In The Glow!), I decided to hold off until Monday for this one. Thanks for all the positive feedback about the reboot of Things I'm Loving Lately, by the way. It's such a fun way for me to share the things I use and love in my everyday life, and I enjoy hearing about the new things you're diggin' too. So feel free to spill the beets, errr…deets, below!
As always, these posts are never sponsored, but I'll occasionally have an affiliate link or two included in the roundup.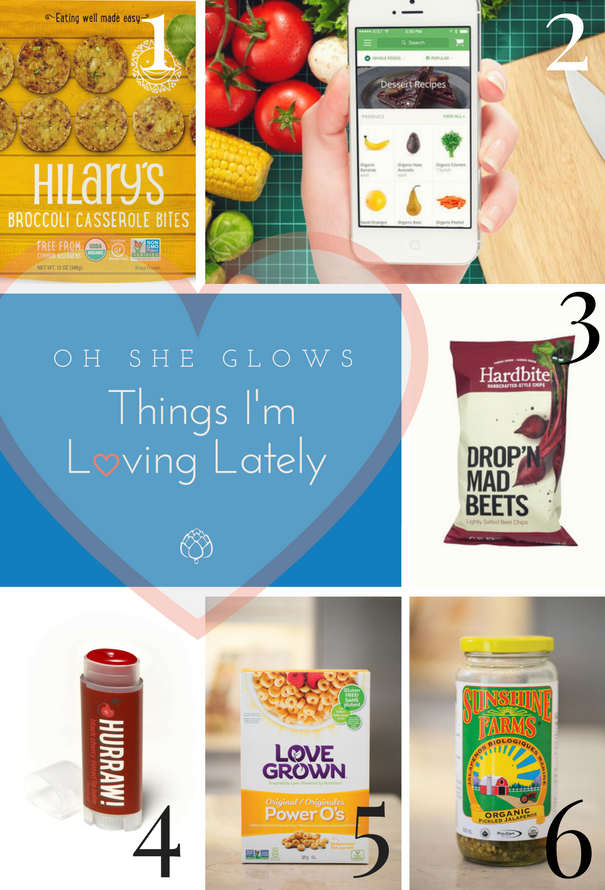 1. Hilary's Broccoli Casserole Bites
I discovered these frozen casserole bites when I was looking for super-fast dinner options for the kids. We definitely don't have a made-from-scratch meal on the table every night, so I was delighted to find these mini veggie burger patties packed with awesome organic ingredients: cooked whole grain millet, broccoli, cooked white beans, expeller-pressed coconut oil, carrot, onion, garlic, apple cider vinegar, psyllium husk powder, salt, arrowroot, basil, and oregano. The kids love them dipped in ketchup, and I try to always have a bag in the freezer for those emergency don't-know-what-to-cook situations! If you're in a similar pinch, I recommend throwing some on a baking sheet with sweet potatoes fries and serving with a side of sliced avocado for an effortless weeknight dinner option.
2. Instacart Canada
Let me preface this by saying that I'm someone who loves grocery shopping. It's something I tend to look forward to, especially on those rare, heavenly occasions when I'm able to go shopping by myself. But sometimes I can't leave the house to get groceries (like during nap time), and find myself stuck needing ingredients to test a recipe. That's why I was so excited to hear that Instacart, an app-based grocery delivery service, is now available in my area. I simply add food to my virtual "cart" through the app and then my order magically arrives on our doorstep within an hour or two. I also love that I can text my "shopper" and make adjustments as they shop away. I only use Instacart when I'm in a pinch, but so far it's been a huge help when I can't leave the house to get groceries. More ingredients = more recipes! Can you say win-win?
3. Hardbite Drop'N Mad Beets chips
At first I wasn't sure about these earthy-tasting beet chips (I initially described them as tasting like ketchup chips with a hint of dirt, lol), but then I found myself polishing off the bag and realized I'd fallen in love. Now they're pretty much the only chips I buy when I want to splurge on something deep fried (which is often…#YOLO). I did say I didn't see my beet chip phase ending anytime soon…
4. HURRAW! Black Cherry Tinted Lip Balm
I've been using HURRAW! lip balm for years, but this cherry flavour is new to me and it's my favourite yet. The red hue leaves a subtle hint of colour, and when I don't want to go all out with a bold lip colour this is my "no make-up" go-to. Best of all this moisturizing balm is vegan, organic, and made using cold-pressed oils.
5. Love Grown Original Power O's
We've been buying Power O's for a few years now, and it's the only cereal we give the kids to munch on. Get this…these fun little O's are made from BEANS! I buy the original unsweetened flavour, which I love for its short and simple ingredient list: navy beans, lentils, garbanzo beans, brown rice, salt, and tocopherols. My kids enjoy the cereal dry or with milk and sliced banana. I don't know what Arlo loves more: snacking on this cereal or tossing it onto the floor, leaving crunchy little landmines scattered about for us to crush into smithereens. (Dang it, Arlo, with the food throwing!) *gets the vacuum out yet again…*
6. Sunshine Farms Organic Pickled Jalapeños (Foodland Ontario)
Pickled jalapeños are a fairly new-to-me food product. I originally picked these up a few years ago when I was developing my Chili Cheese Nachos recipe for Oh She Glows Every Day. They were great for the nacho recipe, and I quickly discovered they were just as good sprinkled on wraps, salads, and savoury oatmeal for a kick of heat. I love that the jar has a long shelf life, so I don't have to worry about keeping a supply of fresh jalapeños in my crisper (which tend to spoil before I can use them up). And bonus points for buying local! Turns out these awesome jalapeños are made in Thamesville, Ontario. Maybe you should pickle some up? ;)