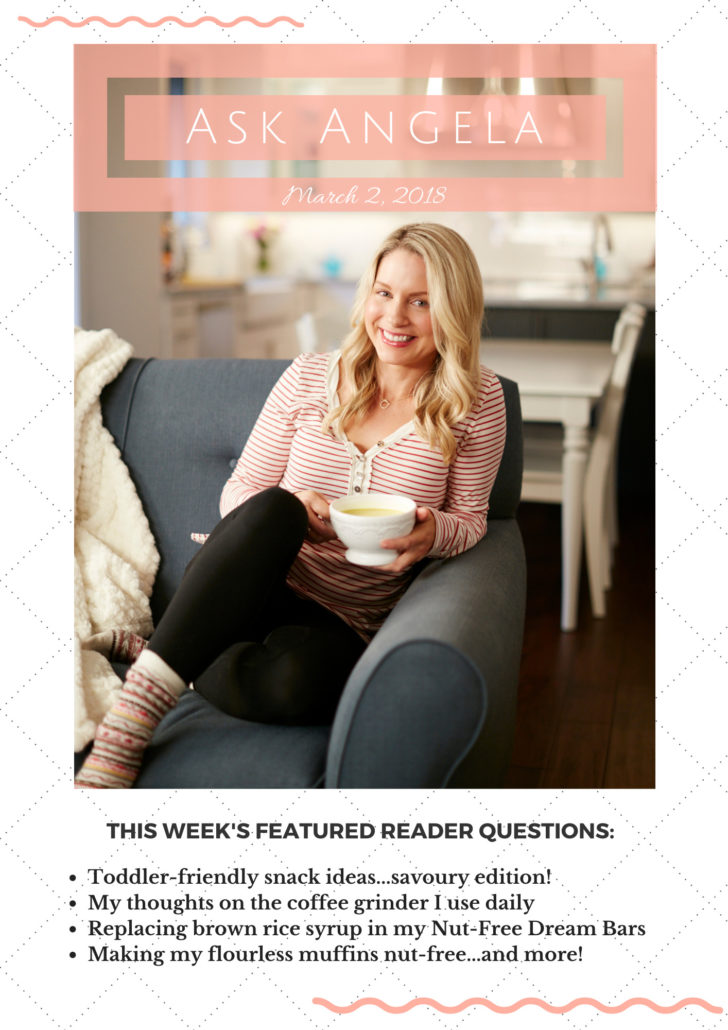 We're baa-aaack! Thanks for your patience last Friday as I escaped the flu's chokehold, lol. I'm happy that we're into the swing of things again with some fun questions today! How nerdy am I that I get excited to test these things out? I'm basically just relieved that I can taste food again.
In case you missed it, yesterday I posted my recipe for the flourless muffins that have been in our breakfast and snack time rotation lately. We received so many questions about these muffins that I thought I'd include a couple in today's roundup as well—see the last two for my notes on a nut-free version and ingredient swap. Also be sure to check out the comments in the post itself as I've answered a slew of other muffin questions there. I can't wait to hear what you think about them!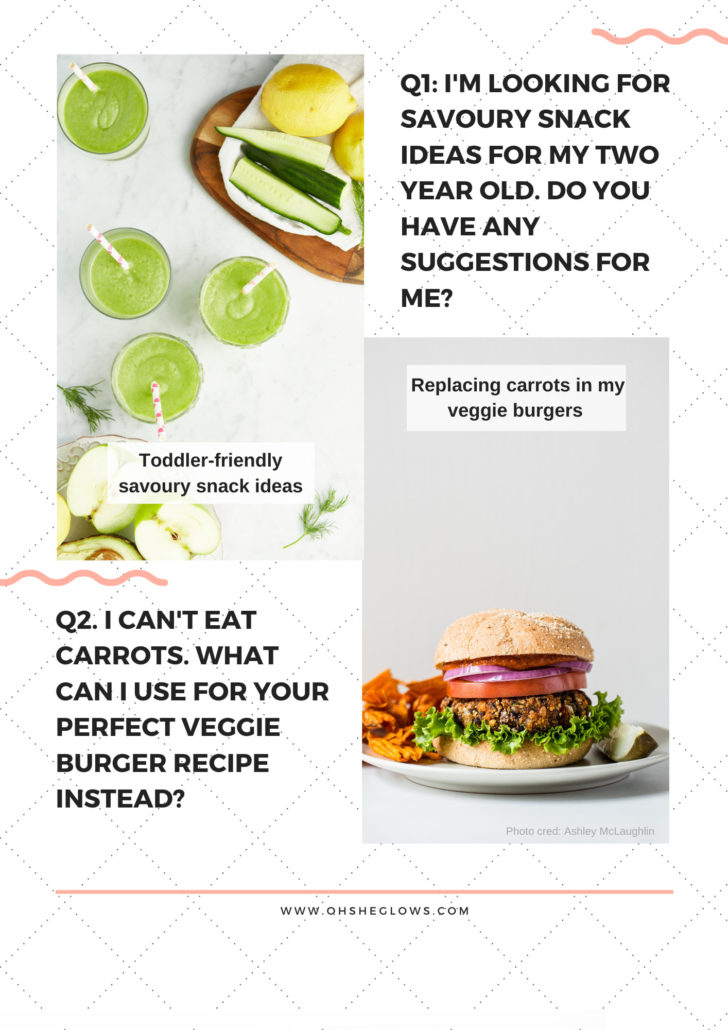 Q1. Great toddler snack ideas! I'm wondering if you can create some more ideas for savoury snacks? I have a two year old who is clearly a vegan foodie. I give him a daily snack at 4pm and once a week try to provide a savoury snack too. Daiya Plain Cream Cheeze Style Spread on top of very small celery sticks has been a hit.
Hi Laurie, I love this challenge! It's definitely easy to default to snacks that are naturally sweet because they tend to be instant hits with kids. Here is a list of savoury snack ideas your little one may enjoy. I hope my suggestions help! And if any other readers would like to chime in below, please do. A big thanks to my recipe tester Nicole for helping me drum up some ideas!
Avocado "fingers": avocado slices tossed in crunchy breadcrumbs or almond meal and garlic powder. Adriana really likes this one and it's super easy to prepare on the fly.
Carrot sticks (either raw or steamed) dipped in Cashew Sour Cream, hummus, or mashed avocado/guacamole.
Cooked chickpeas that have been rinsed, drained and dried. Toddlers love a finger food!
Dill Pickle Smoothie from the app (iOS/Android). This savoury smoothie comes together in a few minutes and I find kids love its tangy flavour too! If serving it the first time you may want to scale back on the lemon a bit until they get used to the flavour.
Avocado Hummus Toast from Oh She Glows Every Day. You can leave the 9-Spice Mix off if you choose, but I recommend letting toddlers try it first. You never know what they are going to like!
Pickles! Pickled cucumber, cauliflower, carrots and beets. Pickles may not be a hit on the first try, but keep offering them.
Sun-dried Tomato and Garlic Super Seed Crackers (Oh She Glows Every Day, p. 81). You can give the larger seeds several pulses in the food processor if your toddler isn't able to chew them yet.
Seasoned kale chips. Try my Flawless Kale Chips, or if you have a dehydrator my Sun-dried Tomato Cheezy Kale Chips are out of this world!
Sneaky Shamrock Crackers. These spinach, dill and whole grain crackers can be cut into any shape you (or your kids) like.
Super Power Chia Bread (The Oh She Glows Cookbook, p. 229 and on the blog) This is a dense, hearty bread that packs a nutritional punch. Try it spread with hummus or mashed avocado.
Cast-Iron Tofu (Oh She Glows Everyday, p. 137) cooked in rectangles and cut into thin sticks for dipping in ketchup or mild barbecue sauce. My Crispy Breaded Tofu Strips are also a huge hits with kids.
My Homemade Wheat Thins crackers taste just like the real thing, and they can be frozen too.
My Jumbo Chickpea Pancake cut into small pieces or fun shapes.
Q2. What can I use as a substitute for carrots in your Perfect Veggie Burger recipe? I can't eat carrots for health reasons.
Hey Jelena, Grated sweet potato will work just fine in place of the grated carrot. Grated beet could be a fun twist, but I haven't tried it yet so I'm not entirely certain. I'd love to hear if you do, though!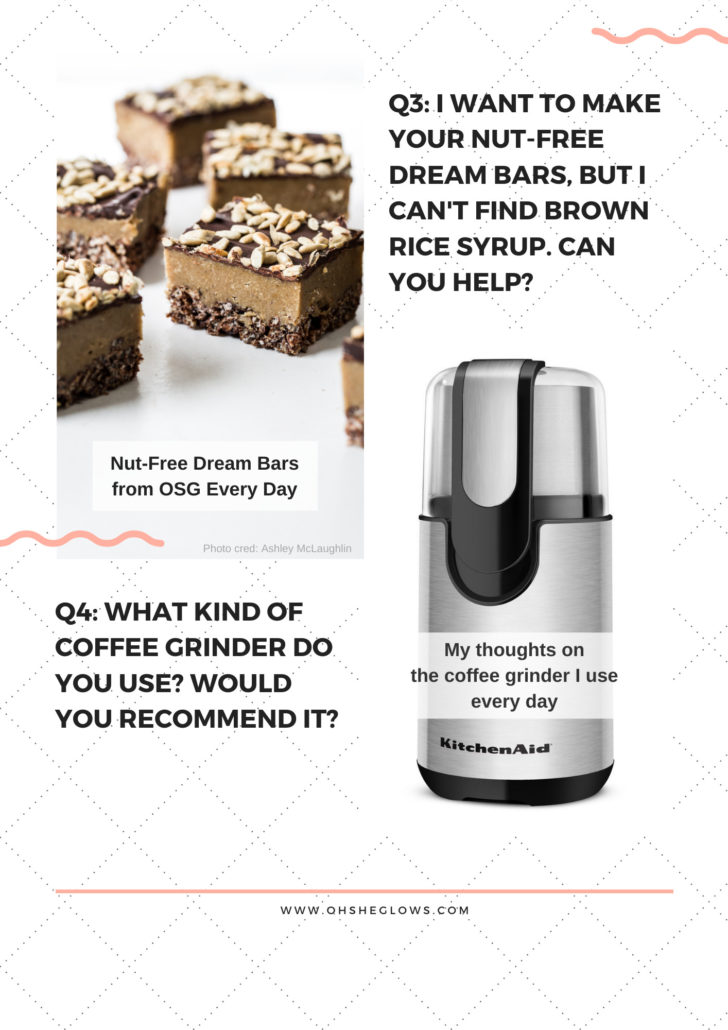 Q3. Hi Angela, I'm loving the return of Friday FAQs/Ask Angela. I love unwinding on my lunch break at work reading the weekly post. I have a question about your Nut-Free Dream Bars from Oh She Glows Every Day (p. 211)—do you have any swaps for brown rice syrup in the crust? Every grocery store in my city is out of stock, and I want to make the bars for my mom's birthday.
Hey Amanda, I'm so happy you look forward to the series every Friday…picturing you reading over lunch makes me smile! I used brown rice syrup in this crust because it's the stickiest type of liquid sweetener and tends to bind ingredients very well. But your question made me curious, so I tested out a maple syrup option for you as well! Instead of using 2 1/2 tablespoons brown rice syrup, I used an equal amount of pure maple syrup and followed the crust directions as written. I found that the maple syrup crust was softer and crumbled a bit when sliced, but overall it didn't break apart quite as much as I expected it would with that swap. It still tastes great, so I'd say it's an option as long as you don't mind some of the crust breaking off here and there!
Q4. What model coffee grinder do you have?
Hey Lauren! I've used this KitchenAid BCG111OB Blade Coffee Grinder for the past several years, but I do have a couple qualms with the grinder overall. You have to be pushing the lid down for the grinder to run, and I'd much prefer being able to press a button and walk away while I prep my coffee things. You also can't specify the grind level (e.g. course, fine, etc.) on this model, so it can be difficult to achieve a precise grind. Other than that, the grinder works just fine. But would I buy it again? I would probably look for one that suits my needs a bit better. If anyone has a coffee grinder they LOVE, please do share below!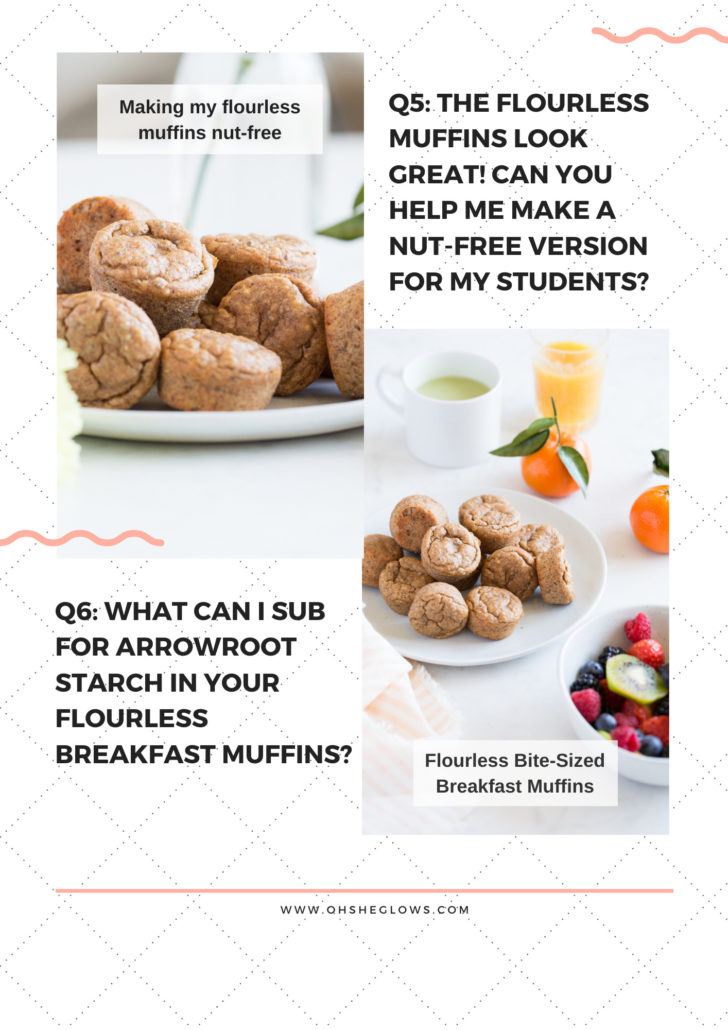 Q5. Is there anything I could substitute for the almonds and almond butter in your new Flourless Bite-Sized Breakfast Muffin recipe? I bake for a lunchbox program for kids and I'm always looking for good nut-free recipes. We use SunButter and Wowbutter in place of nut butters. Do you have any thoughts or suggestions?
Hey Alana, Good news! I just tested a nut-free version of these muffins and it worked great. I used 1/2 cup raw sunflower seeds instead of the whole almonds and substituted the almond butter for 1/2 cup of SunButter Organic Sunflower Seed Butter (make sure there is only sunflower seeds on the label). I also upped the cinnamon to 1 teaspoon to balance the sunflower flavour. This nut-free version does have a distinct sunflower flavour (not exactly surprising, haha!), but I still find it pleasant even if it isn't as sweet as the almond version. Arlo approved of them, but Adriana wasn't as sold on this version. ;) Mine also turned out a bit darker and more dense than the almond version. All in all, I do think it's a decent option. I hope this helps and I would love to hear what you and your students think if you try it.
Q6. I'd like to make your Flourless Bite-Sized Breakfast Muffins. Is there anything I can use instead of arrowroot starch?
Hey Tara, For sure! An equal amount of cornstarch tends to work well as a swap for arrowroot in baked goods, so you could try it out. I haven't tested it myself as I don't tend to keep cornstarch in my pantry. Please let me know how it goes if you try it!

"Your 3-Layer Nut-Free Dream Cups are the best thing ever. I made half my batch with peanut butter and the other with almond butter. So good. As much as I love peanut butter and chocolate together, the almond butter was amazing. (Though I understand nut-free is great for people who can't have nuts at all.) MAKE THESE. DO NOT hesitate. I actually cut each cup into quarters as I thought a whole cup was way too much. At times I would have half, but mostly ate a quarter at a time and that was enough. What a treat. I will make these over and over and over and over…. :)"
Hey Trish, Haha…your review was so fun to read. Thank you so much for trying the dream cups! You've reminded me that I need to make a batch of these beauties soon because it's been WAY too long. So many recipes…so little time!