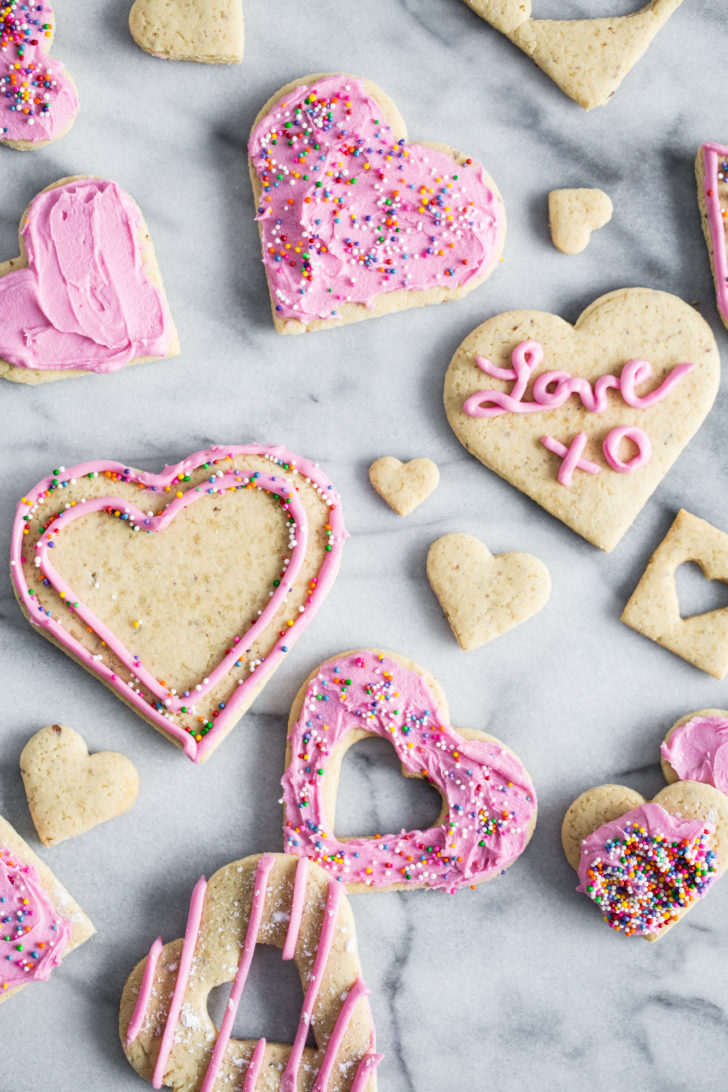 Happy Saturday, friends! It's been a while since I posted a recipe on the weekend, but many of you seemed eager for these festive cookies after I gave a few sneak peeks on Insta Stories. I figured since I had the recipe all tested and ready, why wait until Monday to share? No one should have to wait for Valentine's (or Galentine's) Day dessert, I say! Plus, if snow is keeping you at home this weekend, these are a fun treat to whip up with the family indoors. My kiddos love cutting shapes into the dough and piping frosting into their mouths onto the cookies—they also know how to have a hoot with those sprinkles, as you might notice in the very last photo below!
I first started testing vegan sugar cookies several years ago, but I never quite landed on a final recipe that I was perfectly happy with. I recently had a couple requests for cut-out cookies leading up to Valentine's Day, so I dug up my previous trials (thank you, Google Docs!!), and started again. Well, as it turned out, I didn't end up using my old notes one bit. I did a complete 180, using my trusted Gluten-Free Vegan Graham Cracker recipe as a base. After some major recipe tweaking, I'm excited to finally have a go-to vegan sugar cookie recipe in my repertoire. This version is so much more wholesome than my previous attempts, too! #winning
I like to use a combination of almond flour and light spelt flour in this recipe—almond flour yields a tender crumb and lends the cookies a boost of moisture and buttery flavour, while light spelt flour gives a nutty, complex taste overall. You can swap the light spelt flour for regular all-purpose flour if you'd prefer, just be sure to see my tip in the recipe beforehand as you'll need to adjust the measurements slightly. I've also provided a tip for using whole-grain spelt flour instead of light. If you try any other swaps, please be sure to let me know in a review below! I love hearing from you, and your comments are so helpful for others who might have similar questions.
PS: A shout-out to these heart-shaped cookie cutters…I'm seriously in love with them!! You can find them on Amazon. Happy baking :)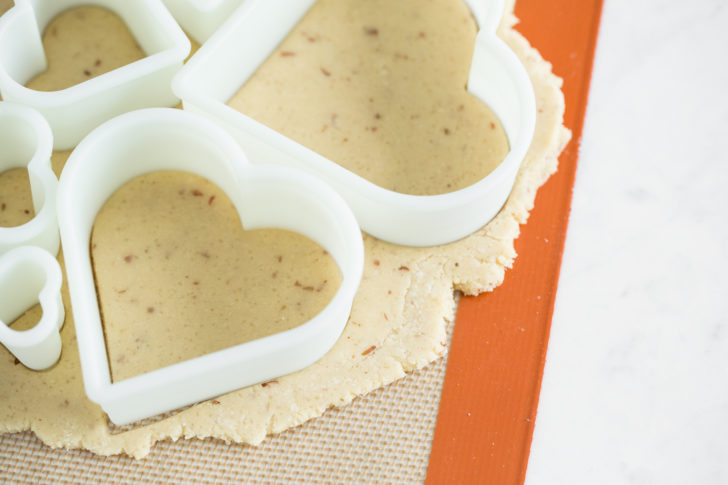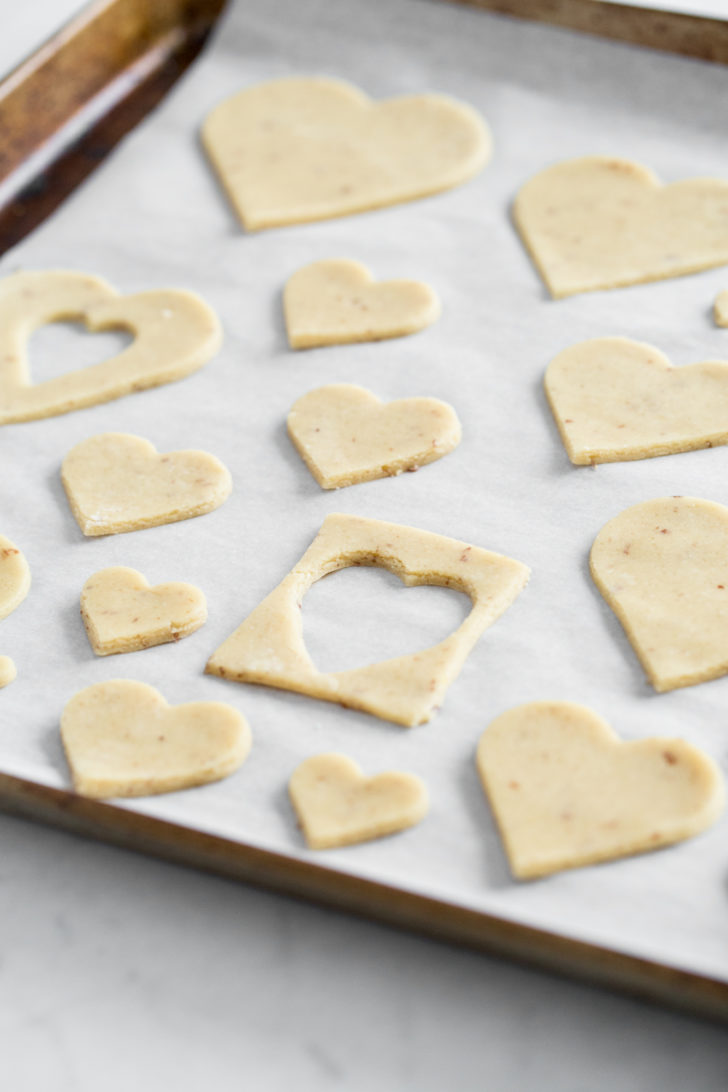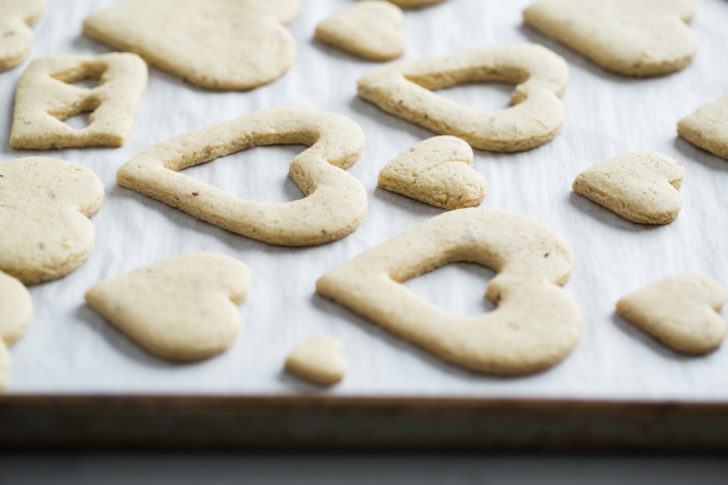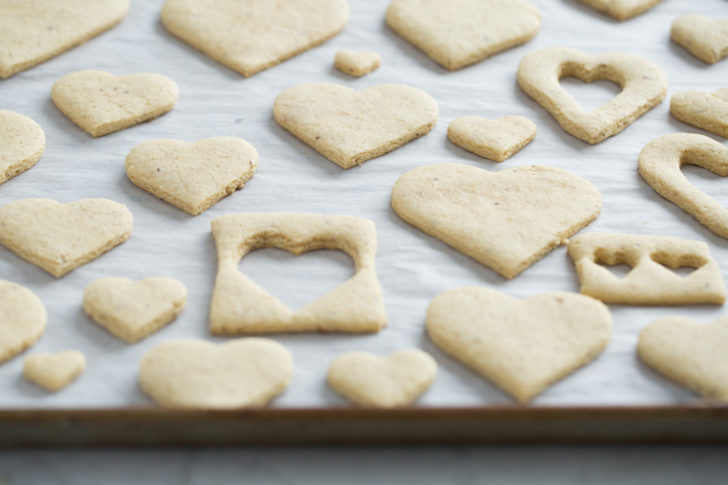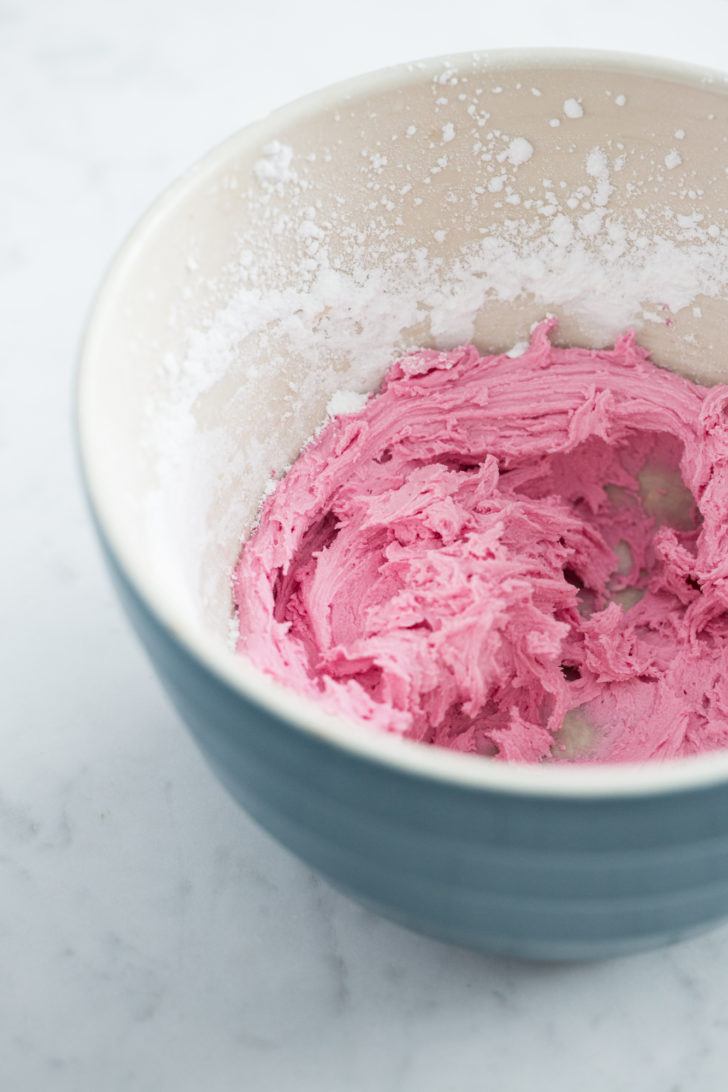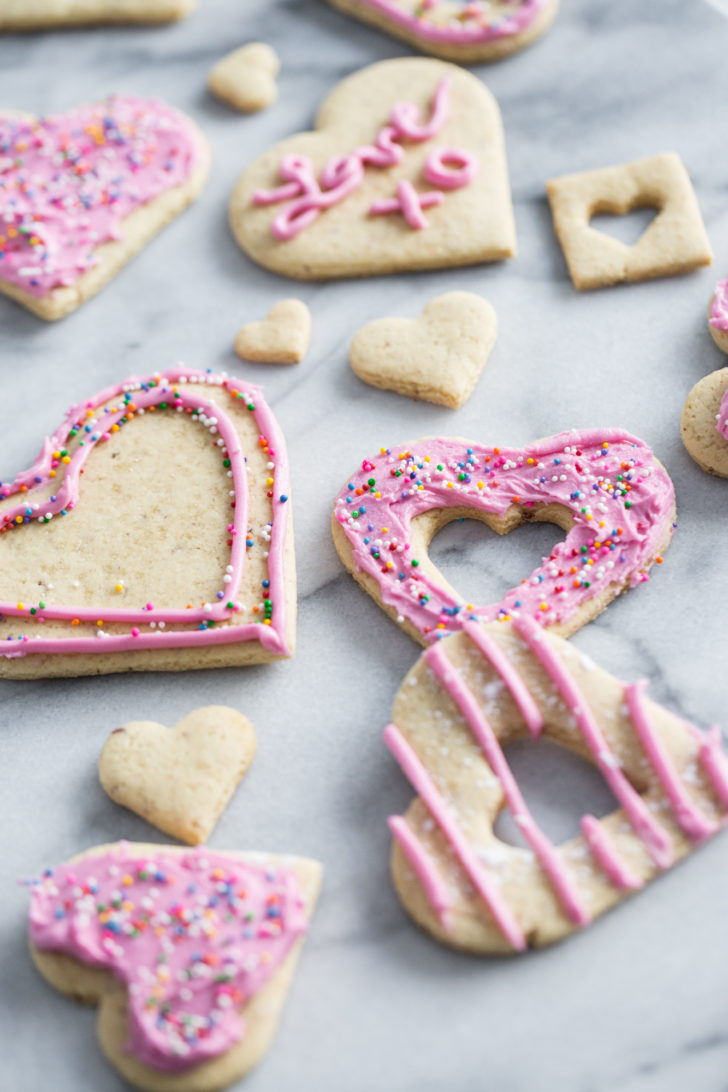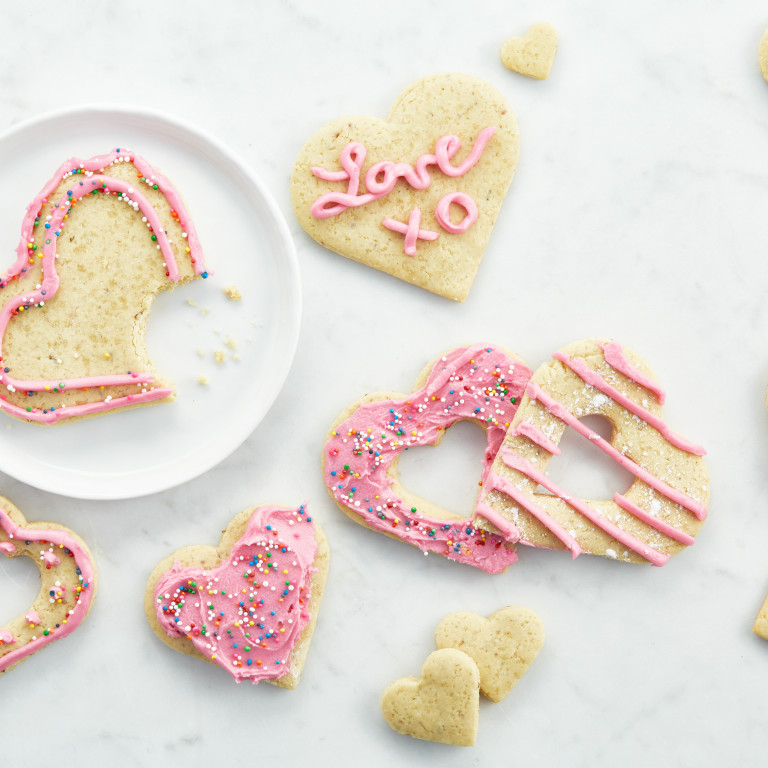 Easy Vegan Sugar Cookies

Yield

25 to 35 cookies
Prep time

Cook time

Total time

These wholesome vegan sugar cookies come together in a snap—there's no waiting for the dough to chill before you roll it out, so you can have a batch of tender cookies out of the oven in less than 30 minutes! With lightly golden bottoms, crisp outer edges, and soft, delicate centres, these cookies are a perfect light-tasting base for my festive, naturally coloured pink frosting. If you aren't planning to frost your cookies, you may want to add a touch more cane sugar to sweeten the dough. The cookies aren't overly sweet as-is, but the frosting really makes them pop!
Ingredients
For the wet ingredients:
3 tablespoons (45 mL) grapeseed oil or other light-tasting oil
3 tablespoons (45 mL) pure maple syrup
3 tablespoons (45 mL) almond milk
2 tablespoons (30 mL) brown rice syrup
1 1/2 teaspoons ground flaxseed
1/2 teaspoon pure vanilla extract
For the dry ingredients:
3/4 cup plus 2 tablespoons (82 g) almond flour
1 cup plus 2 tablespoons (160 g) light all-purpose spelt flour

*

5 tablespoons (40 g) arrowroot starch

*

*

2 tablespoons (30 g) natural cane sugar
1/2 teaspoon fine sea salt
1/2 teaspoon baking soda
For the Pink Frosting:
1/2 teaspoon beet powder/crystals

*

*

*

1 teaspoon (5 mL) hot water
1/4 cup (50 g) vegan butter
1 1/4 cups (165 g) powdered icing sugar, sifted if necessary
1 1/2 to 2 teaspoons (7.5 to 10 mL) almond milk, or as needed
Pinch fine sea salt
Sprinkles for decorating (optional)
Directions
Preheat the oven to 350°F (180°C) and line one very large baking sheet (or two medium-sized sheets) with parchment paper.

To a small bowl, add the wet ingredients: grapeseed oil, maple syrup, almond milk, brown rice syrup, ground flaxseed, and vanilla. Whisk until combined.

To a large bowl, add the dry ingredients: almond flour, spelt flour, arrowroot starch, cane sugar, salt, and baking soda. Whisk until combined.

Pour the wet mixture over the dry mixture and stir until it comes together as a heavy dough. Knead the dough a few times with your hands until no patches of flour remain on the bottom of the bowl. Be careful not to overwork the dough. If the dough is too dry, add almond milk one teaspoon at a time and knead until the desired consistency is reached. If the dough is too wet, add more spelt flour and knead again. Shape the dough into a large ball, then break it so you are left with two even halves.

Place a nonstick mat or large piece of parchment paper on the counter. Place one ball of dough in the middle and cover the ball with a second piece of parchment paper. Using a rolling pin, roll out the dough until it is 1/8- to 1/4-inch thick. Be careful not to roll the dough too thinly or the cut-out shapes will break as you transfer them to the baking sheet. Cut the rolled-out dough into shapes using your desired cookie cutters. Carefully transfer each cookie onto the prepared baking sheet(s), placing each an inch apart. Repeat this process until you've used up all of the remaining dough.

Bake the cookies for 7 to 9 minutes until their bottoms are very lightly goldened (the cookies should not bake to golden brown or they'll become too crisp after cooling). Cool the cookies completely on the baking sheet.

Meanwhile, prepare the Pink Frosting: In a small bowl or mug, combine the beet powder along with 1 teaspoon of very hot water. Whisk until the beet powder is dissolved. Set aside.

Add the vegan butter to a large bowl. With electric beaters, beat the butter until smooth, then add the powdered sugar, milk, and salt as well as 1/2 teaspoon of the prepared beet juice. Starting on low speed, beat until smooth,

gradually increasing the speed as the ingredients combine

. If the frosting is too thick, you can thin it with a bit more almond milk and continue beating until smooth. If it's too thin, you can add a little more powdered sugar and beat again until smooth.

Spread or pipe the frosting onto the cooled cookies and top with sprinkles (if using). Serve and enjoy! Leftover cookies can be stored in an airtight container in the fridge for 1 to 2 days, or tightly wrapped and frozen for up to 4 weeks.
Tip:
* Instead of light spelt flour, you can use 3/4 cup plus 2 tablespoons (150 g) white all-purpose flour. The flavour won't be as complex or nutty as the spelt version, but it'll work in a pinch. Alternatively, you can use 1 1/4 cups (200 g) whole-grain spelt flour. If using whole-grain spelt flour, I suggest shaving a minute off the bake time. This version produces the most wholesome and earthy flavour of the bunch, and yields a denser cookie, too. Another option is to sift the whole-grain spelt flour before using to refine its texture. In order, my preferred flour variations would be: light all-purpose spelt flour, regular all-purpose flour, and whole-grain spelt flour last.
** You can probably sub the arrowroot starch with cornstarch, but I haven't tested it.
*** If you don't have beet powder on hand feel free to use your desired red food colouring. Beet juice may work, too!
To keep this recipe soy-free, be sure to use a soy-free vegan butter in the frosting.
Nutrition Information
(click to expand)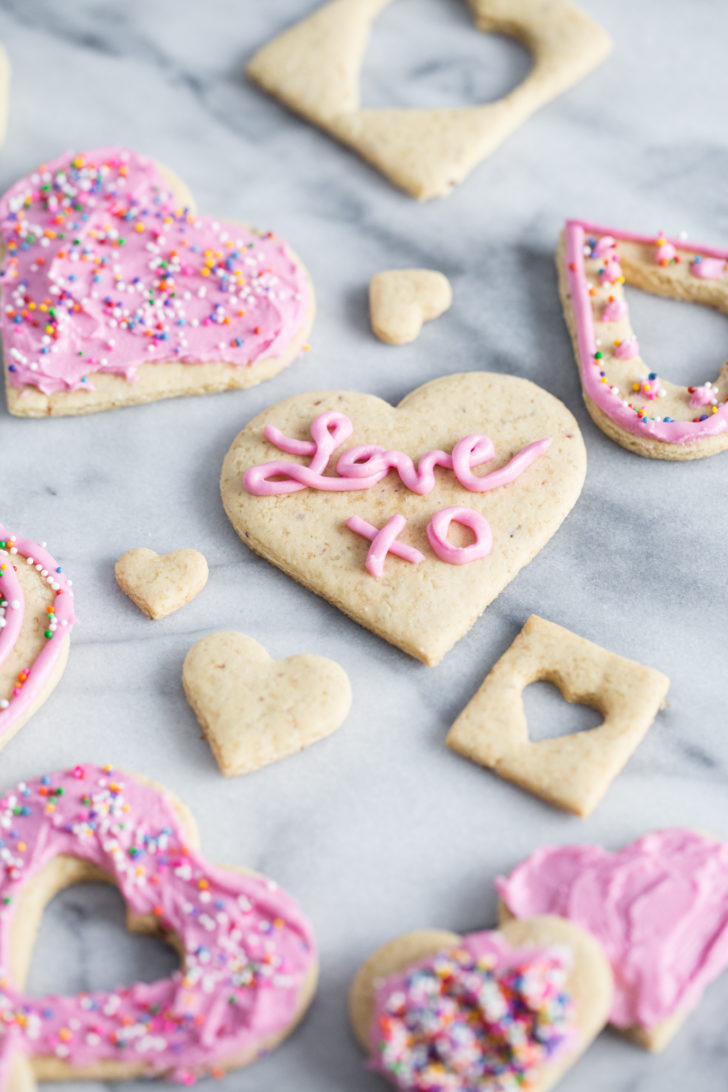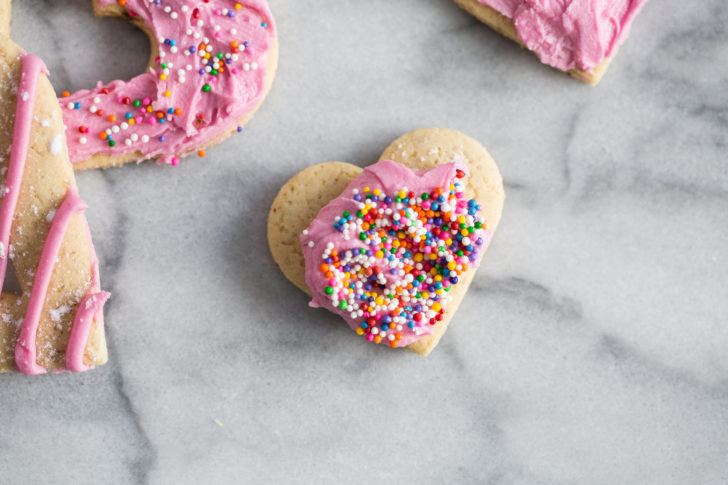 Any guesses who decorated this one above? ;) Cookie goals!