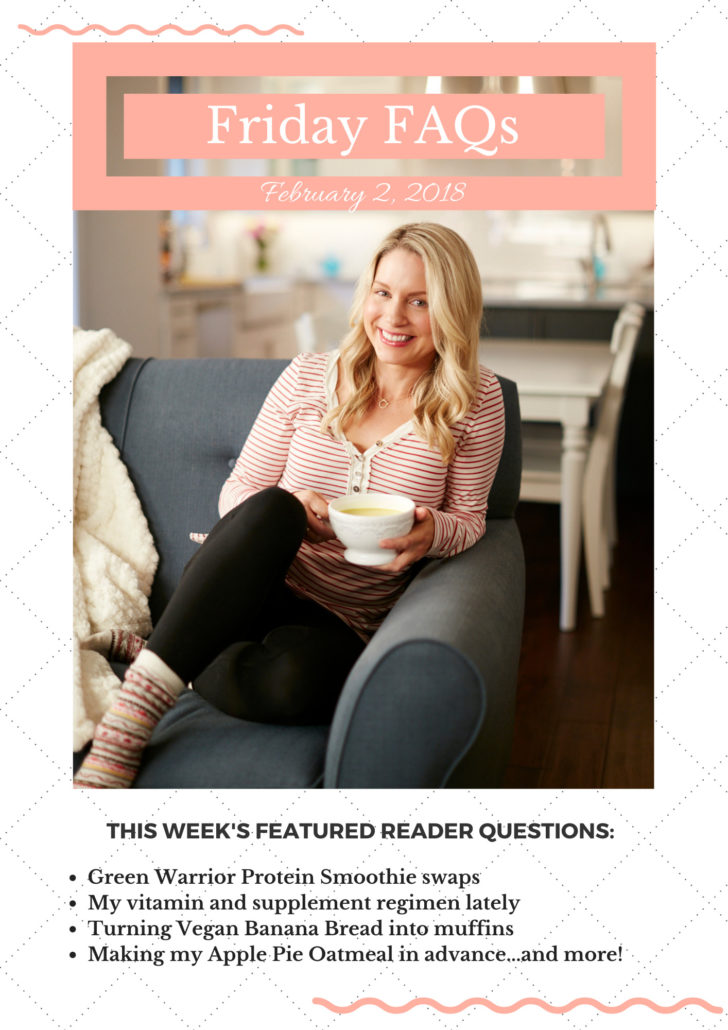 Happy February! Whew, I am SO glad January is behind us. We're one month closer to spring (which, if you're Canadian, often doesn't start until MAY…lol…no big deal). Thanks for all of your questions and comments this past week. Many of your questions inspire me to test things out in my own kitchen (yielding delicious results!), so it's a win-win situation over here.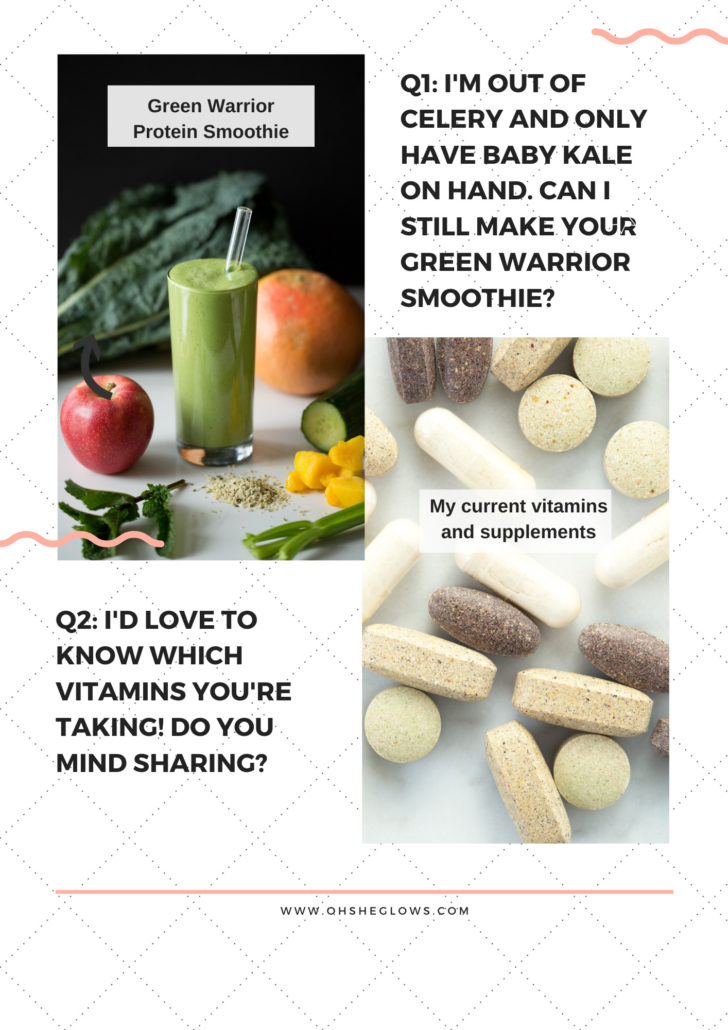 Q1. I love the look of your Green Warrior Protein Smoothie! Do you think I can swap the dinosaur/lacinato kale for baby kale? I also don't have celery on hand…what do you recommend?
Hey Melanie, You can definitely use baby kale in any smoothie calling for regular kale or baby spinach. It'll work great. If you're out of celery, no problem—you can simply omit it altogether. For a fun twist and creamy texture, try adding a couple tablespoons of avocado!
Q2. Love these posts. :) Quick question—can you tell me what vitamins you take? I am in need of some recommendations. Thanks!
Hey Tammy, Of course! I take MegaFood's Baby & Me 2 multivitamin (the herb-free version), the MegaFood Blood Builder, vitamin D drops, Udo's Choice Super 8 Hi-Potency Probiotic, NutraVege Vegan Liquid Omega-3, as well as a chewable zinc supplement every couple of days in the wintertime.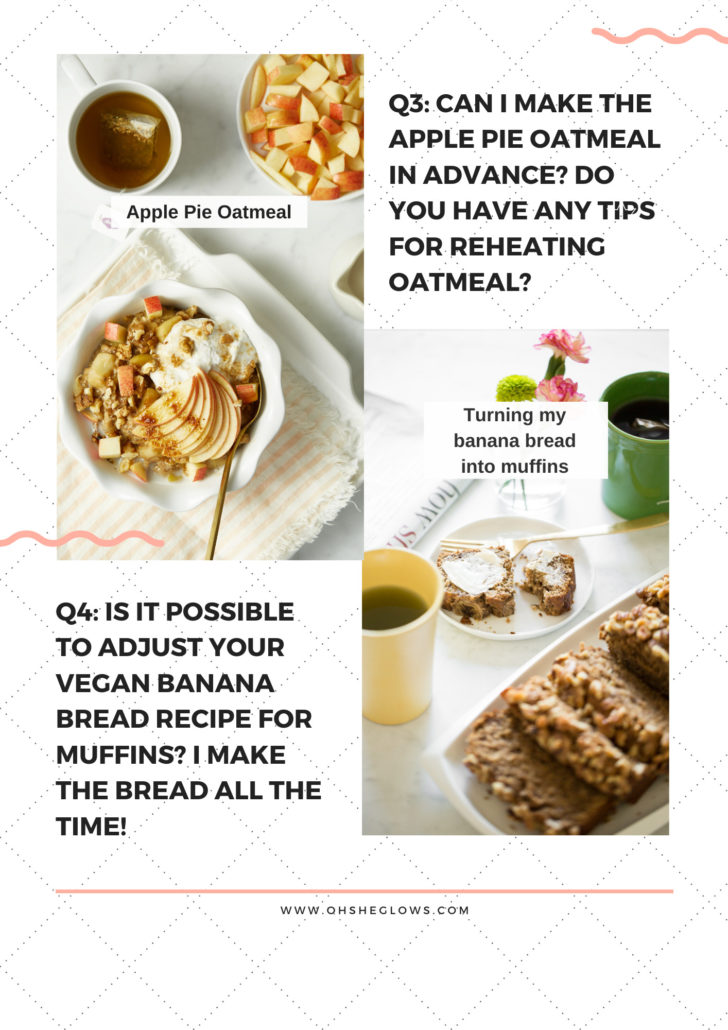 Q3. If I were to make your Apple Pie Oatmeal tonight, would it be okay to reheat in the morning? #oatmealnewb
Hey Lisa, Yes, absolutely! It will keep in the fridge for a few days too. You may want to add a splash of milk to this oatmeal when reheating as it tends to thicken up after sitting. It's fantastic served cold, too! In addition to the blog and app, you can also find this recipe in The Oh She Glows Cookbook on page 49.
Q4. I make your Vegan Banana Bread all the time. It's so delicious and I love that it's pretty healthy!! I have been wanting to make muffins with it but am nervous about screwing up the bake time. Do you know how I could modify your recipe to make vegan banana bread muffins instead?
Hey Lindsey, So glad the banana bread is such a hit! When turning a quick bread recipe into muffins, I usually look to a similar muffin recipe as a guide. My Blissful Blueberry Banana Spelt Muffins are pretty similar. I bake those at 350°F (180°C) for 23 to 27 minutes, so you can probably use that as your guide when turning the banana bread into muffins! I would check on the muffins after about 20 minutes, and then keep checking every few minutes thereafter to be sure. Here are a couple methods I typically use to check for doneness: lightly press the centre of one muffin—if it springs back slowly, it's ready or close to being ready. I'll also poke one with a toothpick, and if it comes out clean, it's probably ready as well. I'd love to hear how the banana bread turns out using a muffin pan!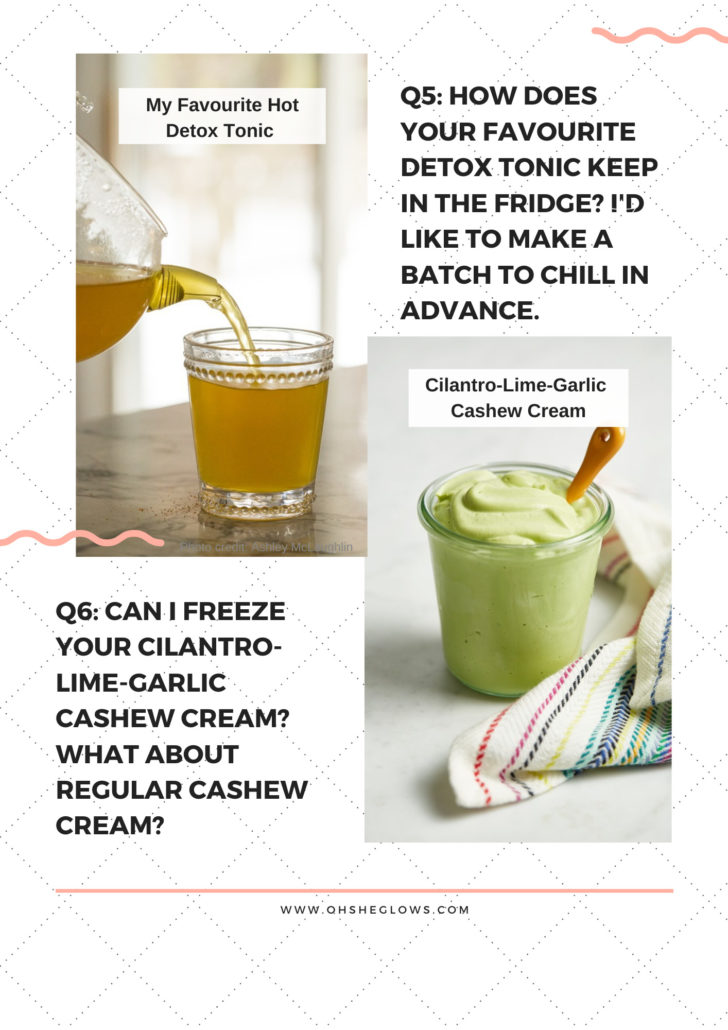 Q5. Just wanted to ask if I could refrigerate a batch of your Favourite Hot Detox Tonic and drink it cold?
Hi Kari, Yes, you can absolutely chill it! My advice would be to give your tonic a good stir before drinking as the spices tend to settle on the bottom with time.
Q6. Yum! Does your Cilantro-Lime-Garlic Cashew Cream freeze well? Perhaps in ice cube trays? Thank you.
Hey Clea, Good question! My regular Cashew Sour Cream recipe freezes very well (I like to freeze it in silicone ice cube trays for easy removal), but I haven't tried freezing this one before. I'm wondering if freezing would impact the flavour since there's fresh cilantro and avocado in there. If you try to freeze it, I would suggest freezing just a small portion and then thawing it to see if the flavour or texture have changed before trying a full batch. We'd love to hear how it goes!

"I just made your Crowd-Pleasing Vegan Caesar Salad for lunch, and I can't thank you enough! It was genuinely amazing, and I followed the recipe to a T. I have never been a huge fan of Caesar dressing because the store-bought ones are always so tangy and mustardy tasting. Your dressing blended perfectly and I didn't mind the Dijon mustard at all. Next time I'll add some tomatoes and avocados—there will for sure be a next time. Thank you again!!"
Jules, I'm so happy to hear my Vegan Caesar Salad surpassed your expectations! I love your idea of adding tomatoes and avocado next time. I like to make a wrap using this salad plus a few of my Crispy Breaded Tofu Strips—sometimes I'll add some BBQ sauce for an extra kick too. It's really out of this world!