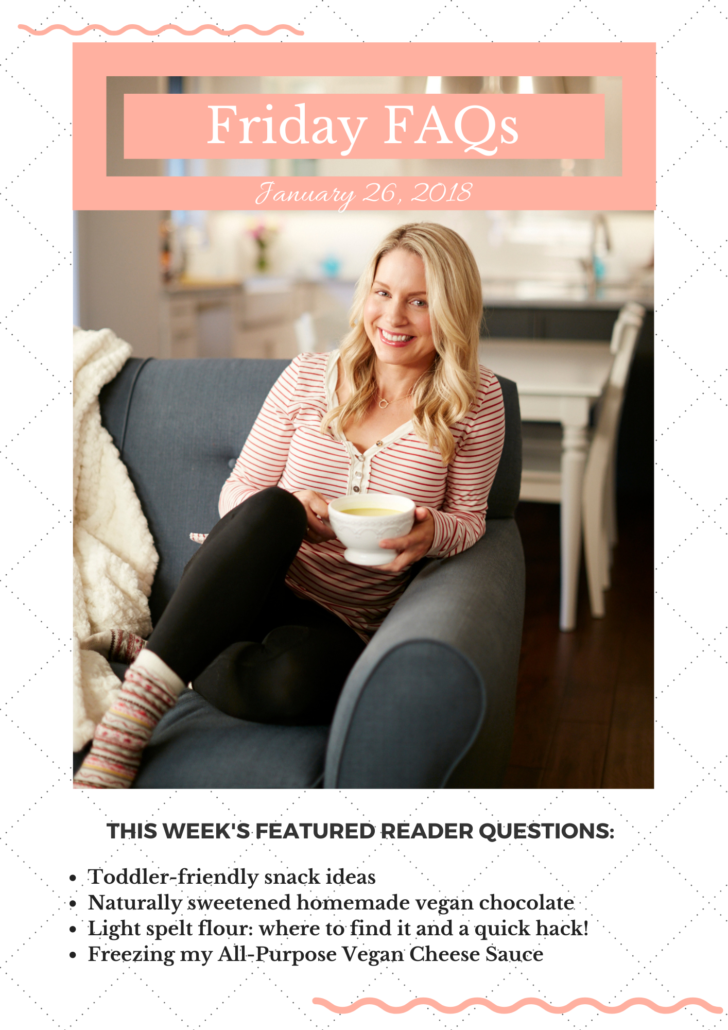 This week found me testing a bunch of tasty new recipes, like one-pot lentil stew and a vegan milk chocolate, as well as an allergy-friendly revamp of an old favourite—my Chia Power Doughnuts with a grain-free twist (sadly, these got off to a shaky start as I forgot baking powder in the first two trials…whoops!). I'll be sure to share any successes that I have in the near future. By the way, do you have any Valentine's Day recipe requests? I'd love to hear them while I'm brainstorming a few ideas next week.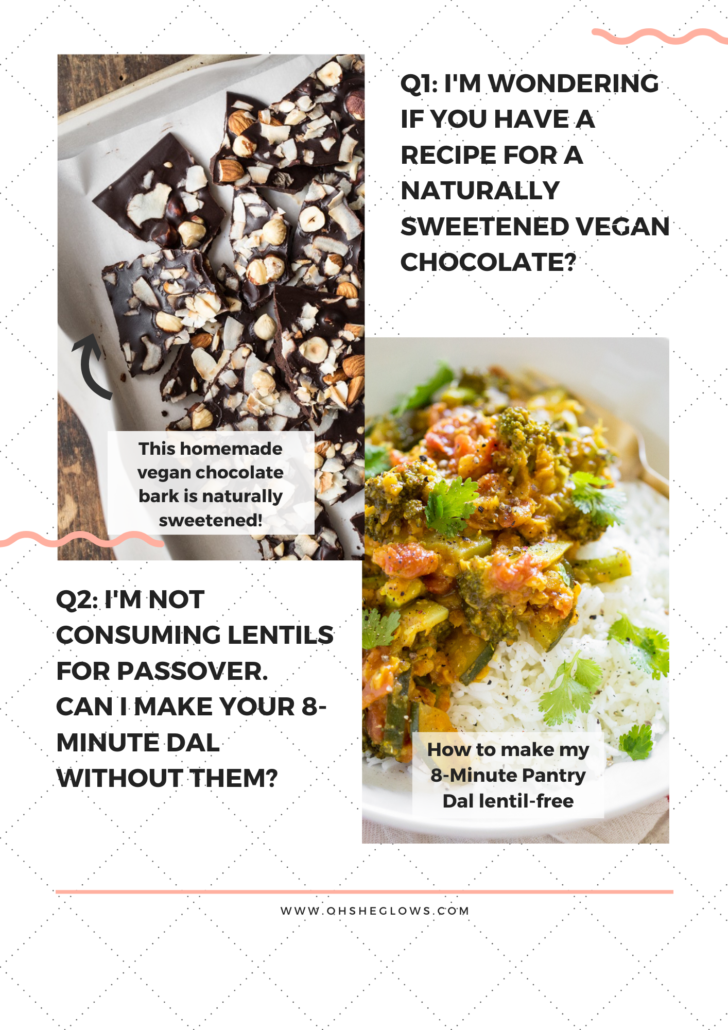 Q1. I'm trying to cut out all refined sugars. The only sweeteners I want to use are raw honey and maple syrup. Do you have any recipes for homemade milk chocolates that can be sweetened naturally?
A. Hey Darlene, My Crazy Good Coconut Oil "Chocolate" Bark is really good and sweetened with maple syrup. It's not a "milk" chocolate, though you could try adding some soy or coconut milk powder for a similar version. I've been testing some milk chocolate recipes and will be sure to share if I make one I love!
Q2. Hi! I am in love with your 8-Minute Pantry Dal: Two Ways and it's on regular rotation in our house. I'm starting to think about Passover, which for many does not permit any beans, lentils, chickpeas, soy etc. Do you think I could make this without the lentils?
A. Hey Andrea, I think my Pantry Dal can definitely be made lentil-less with a bit of adjustment! I'd suggest reducing the broth (since the lentils won't be soaking it up as they cook), and adding another veggie—maybe cauliflower rice to thicken the dal in place of lentils.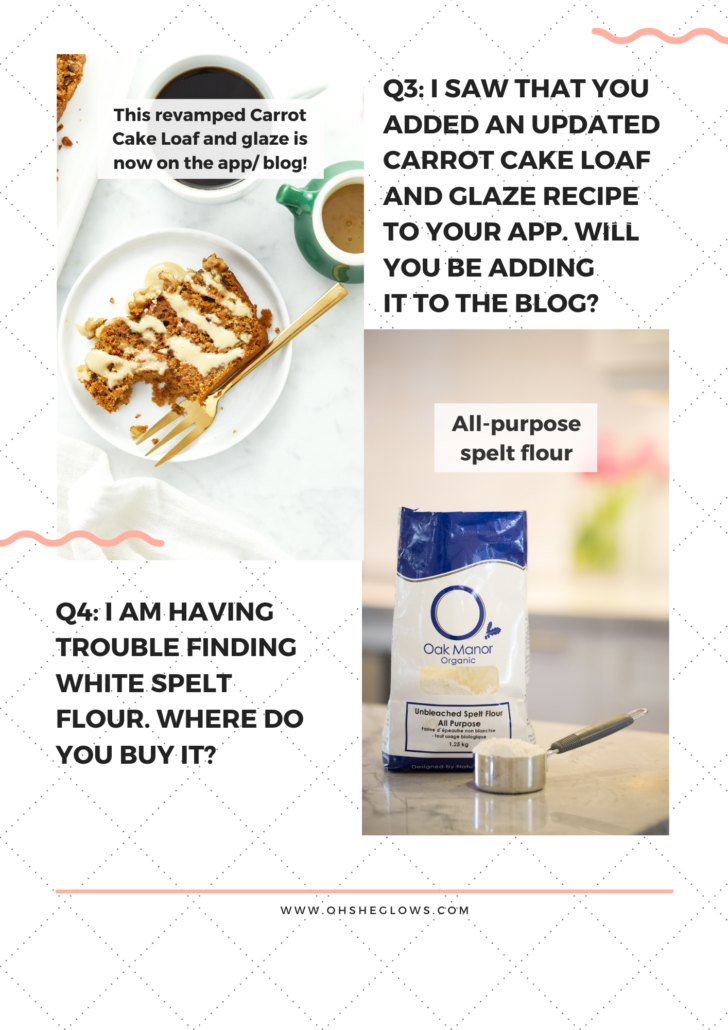 Q3. Hi Angela, I saw on Insta Stories that you posted an updated version of your Whole-Grain Carrot Cake Loaf with a healthier lemon glaze to your recipe app. Is there any chance you can post this updated recipe in a blog post too?
A. Hey Rebecca, I'd be happy to! You can now find my updated version above the original recipe (with an updated photo to boot). I'd love to hear what you think if you try it. Happy baking. :)
Q4. I am having trouble finding white spelt flour. Where do you get it, is there an online source?
A. Hey Dale, It can have a couple different names from what I've seen. I've seen it called "all-purpose spelt flour" as well as "light" or "white" spelt flour. Yes, you can buy it online from various sites. I buy a Canadian brand called Oak Manor from a grocery store called Organic Garage. If you're thinking about making my Whole-Grain Carrot Cake Loaf, you'll find the recipe works wonderfully using whole-grain spelt flour (which is a bit easier to find) instead. In a pinch, another option might be to sift whole-grain spelt flour with a sifter to refine its texture.

Q5. Can I freeze your All-Purpose Vegan Cheese Sauce?
A. Hi Karin, You can freeze it, although I find the texture changes slightly when thawing (the cheese sauce gets a tad bit grainy). But the taste is pretty much the same!
Q6. I'm needing help with toddler snack ideas. My daughter is 14 months and doesn't have many teeth. She loves banana bread and almond butter, she'll also drink smoothies, but she's become picky with veggies. Any suggestions?
A. Hey Christal, I'd love to help out! Here are some ideas:
Veggie options:
– Carrot Cake Smoothie (blog)
– Pumpkin Pie Smoothie Bowl (OSG App)
– New Year Glow Smoothie Bowl (blog/App)
– Classic Green Monster (blog/The Oh She Glows Cookbook)
– Roasted Carrot and Dill Hummus with thin crackers or rice crackers (blog/App)
– Blend cooked veggies into traditional hummus (minus the garlic), and spread on whole grain toast or crackers (The Oh She Glows Cookbook/Oh She Glows Every Day)
– Heavenly Carrot Cake Baked Oatmeal, cooled in fridge and cut into squares or cubes for finger food (blog/App)
Nut/seed/grain options:
– Vanilla Superseed Granola (Oh She Glows Every Day), pulsed once or twice in processor, soaked in chosen milk to soften or served stirred into chosen yogurt
– Chia Pudding Parfait, minus granola (blog, and both cookbooks have chia pudding recipes too)
– Coconut and Chia Seed Pudding, finely chop the fruit (Oh She Glows Every Day)
– PB & J Thumbprint Breakfast Cookies, made thinly (blog/App/Oh She Glows Every Day)
– Whole Grain Toast with almond Butter or sunflower seed butter and/or Berry Chia Seed Jam (blog/App/recipe options in both cookbooks)
– Healthy Kiddo Cookies (App only)
– Whole-Grain Carrot Cake Loaf (blog/App)
– Vegan Banana Bread, which you can top with nut or seed butters or chia jam (blog/App)
The above recipes all include make-ahead options so you can prepare the full recipe and freeze or refrigerate for quick and easy snacks.
Another fast idea is to top thinly sliced banana rounds with a drop of almond butter and some shredded coconut. Finally, as baby ages and can chew more, you can take advantage of the kid-friendly label in Oh She Glows Every Day as well as the kid-friendly recipe search filter in the Oh She Glows App (iOS/Android). A special thanks to Nicole, OSG's recipe tester, for all the great ideas!

"Thank you so much, your work is so funny and creative, and…delicious!!!! My girlfriend is a HUGE fan of your food, and since all your books—and your App—are like the Holy Bible in our kitchen, I had the pleasure to meet your culinary art more than often. But it's the first time, though, that I will try a recipe of your site on my own (shame on me and my boring comfort food!!!), since I am the house hummus maker. Thanks to you again, your food make my taste buds buzz everyday!!! David, from la province de Québec :)"
David I love your comment…thanks for the smile! Okay I'm a bit nervous now…your first OSG recipe…well, I hope it lives up to your expectations! Eek. Haha. I'd love to hear how it goes. And that's so amazing you and your girlfriend have enjoyed so many recipes…I'm really flattered!