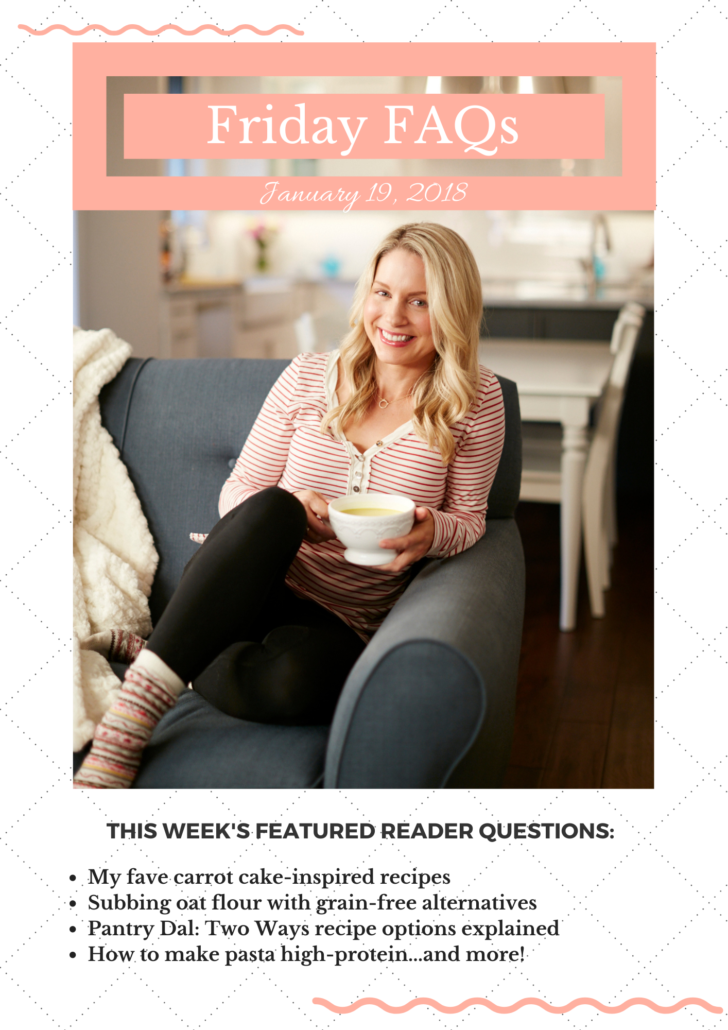 We're baaaaaack! Thanks for all of the Friday FAQs love last week. It was so exciting to see your enthusiasm for the return of this series. Please keep those questions (and answers) coming! And we've got even MORE fun news to share with you…next week will mark the return of another series—Things I'm Loving Lately! I've received a lot of requests for this series to be brought back and I'm absolutely thrilled to be rebooting it in 2018.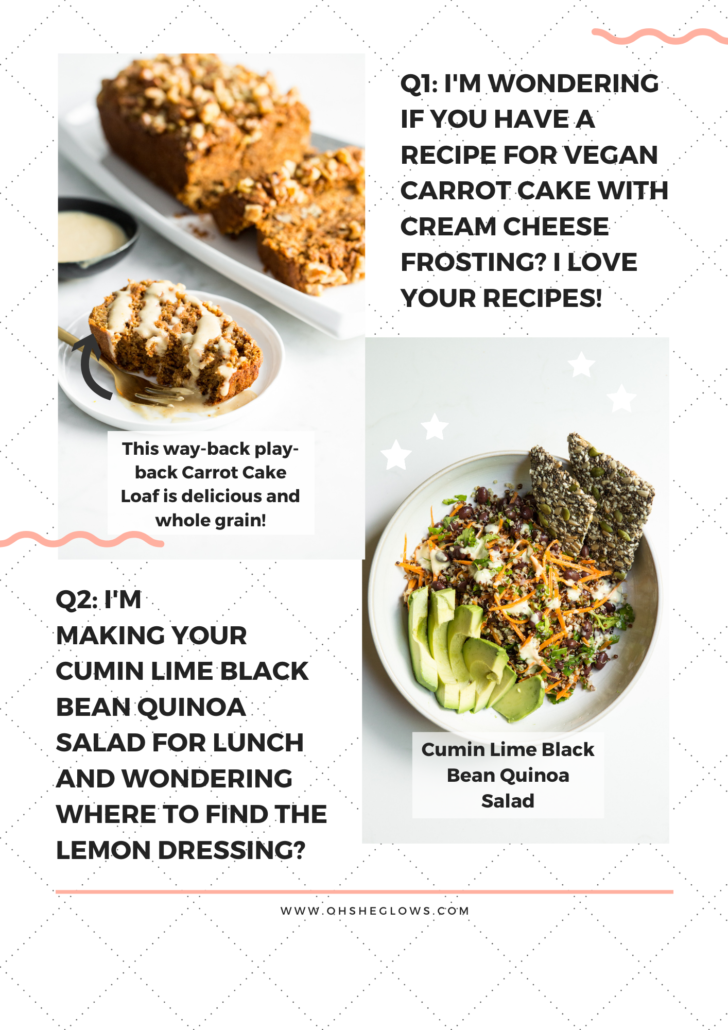 Q1. I love your Fail-Proof Vegan Chocolate Cupcakes with Salted Buttercream! I would love a recipe for a classic carrot cake with cream cheese frosting! Do you have one? I love all your recipes :)
A. Hi Jenny, Thank you! Oh man…I can't even tell you how many vegan carrot cakes I've attempted over the years! I'm so picky and don't like to share anything I'm not 100% sold on, but I'll keep working on it. I do have some great carrot cake-inspired recipes you can check out in the meantime though: Whole Grain Carrot Cake Loaf with Lemon Glaze, Vegan Carrot Spice Muffins for Grandpa, Heavenly Carrot Cake Baked Oatmeal, and Itty Bitty Carrot Cake Cookies.
Q2. Thanks for helping me discover that vegan cooking can be so easy and delicious. I'm giving this Cumin Lime Black Bean Quinoa Salad a try for lunch this week and can't help noticing that the lemon-tahini dressing has no lemon in it but instead lime.
A. Hey Kim, Thank you so much for the kind words! The Lemon-Tahini Dressing listed in the ingredient list is actually supposed to link to the dressing recipe in my Lightened Up Protein Power Goddess Bowl! It's wonderful drizzled on top of this quinoa salad. I've now added the link to the Cumin Lime Black Bean Quinoa Salad ingredient list so you can access it more easily. Thanks for mentioning it!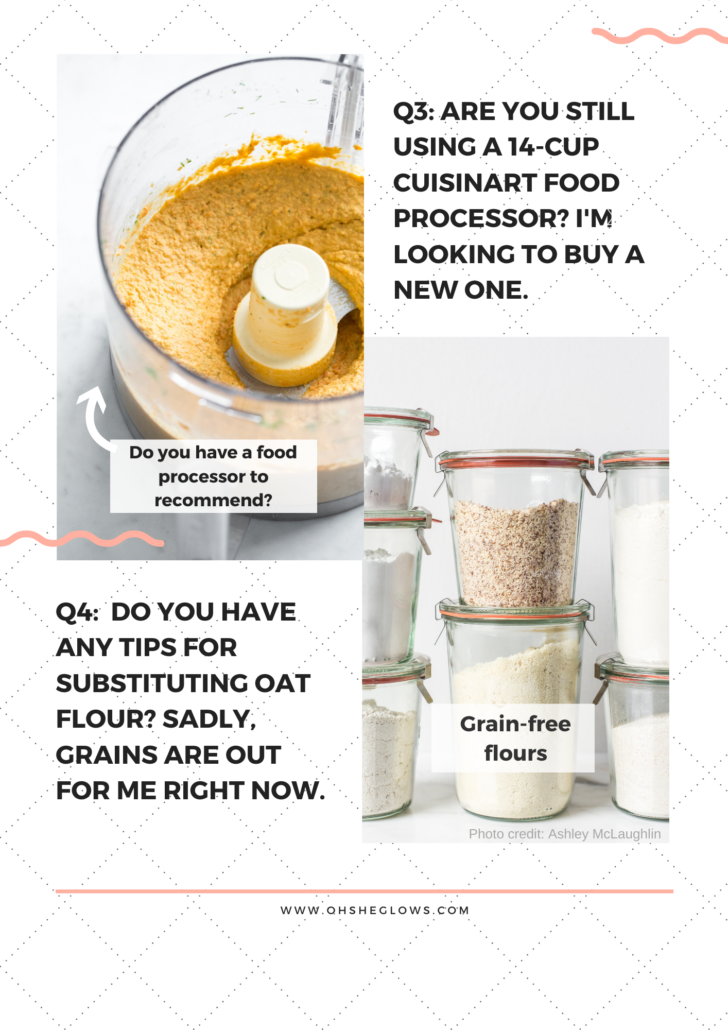 Q3. Are you still using the Cuisinart Food Processor? I need to buy a new processor and I am sure that you use a good one.
A. Hi June, Yes, I'm still using the Cuisinart 14-Cup Food Processor, but sadly I don't recommend it as mine has broken in two different places after only about a year of use. I don't know if the brand's quality has diminished or if I just got a dud! I'd LOVE to hear from fellow blog readers who might have a food processor recommendation for us!
Q4. Angela, This Friday FAQs redesign is so fresh and clean—love it! Do you have any tips for substituting oat flour in your gluten-free recipes? Sadly, I can't even do GF oats due to cross-contamination, and grains are out, too. Thank goodness I love veggies! I bought your first cookbook for all my sis-in-laws and BFF and they bought the app and OSG 2.0. We are all happy OSG households.
A. Hey Kathy, Thank you so much for the cookbook and app love!! And for gifting them too. :) I'm so honoured! A few grain-free flours that I stock in my pantry are: almond flour, coconut flour and cassava flour, as well as a variety of starches like arrowroot and tapioca. You might be able to experiment with a combo of those flours/starches in recipes calling for oat flour, but generally it takes some patience to get the right ratios (and it would vary depending on the recipe). I've tried using straight-up cassava flour as a 1:1 sub for regular flour in several recipes and I haven't been pleased with the texture/flavour so far (I'm thinking a combo of grain-free flours may work better, but I'm also super picky with my baked goods!). Is there an oat flour-based recipe you'd like to try first? I'm always up for a little experimentation, so if you have one in mind feel free to chime in and I'll see what I can do!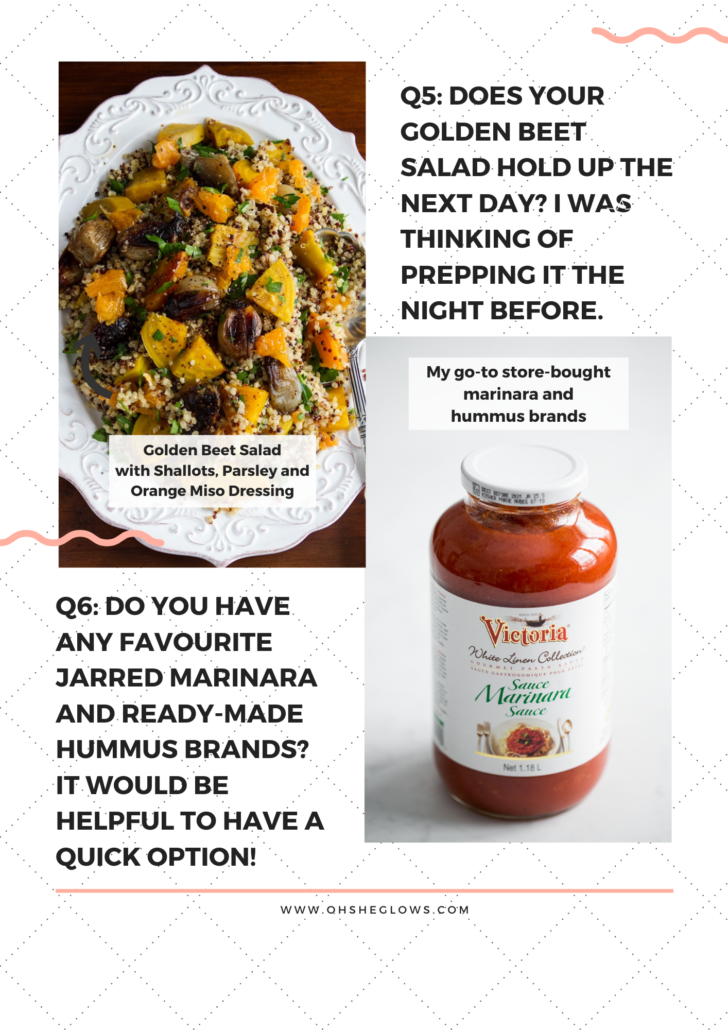 Q5. Does this Golden Beet Salad with Shallots, Parsley, and Orange Miso Dressing hold up the next day? I was thinking of prepping this the night before for lunch at work. Perhaps just leave the dressing off?
A. Hey Alexis, I love your idea of leaving the dressing off. Quinoa tends to be super thirsty and can diminish the orange dressing's flavour with time, so it's a good idea to make the dressing separately and add it right before serving! I'd love to hear how it goes.
Q6. Yeah…Friday FAQS are back! I usually make homemade marinara sauce and hummus, but do you have a favourite jarred marinara and ready-made hummus brand? It would be helpful to have for a quick one-pot weeknight meal!
A. Hey Kristen, So glad to hear you're pumped for the return of Friday FAQs! As for store-bought marinara and hummus, you bet I have a couple go-tos: my fave marinara is the Victoria White Linen Collection Marinara Sauce found at many Costco locations. We're all obsessed (including my extended family!). I think I have about six in my pantry right now. As for store-bought hummus, I love both Fontaine Sante Organic Classic Hummus and Sunflower Kitchen Classic Hummus+ (both Canadian brands). I mix them together in Adriana's Fave 10-Minute Pasta recipe and also love the marinara in my Hunky Heartbeet Cabbage Soup—the added flavour is out of this world.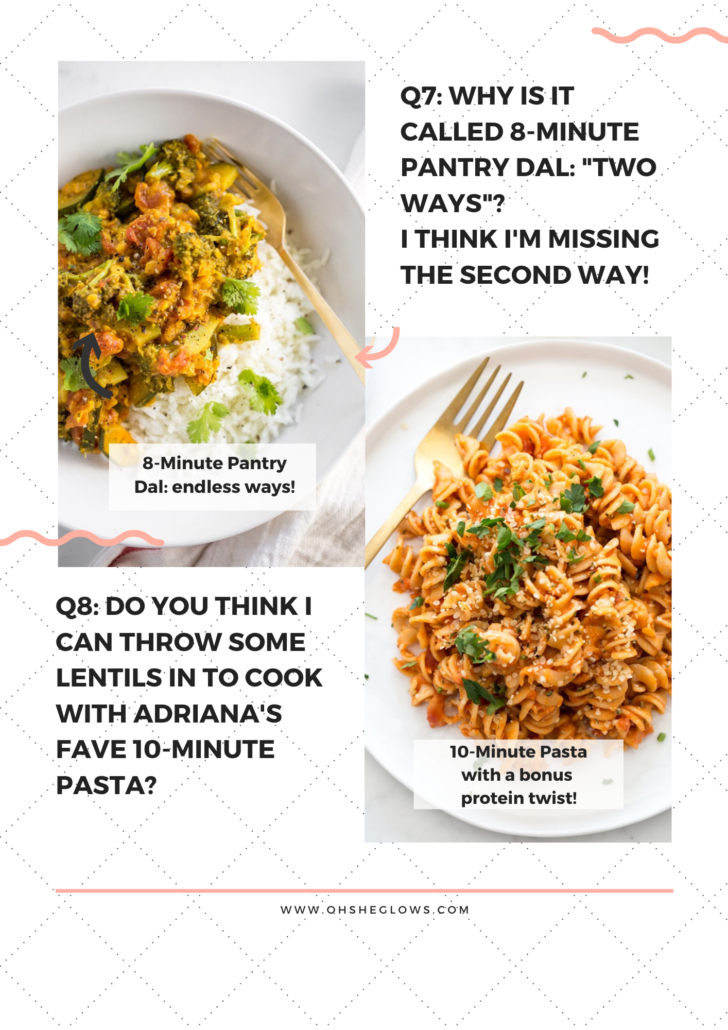 Q7. Why is it called 8-Minute Pantry Dal: "Two Ways"? What's the second way?
A. Hey Supriya, Oh good question! The two ways are the two curry powder options that I provide in my recipe tip. If you don't have a favourite curry powder blend on hand to use (way #1), I suggest a little DIY method for way #2: 1 1/2 teaspoons ground turmeric, 1 1/2 teaspoons ground coriander, 1 teaspoon ground cumin, 1/2 teaspoon ground ginger (or more to taste), and 1/4 teaspoon cayenne pepper (optional). Don't forget to use the 1 1/2 teaspoons of both garlic powder and minced onion, as well. If you run out of curry powder, this back-up spice mix comes in handy and tastes great. I can't decide which way is my favourite!
Q8. Can I throw in some lentils when I'm cooking Adriana's Fave 10-Minute Pasta?
A. Hey Lindsay, Oh that's a fun idea! Your suggestion made me so curious that I just had to give it a whirl myself. I mixed my go-to dry Monograno Khorasan-Kamut Fusilli Pasta with uncooked red lentils. I used red lentils because they cook so quickly. Here's the method I'd recommend: Bring a pot of water to a gentle boil, then stir in the uncooked pasta and red lentils along with a pinch of salt. For my first attempt I used 3 cups uncooked pasta and 3/4 cups uncooked red lentils. Reduce the heat to medium/high and simmer uncovered until the pasta is tender (simply following the package directions). In my test, the red lentils broke down completely—but that ended up being a happy result as one of my kiddos tends to pick out whole lentils in any dish. They weren't easily discernible once the sauce was mixed, but do produce a thicker overall texture (which I loved!). I did find that I needed to use more sauce since the lentils dried out the pasta a bit. I'd like to experiment with other kinds of lentils in the future, too! Between this and my high-protein red lentil rice option, I'd say it's pretty easy to boost the protein and fibre in kid-friendly dishes without impacting the overall recipe too much. #winning!

"Hey Angela! I just wanted to let you know what a great resource your recipes have been to us. Our little guy just turned 1 (man does it go fast!) and he is a huge fan of Adriana's Fave 10-minute Pasta. I usually make it with lentil pasta for him so it's packed with protein and fiber. Thanks for the lentil and rice tip as well! I will absolutely be trying it. Red lentils are also great mixed in your Hunky Heartbeet Cabbage Soup to bump the protein and fiber, they don't impact the taste at all. It's my son's favorite soup, although hugely messy! Oh and a note to Jenny: I have made the Whole-Grain Carrot Cake Loaf into cupcakes or even a cake tin and topped with cream cheese icing (the one you use on your Vegan Cinnamon Rolls is great). It is perhaps the tiniest bit denser than a 'classic' carrot cake because of the spelt, but absolutely delicious nonetheless."
Hey Kendra, Aww happy birthday to your little boy! Such a sweet age. I'm so glad he loves the 10-Minute Pasta recipe. I also love to use red lentil or chickpea pasta in that recipe from time to time. And I love your protein-boosting Hunky Heartbeet Cabbage Soup trick! I wouldn't have thought to try adding lentils in that one, but it's a great idea. Okay, with all this talk of my Whole-Grain Carrot Cake Loaf, I'm going to have to make it this weekend!!
Update: I made the loaf and it was fantastic! I love rediscovering old blog recipes…so glad you mentioned it. Actually, if you pop over to my Insta Stories today you can see a couple behind-the-scenes action shots! PS…I'm revamping this loaf for the recipe app and blog in the coming days, too!