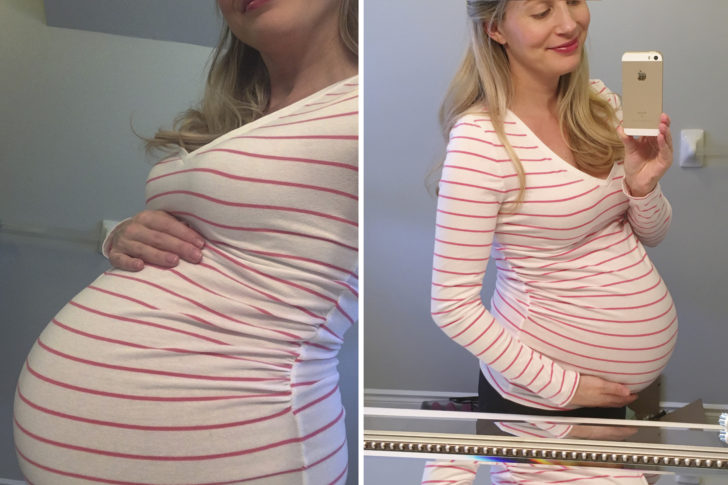 I'm seriously trying to wrap my mind around how close I am to meeting this little one, but it almost doesn't feel real? Or maybe that's just a little thing called denial! One thing is for sure, we're so excited to meet this new addition to our family. 
How I'm feeling: I feel a bit frantic trying to get a lot of work things wrapped up, but I'm also making peace with the fact that it won't all get done (does it ever?). Preggo brain is still very real. Physically, I'm feeling like a rock star (at least, aside from yesterday and today—more on that below). The nesting urge is getting stronger and stronger and it's kind of killing me that I can't nest with our house in renovation mode. I just want everything to be clean and put away, and it can't be. This baby is going to be coming home to a bit of a construction zone, methinks. 
Midwife appointment: I got my ultrasound report at my midwife appointment this week, and everything came back great. Fluid levels, blood flow to placenta, breathing, tone, baby's weight (6.5 pounds @ 37 weeks, which is 52nd percentile), etc. are all looking good. It really puts my mind at ease going into these last couple weeks, and it's one less thing to worry about. I'm still using the EPI-NO for 20 minutes each day (except for yesterday, when I thought I might be going into labour). 
Symptoms: My body continues to get ready! Last weekend I had a few shooting groin pains, one of which knocked me over onto the bed. You should've seen the look on Eric's face; I'm pretty sure he thought that I was in labour. I talked to my midwife and she said those lightning pains are usually from the baby hitting a nerve. Thankfully, they don't last too long. My skin has been super clear lately, which is nice to see. In fact, I haven't had a breakout in weeks and weeks. Still dealing with pretty bad eczema on my arms, though.
Sooooo…about yesterday. A lot went down! By late afternoon I was almost convinced that I was going into the early stages of labour. I started getting menstrual cramps that wouldn't go away, and I also had strange pains in my bum and groin area. My first labour started out similar to this, so that's why I was almost convinced. I tell you, what motivation it was to finally pack my hospital bag!! I hightailed it upstairs and started packing. Then I realized Friday is a full moon and I was even more convinced it could be labour! Haha. But I'm still here…and still crampy, but maybe not as much. Also, I feel drained today despite having one of my best sleeps of the whole pregnancy last night (I slept straight from 10pm until 4am!). Speaking of sleep, I totally forgot to mention that I've basically had the craziest dreams all pregnancy.
Home life: If I thought last week was bad for delays and reno issues, there was a big delay with almost every single project this week. Our master bath countertop (that we waited 17 days for) was cut wrong (too small), so they had to send it back. They brought a new one this morning (they rushed it), and guess what? It didn't fit again (too big). You can't make this stuff up. I've accepted that the basement will be nowhere near ready for my mom's arrival, but now my main concern is getting us moved back into the master so the guest room frees up for my mom. I really hope we can get in next week just in the nick of time. Please stay in there, baby. Actually, if you can arrive 3–4 days late, even better!
Exercise: Nothing new here! I'm still walking 25 minutes every morning and doing 15 minutes of Barre3 online every other day (except today I skipped Barre). I can't believe how strong I feel having done Barre consistently since the beginning of my second trimester. I really think it's made a difference in how I feel this time around. I can't wait until I can get back to some in-person Barre classes later this fall. Nothing beats a group setting, but you can't deny the convenience of an at-home workout either!
Cravings: Five words: Almond Butter Rice Crisp Treats. They are all I can think about lately! I just want to stuff my face with them. Correction: I am stuffing my face with them! I think I ate 3/4 of a batch within 2 days, heh. I'm still going crazy for roasted, salted pepita seeds and pumpkin protein smoothies, too. Normally with pumpkin I could take it or leave it, but not this year! Baby seems to be a big fan.
Best thing I ate/drank all week: Almond Butter Rice Crisp Treats (no contest). I made them extra-thick this week, which was fun. Instead of a square pan I used a loaf pan and they were ginormous…*insert evil laughter*. I've been lazy when it comes to cooking/baking lately so I don't even bother to put melted chocolate on top, but they are still so good. You can also mix in chocolate chips, too!
Baby prep: I gathered baby's things for my hospital bag! That's progress, right?  I'm bringing 2 onesies (SO TINY!!), 1 hat, 2 receiving blankets, newborn diapers, and wipes. Car seat is now out of the storage locker, but still needs to be installed.
Food prep: I made a huge batch of vegan overnight oats (minus the banana) and popped it in the freezer. This will go into the hospital cooler bag and serve as an "ice pack" and also as my hospital breakfast/snacks. I made such a big batch that Eric isn't sure if it will even thaw in time for the next morning! Oops, lol. So hopefully it does! In other news, I've had ZERO motivation to make freezer meals for postpartum. It's just been too busy around here to even wrap my mind around it.
Hospital bag packed? I'd say I'm about 75% packed. Progress!
Crafting projects: Nada.
Days left until due date: 10
PS—you can read my 38 weeks update from my first pregnancy here. (And, very interesting to note that I had a labour scare during that update too!! Maybe my body just likes to practice a couple weeks before?)