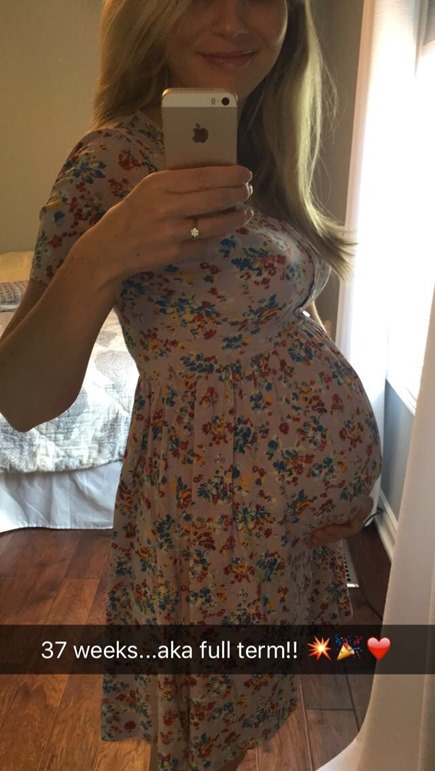 (totally dropped the ball on getting a decent photo this week, so I just grabbed this Snapchat one! If I take any over the weekend I will pop a better one in.)
Boy, we were all relieved to put last week behind us! I'm happy to say that this week is going a bit more smoothly. Adriana is healthy again, and back to her happy-go-lucky self. It's so nice to see that smile again. She's such a ham. And somehow, this mama is full term!! That is also a cause for celebration.
How I'm feeling: If there was ever a poster child for having huge brain fog, I tell you, it's me. Preggo brain is REAL. I thought I had it earlier in this pregnancy, but oh no, this is the real deal. Eric and I have been doing a lot of calculations for the renovation stuff, and my brain is just not functioning as quickly as it usually does. It's a bit frustrating. He likes to do everything in his head, but I'm like…NOOOOO, I have to put this on paper and draw it out to visualize it! I'm so thankful I'm feeling good and relatively energetic (aside from some 4am insomnia this week) because it's helping me power through my days.
Home life: We continue to have delays with the renovation, and we've had some things ordered that will take longer to arrive than hoped. But rather than worry about the reno dragging on past baby's arrival, I'm now just trying to make peace with the situation and do whatever we can to streamline things! I'm trying to wrap my head around the possibility that baby could come home at any time and we'd just have to deal with the big mess and construction noise. (Mind you, this goes against every nesting urge in my body right now! lol). I was hoping the basement guest room and bathroom would be ready for my mom's arrival at the end of the month, but now it doesn't look like they'll be ready unless we can get a rush on the countertop (it takes 2 weeks normally). After the countertops are in, then the basement carpet needs to be installed, so it seems unlikely that all of this will be finished by the 26th! Maybe we can convince her and my stepdad to come for Christmas. ;) I suggested to Eric that we set up our tree in the basement this year and have Christmas morning down there, and he loved that idea! I think it's going to be so cozy, and we'll also have a lot more space than the main floor living room provides.
Midwife appointment: I went for an ultrasound this week and it was so nice to see baby again! I hadn't had one since 18 weeks and it felt like forever. Baby is growing well, is still head down (yay), and is estimated to weigh 6 1/2 pounds right now. I'm told baby often gains 1/2 a pound per week going forward. Of course these estimates can be way off, so we'll see! I did have my ultrasound at the hospital and was told by my midwives that their machines are top of the line. Also, the ultrasound tech could not confirm the gender due to baby's position…darn it! Haha. I've been using the EPI-NO since last weekend and it's going…okay. I finally discovered the side-lying position is the way to go for me. I'm doing about 15 minutes a day right now—here's hoping it helps or I'm going to be ticked! lol.
Symptoms: Holy moly, my symptoms really amped up this week! I texted my mom last weekend and said, "I hope I'm not going into labour because I've been getting menstrual cramps all morning long." Luckily, I wasn't in labour, but my body is definitely starting to prepare itself. I've also had a return of nausea, which happened to me around this time with my first pregnancy, too. It's annoying because so many foods don't appeal to me right now. I'm getting a lot more Braxton Hicks, period-like cramps, and shooting groin pains lately, too. Things are definitely heating up in there! Baby also feels LOW.
Exercise: I'm still walking 25 minutes every morning and doing 15 minutes of Barre3 online every other day. I sound like a broken record, but I love this workout routine so much! It honestly feels like the perfect amount, leaving me energized and strong and not worn out.
What I'm wearing: The humid, hot summer weather returned this week…boo! You'd never know it was the second week of September. I hear it's supposed to cool slightly starting Sunday, and I'm sooooo looking forward to that. I've basically been living in the same things day after day…shorts and maternity tees and maternity dresses. I'm bored of my clothing, but can't really be bothered to buy anything else at this point! Now I need to start thinking about nursing-friendly fall clothing as I don't have much from last time.
Cravings: This week I've been all about the pumpkin protein smoothies! I'm also going crazy for roasted, salted pepita seeds. My body must need the zinc or iron because I can't get enough.
Best thing I ate/drank all week: Dried cherries. I went on about these during my first pregnancy, and I still love them this time around. They honestly taste like a healthier fruit roll-up or something.
Baby prep: Eric and I were just talking about how we literally haven't done a thing to prepare for the baby. Oh, that poor second child! Haha. Well, he/she will be showered with love and that's what matters most. Meanwhile, Adriana seems to be prepping for baby in her own funny ways! The past couple weeks, she's really taken to her baby that her Mimi gifted her last year. She drags that thing all over the house, and loves to "put baby to bed" and "tuck her in". It's way too cute.
Hospital bag packed? Nope! Now that I'm full term, I better get on it soon. The main thing holding me back is that my overnight bag is trapped in the master bedroom closet, which is currently sealed off due to the renovation. I could probably go in and get it out, but…#lazy. We also need to pick up the carseat from the storage locker and install it.
Crafting projects: Unless you count putting a print inside a frame and then being too lazy to hang it up, then no. ;)
Days left until due date: 16
PS—you can read my 37 weeks update from my first pregnancy here. (<– jealous that I was wearing long sleeves and jeans in that Sept. update!)