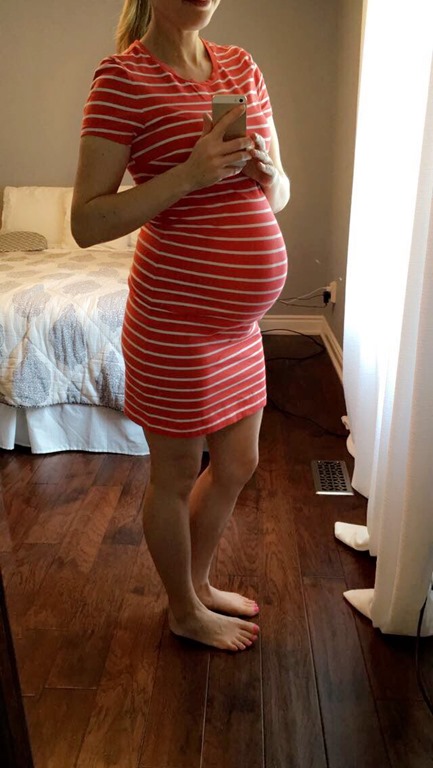 How I'm feeling: A lot of conflicting emotions…things have been pretty intense lately! I'm feeling happy, grateful, and excited, but also distracted, overwhelmed, and anxious at times. Focusing on the present, rather than worrying about the future, has been helping me a lot though. I just need to remind myself a gazillion times a day, heh.
Midwife appointment: My midwife appointment went well this week. With my first pregnancy (under an OB's care) we had so many ultrasounds (partly due to checking up on my low-lying placenta), so this time, the fact that I haven't had an ultrasound since 19 weeks (and possibly won't even have another before the birth!) is a big change for me. I keep wanting to ask my midwife for an ultrasound just to check up on baby, even though they don't see a real need for it right now. I guess I just worry.
After reminiscing about my episiotomy recovery last time, I brought up the EPI-NO and my midwife is a big fan. She says it's helped so many of her patients and recommended that I consider using it, especially given my first experience. I don't think it's recommended to start using it until the last 3 to 4 weeks of the pregnancy, so I still have a bit of time to look into it more.
By the way, thanks for sharing your experiences with hypnobirthing! I haven't had a chance to look into it further, but I'm hoping to very soon.
Home life: All of the walls are now up in the basement and it's so fun to see the individual rooms! It's still feeling quite open and airy, which is a relief. The drywallers still have to do all the patching and sanding. The tiling and priming have also started in the master bathroom. We're using zero VOC paint by Natura once again, so it's nice not to have to worry about fumes in the house.
Hair/skin/nails: I finally got my hair cut…woot woot! My stylist did some flat iron waves afterward and I felt like a million bucks. It's amazing what a fresh cut and style can do for a person. I've been feeling so frumpalicious lately, lol, but the cut and style gave me a kick to my step again. My skin has still been good for not breaking out since I made those changes a while back, but I'm noticing a lot of pigmentation (redness and pregnancy melasma) as the summer goes on even though I'm using sunscreen twice a day and wearing a hat on walks.
Symptoms: Not too many to speak of. Some back pain in the morning (especially if I find myself sleeping on my back too much) and occasional Braxton Hicks.
Sleep: Sleep has been pretty decent (broken, but decent). Once Adriana goes to bed at 7:30pm, I hit a wall and I'm pretty much unable to move from the couch until I go to bed at 9:30/10pm.
Exercise: My exercise has taken a backseat lately, mainly due to the renovation madness and the intense heat waves we've had this month (my phone currently says the humidity makes it feel like 43°C right now…ick). I'm still walking outside each morning (about 25 minutes pushing a heavy stroller/toddler, which feels like a feat), and my goal with Barre3 is to squeeze in two or three 15-minute workouts a week. I think that's pretty realistic with everything going on right now. Overall, I'm feeling pretty strong and pain-free, even if I'm not doing quite as much lately as I had hoped.
What I'm wearing: I'm starting to get reeeeeally sick of my maternity clothes (anyone else?). It's been so hot that some of my clothes aren't even suitable right now, so I feel like I'm just wearing the same few options on repeat. Eric received one of those Facebook flashback photos on his page the other day, and it flashed back to us two years ago. He said, "Guess which dress you were wearing?!" I looked down at my floral maternity dress. "This floral maternity one?" "Yep, that's the one!" Well, at least I got my money out of this dress, right? You can't beat a dress lasting through two pregnancies!
Cravings: Frozen fruit (lately I like eating a mug full of frozen blueberries and raspberries at night). I'm eating a lot of grapes. They are also Adriana's fave thing in the world right now. I'm still drinking 1 to 2 smoothies a day. I ended up making those Cookies and Cream Ice Cream Bars last week, and my first attempt was a great start. The bars were dangerous to have in the house, though, because they were all I wanted to eat!
Best thing I ate/drank all week: I made a bunch of food from the book on Thursday as I had a reporter come to the house for an interview and photoshoot. My Strawberry Oat Crumble Bars from Oh She Glows Every Day were part of the spread and I had forgotten how much I adore them! Actually, I just remembered that I have several leftover in the fridge and I'm off to enjoy one now….*returns with crumble bar* The second best thing I ate all week: My fave chocolate cupcakes with vegan buttercream! I made them for Eric's birthday, and whoa, they hit the spot.
Days left until due date: 47 days
PS—you can read my 33 weeks update from my first pregnancy here.
Happy weekend, everyone!