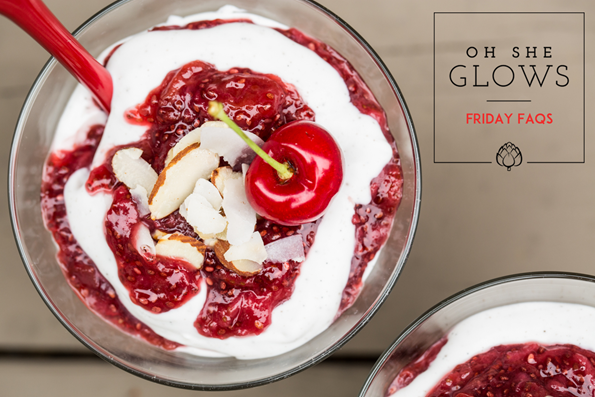 Even though I've been busy developing fall recipes, I'm still trying to wrap my mind around the fact that it's August! Are you, too? Recipe development is a funny thing; I often have to work in advance when developing recipes for publications (sometimes 8 months or more), or when trying to get ahead with some banked blog recipes. This last week has found me whipping out cans of pumpkin (!) and whisking together batches of pumpkin pie spice (!!) to develop recipes for a few special projects coming up. I'm also trying to create some banked recipes for when the baby arrives so I still have some delicious things to share in October. (If you have the Oh She Glows Recipe App, you may have seen a couple fall-inspired recipes pop in yesterday! #sorrynotsorry)
Soooooo, you could say I'm a little seasonally mixed up at the moment, but I'll try to keep the summer-friendly recipes coming! There's no denying this heat wave we're going through…and turning on the oven just isn't appealing in the slightest. I already have enough preggo hot flashes as it is.
Q1. Hi Angela, this Raw Chocolate Pudding looks delish! Two questions: 1) I don't have a food processor—do you think it would work well in my Vitamix? Or would it make it too soupy? 2) Can this be prepared days ahead or is it best eaten right away? Thank you!
A. Hi Robyn, I think the recipe should work just fine in your Vitamix—I personally like this pudding super smooth, and a Vitamix will get you there! If overprocessing is a concern for you, though, just keep a careful eye on it as you go and stop blending when you reach your desired texture. As to your second question, I find this pudding is best enjoyed within 12–24 hours. Keep it chilled in the fridge until you're ready to get your chocolate on!
Q2. Hi Angela, We're longtime followers of your blog and your first cookbook is dog-eared and well loved. While our family is not vegan, our 15-year-old son has recently become a vegetarian, so we are finding our plant-based meals are increasing. My son and all of his friends are big fans of the glo bars, but outside of these or energy balls of some sort, we've struggled with quick snacks that will allow him to get a bit of protein and are easy to grab and go. I'd welcome any suggestions.
A. Hi Ann, It's so lovely to hear from you! Thanks for the OSG cookbook lovin', too. With a bunch of teenagers hanging around the house, I can easily imagine your need to stock up on high-protein, grab-and-go snacks. Aside from glo bars and energy balls, I'd suggest trying my Super-Power Chia Bread (The Oh She Glows Cookbook p. 229), Classic Hummus (p. 89) with Endurance Crackers, or roasted chickpeas (try the ones on p. 220 of the cookbook and on the blog here, or my fave Salt & Vinegar Roasted Chickpeas on p. 221). Alternatively, for a sweeter treat there are recipes like my Two-Layer Raw Chocolate Brownies, or—if you've pre-ordered my next cookbook and have access to the bonus bundle— my new Vanilla Superseed Protein Energy Scoops are a must-try! For something similar (but still a little different) than a glo bar, you might like to test out my Quick 'n Easy No Bake Protein Bars. I hope this helps get the wheels turning!
Q3. Hi, I´d like to know if you can only get the bonus bundle if you pre-order in the US or Canada as we are able to pre-order it in Europe as well (same date). I'm so looking forward to your new book!
A. Hi Cari, You can order from anywhere in the world and get the bundle! It's a PDF, so all you need is your order number to download it. Hope this helps and thanks so much for your support! I hope you love the bundle and the new book.
Q4. Hi! I am looking forward to trying the Vegan Overnight Oats recipe, it looks amazing! I just have one question: I am not a big fan of "creamy" foods, is there any way I can make this a bit more "solid"? Thank you!
A. Hi Rafaela, I would agree with you that overnight oats are definitely creamy (especially when you mash a banana into the mix or add yogurt!). That said, if you want to make them less creamy, I would suggest letting them sit for much less time and using less liquid. Instead of mashing a banana into the bowl, wait to add a chopped banana just before serving (or of course, any fruit you like). Shredded or finely chopped apple is a great swap for mashed banana, and it yields a less creamy result. The gel-like texture of soaked chia seeds can also throw some off at first, so you could also try making your first bowl with a minimal amount, and go from there. I would try using 1/2 cup rolled oats, 1/2 cup almond milk, 2 teaspoons of chia seeds, and cinnamon and sweetener, to taste. If you let it sit for much less time in the fridge—15 minutes or so—the oats will remain chewy, firm, and a bit less creamy compared to letting it sit overnight. Another idea is to serve it with a crunchy granola on top for a nice texture contrast. Lastly, I have some delicious baked oatmeal recipes that might be more up your alley. They're still make-ahead recipes (and can even be frozen and re-heated!), and will firm up a lot in the fridge! I really love baked oatmeal straight from the fridge, especially in the summer. I'd suggest trying my Heavenly Carrot Cake Baked Oatmeal, Tropical Pineapple Baked Oatmeal, or Maple-Cinnamon Apple & Pear Baked Oatmeal (The Oh She Glows Cookbook p. 39). With a little experimentation, I'm sure you'll find your perfect oatmeal!
Q5. Hi Angela, I plan to make this Summer Glow Buddha Bowl this week…so excited!! From a longtime loyal fan of yours and a longtime vegetarian transitioning to a vegan, plant-based lifestyle, I want to again thank you for doing the work you do!! I cannot wait for your new cookbook! :) I have a couple of small questions if you wouldn't mind sharing: What is your favourite extra-virgin olive oil that you use in your recipes (I know you mentioned in your cookbook to use cold-pressed)? Also, silly question but, what do you use to drizzle olive oil onto dishes (or onto vegs for roasting, such as your roasted tomato pizza dish that I also plan to make)?? Thanks so much and best wishes to you as you transition to having a new member in your family!
A. Hi Ameeta, Thanks so much for your kind words! The extra-virgin olive oil I have on hand the most often is one I buy from Costco—Terra Delyssa extra-virgin olive oil (organic and cold-pressed). I basically treat this as an all-purpose olive oil, using it in recipes and also for garnishing. I normally just drizzle straight from the bottle (which I admit, can be tricky to pour slowly!), but you can find olive oil dispensers online (there are a bunch here) or in specialty kitchen stores for a more "controlled" drizzle!
Comments of the week:
"I may be your oldest fan. My husband and I are retired, and have radically changed our diet over the last few years because of health concerns. I always enjoy your blog and your recipes are always wonderful. My husband, who is French, i.e. lots of meat and cheese and very few vegetables, cannot believe how delicious a vegan diet can be. So, many many thanks for your help along our new path. And of course I will be buying the new book . Xo Gail"
Hi Gail, Your comment put a big smile on my face. It's great to hear how much you and your husband are enjoying the recipes! I wish you both great health and happiness in the future.
"Ok, I've now made this Basil Scalloped Tomatoes and Croutons three times and I think you should do a new feature on this. It is SO good. Each time I've made it I've thought, "Really? Can this REALLY be that tasty?"—even the second and third time. And yes it can. Simple, delicious, and at the moment very seasonal. What's not to like!"
Hey Ida, Well, I had completely and totally forgotten about this recipe until I read your comment! Thanks for the reminder; tomato season is the perfect time to whip out this recipe! I think I will have to make it this weekend. Happy tomato eating!
PS—The photo at the top of this post is my Cherry-Strawberry Chia Seed Fool.