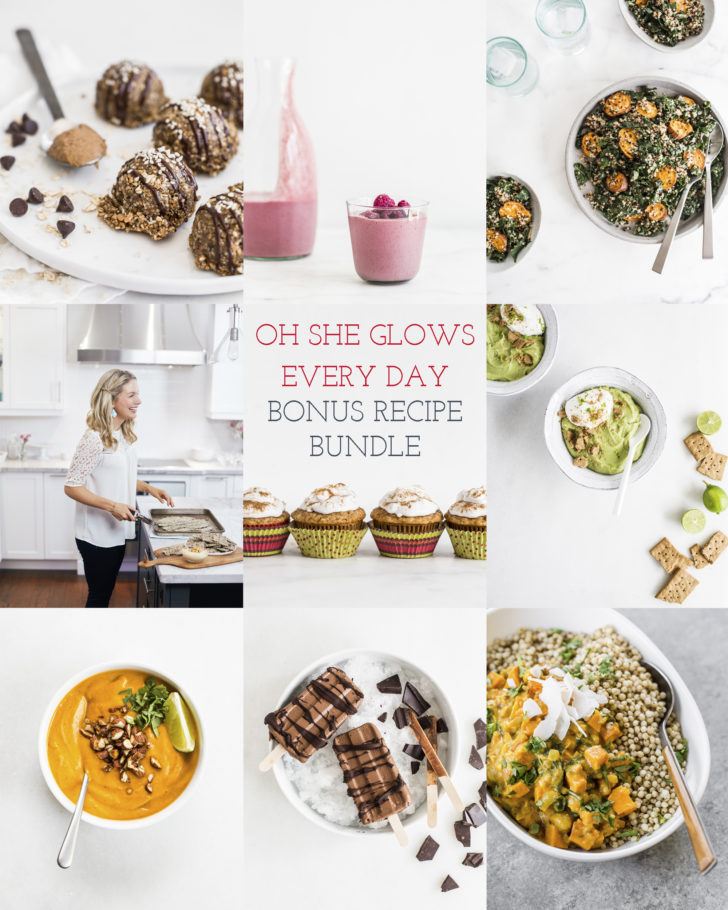 Boy am I excited to finally share what I've been working on the past several weeks!
I created this bonus recipe bundle as a token of my appreciation for your amazing support for my new cookbook, Oh She Glows Every Day. Inside this bonus bundle you'll find 7 brand-new, summer-friendly recipes and photographs (not found in the book or on the blog!), as well as 4 preview recipes and photographs straight from Oh She Glows Every Day. My hope is that you'll enjoy these recipes all month (and beyond), and before you know it, my next cookbook will be waiting on your doorstep!
How to snag the OSG Every Day Bonus Recipe Bundle: Simply pre-order Oh She Glows Every Day from your retailer of choice (see retailer links at the bottom of this post) and then enter your order number (found on your receipt or order history info) and personal info before September 13, 2016. Exciting update! In celebration of our exciting NYT Bestseller news, we've extended the bonus bundle until September 25, 2016. You'll be able to download the PDF and start cooking immediately. Click this link to be brought to the form.
And here's a sneak peek of what you'll find inside the bundle…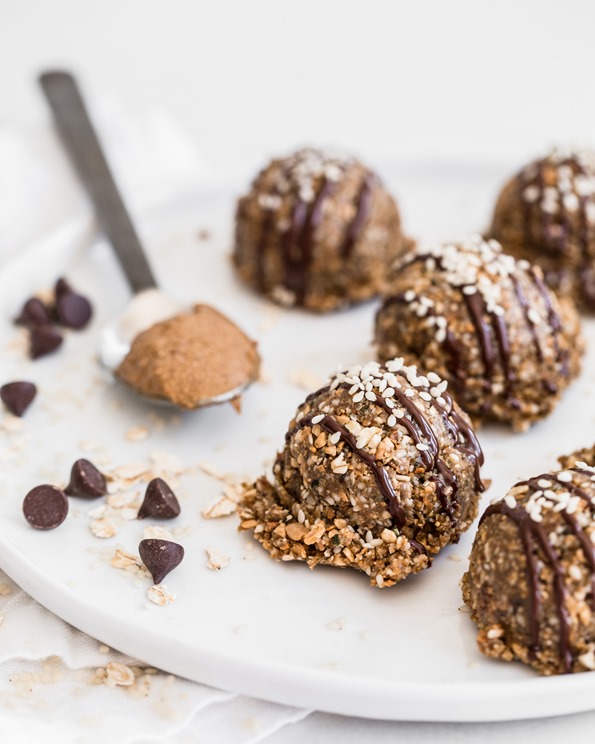 Vanilla Superseed Protein Energy Scoops
Vegan, gluten-free, nut-free, soy-free option, freezer-friendly
OH MY WORD. I would climb the highest mountain if I knew these were waiting for me at the top! These nut-free, protein-rich energy scoops are the perfect snack when you're feeling famished and can't wait until your next meal. I love having them on hand for early mornings when I wake up hangry but don't have time to prepare my breakfast until the little one is looked after. They're great pre- and post-workout, too!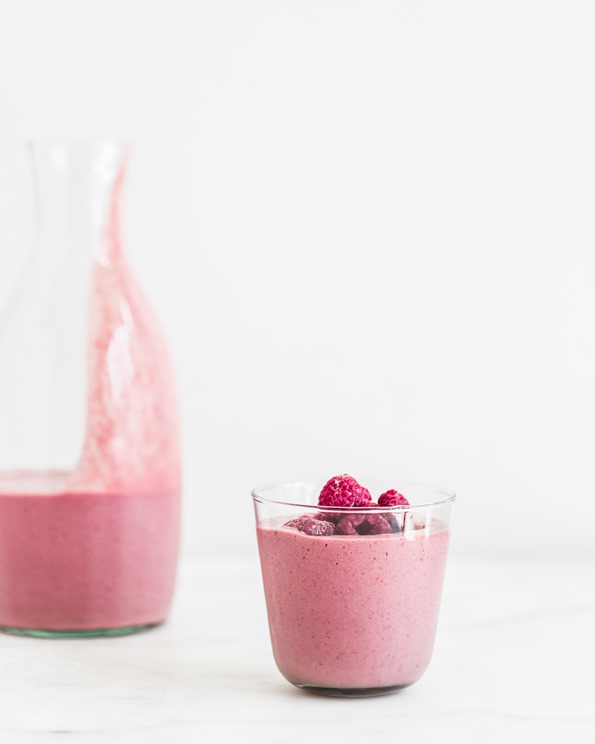 Pink Açaí Refresher
Vegan, gluten-free, nut-free, soy-free, grain-free, oil-free, kid-friendly
My entire family adores this creamy, antioxidant-packed 5-ingredient smoothie, and I love how easy it is to whip up on a hot summer day! It's bursting with flavours of coconut, açaí, lime, and raspberry….simply delish!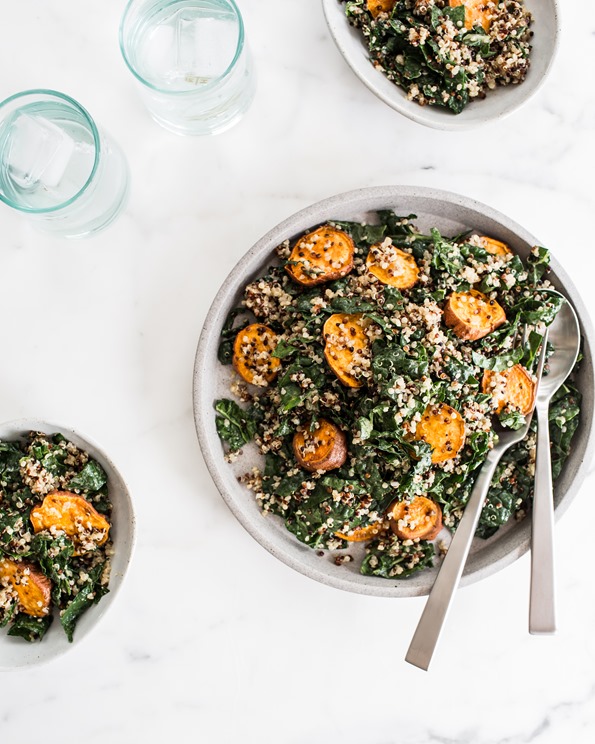 Massaged Kale with Warm Miso-Garlic Quinoa
Vegan, gluten-free, nut-free, soy-free option
Meet my newest go-to kale salad. Whoa, it's a keeper. I love the contrast of a warm and cool salad, and how comforting it is to eat. In this recipe, I've paired freshly cooked quinoa—seasoned to perfection with chickpea miso, fresh garlic, and sesame oil—with a delectable marinated kale salad. The leftovers are just as good, too; I love to cook them in a skillet with a splash of lemon juice and tamari for a sautéed version of this salad. This kale salad is a must try!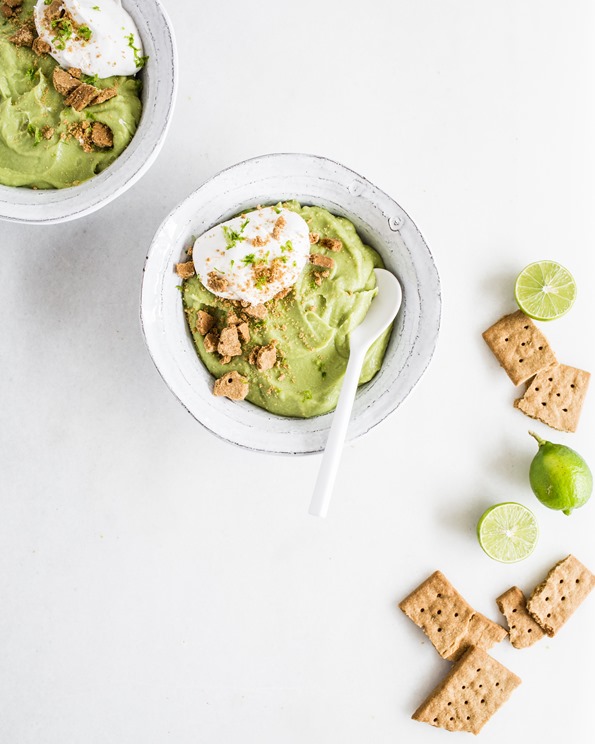 Deconstructed Key Lime Pie with Coconut Whipped Cream
Vegan, gluten-free option, nut-free, soy-free, advance prep required, kid-friendly
This delicious warm-weather dessert is the perfect treat for two or three people. Whipped avocado mixed with fresh lime juice and maple syrup is the secret behind this creamy, luxurious key lime pudding. After chilling, simply layer it in a parfait glass with crushed graham crackers, Coconut Whipped Cream, and more lime. For a simpler option, just spoon it into a bowl and add the toppings. The pudding is great all on its own, too!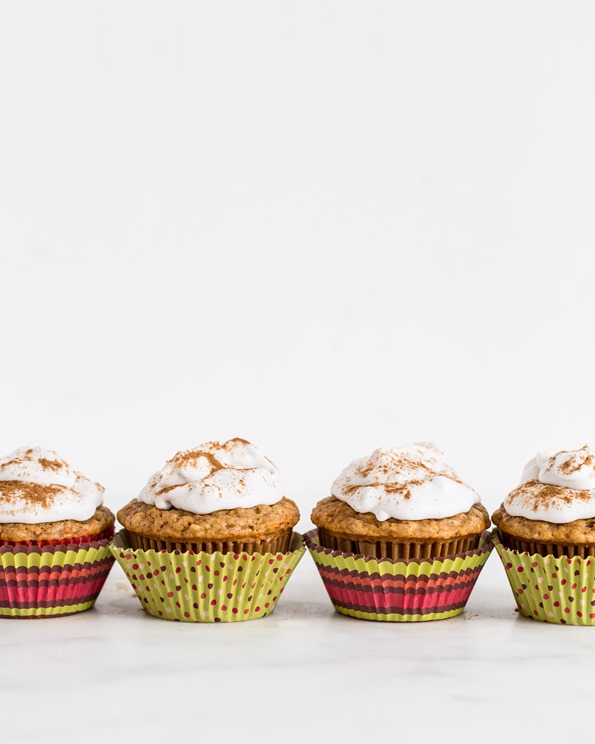 Healthy Carrot-Banana Muffins with Salted Maple Coconut Whipped Cream
Vegan, soy-free, advanced prep required, kid-friendly
Despite containing grated carrot and mashed banana, these muffins rise high and are so fluffy. My daughter absolutely loves them, and I'm happy knowing they pack in some nutrition. The carrot muffin base is infused with banana, cinnamon, ginger, and nutmeg; they're a tasty muffin to kick off fall.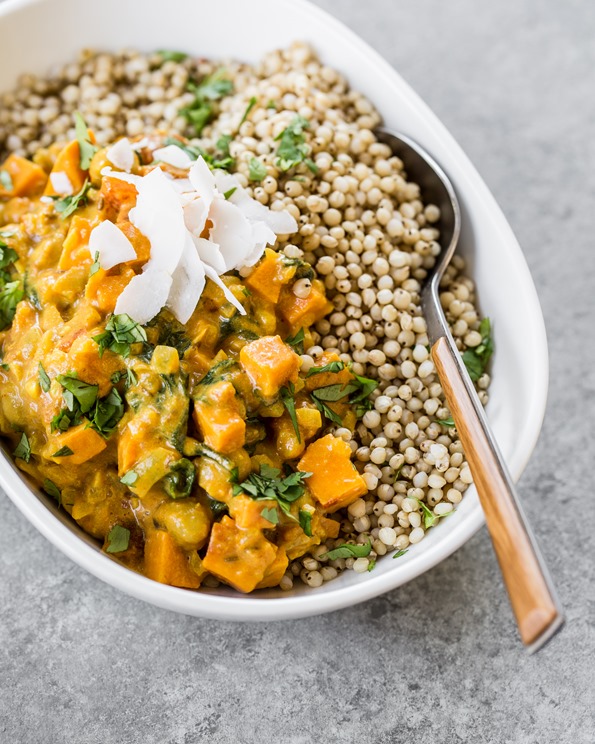 Sweet Potato, Chickpea, and Spinach Coconut Curry
Vegan, gluten-free, soy-free, grain-free option, freezer-friendly
This is a comforting and cozy meal from the cookbook that comes together so fast. The coconut milk brings the flavours all together, mellowing and integrating the spices while adding a light sweetness that pairs wonderfully with the sweet potato. This is a thick, stew-like curry—not runny or soupy. It's the kind you'll love to scoop up with a hunk of bread. Yes, please!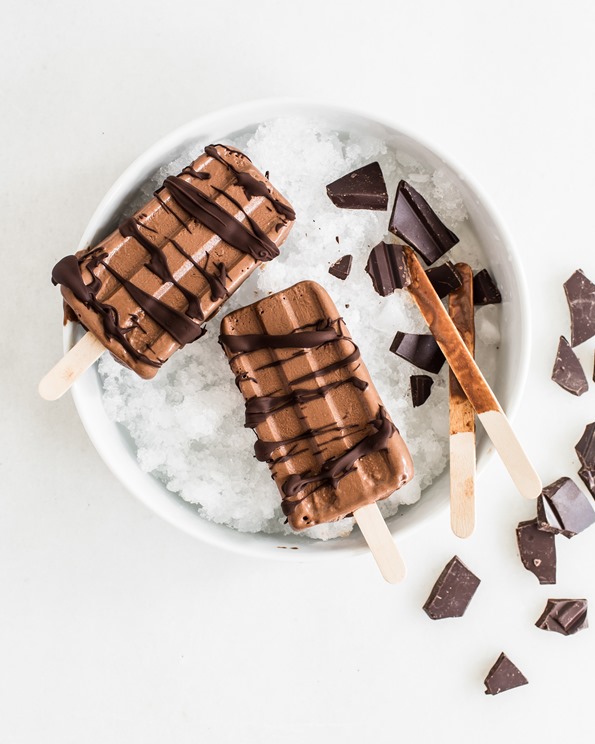 Dreamiest Dark Chocolate Fudgesicles
Vegan, gluten-free, nut-free, grain-free, oil-free, advance prep required, kid-friendly, freezer-friendly
These dark chocolate fudgesicles are intense, deeply chocolaty, and luxuriously creamy in every way possible. I kid you not when I say that they're the best-tasting fudgesicles I've ever made (and I've tested batches and batches!). Their texture is just like ice cream, and they simply melt in your mouth. When you have a chocolate craving in the summer, they are the perfect, splurge-worthy solution.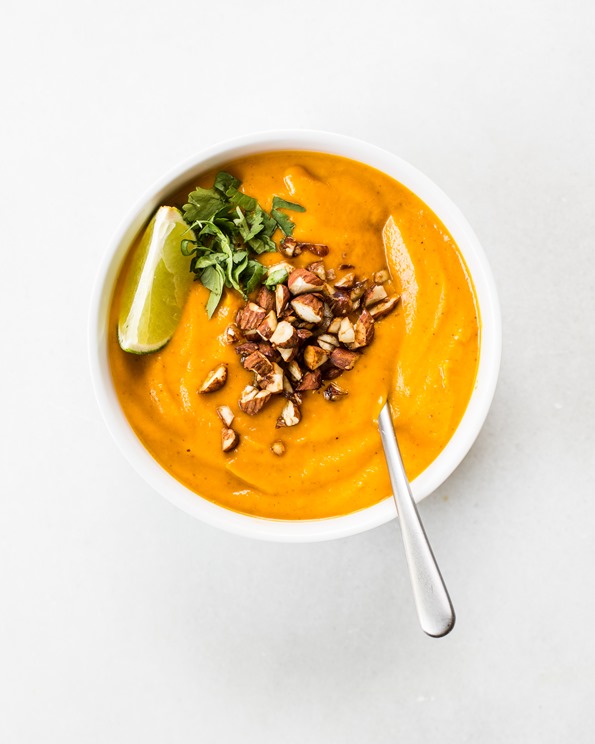 Creamy Thai Carrot Sweet Potato Soup with Roasted Tamari Almonds
Vegan, gluten-free, soy-free option, grain-free, freezer-friendly
This is a creamy, vibrant blended soup, and we made it once a week last fall when I was testing recipes for the book. The soup shows off the flavour of red curry paste, an authentic Thai ingredient that is warm and spicy, and is usually enhanced with notes of lemongrass, garlic, ginger, and chiles. It works wonders in this soup, creating rich and full-blown flavour in an instant! Don't even think about skipping the Roasted Tamari almonds, either; this salty, crunchy soup or salad topping is downright addictive.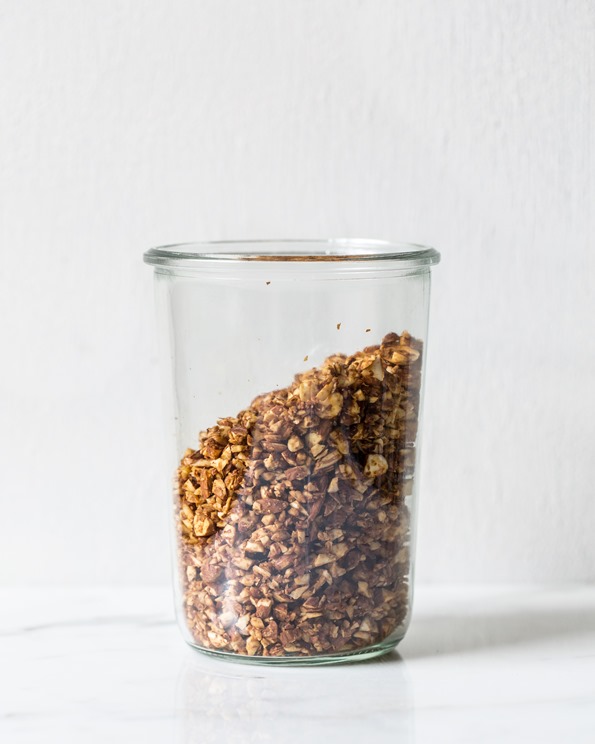 So there you have it—11 of my current go-to recipes to tide you over until my new book's release this September. When you hit the kitchen, don't forget to tag your creations on social media with #osgeveryday so I can see what you're making!
Visit this form to enter your pre-order information and get your very own PDF of the bonus bundle!
You can pre-order Oh She Glows Every Day from any of the retailers below:
Canadian Retailers:
US Retailers:
International:
A big thanks to Ashley McLaughlin for the food photography and Sandy Nicholson for the lifestyle photography!