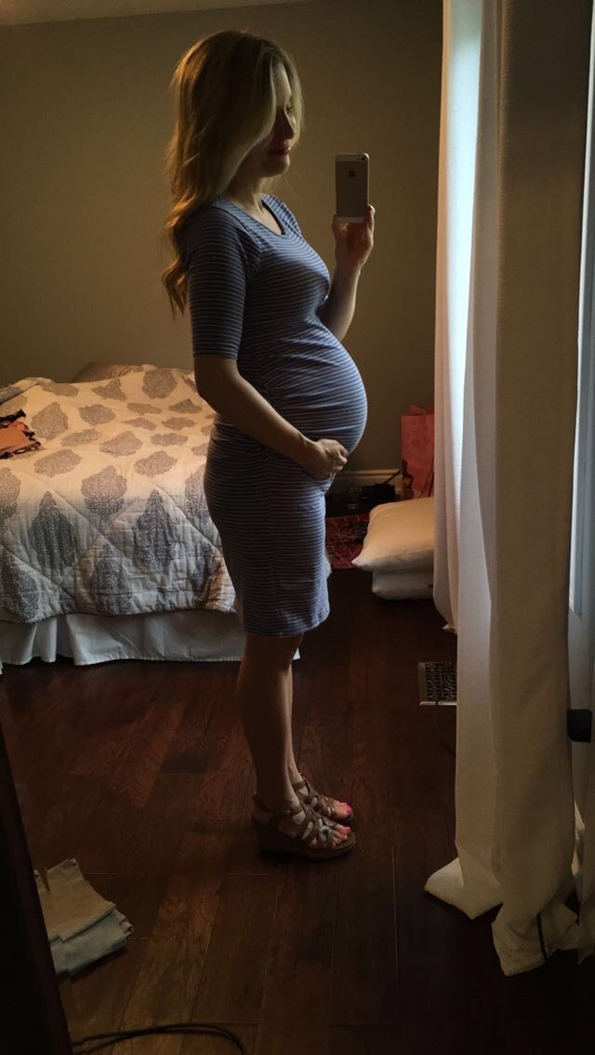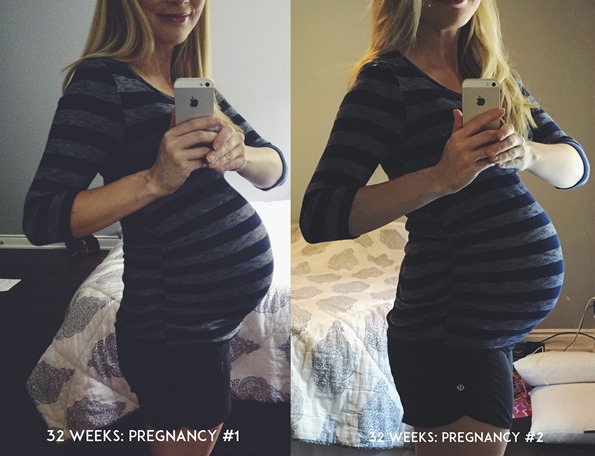 Can these summer weeks just slow down already? August 4th!? You have to be kidding me! Sheesh. We had a great long weekend celebrating our friends' wedding on Saturday, and then we kicked it poolside the rest of the weekend. And by kicked it poolside, I mean chased our toddler around the entire time of course, heh. I actually ended up finding my wedding guest dress the morning of the wedding (how is that for last minute?). I'll share the details below, but it worked out perfectly and I was so comfortable in it! Preggo win, for sure.
How I'm feeling: Pregnant!!! I've officially entered that "Omg, how much longer do I have to go?" stage in the 3rd trimester. Well, I switch between feeling like there isn't enough time left (hello, renovations and book launch), and feeling like I'm about to pop. I'm not sure what happened over the last week, but baby suddenly feels super low. I have that "bowling ball" feeling in my lower pelvis. I don't remember exactly when I felt baby drop last time, but I do think it happened in stages during the last couple months. Maybe it happens earlier the second time around? Mood-wise, I'm feeling quite "stable", heh. Sure, I cry at basically every sappy or sad story these days, but otherwise I would say I'm feeling positive about things in general. And to feel this way, while one's house is in shambles, is quite a feat!
Home life: The home renovations are coming along. Today the basement drywalling begins, which we're really excited about. It'll be so cool to see the actual "rooms" with walls up! The master bathroom is now gutted and the plumbing rough-in is complete. The next step in the master bathroom will be tiling. Progress is happening!
Hair/skin/nails: My hair stylist has been away on vacation for the past few weeks, and I've been dying to get my hair cut. My appointment is this coming Tuesday, though, and I cannot wait!! I'm going to keep the length, but trim up the ends and add some layers in the front as it feels so heavy right now.
Symptoms: Lately I've been having quite a bit of rib pain at night when sitting on the couch. I never feel it during the day; it seems to happen only after dinner when my stomach is full. I'm also quite thirsty in this heat, and pretty much spend all day drinking water, juice, smoothies, and cold tea. I had a random sharp pain (lightning bolt!) in the groin area earlier this week…no idea what it was from. It almost felt like baby hit a nerve. I had this with my first pregnancy on and off too.
Sleep: Knock on wood, but sleep has been pretty decent this week! I think we're getting a break from teething, because Adriana has been so happy and content.
Exercise: My exercise routine has been anything but routine lately. Due to the renovations and workers being in the house all day, it's been difficult to keep my normal lunchtime workout routine in place. Last week I squeezed in a couple great treadmill hill workouts in the evening, and a few 15-minute Barre3 sessions during the day. This week hasn't been quite as consistent. I've been walking outside about 45 minutes a day, but other than that I haven't done my Barre or treadmill yet. I'm going to try to end the week on a high note though and squeeze in a few strong workouts before Monday!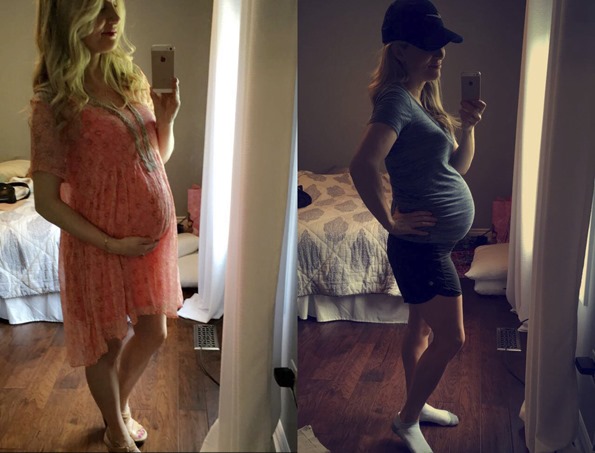 What I'm wearing: So, the morning of the wedding I popped into Anthro and I found the perfect dress. It worked so well with my bump, and it was light, breezy, and flowy to boot. (Just a note: This dress runs large because my normal size fit perfectly with room to spare.) The wedding was outdoor and casual, so I knew I had found a great option. I was so comfortable the entire evening. I hope I still love it postpartum, too. On regular days, I'm still wearing a lot of maternity dresses (below is Old Navy Maternity), and lulu shorts and Old Navy maternity tees. The tees are getting too tight though, so I think I need a couple in a larger size.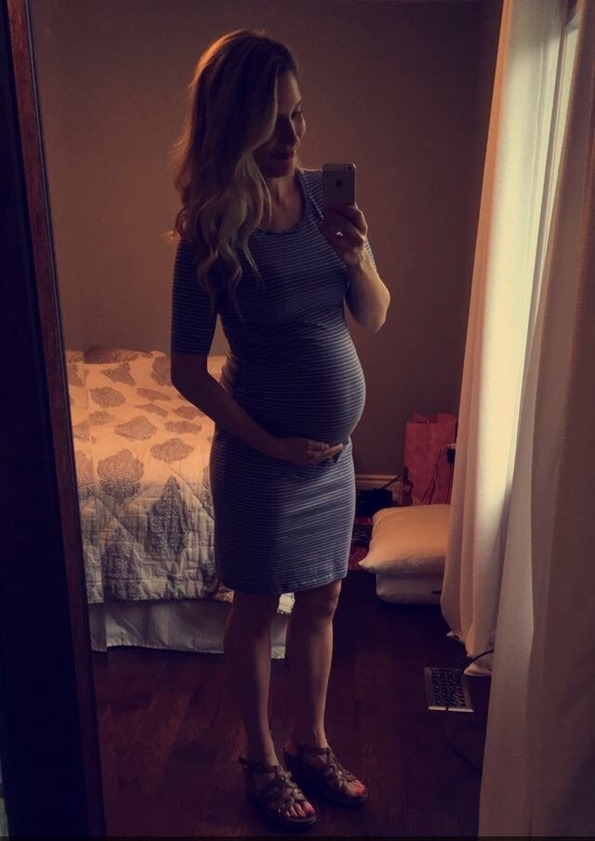 Cravings: Frozen fruit (lately I like eating a mug full of frozen blueberries and raspberries at night). Also: Cherries! And grapes! And sweets. Oreo ice cream (what?). I actually dreamed up a vegan oreo ice cream recipe this week, and I can't wait to test it out.
Best thing I ate/drank all week: I've been on a Protein Overnight Oats kick lately, and have been enjoying that along with a big green smoothie each morning. The oats aren't pretty (okay, they look hideous), but I just love how thick and doughy the protein powder makes them. The key is to use a good-tasting protein powder or they'll taste awful. I like Sunwarrior Warrior Blend in natural.
Days left until due date: 54 days