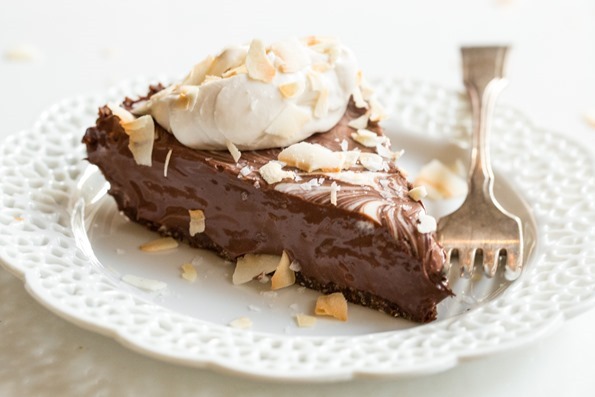 It's hard to believe we're on the cusp of another long weekend here in Canada! Is it really August 1st on Monday!? We're looking forward to celebrating our friends' wedding tomorrow, and getting together with some neighbours and their kiddos for a pool day on Sunday. Oh, and a 3-day reprieve from all this renovation noise, hah. Should be a good one! I hope you enjoy yours, too. 
Q1. Hi Angela, I've got a potluck SOS! On the August long weekend we have a big horseshoes competition at my cottage, and this year I'm stumped for what to bring to the dinner afterward. It's my first year going as a vegan, and I want to bring something I can eat but that everyone else will enjoy, too. Do you have any ideas? I thought about your Crowd-Pleasing Vegan Caesar Salad, but then I remembered at least three different people always bring Caesar salads!!
A. Hey Cassie, Sounds like you have a fun weekend in store! For a hearty entrée-type dish, my Crowd-Pleasing Tex-Mex Casserole (The Oh She Glows Cookbook p. 149) is bound to be a hit at your potluck—its name's well earned! You could also try my Next Level Vegan Enchiladas or Life-Affirming Warm Nacho Dip (p. 83) served with tortilla chips. For all three, I would try assembling beforehand, storing it in a cooler, and cooking it just prior to serving. For a quick, low-fuss appetizer, you could make some homemade hummus (like my Classic Hummus in The Oh She Glows Cookbook p. 89) and pair it with a platter of homemade or store-bought pitas, breads, and/or crackers (my Endurance Crackers are great served with hummus!). A couple solid alternatives to the Caesar salad standby include my Best Shredded Kale Salad and Tangy Cilantro-Lime Quinoa Salad. For both of those salads, I would wait to mix in the dressing until shortly before serving so it stays fresh and flavourful. And dessert-wise, it's hard to go wrong with portable, easy-to-serve Almond Butter Rice Crisp Treats. I have yet to meet someone who doesn't love those. I hope these ideas get the wheels turning, Cassie—have a happy and safe long weekend!
Q2. Your Two-Layer Raw Chocolate Brownies look amazing! I love the idea of double chocolate. Is there a substitution for walnuts?
A. Hi Katie, The walnuts lend a nice "brownie" flavour, but you can absolutely substitute them if need be! Pecans are probably the most popular swap, but I'd think almonds would work well, too. Almonds are a bit drier than walnuts or pecans so you might need to add a touch of water when processing to help it hold together. Be sure to let us know what you come up with!
Q3. Hi. I am trying to eat healthy but watch calories/fat after having baby #4. Do you post nutritional information anywhere? Also I would like to refer patients to you but many are diabetic and also watching weight, so they need to keep track of macros.
A. Hi Lori, Big congrats on baby #4! What an exciting time for you and your family (and slightly busy, I imagine!). With respect to your question, you'll find some older recipes have nutritional information available. I'm also happy to let you know that the nutritional info for all of the recipes in my second cookbook, Oh She Glows Every Day, will be available on my website by the time the book launches this September. For recipes on the blog and in my first cookbook that don't currently have nutritional info available, I recommend using a free online tool like NutritionData.com or CalorieCount.com, or an app like MyFitnessPal. (Side note: I do receive a lot of requests for nutritional information, so if there are any registered dietitian students out there who are looking for some supplementary intern work, please send your updated resume to [email protected] with the subject line: Nutritional Analysis. Thanks!) 
Q4. I love these vegan lunch ideas, but I have one problem: my partner and I work from home, and he will not eat another sandwich, soup or salad, he was mostly raised on those, so not sure what to do for lunches anymore. Anyone have ideas? He cannot have lentils or beans of any kind, thanks.
A. Hi Jerry, Oh, that's a tough one! I find the benefit of working at home, though, is that you have full access to your kitchen, so that should help expand your options a bit more. My Broccoli & Cashew Cheese-Quinoa Burritos (The Oh She Glows Cookbook p. 159) are a tasty possibility; the filling could be prepared beforehand, stored in the fridge in an airtight container, and reheated then placed in a tortilla wrap when you're ready to have it for lunch. Sometimes just switching up the traditional sandwich into a wrap makes things so much more exciting! You could also do the same with my other burrito fillings (try my newest DIY Burrito Bowl or my Black Bean and Butternut Squash Burritos from back in 2011!). If he can't have beans, you could simply leave them out or swap them for more veggies, tofu, or quinoa. Again, you can prepare the filling in advance and simply reheat the leftovers and wrap it up for lunch. Easy and so tasty! The filling often tastes even better the next day, too.
If you're open to a "second breakfast"–type meal, I'd recommend my Sunrise Scramble with Roasted Home Fries & Avocado Toast (p. 33). Or, if you're really on board with second breakfast, there's nothing wrong with going for a hearty smoothie bowl (like my Green Tea Lime Pie Smoothie Bowl), overnight oats, or a meal-sized protein smoothie. Sometimes when it's really hot out I make a huge meal-sized smoothie that's packed with hemp, chia, protein powder, veggies, fruit, and more.
You could also whip up my Life-Affirming Warm Nacho Dip (p. 83). Stored in an airtight container, it can be kept in the fridge for 3 to 5 days and easily reheated in the oven, so you can make a batch one evening and let it feed you for at least a couple lunchtimes (depending on how quickly you gobble it down! It never seems to last very long in our house…).
Comments of the week:
"Angela, I have been making variations of this salad since I saw your post years ago and finally have to say…it is the best thing ever! A few years ago I opted to eat less meat based products. (I love cheese…so I haven't given up dairy) and this was the first thing I made from your blog…totally saved me! Love it! I usually only use 1/2 the oil and have substituted other dried or fresh fruits for the dried cranberries. Delish! And, I have shared your site and this recipe so many times that I am no longer able to take it to certain outings…others in our group bring it instead. Thanks for the recipes! ( Your cookbook is also my favorite.)"
That's too funny, Mindy—you know your go-to recipe is a hit when people start borrowing it! Thanks for leaving the awesome comment, sharing those modifications with us, and spreading the Oh She Glows love. I'm so happy you enjoy the cookbook so much, too!
"Thank you so much for this Chocolate Raspberry Dreams Breakfast Parfait, Angela! My son is two weeks old and preparing breakfast while holding him has been a challenge, so I really needed to find healthy breakfast recipes that I could prepare the night before. This parfait just made my day…so nutritious, delicious, and easy to make!:)"
Theresa, I can so relate to "preparing breakfast while holding" your kiddo! My 22-month-old still loves to be picked up so she can watch me cook. ;) (Who knew food prep could be a workout too?!) But yes, prepping breakfast in advance is so key, and I'm so glad you're enjoying the parfaits! It's a nice change from the typical smoothie or bowl of oats. Congrats on your little one, by the way! I'm so excited to have a newborn in my arms again soon. :) Soak him up.  
PS – That little slice of deliciousness at the top of the post is my Double Dark Chocolate Macaroon Tart. Never a bad idea.