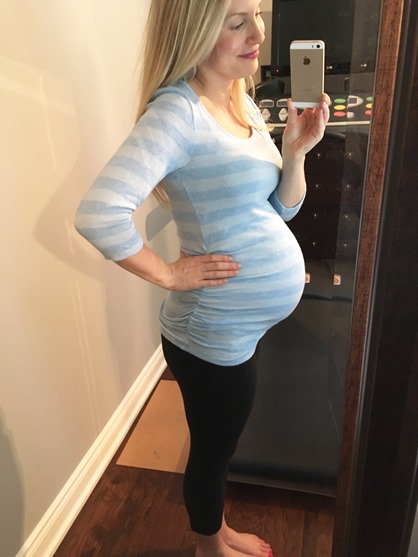 Our renovation excitement continues! What a loud, dusty week it's been. But with noise and dust comes progress, so I can't complain too much. This week the framing, bulkheads, and plumbing rough-ins were completed. The egress window and electrical rough-ins were also started. Big progress for sure.
How I'm feeling: I can hardly believe that we're going to have a newborn in our arms in a couple months! I'm looking forward to cherishing all the snuggles (and oddly enough, I'm looking forward to breastfeeding again. Well, the happy moments of breastfeeding, that is!) Apart from this nagging cold, I've been feeling more positive than I was the past couple weeks. I've gotten myself quite organized, and my productivity has been great. We're still busy trying to prepare for the launch of my next book on September 6th. With the baby coming in September (presumably), it's going to be quite an unpredictable month, so I'm working with my publishing team to get ahead as much as I can.
Baby: Baby is apparently around 3 pounds and 16 inches right now. It's crazy to think baby's weight will double or triple over the next 10 weeks. When my cold was at its worst earlier this week, I could tell baby was sleeping a lot more than usual. Now that I'm finally on the mend, baby's activity has returned full force and I'm feeling all kinds of kicks/squirms around the clock. It still amazes me to see my belly move and to feel baby's body parts pressing against my tummy.
Home life: Next week, the master and powder bathroom renos will begin. I'm definitely not looking forward to that added mess. At least the basement mess is a bit more contained. This weekend, we have to move everything out of our master bedroom/bathroom and move into the guestroom for the next six or so weeks.
I made some good office #shelfie progress this week! Have you seen the Snapchat sneak peeks? Some of you have asked whether I can do an office reveal post when it's all finished, and I think that's a fun idea! I'll try to, but I'm not sure when it'll be complete. I'll keep you posted.
Nesting: There's been no nesting to speak of, as we're just trying to get rid of dust with vacuuming/mopping each night after the renos. I don't foresee a lot of nesting in my future, so I'm glad I got a lot done in the second tri. We have a joke in this house where if Eric sees me scrubbing the floor and sink before bed, it means I'm about to go into labour! Let's hope this little one is cozy in there for a while though.
Hair/skin/nails: My skin's breakouts have completely cleared up, and I'd even say it's glowing again. I've been using a new cleanser and spot treatment every night before bed (after a friend insisted it would help my bad breakouts), and I cut my chocolate consumption way down (sad face). I'm also drinking a lot of green juice and eating more veggies than I have in a while. Something is definitely helping!!
Symptoms: I ended up getting this bump wedge to see if it would help my back pain overnight. Well, I haven't found the wedge to be overly comfortable (and it kind of just slides out anyway), but I did find another use for it—a pillow wedge! Since I've been so stuffed up with this cold, I've found elevating my pillow to be so helpful. The wedge works great for this use. I still haven't had many other symptoms at all, aside from increasing bladder pressure and catching every cold that comes within 50 feet of me. ;)
Sleep: Adriana is going through a rough patch of sleep where she is waking multiple times a night and getting up at 5am (even after being up very late and waking a lot). Not sure what's up, but we're all tired. Eric said, "I wonder if it's the 2-year sleep regression coming early?" Eek! I forgot about that. I actually think it has to do, in part, with her development lately. I mentioned this a couple weeks ago, but Adriana has been in this amazing phase of cognitive development. Her vocab is growing rapidly, and she's understanding so much. She rarely stops talking or pointing out colours, letters, and numbers to us. And when it's bedtime, her mind still seems to be filled with so much excitement about her world, making it hard for her to shut down. It almost seems like she's in a leap. Last night she finally crashed at 10pm and was up just before 5 this morning…crazy!
Exercise: I took the week off working out due to my cold, but I'm looking forward to getting back into it this weekend! I miss the endorphins and feeling of strength I get from Barre3. On the bright side, I have kept up with our daily morning walks all week and I think the Vitamin D does a body good.
Cravings: Lately, I find that I'm craving a lot of smoothies, fruit, and salads, which is a nice change from all the sugar cravings of the second trimester. It must be due to the relentless heat waves we've been getting! Space is definitely getting tight in my belly, though. I can't eat large meals anymore without getting uncomfortable rib pain. So I've been grazing and enjoying a lot of smaller, frequent meals.
Best thing I ate/drank all week: A huge Buddha Bowl from Kerr Street Café in Oakville. I stuffed my belly to the brim with this meal, lol. I'm going to hopefully recreate this one for the blog, so stay tuned!! It's pretty much all I can think about.
Days left until due date: 68