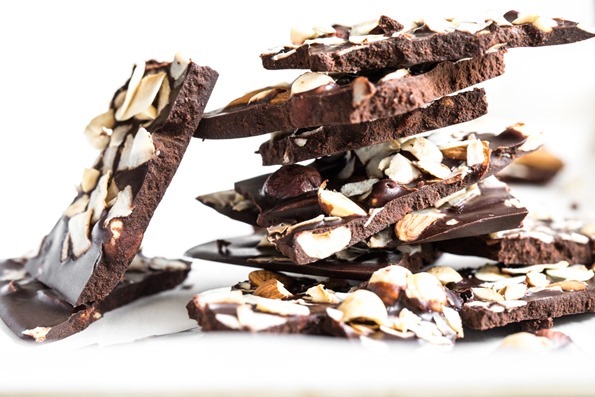 Our basement renovation is getting real up in here. The framing is almost finished, the plumber is jackhammering away (who needs sanity to write?), and the subfloors are coming next. I honestly can't believe that we're going to have a finished basement to enjoy in the next 3 to 24 months (you never know how long Eric and I will take to agree on final details…)—and most importantly, a playroom for the kiddos. That alone is worth its weight in gold.
Q1. Hi Angela! LOVE your recipes. I just saw your FAQ post including freezer friendly recipes (I've had bad luck with freezing in the past). I'm definitely going to try freezing your suggested recipes…do you have any storage tips for freezing that have worked for you? Thanks!!
A. Hi Sarah, Thanks for the great question! There are definitely a few tricks and tips I can share that should help you out. These days, I like to store food in glass freezer- and oven-safe containers (they're extra-great, because you can bake thawed casseroles/enchiladas right in the glass dish!). Mason jars also work well. Depending on how long I plan to store the dish in the freezer, I sometimes place a piece of plastic wrap on top of the food, because I find it helps prevent freezer burn (and no one likes freezer burn!). How long you can store food in the freezer really depends on the dish; I generally try not to freeze for longer than a month or two, but if you have a deep freezer you can probably get away with longer.
To break it down a little further, for dishes conducive to single servings, like burgers and burritos/enchiladas, I usually wrap the cooled servings individually in tinfoil, and then place them in the glass container and lock and seal the lid. You can simply remove the lid and pop the entire thing into the oven to reheat (or unwrap the tinfoil first if you prefer not to cook food in tinfoil). For liquid-based dishes like soups, sauces, curries, casseroles, or chilis, I pour the food into the container, leaving an inch or so of space at the top to allow for any expansion, and secure the lid. If you want to freeze individual servings, feel free to split them up using smaller containers, freezer bags, or even ice cube trays for pesto or other sauces. For things like cookies, bars, and granola/granola bars, I like to use freezer-safe zip-top bags for storage. I try to rinse and reuse the bags when I'm done with them to cut down on waste and save money. For more great tips, check out the comments section of this post.
Q2. Hi Angela, I'm a big fan of yours—thanks for all your recipes! I made this Banoffee Pie last year for my son's birthday and he wants it again this year! My problem is I need to make it or most of it 2 days ahead of time. Is this okay, do you think? Is there a way to make the crust and caramel and store it? Would you actually layer them? Thanks for any help—I can't wait for your next book!
A. Hi Nina, Thanks for your note, and happy birthday to your son! I definitely think you can prepare some of the Banoffee Pie components ahead of time. For the Raw Caramel Toffee, you can prepare this 1 to 2 days before and store it in the fridge in an airtight container. I would suggest letting it sit at room temperature for a little bit before you use it, just so it's spreadable and not too firm. The coconut whipped cream can also be made 1 to 2 days before, and I would recommend the same storage as with the Raw Caramel Toffee. (You might also consider whipping it with electric beaters just before using it so it's nice and fluffy.) I haven't tried making this crust ahead of time, so I'm not sure if it would dry out too much, but if you try anything, please let us know!
Q3. This new cookbook looks amazing and I'm so excited.  I love making your recipes and sharing them on Instagram. :) I was wondering if there is a page on the best veggie broth? I can't seem to get past watered down–tasting broth…. Is there a trick to it?
A. Hi Ashley, Finding a vegetable broth you love can be tough, for sure! I tend to buy low-sodium, and generally stick with the Imagine Organic and Pacific Foods brands, but I'll be the first to admit that it's what I add to the broths that really dazzles my taste buds (spices, veggies, and seasonings galore!). Vegetable bouillon cubes are another good option: they can be dissolved in water to make a quick broth substitute, with the added bonus of having a long shelf life and minimal packaging. Alternatively, if you're in the mood to make veggie broth from scratch, I provide a delicious recipe for Homemade Vegetable Broth in my first cookbook (on p. 299). You can make batches of it to freeze, so you have it on hand whenever you need it.
Q4. Hi. I'm using your cookbook recipe for the Magical Chia Seed Jam (The Oh She Glows Cookbook p. 287). Do you think it would freeze well? I'm thinking of making a few batches as I have an 18-month-old so am pressed for time :)
A. Hi Rachel, I totally get being pressed for time with a little one running around, especially when they are at your feet while you cook! ;) I'm happy to report that chia seed jam freezes so well! I love to portion my chia jam into a silicone mold (such as this one) for easy, individual portions. Once frozen, pop the frozen cups out of the mold and place them into an airtight freezer bag. They will store well for a month or longer. I will often thaw some in the fridge overnight, or simply at room temperature. You can also throw a frozen cube or two into the pot when making hot oatmeal for a bit of extra flavour. Also! This might sound weird, but I actually love eating the frozen chia seed jam straight from the freezer (like a popsicle). It's soooo good!
Q5. Hi Angela, Love this Super Power Chia Bread recipe. I substituted 1/2 teaspoon dill for the oregano and thyme. (I also used a pinch of salt since I'm reducing my salt.) Also, I used a 9-inch pie plate since I didn't have the other size pan. Was great!!!! Thanks. How many pieces do you cut? I was wondering how big to cut them to get the 9 grams of protein…. I cook for a lot of folks with health issues, and it really helps to have as much nutritional info as possible. Thanks!!!!
Hi Deborah, Those subs sound absolutely delicious! I am a huge fan of dill. This recipe's nutritional "super powers" are one of my favourite things about it, but it doesn't hurt that it's pretty darn tasty, too—and SO easily customizable. To your question, the 9 grams of protein per slice is calculated for 8 servings. (Each serving also has over 7 grams of fibre!) If you'd like a further nutritional breakdown, you can check that info out here. Hope this helps!
Comments of the week:
"Hi Angela, I just wanted take a moment to thank you for work that you do with Oh She Glows. When I moved to a plant-based diet a couple of years back you were the first website I found that had incredible plant-based foods. I regularly cook your recipes, and your chickpea croutons, Caesar dressing, and hummus have changed my husband's life as well as they converted him off of some processed and high-sugar junk to much more wholesome recipes.  We have, combined, lost a total of over 100 pounds and counting and it's thanks in part to you and your amazing recipes. I actively await the release of your next cookbook because I know the recipes will be great.  For your first cookbook, I have shared the info with all of my friends because I know every single recipe I make, whether the first time or the 100th time, will be a winner. Congrats on the second pregnancy and best of luck with 2 under 2."
Hi Sarah, I can't thank you enough for taking the time to write me such a heartfelt note! It truly means the world to me that you'd share my recipes with your friends too. A huge congrats to you and your husband on your incredible lifestyle changes and weight loss. I can only imagine the dedication and persistence that it has taken you both to achieve such a huge accomplishment. I'm so grateful to be a small part of your journey.
"Hi Angela, On Saturday I made your peanut butter cookie dough bites from The Oh She Glows cookbook and ate one before my morning run. I ran 7 miles, which is farther than I have ever run, and actually jumped me ahead a week in my half marathon training. Coincidence? I cannot take the chance! From now on, every long run will be preceded by one of those bites! I make one of your recipes every day lately and have been LOVING them and loving eating vegan. I never really loved meat, but didn't quite know what to make instead. Voila! Your blog came along. I still put cream in my coffee every day, but am 90% vegan otherwise. I honestly cannot thank you enough!"
Hey Christine, I'm glad I'm not the only one who's used these cookie dough bites as a pre-workout snack! (Okay, and post-workout, too.) I'm so glad they gave you an energy boost. Good luck with the rest of your marathon training. Be sure to pack some for the race.
PS – That insane-lookin' chocolate bark at the top of this post is my Crazy Good Coconut Oil Chocolate Bark recipe.