Hello, hello! Can you hear me? I'm trying to yell over the sound of the renovation noise. It sure has been an exciting week with our basement renovations going on full force. I'm sure the thrill will wear off soon, but it is nice to finally be making progress. I think baby is wondering what the heck is going on in this place! Be sure to check out my Snapchat for progress pics.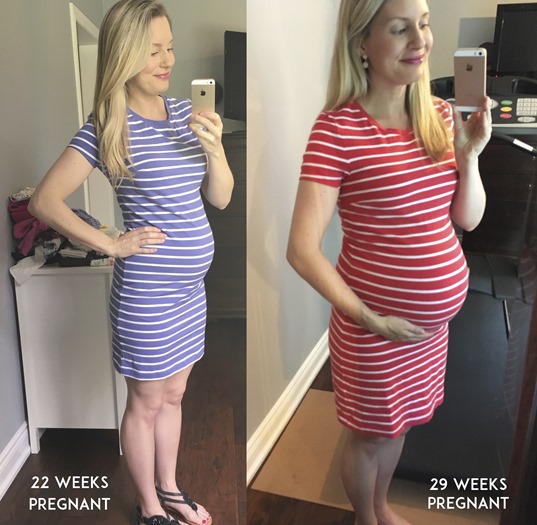 And, my, my, what a difference 6 weeks can make! No wonder why I've felt like I'm slowing down. Look at that growth!
Midwife appointment: My midwife appointments are now every 2 weeks instead of every month, so things are ramping up! Eek. Growth is on track, and baby's heart rate is great. Based on her hand-poking (official term), my midwife thinks baby is breech at the moment, but she isn't concerned at this point as there is still a while for baby to flip. Apparently, staying active on your feet can help—thanks, gravity!—so hopefully my active lifestyle will help baby get into position. I felt this huge movement last week that literally stopped me in my tracks, and I wondered if it was baby flipping (maybe baby flipped head up last week?). Such a weird feeling! (Interesting tidbit: Adriana flipped head down around 27 weeks, according to my update.)
How I'm feeling: Emotional, especially given current world events. Worried, about the world we'll raise our kids in. Grateful, for the immense amount of love in this house. I'm also feeling a bit swamped, with interviews/publicity for OSG Every Day at the moment…just trying to keep all the balls in the air. This is definitely not one of those laid-back summers, but it's fun and exciting in its own way! I love the energy and excitement that comes with it.
Home life: As I mentioned, our basement renovations are underway. (Did you notice in this week's bump picture that there's a treadmill in my bedroom now? heh.) We have so much activity bustling in this house all day long. It's kind of a fun change of pace, but I know it'll get old fast! The contractors (who are awesome and friendly, by the way) start work early in the morning, but luckily we're up long before they arrive. The bright mornings in the summer make the morning hours so much more pleasant.
The office is still coming along. This week our shelf arrived; it's looking a bit bare so I need to keep looking for decor to decorate it with. I'm using Pinterest to get some tips on styling shelves—there are some seriously talented shelf stylers out there (#shelfie masters, I'm looking at you!). You can follow along on my Home Office Pinterest board, if you're interested in what I'm pinning! Who knows, maybe some day I can take a #shelfie of my own to share! There might be hope for me yet.
Nesting: Our donation pickup came this week, and we got rid of soooo much stuff! Man, did that feel good. I can't believe how much we've cleared out in the past couple months. It really is true that clearing out physical clutter helps clear the mind, too. I'm hooked.
Hair/skin/nails: Knock on wood, but my skin is doing so much better this week. I can't get over the improvement. I've been doing a few different things: I started using a new cleanser, stopped taking those new probiotics from a couple weeks ago, and I've reduced my chocolate consumption (*cries*), which had gotten a bit out of hand. I wish I knew if it was one of those things. Or maybe it's none at all! Either way, I'm hoping this better-skin pattern continues!
Wearing: We're in the midst of another heat wave, so I'm wearing as little clothing as I can get away with. I'm still on the hunt for a maternity dress to wear to the wedding. I discovered that the wedding is outdoors and there's walking involved, so I'm not sure the dress and heels I tried on last week will work anymore, unless I want to aerate the entire yard. I'm leaning towards something a bit looser and flowy, with some wedge sandals maybe. Hopefully I can find something soon! Time is running o-u-t.
Symptoms: My main symptoms right now are back and ligament pain on and off throughout the day. I'm thinking about getting a bump wedge to see if that helps my back pain overnight. I'm still very stuffed up with a dry, swollen nose. I get occasional Braxton Hicks at night, maybe a few times a week right now. All things considered, I'm feeling pretty great!
Exercise: I felt like I might've been coming down with Adriana's cold earlier this week, so my workouts were shorter in duration. I'm feeling fine now though, so I've been back to my regular routine the past two days.
Cravings: My appetite is still strong and I'm not having nearly as many cravings as I was in the second trimester. One thing I'm loving is Sunbutter (a brand of sunflower seed butter). Why is it so darn good?! I love it on apples and carrots. And, of course, by the spoon (my fave). I'm still eating fruit like a madwoman, just like I did two summers ago when I was pregnant with Adriana. Wait, who am I kidding? I eat fruit like a madwoman every summer!
Best thing I ate/drank all week: Healthy Carrot-Banana Cupcakes with Salted Maple Whipped Cream! OMG. This is another preorder bonus bundle recipe (details coming in a couple weeks!).
PS—You can read my 29 weeks update from my first pregnancy here.