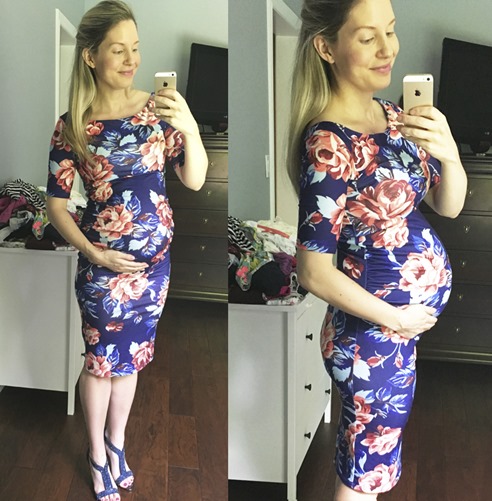 Hello, 3rd trimester. This pregnancy is flying!
Here I am in the photos above trying to decide on a dress to wear to an upcoming wedding! I like the fit of this one, but not sure about the print, so it might go back if I find something else. (Can I also resolve that today is the day I finally clear the laundry off the white dresser? Please tell me I'm not alone in letting my toddler's clothing sit in a heap.)
How I'm feeling: Busy, excited, anxious, swollen, hopeful, emotional, tired, happy, grateful.
Home life: Eric cleared out the basement this week, and renovations are underway! My office is also coming together slowly but surely. I still need to figure out the rug situation, and a few other decor things, but it's been a fun project to chip away at!
Nursery: Eric came up with a new idea about the kids' bedrooms. He suggested that we move Adriana into her own "big girl" room (the current guest room, which we were originally planning on turning into the new baby's nursery). I'm thinking about doing a safari theme for her big girl room because she's obsessed with animals. Animals and books! And babies and trucks, hah. She would love it so much. He suggested we could simply revamp Adriana's current nursery for the new baby. It's a fun idea, for sure. I'm just uncertain when we'd be able to tackle it with everything on our plate. I guess we could always start small, and work on the rooms into the fall season once the renovation stuff dies down.
Nesting: Nesting was full force this week…in my email inbox, that is! Yes, friends, I've started getting the urge to declutter my inbox. Things are getting weird. I have two inboxes—one personal and one OSG— and my personal inbox is now under control. The OSG inbox is still in progress. There's no stopping me now, though.
Belly button: Still an innie, but probably not for too much longer!
Hair/skin/nails: My skin is still breaking out…and I'm so over it. It's improved a bit since last week, but definitely isn't looking great, that's for sure. Concealer is my friend! I'm still in desperate need of a haircut, and I think I shall book something today!
Sleep: I've been sleeping longer overnight stretches this week, which feels awesome. I mentioned last week that we darkened Adriana's room a bit for the summer, and it helped her sleep an hour longer in the morning (from 5:30am until 6:30am). This week she's now getting up at 6am, so I think the effect is wearing off a little, lol. Actually, this morning she decided to get up for the day at 4:45am!! What the heck. She's a chip off the old block, I suppose. Adriana's mama gave up napping entirely at the ripe old age of 14 months—yes, I really did! My poor mom. She says, "You have always had boundless energy." Maybe baby #2 will take after Eric (the best sleeper in all the lands).
Wearing: I'm still feeling pretty uninspired with my maternity clothing, and just kind of feel "blah" with whatever I'm wearing these days. It must be the 3rd trimester transition!
Symptoms: I'm feeling quite good, aside from being more tired/slower than I was in the second trimester. My back hurts quite a bit in the morning and later at night. My ligaments tend to feel like they could be pulled at any moment. Still, I'm grateful that I don't have any severe pains like I did with the first pregnancy (crazy rib and sciatica pain).
Exercise: As I mentioned last week, I've cut down my daily workouts to about 30 minutes, alternating between Barre3-and-cardio vs. all-cardio days, plus an early morning walk with Adriana. This feels like a good amount right now! I also seem to need more breaks during Barre3 lately. I will usually pause the video after each 2–3 minute "set" to get water and rest my legs. The breaks are so key! I'm also still rocking the 5-pound hand weights during the workout, which makes it so challenging. I can't quite believe that I've kept up the strength training for this long…it might be a new record.
Reading: Still reading The Awakened Family: A Revolution in Parenting by Shefali Tsabary!
Cravings: My cravings seem to have died down a bit lately. My appetite in general is huge though! I feel like I don't stop eating all day long. I find that I need a lot of food in the morning hours especially…two breakfasts plus a snack is the norm! I recently got back on the protein smoothie train. My current fave green blend is a simple combo of almond milk, frozen banana, Sunwarrior Warrior Blend Protein Powder, frozen wheatgrass juice, matcha green tea powder, and cinnamon. Yum!
Best thing I ate/drank all week: These incredible Dreamy Dark Chocolate Fudgesicles that I created for my pre-order bonus recipe bundle (details coming soon!). You don't even want to know how many fudgsicles we ate this week! It was glorious.
PS – You can read my 28 weeks update from my first pregnancy here.