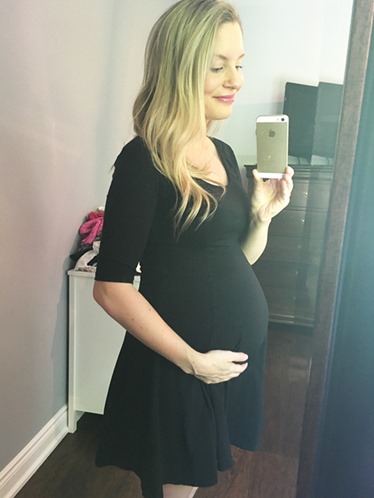 This week has been a busy one, but great nonetheless. Whenever it's a short week due to a holiday—like it is this week with Canada Day tomorrow—I always find it's a bit more hectic than usual to try and wrap everything up.
Adriana has been so much fun lately; I can't get over how much change we've seen in her. It really is true that the 18–24 month period has so many exciting changes. She says new words every day, and we just can't get over how much she understands and tries to do on her own now! (She currently loves dressing/undressing herself. When I got her from her crib this morning her PJ shorts were inside out and on backwards, lol.) We're also making a tiny bit of progress with some of the behavioural issues we're struggling with, so that's been encouraging to see.
Mood/how I'm feeling: I'm feeling good overall, with a touch of pms-y emotions on the side for fun. There's a looming sense of excitement/stress/anticipation with everything going on right now, but I'm trying to take it day by day. I'm relying more than ever on to-do lists, which help me feel more in control, and I make sure to take an hour at the end of each day to unwind (usually by reading or watching a show), which is so key!
Home life: We finally booked a contractor, and some of the early renovation work is supposed to start next week with a basement window install. It sounds like the renovations will be going well into October—past baby's arrival—so I'm trying to mentally prepare myself (lalalalala) for this upheaval. It helps knowing that once it's finished it's going to be amazing to have extra room for Adriana to play, and for our guests who come to visit.
My office is coming together nicely—have you seen any of the progress pics on Snapchat? It's been a fun project. Decorating the workspace has been a dream of mine since I started the blog (many years ago, now!), so it's awesome to finally move forward with it. As I mentioned, I'm going with a gold and white theme, which is feeling so fancy-pants. I might use green for an accent colour, and have my eye on some gorgeous leaf watercolour prints. I'm also planning on enlarging the new OSG logo on a print and framing it. I'm pretty much a disaster when it comes to home decor, so if I pull this off it'll be a miracle!
Nesting: We got rid of some furniture this week. It turned out that the brother of one of our friends was in need of furniture for his new place, so it worked out perfectly. Next week we have to empty out the basement for the renovation (everything will be going into a storage locker). And by "we", I mean Eric and his strongest friends, heh. (You can bet this mama is pulling out the preggo card on that one!) Anyway, I'm definitely nesting more this pregnancy than I recall doing last time. Last time, I was mostly focused on reading pregnancy books/nursery/baby gear.
Hair/skin/nails: Remember last week when I said that my skin was breaking out like crazy? Well, it still is! At first I thought it was from eating too many sweets, but when I thought about it some more I wondered if it was from a new probiotic that I started. I have since cut out the probiotic to give my system a break. I don't know if that is the cause though. It could just be hormones. As for the sweets, well, I haven't been so successful in cutting those out. You win some, you lose some, I suppose!
Sleep: We made Adriana's room a bit darker for the summer, and so far it's been life-changing! Ok, it's only been 3 days, but she's slept an extra hour each morning, and I also think she's been happier as a result of the extra sleep. I hope it isn't just a fluke! My sleep, on the other hand, has been pretty blah this week (aside from the later wake up). I go to bed around 9:30pm, but baby loves to kick and move all over the place from 9:30–11:00pm, so I'm finding it hard to nod off while the gymnastics are going on. Then I'm up a lot in the night (last night I was up 5 times). I know once baby is here I'll be wishing I had this much sleep though, so it's all relative.
Wearing: Lately, I've been pretty uninspired with my maternity clothing. You could say I'm in a bit of a funk!
Symptoms: No major changes in my symptoms this week. I'm still having lower back pain on and off, and other normal aches and pains. I'm feeling a bit slower and it's more challenging to do things with the growing bump. I'm asking for help more often rather than trying to be a hero. Last night, I also had a ton of Braxton Hicks and was basically couch-bound for a couple hours until they subsided.
Exercise: As I mentioned, I've felt slower for the past couple weeks! I can't believe I'll be in the 3rd trimester this coming Monday!!! Out of respect for my body and energy levels, I've cut down my workouts to what feels good at this stage. I'm all about adapting as you go. I'm now doing about 30 minutes a day, alternating between Barre3-and-cardio vs. all-cardio days. This is working well for me right now, and I expect that I'll keep modifying my routine as the due date approaches.
Reading: The Awakened Family: A Revolution in Parenting by Shefali Tsabary. I saw her on The Social last week, and was so impressed by her approach to parenting. I'm only a couple chapters into the book so far, but it's so enlightening. I find myself thinking of her words throughout my day, and I do think it's helping me be a more patient and understanding parent. She's all about letting your child feel free to express their true personality, without your own personal fears and ego getting in the way.
Cravings: I wouldn't say this was a craving, but I did something weird recently. I got the brilliant idea to spread Sunbutter on sweet potato chips to create chip sandwiches. (You may have seen this on Snapchat!) Peculiar. I'm still on the raspberry/cherry/blueberry bandwagon, and new this week: plums!! I was so crazy for plums when I was pregnant with Adriana two summers ago. I also forgot to mention that I've been buying fortified almond milk as an easy way to sneak more calcium into my prenatal diet. I like the So Nice brand (it's in the refrigerator section). One cup has 30% of the RDA for calcium…not too shabby. I'm also eating a ton of almond and sunflower seed butter.
Best thing I ate/drank all week: Hands-down, a mashed avocado kale salad. I'm obsessed and have been making it a lot. I hope to share the recipe in the future!
With the holiday tomorrow, I'd like to wish my fellow Canadians a wonderful Canada Day weekend! And to my American friends, a happy Fourth of July!
Also, just a heads-up that there won't be a Friday FAQs going up tomorrow due to the holiday; however, it will resume next week. Have a fun and safe weekend, everyone.
PS- You can see my 27 weeks update from my 1st pregnancy here!