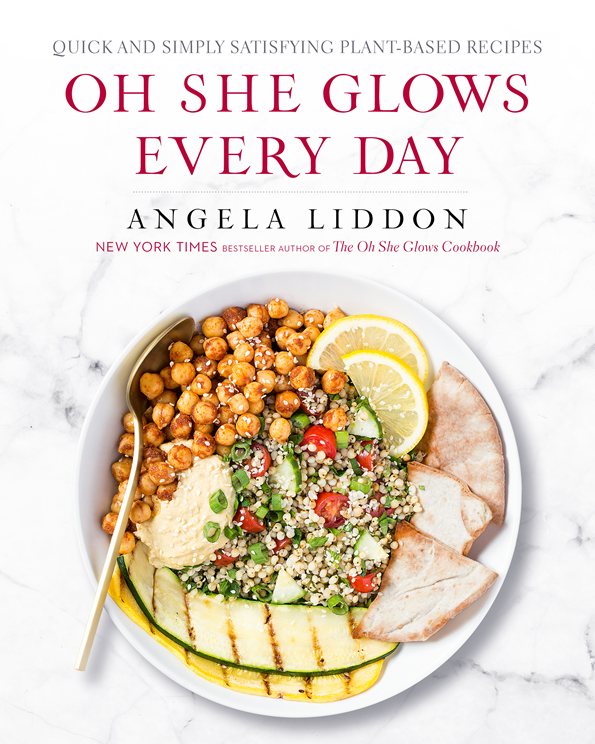 // OSG EVERY DAY //     Amazon.com       Barnes & Noble       Indigo      Amazon.ca
I'm soooo excited to reveal the cover for my second cookbook, Oh She Glows Every Day, and tell you all about this labour of love. Those of you who subscribe to In the Glow got a sneak peek last Tuesday, and today's post features even more details and photos!
Join me as I share a fun behind-the-scenes peek into my next book…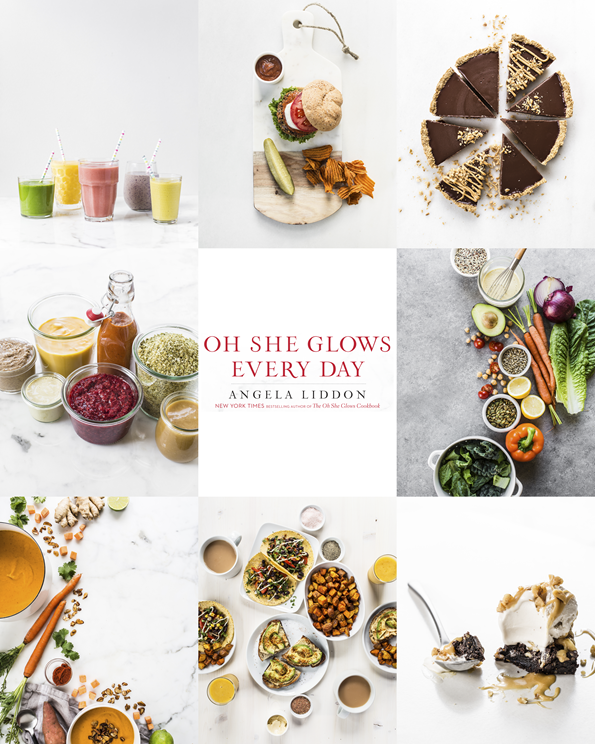 // About This Book //
Oh She Glows Every Day is filled with delicious, wholesome, and accessible plant-based recipes. As someone who is self-employed with a young (and growing!) family, I've really come to appreciate recipes that are family-friendly, super energizing, and convenient for on-the-go lifestyles. (But really, who doesn't?) Inside, you'll find over a hundred glow-worthy plant-based recipes—including a mix of "everyday" and more elaborate holiday or special occasion options. I've poured my heart and soul into each recipe (as did my dedicated group of recipe testers), and I can't wait for you to start enjoying them with your family and friends!
OSG Every Day is divided into 13 sections and chapters, which include:
Introduction
About This Book
Kitchen Tools and Appliances
Smoothies and Smoothie Bowls
Breakfast
Snacks
Salads
Sides and Soups
Entrées
Cookies and Bars (ask and you shall receive—a whole cookie chapter!! Holiday baking, anyone?)
Desserts
Homemade Staples
The Oh She Glows Pantry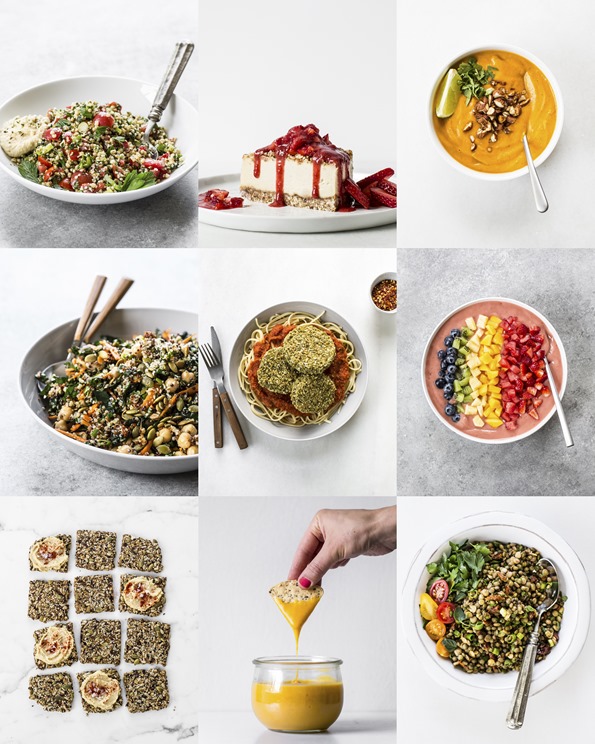 Left to right: Hemp Seed and Sorghum Tabbouleh, Meyer Lemon Cheesecake with Strawberry-Vanilla Compote, Creamy Thai Carrot Sweet Potato Soup, Protein Power Rainbow Quinoa Salad, Eggplant Parmesan with Fail-Proof Marinara Sauce, Glowing Rainbow Smoothie Bowl, Sun-Dried Tomato and Garlic Super-Seed Crackers, All-Purpose Cheese Sauce, The Best Marinated Lentils.
// Dietary and Cooking Labels //
One of my very favourite things about this cookbook is that it includes useful tips that will help you create meals that are kid-, allergy-, and freezer-friendly. Each recipe will tell you whether it's gluten-free, nut-free, soy-free, oil-free, grain-free, kid-friendly, and/or freezer-friendly (or whether I provide an option for you to make it so). It'll also tell you if advance preparation is required (such as soaking nuts).
Out of more than 100 recipes, you'll find around 65 kid-friendly and kid-friendly-option recipes (yes, we had a whole group of kids eating their way through this book!), 100 gluten-free and soy-free recipes or recipe options, over 75 nut-free and nut-free-option recipes, and 45 freezer-friendly recipes. There are around 25 reader-favourite blog recipes (all re-tested and tweaked to perfection). And of course, all of the recipes in the book are plant-based and vegan. I developed the recipes to be as accommodating for different needs as possible without sacrificing flavour one bit, and I'm quite proud of the various options offered.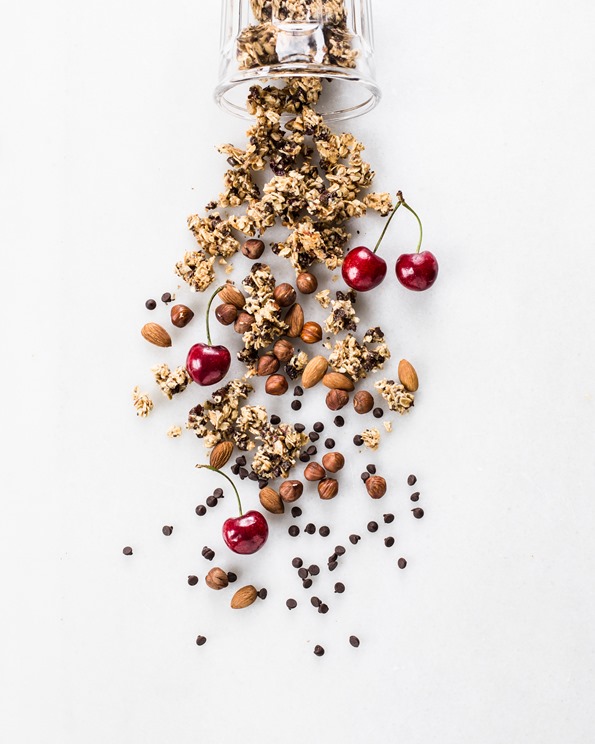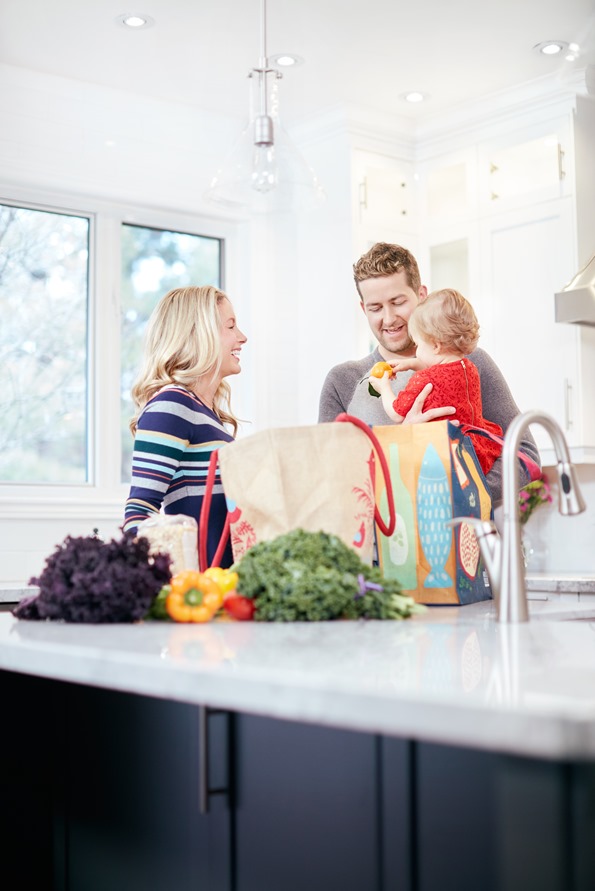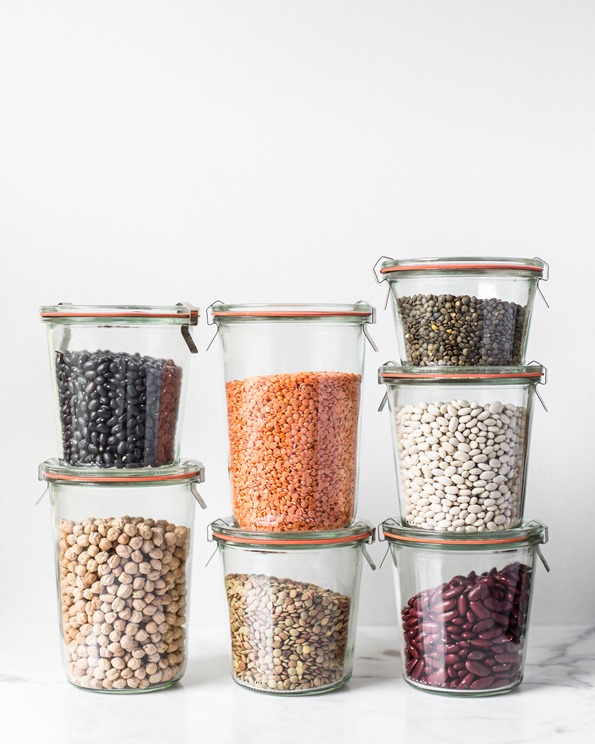 // The Oh She Glows Pantry //
There's a highly detailed reference section at the back of the book on essential pantry ingredients, so you'll know exactly what I'm using in my own kitchen. If you've ever thought to yourself, "I just don't know where to begin," or "I'd like to get out of a cooking rut and try something new," this pantry primer is for you.
// Photography //
OSG Every Day is packed with gorgeous full-page photography for every single recipe in the book (as well as tons of lifestyle and pantry photos, too) that'll inspire you to get cooking. (All of the pantry staple recipes have photos this time, too!) I have a sneaking suspicion that you will be blown away when you see how many vibrant photos are packed into this book. A special thanks to Ashley McLaughlin and Sandy Nicholson for lending their amazing talents!!
// Nutritional Info //
I get a lot of requests for nutritional information, and I'm happy to let you know that the nutritional info for the recipes in this book will be available on my website by the time the book launches (September 6, 2016). The link to the nutritional info is in the book, and of course, I'll share it here when the time comes.
// The Cover //
Last but certainly not least, let me tell you a bit about the cover. (Some of you may have noticed the cover on The OSG Recipe App and in a few online retailers in recent weeks!) I love that it features a hearty plant-based bowl (a brand new recipe called "The Big Tabbouleh Bowl") because it showcases what I love to eat at home, and reflects my philosophy that healthy food doesn't have to be complicated, hard to find, or expensive. What's also exciting is that the Canadian and US covers are the exact same this time around (in terms of the cover photo/design, as well as quality!), so you'll see identical covers whether you're in Barnes and Noble or Indigo or any independent retailer across North America. The interior content is all the same once again. Lastly, the book will feature an improved, sewn binding that is durable, especially for "everyday" use!
As you can see, there's A LOT to celebrate!!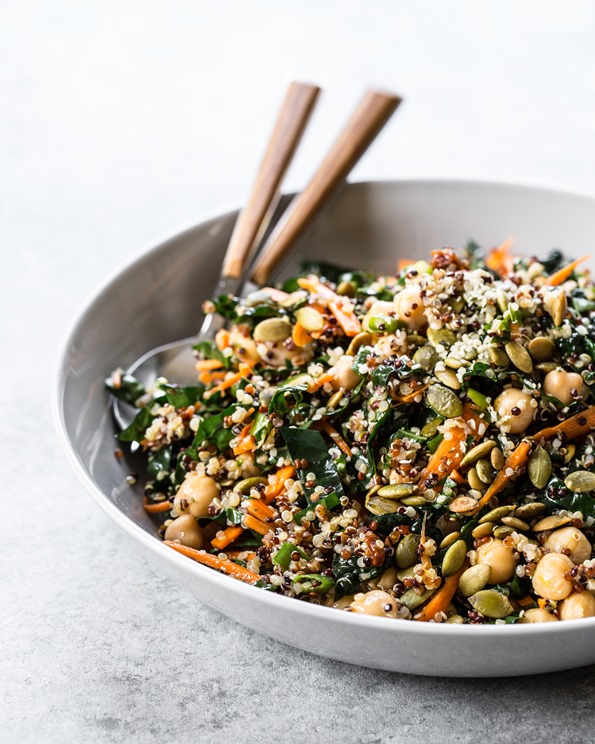 // HOW TO PRE-ORDER //
I'm often asked why someone would pre-order a book rather than waiting until the release date. The best part is that if you pre-order now, it's done: the book will arrive on your doorstep right away when it's released. (Don't worry, though—you won't be charged until the book ships!) That means these recipes get into your belly as quickly as possible!
I'd like to thank you all for your excitement and continued support, which makes what I do every day so incredibly rewarding, and of course for making The Oh She Glows Cookbook an international bestseller. I have no doubt that if you enjoyed the first book, you'll fall in love with the second.
Pre-order Oh She Glows Every Day at the retailers below:
Canadian Retailers:
US Retailers:
International:
Eric and I also put together this short video on the book. (It's in a square format for social media sharing.) Check it out below!
// Photography credits // Cover: Angela Liddon; Food: Ashley McLaughlin; Lifestyle: Sandy Nicholson