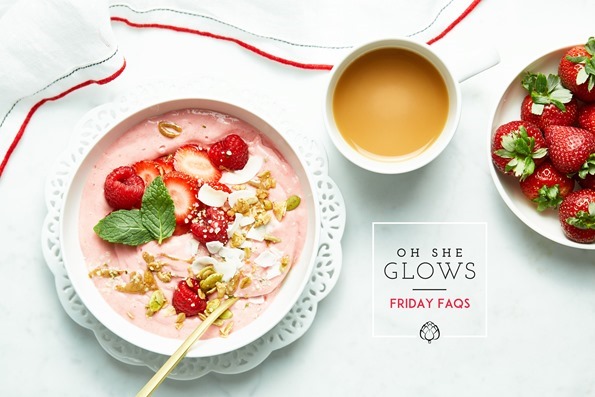 After having a bit of an "off" week last week, I'm feeling like things are getting back on track in a few areas of my life. It always amazes me how taking action, even just baby steps at first—like making a phone call or reaching out to a friend—can make such a positive difference in day-to-day life. This weekend we're looking forward to getting together with some friends whom we haven't seen in way too long, and swimming with Adriana outdoors for the first time this summer. It's going to be a hot one!
PS—I hope you'll meet me back here on MONDAY for a very exciting blog post!! I can't wait. Who says Mondays can't be fun?
Enjoy this next installment of Friday FAQs! Remember, you can find all previous weeks' Friday FAQs in one handy spot here.
Q1. Hi Angela! I absolutely love your blog, app, and cookbook. My hubby and I have been on a vegetarian journey for four years now, and are trying more and more vegan dishes. Whenever I tell my husband that a new recipe "is an Oh She Glows one", he says, "Oh, it will be good then!" I am getting excited for Canada Day, and was wondering if you have a vegan recipe for strawberry shortcake? I am thinking a big salad and veggie burgers for the main meal, but would also love any ideas you have for "Canadiana" items. Like maybe red and white popsicles, maple leaf cookies, etc. I can't wait to see what amazing ideas you'll have!
A. Hi Rebecca, Thank you so much for the kind words! It's wonderful to hear you and your husband have been enjoying my recipes. I love your question about Canada Day recipes—we're getting excited for the holiday around here, too! Unfortunately, I don't have a recipe for strawberry shortcake yet (though if you want to kick your day off with a sweet, red-and-white themed dish, you could try my Strawberry Shortcake Stacked Pancakes!), but I do have some other festive desserts to suggest! Try my Cherry-Strawberry Chia Seed Fool with Vanilla Bean Coconut Whipped Cream—it's not only delicious, but super festive looking. You could also make Fail-Proof Vegan Chocolate Cupcakes with Salted Buttercream and top them with sliced strawberries and/or natural red sprinkles! (Side note: If anyone out there is looking for a 4th of July recipe, you can easily add blueberries to these recipes for a red, white, and blue theme.) If you're in the market for some side dish or appetizer options to go with your burgers and salad, my colourful Summertime Cherry-Basil Bruschetta (The Oh She Glows Cookbook, p. 79) and Avocado Strawberry Caprese both rock a definite summer-y Canadiana vibe. Of course, you can't go wrong with a classic Long Weekend Grilled Salad (p. 115) or Lightened-Up Crispy Baked Fries (p. 203) either! Hope this helps, Rebecca, and have a great long weekend! In the meantime, I'll start thinking about that strawberry shortcake request!
Q2. Do you know where in Ontario I can buy coconut like the type you've used in your Green Tea Lime Pie Smoothie Bowl?
A. For the large-flake coconut (used as a topping on this smoothie bowl), I'd suggest checking in the natural foods, gluten-free, and/or baking sections of your grocery store. I usually find mine at Organic Garage and Whole Foods. I think Fortino's might carry it, too! As for the coconut butter in the recipe, I make it myself using a bag of medium unsweetened shredded coconut ("No Name" brand) processed in the food processor for about 5–7 minutes.
Q3. Do you have to include the banana in the Vegan Overnight Oats recipe? I'm allergic to bananas.
A. Hi Laura, Good news! You can omit the banana in this recipe if you'd like. (Actually, I've been doing this myself lately because I've found that I really enjoy serving the banana sliced on top of the oats with a drizzle of maple syrup.) If you forgo the banana, I suggest giving the mixture a good stir (or shake the container) a few times within the first 5 minutes of soaking to prevent the chia seeds from sticking to the bottom. Once they "gel up" a little, you can pop it into the fridge to soak overnight or for two hours. I also find that when I skip the banana I often need to use a couple more tablespoons of milk to get it to the texture I prefer. You can also try swapping the mashed banana for 1/4–1/2 cup of your favourite yogurt (and maybe add a bit of liquid sweetener, if needed/desired) to replace some of the lost creaminess from the mashed banana. Alternatively, try using peeled, mashed pear, or even shredded apple to change things up.
Q4. Hi Angela! The end of the school year is fast approaching! My 6-year-old son has Autism and he has a team of 8 people at school to thank for their hard work this year. Unfortunately, buying gift cards for 8 people really adds up and I really can't afford it. Whatever happened to the days of sending a nice thank you card?? You will see when your kids enter school…the pressure of Christmas gifts, teacher appreciation week, end-of-the-year gifts…oh my gosh, my anxiety! Anyways, for Christmas I made the Cinnamon Bun Granola you shared on your blog from another cookbook and it was a HUGE and I mean, huge, hit. I don't want to do the same thing twice but I am looking for another baked good option to show my appreciation. I am so grateful for all of their hard work but it is very difficult to show that in terms of gifts or gift cards when there are just so many people to thank. Any suggestions??
P.s. Congratulations on your second pregnancy! I am so excited for your second cookbook, I pre-ordered it the day it was available to do so! I really love that you are posting a little more now, I had missed you so much! But being the mom of two kids, one special needs, I completely get how chaotic life gets and I know that you are pouring your heart and soul into your second cookbook and the APP as well (I don't have any technology that is suited for it but as soon as I do, I'll be all over that!). But it so nice to hear from you more. What I think we all love about your blog is that you have always been so down to earth. You wrote like you were a close friend we were sitting across the table drinking green tea with. So thank you.
A. Hi Danielle, I'm feeling your love, and I appreciate your heartfelt words so much! What a thoughtful idea to give your son's team a token of your appreciation. When I'm looking for a baked good that everyone always loves, I often turn to my Glo Bars (you can find a couple Glo Bar recipes in The Oh She Glows Cookbook, pp. 215 and 217). They are fast to whip up, don't require an oven, and look super cute when wrapped up with some parchment paper and ribbon. There's also my recent favourite, One Bowl Jumbo Chocolate Chunk Cookies! I haven't met a soul who doesn't happily embrace these cookies. You could also layer the dry ingredients into a mason jar and attach the recipe. If you have a heavy-duty food processor, Maple-Cinnamon Almond Butter or Homemade Sunflower Seed Butter is always a fun option. If your son's school is nut-free, my 10-Spice Mix is easy to make in bulk and layer into jar (I did a whole post on it last season!). It's the perfect spice mix for sprinkling onto grilled veggies, too. Lastly, you could make a very large batch of chia seed jam (there are a couple recipes on the blog, like the one here, and also on p. 287 of The Oh She Glows Cookbook), and portion it into small glass jars with a ribbon and label attached. The chia jam is not shelf stable, however, so it would need refrigeration at all times. I hope this helps get the wheels turning!
Q5. I often make half or quarter batches of your dessert recipes because otherwise I will eat the whole thing. Just wondering what you do with the many batches of dessert you make? Even if I store it in the freezer, I find I am always going back to eat more until it is done!
A. Ah yes, the freezer trick never seems to work for us either! I like to give away some of my baked goods to family and friends—it's not unusual for my local friends to find little packages on their doorstep. We have a lot of people in the house lately, so I make a point to offer things whenever someone is around. That said, we don't buy many packaged/processed or store-bought treats, so we also don't feel guilty eating our fair share of homemade ones.
Comments of the week:
"I tried your One Bowl Jumbo Chocolate Chunk Cookies with tapioca starch (all I had) and they worked out perfectly! I also used cashew butter instead of almond as I was all out of that too…I could have gone to the supermarket but couldn't wait any longer for these babies. They were delicious. I had one in my lunch bag for work today and ate it on the way in for breakfast. I have no willpower at the moment (I have a daughter around the same age as you, Angela, and I'm sure we're going through the same things!). Plus she's not a fan of sleeping at the moment so there's that too :) Thank you for your mum's reminder that "we are given what we're able to handle"—makes me feel so much better. And thanks for the recipe, it's my new favourite cookie."
Hey Louise, That's great the tapioca starch swap worked out well for you! It's something I've been wanting to try myself, so thanks for letting us all know! I'm glad these cookies put a smile on your face during what sounds like a challenging time (oh, toddlers). I had to laugh at your mention of eating the cookie on the way in for breakfast. I've definitely done the same! Wait. Is it even possible not to eat one the next morning?!
"I've been cooking from your blog and book for 1.5 years and had never tried your Banana Bread Muffin Tops. Your In The Glow newsletter inspired me last night and I made them immediately, using walnuts instead of chocolate. These are amazing, Angela! I can't thank you enough for all the inspiration. These will be a new go-to in this house."
Hi Melissa, Oh, I'm so glad you saw the recipe in this week's newsletter and gave it a shot. It's on frequent rotation around here. I hope you enjoy many batches to come!