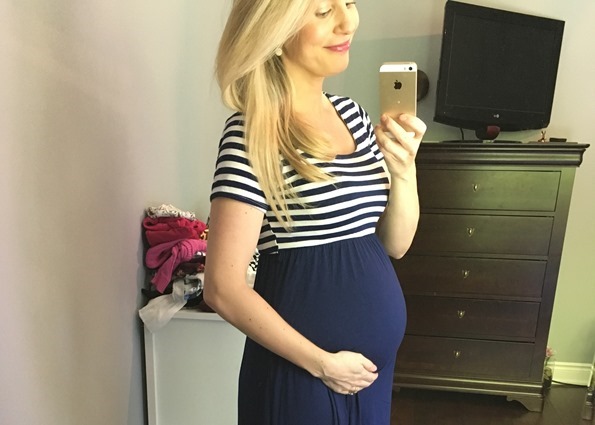 This week has been pretty solid. The high emotions and tensions of the past week or two have lessened, and I feel like we're making some progress in a few areas. Always nice to see!
Baby: I thought it was time to check in on little baby this week! Baby is now around 1 2/3 pounds and 14 inches in length, according to Baby Centre. I'm feeling more kicks than ever (especially overnight—uh oh!), and it seems like the real estate is getting a bit tight in there! I can't wait to meet this little one. Every time I see a newborn on the TV or in person, my heart just melts. I have full-on baby fever. Knowing how fast the newborn stage goes by, I'm really looking forward to soaking up all the snuggles that I can. I can't even believe it when I look at pictures of Adriana as a baby. She already seems so far from that stage! The baby vs. toddler stages are sooooo different, lol.
Mood: I mentioned how emotional I was feeling over the last couple weeks, but this week has been a bit easier, and I'm feeling more positive. Much of this is thanks to my friends reaching out and offering their love, support, and some fun invites to hang out and unwind. My sleep has also been a bit better, and that always helps a ton.
Home life: Houston, we have working laundry machines again! Kudos to Eric for the difficult install that he navigated with finesse. We've done no less than a million loads of laundry to catch up, but guess what? I don't mind because the new machines are so much fun. (I'm sure the thrill will wear off…eventually.) In other home news, I finally decided that I'm going to refresh our office space. It's been cluttered and uninspiring for as long as I can remember! This week, I picked out some office furniture and a few decor things, and I can't wait to start putting it together over the next few weeks! My theme is gold and white (I'm still deciding on an accent colour—any ideas? I'm considering a bright green…fresh plants + wall art), and I'm pumped to create a new look. I'll be sure to share sneak peeks on Snapchat!
Nesting: I booked Clothesline to pick up a bunch of boxes of donation items in a couple weeks. It'll feel so good to get rid of stuff we don't use (old dishes, books, clothing, and other odds and ends). We're also giving away a few pieces of furniture. I can't wait to have it all out of the house, and free up more space! This urge to "minimize" and "simplify" has hit me strongly, and I have a feeling the nesting bug is behind it all. I find myself wondering what I can accomplish over the next few months…or at least before I hit my next wall.
Nursery: I finally started looking at cribs this week. I'm going with modern furniture for this nursery, and I'm quite excited about the beautiful options out there! I'm not in a huge rush because we're planning on having the baby sleep in our room (in a co-sleeper) for the first few months again, but I would like to have it at least set up before baby arrives.
Hair/skin/nails: I'm not sure why, but my skin has broken out so much in the past couple days! Must be the hormones shifting or something. Or maybe it's the sweets I'm eating. I might try scaling back the sweets a bit and see if that helps.
Sleep: My sleep has improved a bit this week and I'm not having insomnia right now. We're all waking up really early in the morning because it's so bright out after 5am. Adriana used to get up around 6:15–6:30am and lately she's been waking around 5:20am. We're all a bit bleary-eyed in the morning lately. We might look at getting her better blinds for her nursery as her current ones let in a lot of light.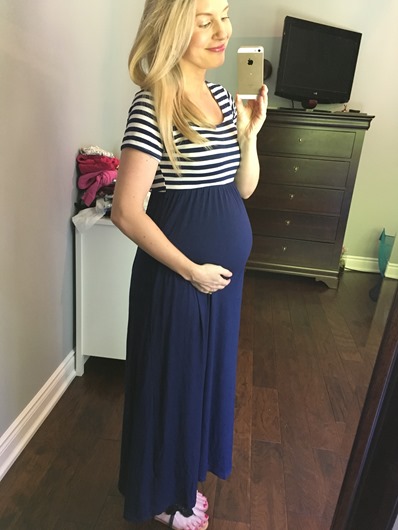 Wearing: I forgot about a dress I bought way back in the winter from Pink Blush Maternity, so I pulled it out this week when I was going through my closet. It's super comfy! (I'm wearing it in the photos in this post.) I'm normally not a maxi-length kind of girl, but this dress won me over. I'm sure there'll be a day when I tire of stripes, but that day isn't today.
Symptoms: No major changes in my symptoms this week other than having a bit of sciatica pain for a couple days, which has since gone away. I also had one night with some upper right rib pain, which brought back so many memories of my first pregnancy—I remember just sitting on the couch or at my desk with ice on my ribs for weeks. Luckily, I haven't experienced that with this pregnancy yet! I'm hoping my ribs are still stretched out plenty from last time, heh.
In desperate need of: A hair cut.
Exercise: I'm still doing the same workout routine more or less, but I had a few days this week where I felt a bit slower and cut it down accordingly.
Cravings: Ice cream cones, so much! Especially the Salted Caramel and Chocolate flavour by Coconut Bliss. I'm actually thinking about checking out an ice cream maker because vegan ice cream is so darn expensive! Let me know if you have a good ice cream maker to recommend. Other cravings this week: green grapes, these fruit chews, freshly baked sourdough bread.
Best thing I ate/drank all week: Dehydrated beet chips with sea salt from the St. Lawrence Market (Peter's Natural Health Foods). SO GOOD! Adriana, Eric, and I couldn't stop eating them! Thanks to Sophie for the tip in last week's Friday FAQs. You guys always have the best suggestions.
Next midwife appointment: July 12th
Days left until Oh She Glows Every Day is released: 76
Days left until Adriana's 2nd birthday: 91
Days left until due date: 98