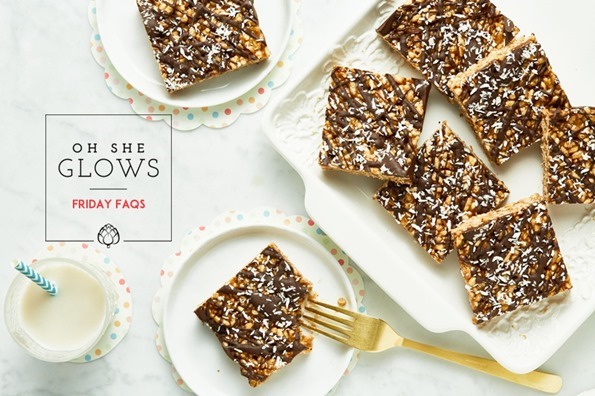 My mom flew in yesterday for her long-anticipated visit! This week was a busy one as I've been working extra hard to get my work completed early, and then take care of the usual cleaning, groceries, etc. before our special guest arrives. You know, as they say…gotta make up the "fake house". (I thought that fake house thing was originally from Seinfeld, but when I searched for it online I couldn't find the source…anyone!?) We're soaking up every minute of my mom's visit, and Adriana is especially loving her bonding time with Mimi. I might not ever let her go back to Alberta.
Without further ado, this week's Friday FAQs are coming at ya. Also, a quick note to let you know that my 24 Weeks update is up in the Baby section too. I hope you all have a wonderful weekend!
Q1: Hi Angela! I would really like to try vegan mayonnaise, but every product in the store and recipe I find contains mustard. I cannot eat mustard or mustard seeds because I have an allergy. Do you have any idea about mustard powder substitutions for your Soy-Free Vegan Mayonnaise in order to preserve the intended taste as much as possible? Thanks a lot!
A. Hey Elisa, My first instinct was to say that you could probably just leave it out since it's such a small amount. Then I did a bit of reading online and read that mustard powder can be used as an emulsifier in certain foods like mac and cheese and mayo, and I started to worry it was needed. In the end, I decided to test it out myself since it's such a quick recipe! I'm happy to report that this mayo recipe works just as well without the mustard powder. And the flavour is still great too. If you still want to boost the flavours a bit, a small amount of garlic powder might be nice too, or even fresh minced garlic! Yum.
Q2: I am so excited to try this recipe for Soy-Free Vegan Mayonnaise—but I have no brown rice syrup on hand. Any chance of a substitution? If not, I'm sure to pick some up at the store this weekend.
A. Good question! When I tested the mayo for the question above, I also thought I would see what happens when leaving out the brown rice syrup. I'm happy to update my reply from last week and let you know that it works just fine without the syrup. The flavour is a bit more tart, but I still found it pleasant. That said, I also had success adding a half teaspoon or so of powdered sugar in lieu of the brown rice syrup just to take a bit of the tart edge off. Either way, it's great. I hope you have success with it too!
Q3: Long-time reader here! Five years ago, your blog taught me how to cook/bake, and I'll always be grateful! This Avocado Strawberry Caprese totally caught my eye. I was wondering, what would you suggest I add, protein-wise, to make it a full meal?
A. Hi Christine, It's great to hear from you! It always makes me so happy to hear the blog has helped people find their "sea legs" in the kitchen. I would say some marinated tofu would be a lovely addition to the caprese!! (I have a killer recipe for it in my next book, though I know this doesn't help right now!) For a super quick option, chickpeas are always an easy addition, too. Almonds also have a substantial amount of protein, so you could add on some toasted almonds or even blend up a quick batch of almond "parmesan cheese" to sprinkle on top. Enjoy!
Q4: Hi@ohsheglows!! Big big fan! Love all your recipes and your recipe app is fab! Quick question —I'm also pregnant with my second sweet little nugget and I'm wondering if you switched protein powders during pregnancy or kept up with the Garden of Life brand? I was just reading your blog post about protein powders! Thanks ☺
A. Congrats on your second pregnancy! I need to update that old protein powder post. :) I've been buying Omega Nutrition Pumpkin Seed Protein Powder for a while now. I love that it's made from pumpkin seeds. I also occasionally use Sunwarrior Warrior Blend protein powder in "Natural" (it's the one Eric uses every day in his green smoothie as he really doesn't like my pumpkin seed one). I like that it's made with pea and hemp seed proteins rather than rice. I hope this helps!
Q5: Hi Angela, recipe question for you. Do you have a recipe for a delicious sandwich spread with the consistency of a sauce/dressing? Looking for a flavorful topping for a veggie sandwich (sprouted toasted bread, cucumber, lettuce, tomato, etc.)? It would be great if it could do double duty as a salad dressing. Love your book!!
A. Hi Therese, thanks for the great question! I definitely have some suggestions for you. In terms of sauces/spreads that can pull double duty on both sandwiches and salads, I'd recommend you try my Green Goddess Dressing, Creamy Lemon Dill Dressing, or Lemon-Tahini Dressing (page 284 of The Oh She Glows Cookbook,or see this post for a similar version). My Spicy Peanut Lime Sauce could also be a great sandwich topping, if that's up your alley. Another great option is my Sun-Dried Tomato Hemp Basil Pesto, which I absolutely loooooove on sandwiches! I recently posted a recipe for 5-Minute Soy-Free Vegan Mayonnaise, too—does a sandwich spread get more classic than that? Drizzle a bit of Sriracha on top of the mayo and your sandwich will be bursting with flavour. Ok, I'm getting hungry again…
Comments of the Week:
"Ok Angela. I give credit when credit is due. WHOA. I have a 2.5 year old little boy, who happens to have autism. He's the pickiest.eater.ever. He's also on a strict GF/CF diet. He LOVED THIS DISH SO MUCH! He didn't know what to do with himself he was so delighted! I used plain soymilk, and didn't use yeast (he's allergic, we think) and added a little nutmeg for "nuttiness" (my signature spice for all things delish). THANK YOU for making our dinner a happy success when it's typically anything but. Spending 15 years in the restaurant business, I know a thing or two about cooking, but your recipes are amazing and I'm only upset I didn't find it sooner!! Kudos! -Claire"
Claire, thank you so much for the heartfelt comment! Thinking about your sweet boy enjoying this dish totally warms my heart. I hope you discover more gems that you all enjoy in the future!
"LOVE this All Day Glow Green Smoothie! I make a couple substitutions, such as ginger instead of turmeric (since that's what I usually have on hand) and orange juice for the mango juice, since I also usually have OJ on hand. It's a filling smoothie that does make you feel good, especially on those sluggish mornings. I've been using this smoothie, the Happy Digestion (probably my favorite flavor), and the Green Warrior Protein Smoothie on rotation lately, and I can tell the difference in my health, energy levels, and inflammation and digestion within my body! Making small changes like starting your morning with a green smoothie really does make a difference over time. Thank you for your awesome recipes and the easy to use app! I love pulling up my favorite smoothies on there in the morning :)"
Those are great substitutions Kayla! Thanks for sharing as I'm sure it'll inspire others to try something new. I'm so happy you're noticing so many benefits from drinking this trio! What a great idea. I get into big smoothie kicks (where I drink the same one for weeks), but I think I'll have to change it up more frequently after being inspired by your comment.
PS – The top photo is one of my all-time favourite quick and easy OSG desserts! Almond Butter Rice Crisp Treats…your life will be forever changed when you taste these things.