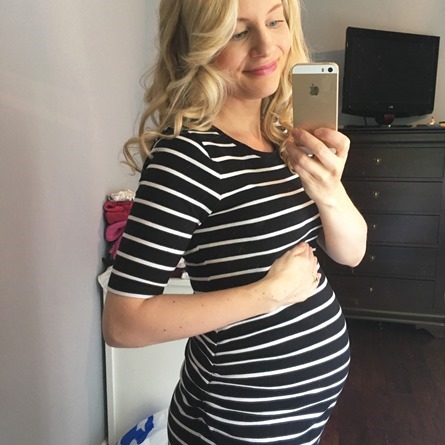 I'm happy to report that we've come out on the other side of this stomach flu and are all back to normal (knock on wood!). Apparently, this stomach flu is running rampant around the GTA right now; I know so many friends whose families have gotten it. Our appetites have come back with a vengeance. Adriana has always had a healthy appetite so to see her refusing almost all food during the flu was pretty hard, but she's back to eating us out of house and home again which is so good to see. Things are busier than usual this week as I'm trying to get all my work finished (and house cleaned, groceries, etc.) before my mom flies in tomorrow. I can't wait for her visit! Adriana is already so excited to see her Mimi.
Pregnancy superpower: Eric told me I had to add this category this week. My pregnancy superpower is my sense of smell. It's now a running joke in this house that I can smell everything. I smell things that Eric can't detect. He thinks I'm crazy.
Pregnancy subpower: I have full-fledged pregnancy brain (and have for a while). Thank goodness for to-do lists! I have to write everything down, or do it immediately. If I don't…*poof* it's gone. I even find it challenging to focus on conversations sometimes, such as when talking about renovation stuff like egress windows. But I find the to-do lists are increasing my productivity so it hasn't been all bad!
Names: After not thinking about names for a while, I dove back into it one night this week! Now, there's a new name on my radar that's challenging the current #1 spot. Eric didn't reject it right away either, so that's a good sign! We also need to come up with two middle names to go with the first name, since that's what we did for Adriana. (It's a tradition in Eric's family to have two middle names so we wanted to keep that going, but it sure complicates things a bit more!)
Nesting/Nursery: We're busy selecting a lot of finishes (faucets, sinks, etc.) and getting ready to order cabinets, tile, and so on for our house renovations later this summer. There probably won't be any nesting/nursery stuff going on for a long time. I do want to try to pick out some nursery furniture soon though, because if I remember correctly, Adriana's took a while to come in.
Sleep: My sleep is about the same—I still have pregnancy insomnia on and off and I'm waking multiple times in the night. It's been more than 2 years since I've slept well though, so it's nothing new. I seem to be following in my mom's footsteps; she often says that her sleep was forever changed after having kids and to this day it's still not "normal".
Wearing: Nothing new to report! I do need to find a maternity dress to wear to a wedding next month though.
Symptoms: I've been having some pain in the lower right abdomen/pelvic area when I go on walks. It basically feels like the baby is pushing down on everything which doesn't surprise me since I carry low. I spoke with my midwife about it and she said it sounds like round ligament pain. I'm going to keep wearing my support belt in hopes that it'll help! Another new symptom I've had is that my nose and eyes are very dry lately, especially when I wake up in the morning. It feels like I'm living in a really dry climate or something. I'm knocking on wood as I type this, but my sciatica pain is completely gone. I only had 3 sessions with my osteopath. I really hope that I can keep it at bay for this pregnancy.
Exercise: It felt so good to get back into my exercise routine after a week off. I didn't jump right back into my regular routine, but took this week to ease back into it with a "lightened up" version. It's amazing how you can do a workout on a regular basis and not feel sore, but as soon as you stop for a week it's like your body is in shock when you get back into it. Boy, were my muscles sore after getting back into Barre3 workouts! I'm still loving getting out for a trail walk each day with Adriana.
Hair/skin/nails: My skin is finally looking a bit better after being so dried out after the stomach flu. I've been hydrating a lot (and spoiling myself with some fresh juices!), and it's doing wonders. I feel like the glow is back a bit.
Cravings: My appetite has returned full force, and I'm eating around the clock. This week's biggest cravings are homemade chocolate chunk cookies (a new recipe in testing) and spaghetti squash with White Linen Collection's marinara sauce. I've eaten a lot of spaghetti squash in the past week. No one said preggo cravings would be seasonal. Still craving cake. There's a commercial for McCain's chocolate freezer cake, and it just about kills me every time I see it on TV. Random! I'm also eating a ton of raspberries, blueberries, blackberries, and cherries.
Best thing I ate/drank all week: Three words for you guys: Grapefruit Mint Juice. OMG. I think it was the first time I've ever had fresh grapefruit juice (aside from eating a grapefruit whole, of course). This takes my grapefruit cravings to a whole new level. A close second "best thing I ate all week" is my vegan + gf Jumbo Chocolate Chunk Cookies. I can't wait to share the recipe. You will just die. We've been enjoying them warm, frozen, you name it.
Doula or no doula decision: As I mentioned, I had a doula for my first pregnancy and I've been debating whether to hire one this time around. Many of you weighed in with some great advice! I had a chance to speak with my midwife about it at this week's appointment, and I think I'm closer to a decision. Since I agreed to have a midwifery student as part of my care team (there are two midwives and one midwifery student assigned to me), the student will be at the hospital with my main midwife as soon as I'm in active labour (which they define as 4cm+ dilated, with contractions lasting a minute in length and about 3–4 minutes apart, I believe). So, I will essentially have two midwives by my side once we're at the hospital. I've clicked so well with them too. My midwife said they do give a lot of support during labour, and because I will have two of them, when my main midwife is tending to medical things, the student will be able to give me her support/attention. I almost feel like in this case hiring a doula might in fact be "too many hands in the kitchen". There's one small caveat though: The midwifery student has 4 days off a month, so there's a chance she'll be off when I go into labour. I really hope that's not the case because she's awesome! For the delivery/pushing phase itself, my two midwives will be present plus the student (if she's working), so up to three present for the end stage. After delivery, one midwife looks after the baby, and the other tends to me (if I need stitches or whatnot). For my first pregnancy, I laboured at home with my doula and Eric for about 7 hours (from 11pm until 6am). It was a very long night. When I arrived at the hospital I was 7cm dilated and quite thrilled that I'd been able to stay home for a good chunk of it. Eric and I are once again hoping to stay at home as long as possible this time, keeping in mind that labours are often shorter the second time around (I've been told to cut the time in half as a broad guideline), but who really knows how long it will all take and what new obstacles we might face. We'll be using a contraction timer app while at home to see how quickly things are progressing. Side note: I'm giving birth in Oakville's brand new hospital this time around, and am so excited! Everyone is saying this place is like a nice hotel compared to the old hospital. I'm pretty pumped to see it. I'm told the birthing tub room is quite nice too! Best of all, it's where we'll meet our sweet little baby.
Days left until due date: 113