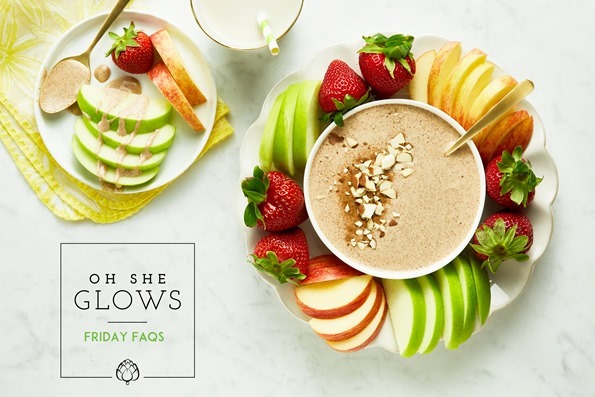 Thanks to the Victoria Day holiday on Monday, this week has flown by (even more so than usual). It's always a challenge trying to squeeze a 5-day workweek into just 4 days, but I'm still hoping my plans to retest and photograph a couple new recipes can happen today. As always, you can catch the behind-the-scenes action on Snapchat. :)
Without further ado, here is the next installment of Friday FAQs! Don't forget to leave your comments and questions on the blog and social media, and I'll select a handful to feature each week.
Also, just a note that my 22 Weeks update is now up in the Baby section.
Q1: Where do you get/order vanilla bean powder? And what else can you use vanilla bean powder for?
A: Hi Hilary, It can definitely be tricky to find in stores, so I order vanilla bean powder online from the Vanilla Food Company. I love having it on hand, and you can use it in place of vanilla beans (I tend to use a heaping 1/4 teaspoon of powder to replace 1 vanilla bean) or as a more luxurious substitute for pure vanilla extract. I love adding vanilla bean powder to homemade nut milk (such as my Coffee Shop Worthy Caramel Vanilla Bean Hazelnut Milk), Vegan Overnight Oats, smoothies, Chia Seed Jam, crisps/crumbles, granola bars, and more. A little bit goes a long way!
Q2: I just made this Chickpea Salad recipe, and it all tastes great, but my chickpeas were weirdly dry. I didn't have a potato masher, so I just used a fork, and I also put the chickpeas in the microwave to make it a bit easier. After tasting it, I was really surprised at the texture of the chickpeas. I added some olive oil, and it helped a little bit but not much. I think something went wrong! I really want this recipe to work out, and I'm open to trying it again if someone gives me some tips!
A: Hey Anna, I'm happy to help! You are right that when you first mash the chickpeas, they will be quite flakey and dry in appearance, however once the mix-ins are added (especially the mayo!), it turns into a creamy salad with tons of moisture. It sounds like microwaving the chickpeas probably resulted in them drying out, and then things went awry from there. My advice is to try the recipe again (hopefully you can find a potato masher to use, as it's much easier) and see what you think. It's a popular recipe on the blog (and a personal favourite of my own) so I really hope it works out for you!
Q3: Hi Angela. Your Vegan Lasagna with Basil Cashew Cheeze recipe is awesome—I've eaten it many times and served it to many S.A.D. eaters and it's always very well received. Question: if you were to make this lasagna for someone else and only wanted them to re-heat it, how would you recommend they do that? As the cook, I can assemble it and then have them cook it completely, but they won't want to wait an hour. I could cook it for 45 minutes and then have them broil it for 5 as the recipe does, but I don't think that would warm it all the way through. Or I could cook it fully and have them warm it in the oven at 325 for 20 minutes? Thoughts? Thanks so much. Your recipes are my #1 cookbook and recipe website recommendations as a Nutritionist. Thanks SO much!
A: Hey Trisha, Thanks so much for your kind words about my blog, book, and recipes! I haven't tried this before (disclaimer alert! hah), but what I would attempt is to cook the lasagna for a reduced amount of time (let's say 30 minutes), and then have your friend cook it for the remaining amount of time (20ish minutes, perhaps). That should be enough to warm it through, but of course a few more minutes cook time probably wouldn't hurt if it needs it. Be sure to keep the lasagna chilled after the first cook until it's delivered to your friend to prevent any food contamination issues. PS—What a thoughtful thing to do for someone! I hope they enjoy it.
Q4: Hi Angela. Happy belated birthday! And thanks for posting this All Day Glow Green Smoothie recipe. I am definitely going to try it. I am not keen on mango, though (I know, my loss!) so is there another fruit that would work just as well to replace the juice and the mango chunks?
A. Hey Janet, Thank you for the bday wishes! I would suggest frozen pineapple instead of mango. You could even try freezing orange segments for a fun twist! Citrus in a smoothie is never a bad idea. (Can you tell I'm on a huge orange and grapefruit kick right now?) Let me know if you try anything out!
Q5: These cupcakes look amazing! I'm excited to try the recipe for my daughter's birthday! We are an allergy household and use your recipes for much of our cooking!! Have you ever tried these in cake rounds? If so, any tips? Thank you in advance!
A: Hey Karen, Luckily, this cake recipe is quite versatile and I've had success baking it many different ways. I have a recipe for a double-layer vegan chocolate cake (with instructions on how to make it into a sheet cake, too) in The Oh She Glows Cookbook on page 249, which was adapted from these cupcakes. Wishing your daughter the happiest of birthdays!
Comments of the Week:
"I'm not usually a poster on any online outlet—I am very much a lurker on every site I have ever visited—however after trialing this Raw Rainbow Pad Thai recipe I just had to break the trend! Thank you so very much for your beautiful and inspiring recipes. This salad was absolutely incredible! I have been a long-time vegetarian with multiple failed attempts at converting to vegan under my belt, but, after discovering your wonderful blog and buying your book, I think I've finally cracked it! The number of compliments I have received at work from my colleagues (all vegetable-wary committed carnivores) is certainly fuel to carry on! Thank you for all the wonderful work you do creating and sharing these gorgeous recipes!"
Thank you for the lovely words Emily! I'm so glad you decided to leave a comment. It's wonderful to hear that my recipes are helping you shift your diet to where you want it to be (not to mention, dazzling some of your coworkers), and I'm glad the pad thai was a hit—it's a huge fave around here (especially in the summer). Do you know which recipe you'll try next? Happy cooking. =)
"Just made this Warm Spring Salad for the third delicious time! My boyfriend did the grocery shopping this week and picked up what he thought was a leek, but was in fact fennel bulb. Grateful to have not been grocery shopping I simply said thank you and used it in the recipe just as you would the leek. It turned out great!"
Faith, I'm glad it turned out well, despite the mix-up! Your story definitely gives me a bit more courage to try fennel again; I haven't been a fan so far, but there's always hope.
Well, that's a wrap for this week. I hope you all have a great weekend in store. I'd like to wish our friends in the US a fun, delicious, and safe Memorial Day weekend!