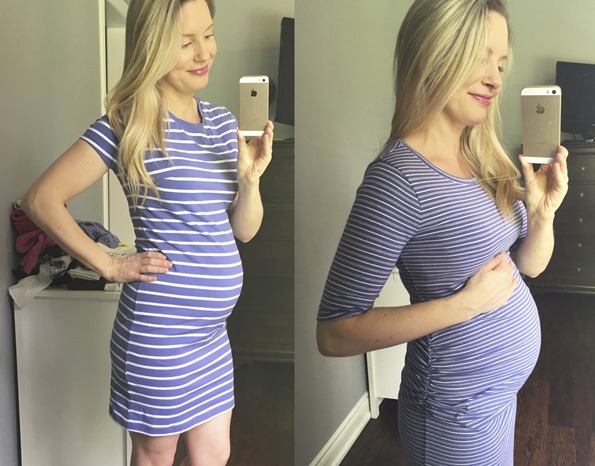 This week has been all about the stripes! You were warned.
We had such an incredible Victoria Day long weekend; I woke up Tuesday bummed that it was all over. We spent all weekend outside and soaked up what felt like the beginning of summer. I hope all my fellow Canadians had an equally great few days, and that those of you in the US have a fantastic Memorial Day weekend!
Well, I thought it was time to check on this lil baby's growth! At 22 weeks, baby is almost 1 pound and 11 inches in length. I hadn't read any weekly updates in a while and I was shocked to learn she/he is already so big! It's no wonder I feel like my bump gets bigger by the day.
Nesting: Nothing besides that short-lived 2-day burst, but I have noticed that an untidy house seems to be bothering me more than usual lately! I can only imagine how I'll feel once the renovations start later this summer. Watch out for preggo-zilla…dun, dun, dun.
Sleep: I'm still waking multiple times per night and having early morning insomnia. I had sleep troubles during my entire first pregnancy, so I'm not surprised. Someone asked if I use any pregnancy pillows for sleeping. I've tried one in the past and wasn't a big fan (probably because it was MASSIVE), so since my first pregnancy I simply sleep on my left side with a small pillow between my legs. The pillow is nothing fancy—just a small throw pillow with a pillowcase over it! I absolutely love it though.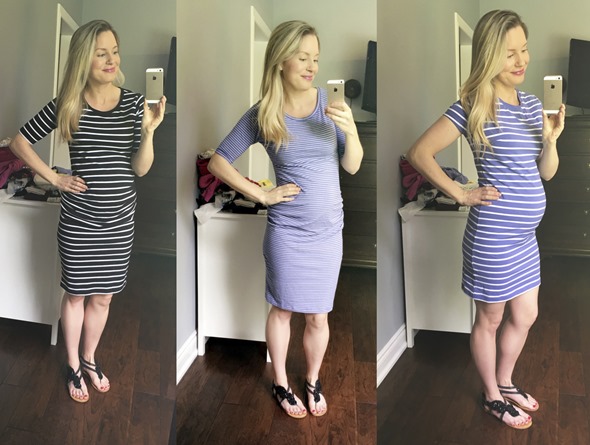 Wearing: So many stripes! I did warn you. (I did not, however, warn you about my dorky poses.) Now that the weather is warm, I'm wearing maternity tees from Old Navy—they were my go-to tees last pregnancy; I like the v-necks and scoop-neck cuts—and also this Old Navy dress (which isn't maternity, but stretchy, pictured right above) and this Old Navy maternity dress (pictured centre and left above). I'm still loving this ASOS maternity dress (you can see the dress on me here), and this belly support band during exercise. I still need to find some maternity jeans and shorts, but part of me is tempted to only wear dresses all summer long! Who needs pants?!
Names: I added a few more names to my list, but haven't run them by Eric yet for him to shoot them down, heh. (We didn't officially decide on Adriana's first and two middle names until after she was born, so I have a feeling we might be last-minute decision makers this time too!)
Worrying about: One of my concerns lately is wondering how Adriana is going to react to her new sibling and what we can do to help her adjust to our division of attention. I'm sure I'll be downloading a couple Kindle books on this topic just before baby arrives! It's always hard to say how a 2-year-old is going to react to a big change. My osteopath shared a tip with me on this topic, so I thought I'd share it here and see what you guys think. She said whenever you have guests over to see the new baby, ask them (in advance) to go straight to the older sibling when they arrive (without paying much attention to the newborn, at first). When guests first pay attention to the older sibling (as opposed to rushing to the new baby and gushing over him/her), the older sibling doesn't feel unimportant or forgotten about. She said she used this strategy with her kids, and it really helped them feel included and loved. I'm curious if anyone reading has tried this before and if you think it's a good idea. I think it probably depends on the child's personality, like many things.
Exercise: I'm still doing the same workout of 15 minutes Barre3 online, around 30 minutes of treadmill walking (4.6–4.7 mph, incline 3%), and daily outdoor walks with Adriana. I've been doing Barre3 consistently for 2 to 3 months now and I've definitely built a ton of muscle. One of my favourite Barre3 "hacks" is to add free weights to the videos that don't call for hand weights. So for example, in one of my favourite videos, called "Studio To Go", I now have worked up to 5-pound hand weights during my mini 15-minute sessions. I started off without any weights at all, but as I built up my strength I added on 3-pound hand weights, and in the last couple weeks, 5-pound hand weights. It's a great way to make some of the exercises more challenging as I build strength. Obviously the hand weights don't work for every exercise, but it's easy to add them on when doing lunges, squats, etc. While preggo, I also modify or skip certain exercises as I see fit.
Skin/hair/nails: My hair and nails have been growing lightning fast throughout this pregnancy. I have to clip my nails twice a week just to keep them fairly short. My skin has been pretty normal with a few pimples now and then. Basically, not a whole lot has changed on this front! I had mild to moderate pregnancy melasma (the "mask of pregnancy") with my first pregnancy (even with wearing sunscreen consistently!), so this time I'm being extra careful and putting sunscreen on my face first thing in the morning and then again before going outdoors. I'm also now wearing a hat when outside too (which is a good habit to get into anyway). Even with these protective habits, I'm already noticing some melasma forming on my skin. I know it'll fade in the fall/winter, but it sure is annoying!
Aches and pains: On and off—lower back pain, front lower belly/pelvic pain, and headaches now and then. Nothing out of the ordinary for me though.
The bump: My bump feels so heavy and tight lately. I'm glad I have my support belt to put on during walks and exercise. I'm carrying really low like I did with my first pregnancy. (I read it's common to carry even lower during subsequent pregnancies, too, so I'm not surprised!)
Cravings: Grapefruit, dark chocolate, cake/cookies/baked goods, oranges, freshly cooked chickpeas (the best!). I seem to be over my white vinegar/pickles kick—at least for now. I'm still enjoying a big batch of my All Day Glow Green Smoothie almost every day. I've been going through this weird phase where I open the fridge and so many foods I used to love just seem "blah". I hope it passes soon!
Baby purchases: One "Started from the bump and now I'm here" onesie. (Who says the second child gets nothing?! hah.) I can't focus on the nursery until we figure out what's going on with our house renovations this summer, so it's going to be put off for a while. We really don't need too much for baby #2 though, and that feels pretty freeing. I remember feeling so confused about all things baby products/gear during my first pregnancy (and for a while after) so it's nice not to have that confusion this time. I do want to find a nice all-purpose double stroller though. Ideally, one that is not super huge and clunky. Do sleek double strollers even exist? I can't say I know anything about them. If anyone has any suggestions to throw my way, please do!