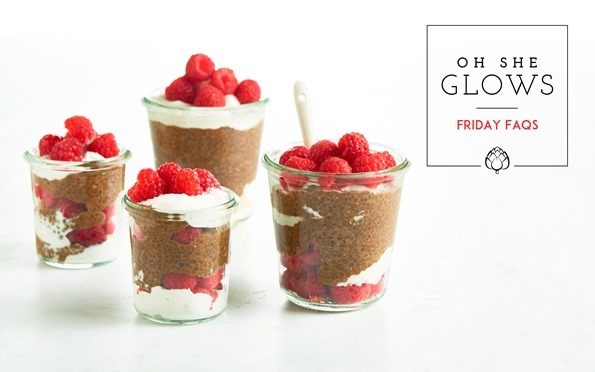 We're on the cusp of the Victoria Day long weekend here in Canada, and I'm so thrilled that the weather forecast is promising sunshine and warm temperatures at long last! One of our plans for the weekend is to make our backyard more kid-friendly for Adriana, and I'm looking forward to creating a fun space that she can enjoy all summer long.
I'm so glad that you guys are enjoying my Friday FAQs. You can find previous weeks' FAQs here: Week 1, week 2, week 3, week 4, week 5.  If you're looking for some camping-friendly food tips this weekend or next, be sure to check out question #3 in this post, and also read the comments filled with advice as well! I love answering your questions so keep them coming via blog comments or on social media, and I'll select a handful each week to feature.
Also, just a quick note to let you know that my 21 Weeks pregnancy post is now live, and Issue 7 of In the Glow will be going out later this morning. This issue's theme? You guessed it: long weekend recipes! You can sign up for our newsletter here.
Q1: Is there anything I could use instead of the pumpkin purée in your Gooey Pumpkin Spice Latte Pudding Cake? This really looks so creamy and delicious and I would love to make it, but where I live you can't buy canned pumpkin purée and they aren't currently in season either. Could you please help me out?
A: Great question, Nadja! I think you could try swapping homemade butternut squash purée; it should work best in terms of texture. If that isn't an option, you might want to try mashed banana. I've been wanting to try a chocolate banana bread flavour of this very dessert! I hope this helps, and would love to hear how it goes if you try anything out.
Q2: Great series! I have a question as well: Over the years you have often successfully recreated food items from a store or restaurant. Do you have any tips on how to do this? I tried this amazing fake tuna in a vegetarian restaurant (it was wrapped in an avocado-topped sushi roll) and I'd love to recreate it! The ingredients were sunflower seeds, celery, leeks, organic soy sauce and seaweed. How would you start?
A: Oh wow, sunflower "tuna" in an avocado sushi roll sounds absolutely divine! The ingredients sound pretty simple, so it might not be too hard to recreate at home. I would probably sauté the celery and leek in some oil (coconut oil, perhaps), and then add the soy sauce to taste, followed by some soaked and chopped sunflower seeds (I'd use a food processor to chop them quickly). I have no idea if this is similar to what you were served, but you could always experiment! Sometimes I will use Google to search for ideas if I'm really stuck. Also, you might want to try my chickpea or almond "tuna" salad recipes for a fun twist!
Q3: Hi @ohsheglows do you have any suggestions for substitutions for the beets in the Pink Power Detox Smoothie? I really really really dislike beets!!
A: Hi there, Beets are a love it or hate it food, aren't they? Feel free to try substituting strawberries, raspberries, blueberries, or cherries—I think they would all be lovely!
Q4: Quick question…I saw that you drizzled a hummus and vinegar dressing over your cucumbers awhile ago on Snapchat, it looked amazing and I would love to know what you used in it!
A: Hi Liz, haha—yes I sure love that snack during pregnancy!! All I do is add a couple big spoonfuls of hummus into a small glass and then add a tiny bit of white vinegar to thin it slightly (be careful not to add too much and make it super runny—you still want a thick-ish texture so it sticks to the cukes). I have to warn you—it's quite sour thanks to the vinegar, but if you're craving that flavour there is really nothing better. ;)
Q5: Hi there, Thank you so much for your delicious recipes! I have doctor's orders to stay away from coconut milk/coconut oil. Have you tried your Glowing Spiced Lentil Soup without? Do you think it would be just as tasty? Thanks again!
A: Hi Kelly, I haven't tried this recipe without coconut milk myself, but I'd recommend replacing it with a homemade cashew cream, if possible. My suggestion would be to blend 1 1/2 cups water with 3/4 cup soaked and drained cashews until super smooth, then stir this in rather than the can of coconut milk. If cashews aren't an option, an unsweetened, unflavoured almond milk might work in a pinch (although it won't be nearly as creamy and rich). If you try anything please leave a comment in that post and let us know!
Comments of the Week:
"I just want to send appreciation for the beautiful work you do. I've been swamped at work, which means I'd rather order takeout than stop and cook a meal, but seeing new recipes download into the gorgeous recipe app inspires me to keep being diligent in making choices that are good for myself. Finally, I brought your Life Affirming Warm Nacho Dip to a potluck Sunday, and literally every person there said they loved it and wanted to know where to find the recipe. I am so delighted to share the joy of Oh She Glows with them. :-). Maybe I need to buy the book in bulk to give out at potlucks? Hee hee."
Hey Ruth, Oh I'm so thrilled to hear that the app is inspiring you so much! I can relate to feeling the urge to order takeout lately, and I agree that sometimes all it takes is scrolling through some beautiful dishes to ignite the inspiration again. I'm also happy that my Life Affirming Warm Nacho Dip (p. 83 of The Oh She Glows Cookbook) was such a hit. It's a favourite in this house. Thanks for spreading the love!
"Hi Angela! I've been following you for about a year now and love your recipes, your little stories, and your take on life! I even started a blog of my own which, along with some of my own recipes, features my progress as I cook ALL the recipes from your cookbook. You've liked a few of my tweets on the subject, which was such a thrill for me :) This week is the last week of my self-titled "#osgcookbook challenge" and I'm super excited—just 3 recipes to go! I wanted to ask you—do you have any suggestions for substitutes for the apples in a lot of your smoothies? I have an allergy, so I've been using pears, but I'd love to explore other options. Thanks in advance!"
Hey Ashley, I've been following your #osgcookbook challenge, and I'm super impressed by all the dishes you've made and shared! Thank you so much. I hope that even more people find your challenge now, and are inspired to do the same. (If anyone wants to check it out, Ashley's blog is here.) As for subbing apples, I think pears are a great swap, but if you want to mix it up you can try changing up the flavours with mango, peaches, oranges, plums, grapes, or berries. Each fruit will change the flavour of the smoothie, so it kind of depends on the recipe, but I don't think you can go wrong with any of those really! Let us know what you come up with or if there are any recipes in particular you'd like help with.
Happy weekend everyone!