This week, I found out that my mom's coming to visit at the end of May! We're all so excited as it's been awhile since she's seen Adriana. They're just going to have a ball together, especially now because Adriana is at that age where she loves to play and can do so many things. Eric and I are also hoping to get out for a date night. We don't have any babysitting nearby so these nights are very few and far between!
Nesting: I literally haven't nested at all since I wrote last week's update. Here you were thinking I was some kind of early-onset nesting ninja, but I'm sad to report that I'm now a nesting dropout, heh. I guess my organizational spree was short-lived. Hopefully it returns soon because I have a lot more to do!
Sleep: Sleep has been about the same, although my pregnancy insomnia has improved a bit this week. I'm still waking multiple times in the night, but I've been pretty good at falling back to sleep. Adriana continues to sleep so much better than she was in recent weeks. We're hoping this 18 month sleep regression is finally in the past. We all had such a brutal 2 to 3 months of sleep, or lack thereof. Right now we're working on getting her to bed at a better time. During the regression she would often fall asleep really late, so we're trying to ease her back into a better routine. I'm still holding out that baby #2 is going to be an award-winning sleeper…hahah. Sometimes you just need to dream!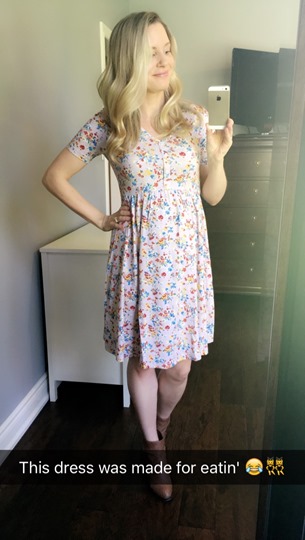 Wearing: This new ASOS maternity dress which is so comfy (for reference, it's pictured above in UK size 6/US size 2 – please don't mind my Snapchat text!), and my black Old Navy t-shirt dress (from 2014 – you can see it in my previous 21 weeks post) which is so comfy to throw on during the day even though it's looking a bit worse for wear. I've also started wearing my favourite belly support band during exercise again.
Names: We disagree on almost every name imaginable (anyone else??), but there is ONE name right now that we both like. Progress, people…lol.
Baby purchases: Eric bought a white onesie from Indigo that says "Started from the bump and now I'm here". Super cute. Other than that, we haven't bought a darn thing. Our friends gave us a gently used pack-and-play, which will come in handy for sure!
Worrying about: Not much other than some work stuff and keeping baby's sex a secret, heh. I feel like the sex is going to slip out when my mom comes to visit at the end of the month! I've had an uptick in anxiety since early in the first trimester (which happened the first time too), and I've been coping via exercise and relaxation breathing. I'm not great at remembering to do the latter, but the daily exercise definitely helps! I also notice a big improvement in my anxiety when I eat a lot of healthy foods as opposed to sugary things.
Exercise: I'm still working out daily (15 minutes Barre3 online + around 30 mins. fast treadmill walking). I don't always feel like working out, but I'm always so happy that I did it after the fact. I also take Adriana on a walk every morning now that the weather is nicer out. I feel like the activity keeps me sane.
Aches and pains: I get lower back pain on and off, as well as pelvic area stretching-type pains, but nothing crazy yet. I also now feel quite uncomfortable when I eat a medium- to large-sized meal. I get frequent indigestion too. I've been chewing fennel seeds for natural relief. My stomach just doesn't have the space it used to! I'm switching to smaller, more frequent meals, and am hoping that helps. As I mentioned last week, my sciatica pain has gone down dramatically—probably 95% improved.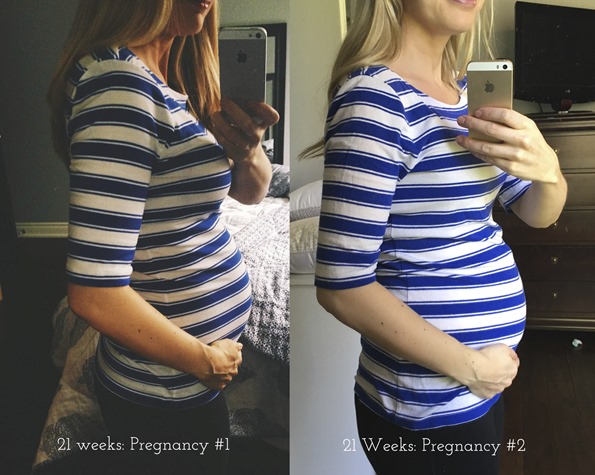 The bump: I feel like my bump is growing faster this time which I hear is quite common! I had the classic "basketball belly" with my first, and I have a feeling it'll be even more pronounced this time around!
Here's a shot of my basketball belly at 38 weeks last time…too funny!! Oh the comments and stares I got at that stage of pregnancy.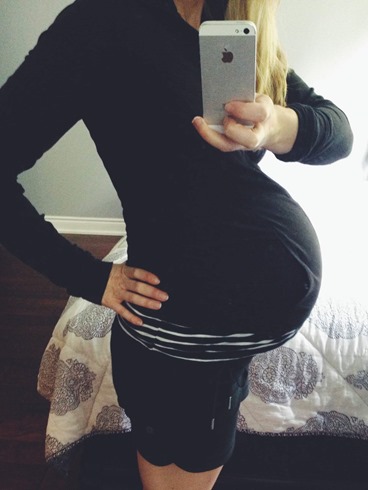 Mood: I'm not feeling as emotional this week which is nice! I'm still dealing with fatigue, but maybe not quite as much as last week. I credit this to an increase in veggies this week! It really does make a huge impact on my mood. The weather is also finally getting nice after a pretty rotten spring, so getting outside more has been helping too.
Doula or no doula: Thank you all for weighing in on whether you'd recommend hiring a doula the second time around. I loved reading about your experiences! I'm still on the fence, but I'll keep you posted on what I decide.
Cravings: Basically: fruit. Grapefruit, blackberries, raspberries, strawberries, blueberries, this dark chocolate (I always have at least a few squares every day!), hummus and rice cakes, and sweets like cake and cookies (although trying not to give in all the time). I'm enjoying a big batch of my All Day Glow Green Smoothie each day lately! Love it so much!