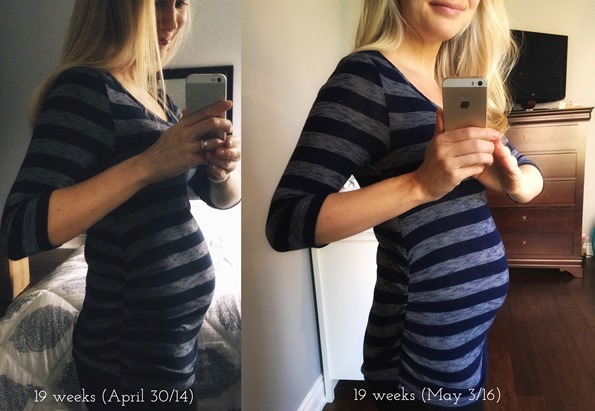 I've been debating whether I would do any pregnancy updates this time around; I kept thinking to myself that I'd missed the boat because I'm already well into the second trimester! And then it felt a bit daunting to try and recap the entire first trimester again. In the end, I decided to dive into it, and not feel the need to make it perfectly complete! I really love doing these updates (and especially, hearing from you). They are fun to write, and a nice change from food (although, I will probably talk about that a lot here too…it is ME after all). I would also like to apologize for failing to update this Baby section for so long. I'm not sure how often I'll be able to update here, but I will try to as frequently as I can.
My first trimester was pretty much identical to my first pregnancy! It was like a carbon copy of similar emotions, cravings, nausea, and tiredness. I went through the same first trimester blues for many weeks. I'm not sure if it's because I went through both first trimesters during the winter, but wow my hormones really got out of whack and I did not feel like myself for a long time. At least the second time around, I knew that there was light at the end of the tunnel. By around 15 weeks, I noticed a big improvement in my mood, energy, etc. If you want to read all about my first trimester with my first pregnancy, you can find it here. Like I said, virtually identical experiences!
Somehow I'm 19 weeks pregnant already! As always, time is flying and life feels busier than it's ever been with the growing business and an active toddler. I cannot believe how quickly each week passes.
Cravings: Chocolate anything—especially this pudding (I couldn't touch it for the first trimester, so it's fun to have it back!), avocado and marinara sauce on rice cakes, my Maple-Cinnamon Almond Butter, hummus, all the fruit, sautéed mushrooms, and salads. It's nice to be craving healthy foods again (for the most part). I had a really random craving for a hot dog the other week, and I satisfied it with a delicious Field Roast sausage. They are INCREDIBLE. I hadn't had one in ages and did it ever hit the spot. One thing is for sure: my "food kicks" change rapidly week to week. This makes creating blog recipes a bit challenging because I often lose interest halfway through the testing process!
Mood: All over the place! I can feel super happy, emotional, irritable, anxious, etc. all in the same hour.
Baby's sex: As you may have read, we found out the sex this week! It's so exciting to finally know. And it feels even more real now as we can picture what our family of four will be. We're keeping it a surprise, so I'll let you have your guesses!!
Movement: I've felt movement for a long time, but just in the last week I've felt real-deal kicks. I forgot what a cool feeling it is! This little stinker seems like an active one. I'm not too surprised because it is the year of the Monkey!
Carrying: I'm carrying low just like I did in my first pregnancy. In the opening photo, you'll see a side-by-side picture of first and second pregnancies. It's always fun to look back on these pics, and I'll be doing it often.
Weight gain: I'm up a few pounds compared to this same time last pregnancy. I'm not paying too much attention to the numbers though, as every pregnancy is different and I know that I'm eating well and exercising daily! Baby is right on track for growth according to my anatomy scan.
Nursery: I started a Nursery 2.0 Pinterest board in the first trimester, but I haven't worked on it in a while. I tried to pin a wide variety of nurseries since we hadn't found out about the sex. Our guest bedroom is going to be turned into the second nursery. We're doing home renovations this summer, so I have a feeling the nursery setup might be a last minute thing. Eric likes this idea because he says I'll have less time to change my mind! He's probably right. I probably changed my mind a million times with the first nursery. Anyway, we have to move into the guest room temporarily while our master bath gets renovated. Hopefully we're not in there too long!
Names: We have a small list, but aren't close to a decision yet! It's really hard for us to both agree on a name!
Midwife or OB: I went with an OB for my first pregnancy, and this time I'm seeing a midwife. It'll be interesting to see how the two experiences compare.
Exercise: I took several weeks off of exercise during the first trimester (I could barely get off the couch, let alone work out), but I got back into it around 11 or 12 weeks along. Since then I've been really consistent and I look forward to my workout every day! I'm doing a mix of Barre3 online workout videos and fast hill walking on the treadmill. Barre3 is so great because there is little impact, but I see great results. When the weather is nice, I always get out for walks, too.
Aches and pains: I've had some stretching-type pains in the stomach/pelvic area here and there. My sciatica pain has also come back in the last week (I had it really bad in my first pregnancy), so I made an appointment with my osteopath immediately because she was the only person who could help me last time. I've already felt some improvement after one visit. I've also scaled down the incline on the treadmill, and I make a point to stretch the area daily.
Sleep: If you saw my Snapchat last night, you may have seen that we've been going through a rough patch with sleep these past couple months! Adriana is teething like crazy, going through the 18-month sleep regression, and also experiencing night terrors occasionally. A triple whammy! I also have pregnancy insomnia now and then (usually if she has a great night of sleep, I will be wide awake! lol). So there's that. Sleep hasn't been great since before my first pregnancy so I think my body is just used to it now, and I'm able to carry on with my day. I think you just get used to a new normal somehow.
Currently wearing: empire dresses (obsessed!) or black leggings. I have a feeling I'm going to be all about the dresses this summer!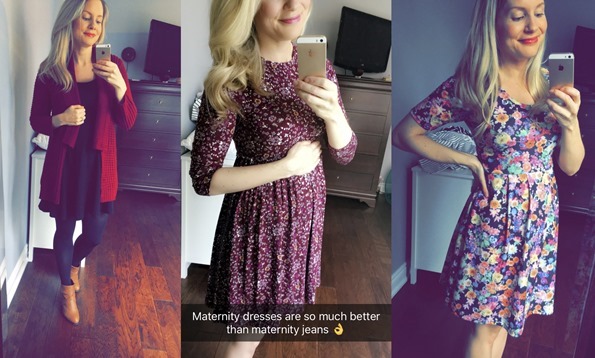 Breastfeeding: I breastfed Adriana until a month ago (18 months old). She never took to any other kind of milk (she rejected everything we gave her), so she was a breastmilk baby through and through. I wrote this entry to her in my pregnancy journal last month:
We had our last nursing session tonight, I think. Well, my milk has been dried up for a few days now (which is a result of the pregnancy), but you still tried for a bit of comfort feeding. You don't seem heartbroken like I am…in fact, you seem fine with it which makes me feel relieved that it ended so naturally. Our sessions decreased gradually with time. I cried a bit after I put you down to sleep that night, and felt emotional all week about it ending. I miss our little quiet moments together with you so peaceful in my arms. Still, I'm so grateful that we made it this far and even though it was rocky at times, I will always cherish the experience. I'm a bit curious as to whether you'll try to tandem feed once you see the new baby nursing in the fall, or if you'll be past it by then.
PS – You can read my 19 week recap from my first pregnancy here!