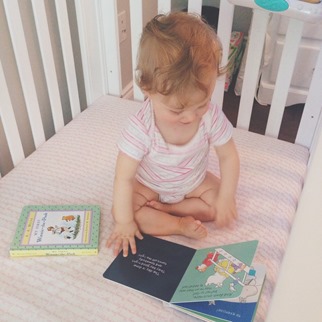 Oh boy, this update is late! Sixteen days late to be exact. Life with an almost 1 year old sure is busy. =)
My little monkey ZOODLE, that's what I call her when I get her from a nap. haha. Adriana is going through so many incredible changes. It's an amazing age, yet challenging too. I can see her frustration with wanting to do so many things all at once, but not quite having mastered all the skills yet. I'm just trying to be there for her as much as I can and reassure her that she's doing great. She's just entering another leap so I can sense that she's feeling a bit off lately, but aside from those challenges she is a very happy baby. She loves to giggle, smile, baby talk (oh my is it ever getting cute), and just generally being a stinker. She loves doing things to get a reaction! She is easy going when being held by new people. She went to a party the other weekend and was held by just about everyone and didn't seem to care at all. On the flip side, she is learning to assert herself with mom and dad. She loves to put up a HUGE fuss when getting her clothes changed, face wiped, etc. It's like end of the world dramatic.
She's now pulling herself up to stand on everything. She's always looking up…thinking what can I pull myself up onto? One of her favourite things is to crawl over to me or Eric and grab onto our hands and pull herself up to stand. We cheer her on and she just beams with pride, looking back at one of us as to say, did you see that!? It feels so good to be able to help build her confidence. She's a super speedy crawler (I call it sprint crawling because she screams when she does it as if to rev herself up) – and always trying to get into things. She currently loves trying to follow me into the pantry – I have to be quick. And she zooms over to the fridge or dishwasher whenever I have it open. If I drop any food on the floor I can be sure she'll have it in her mouth. The other day I found a piece of raw onion in her mouth….silly girl.
Breastfeeding and solids are both going strong. I'm still nursing on demand about 6 times a day. She has always been a milk lover. Her new favourite thing is to crawl over to me, pull herself up, and try to pull down my shirt! This could get awkward in social settings. She is also doing well with Baby Led Weaning and she gets 3 meals a day. I had many doubts and fears about BLW in the beginning (mainly choking), but it's been incredible for her.
Here is our BLW story in a nutshell, taken from an Instagram post the other week:
We tried BLW around 7 months and she wasn't interested in the food at all…just threw it around (which in hindsight I see was just part of the exploration process). So we switched back to homemade purees with very little success. She was NOT a fan of purees and mostly just pushed the spoon away from her face. We started to get discouraged…so then tried BLW again around 9 months old and never looked back. It started off very slow (with lots of gagging reflex) but after a couple weeks she started to figure things out. This time she was ready. Two and a half months into BLW and she's so excited for meal times now. She screams with joy and will try absolutely anything. I'm sure this will change when she asserts "no" as a toddler, but I still hope it'll help her develop a positive relationship with food. It's been amazing to watch her learn on her own (and through watching us eat too). My own learning experience has been that all babies go at their own pace…try not to compare. Trust YOUR baby. this applies for everything, and as they say "under 1 just for fun".
This Baby Led Weaning book is incredible. I wish I read it months ago!!! Highly recommended.
Her favorite foods right now are: avocado, butternut squash, sweet potato, kidney beans, pastured eggs, zucchini, broccoli, apples (we can't eat an apple without her anymore…or any food for that matter…she eyes us until we give her some). We let her try what we are eating and she's enjoyed things like lightly spiced curry, chili, stew, veggie burgers, homemade fruit sorbet, etc. The only difference between our food and hers is that we don't salt or sweeten her food. So if we make veggie burgers we will split the batch, salt our half and not salt hers. It's a bit of a hassle, but not a big deal. I read that salt is hard on their kidneys at this age so I'm trying to avoid it.
The biggest challenge with feeding lately? She has been slamming her body into her highchair over and over like a wild animal wanting to be set free. She's been doing this for over a month or so. It makes this huge banging sound and I worry about her hurting her head because she whips herself back so hard. She seems to get a real kick out of it because she knows it gets a reaction. Then she laughs and giggles like crazy, especially if I try to hold her head from doing it again! lol. If these walls could talk, eh? From what I've read online it's very common for babies to thrash in their highchair. At least, that's what we're consoling ourselves with. We usually just take her out of the chair when she starts with the hijinks because I interpret it as a sign that she is done or bored, but then I worry she didn't eat enough. *shrugs*
Nursing has it's challenges now that she is more active. She loves to squirm, kick, pull my hair out (ouch), giggle, FLY OFF me when finished, etc. Such a stinker. Sometimes she just giggles and then I laugh and we're sitting there laughing when she should be getting sleepy, but what can you do. I go downstairs and tell Eric I pretty much woke her up because we were giggling and being insane. I want to embrace all these silly moments because I know they won't last forever. But I do absolutely cherish when she's sleepy and calm, like before a nap or early in the morning. It's my "zone out" and relaxation time and I can feel the stress melt away when she's in my arms. Hello, hormones! It's like a drug.
Sleep has made progress in some areas and setbacks in others. First, the good: She is sleeping through the night about 3-4 times per week (knocking on wood here). *insert praying emoticon here* Now, this doesn't mean that she doesn't wake up in the middle of the night, but she's able to fall back asleep on her own after a brief cry or fuss. It's awesome, especially after almost a year of getting up between 1-3 times a night. I think there is so much emphasis on having babies sleep through the night at a super young age, it's easy to forget that it's normal for them not to (just like it's normal for some babies to sleep through the night early on!). I remember feeling like we were doing something wrong because she wasn't sleeping through the night when my other friend's babies were, and now I see how silly that was. Now, the not so good: bedtime. Whomp, whomp. She fights bedtime so much for the past few months and it usually takes a minimum of 1 hour before she's asleep, sometimes two hours. Sometimes she just plays in her crib and chats while other times she cries and we have to go up there to soothe her. Naps have been pretty awesome (when she's not skipping them). On a good day, she'll nap just over an hour in the morning and up to 2 hours in the afternoon. This has helped me get so much work done which has been great because my second cookbook manuscript is due end of Sept.*insert praying emoticon here*
She went through a period where she had a meltdown every time one of us tried to give her a bath in the baby tub. It was stressful. So I remembered what some of you said and I tried having a bath with her instead. Oh man, does she ever LOVE it! No more tears after that. Bath time is fun again. Baby tub is OUT. I guess she just wants to be a big girl now? Her favourite thing is splashing the water and soaking me. Why would she want to go back to a baby tub after that? I sure wouldn't.
I forgot to mention the state of diaper changes! They went from being easy breezy to feeling like I'm wrangling a wild animal. It's so hard to change her now that she's so active and mobile. She will often flip and start crawling away in the middle of it (when we're changing on the floor, that is). We have less issues when using the change pad (with a belt) in her nursery, so maybe I should get one of those for downstairs too. I'd love to hear any tips on how other parents wrangle their kiddos! ;)
I'm gearing up for her 1st birthday party. I can hardly believe it. Our house is going to be packed with friends, family, and Adriana's friends. Somewhere in the crowd there will be a mom creepy-staring at her baby while hiding her eyes welled with tears and smiling. Yup, that'll be me. I'm going to lose my shit when we sing her happy birthday, I just know it. It should be fun. Here is a sneak peek of the colour scheme. Who says the 1st birthday party is mostly for the parents? ha….I would be guilty as charged. I'm having way too much fun planning the décor and food. My mom and stepdad are coming for a week around her birthday and I'm so glad they will be here to celebrate with us. Only 2 weeks to go now!! And just like that, my baby will be a toddler in the blink of an eye…what a beautiful, crazy, wild, mind-blowing year it's been. It just keeps getting better.