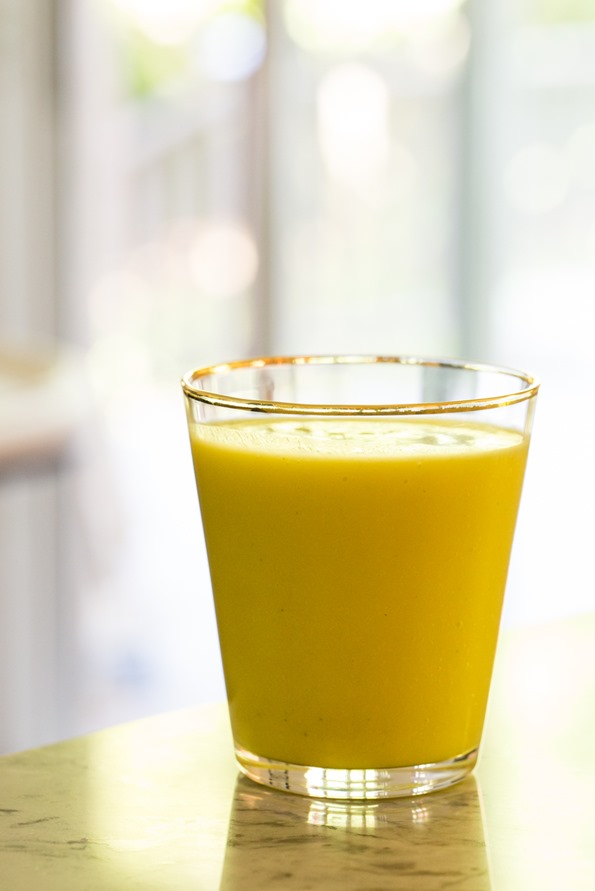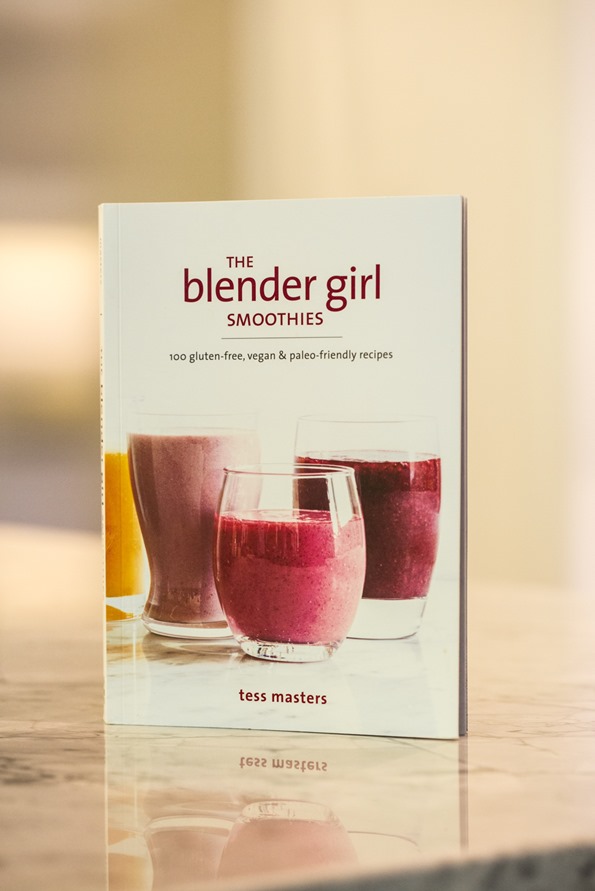 Happy almost weekend, friends! Today, I'm excited to share a recipe from The Blender Girl Smoothies: 100 Gluten-Free, Vegan, and Paleo-Friendly Recipes by Tess Masters. I had the pleasure of getting to know Tess a few years ago at the Vida Vegan Con and let me tell you, she is as vivacious, bubbly, and thoughtful as she comes across online. I totally wish we lived closer so we could bond over our love for green smoothies, Vitamix blenders, and plant-based cuisine. Well, all the more reason to visit California, I suppose!
Not only is tess the force behind The Blender Girl website, The Blender Girl cookbook, and The Blender Girl Smoothies app, but her second cookbook, The Blender Girl Smoothies, was just released on June 30th. It's packed with 100 creative smoothie recipes including a beautiful photo for each recipe. The book is divided into 4 chapters: 1) Smoothie Secrets, 2) Find Your Perfect Blend, 3) The Recipes (light and fruity; clean and green; an exotic ride; dessert), and 4) The Smoothie Pantry. Each smoothie recipe has icons that let you know whether the smoothies are nut-free, detox-approved, high-protein, immunity-boosting, alkaline, and more. She also provides a comprehensive list of pantry ingredients. This comes in handy, especially for the lesser known superfood ingredients (such as spirulina, camu powder, wheatgrass, etc.). Lastly, she dishes on her top tips for blending perfect smoothies and shares a "build your own smoothie" guide so you can create your own unique recipes.
Today, I'm happy to share her "Mystical Mango" smoothie! It's so energizing and makes enough to share (just under 4 cups worth, although I could've easily chugged it all myself). I served it alongside the tofu scramble from my cookbook and some toast for an easy, satisfying breakfast.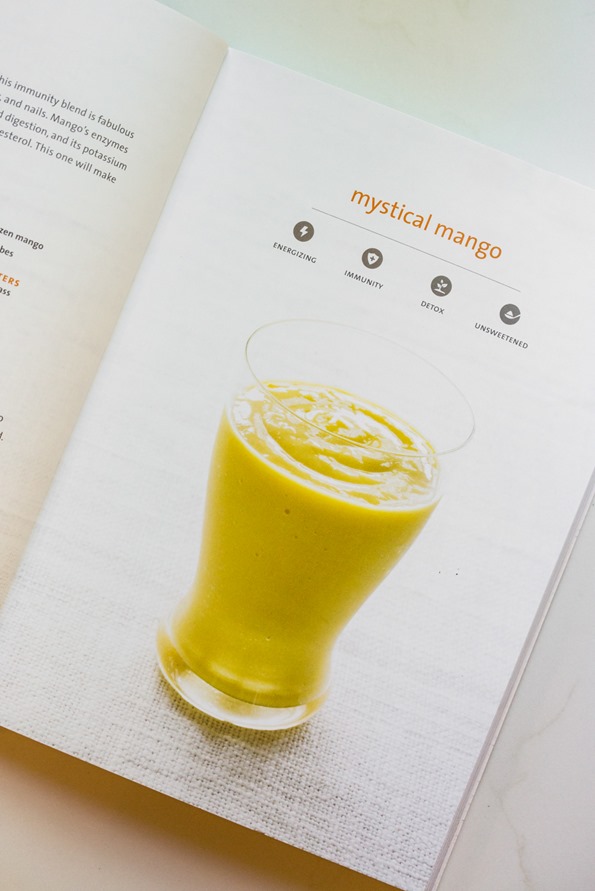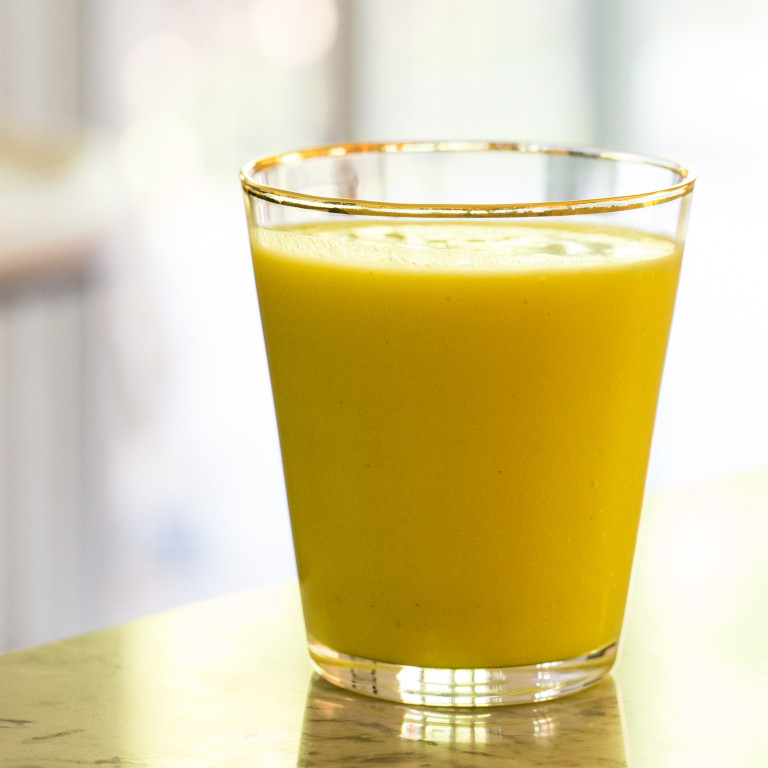 The Blender Girl's Mystical Mango Smoothie
Vegan, gluten-free, grain-free, no bake/raw, nut-free, oil-free, refined sugar-free, soy-free

Yield

4 cups (2 servings)
Prep time

Cook time

0 minutes
Total time

I fell in love with this smoothie's thick and creamy texture and sweet, tangy flavor. It makes the perfect breakfast drink to pair with a bowl of overnight oats, tofu scramble, or chia pudding. This recipe is lightly adapted from Tess Master's The Blender Girl Smoothies (2015) published by Ten Speed Press.
Tess writes, "With a creamy texture and exquisite flavor, this immunity blend is a fabulous for collagen formation and glowing skin, hair, and nails. Mango's enzymes and vitamins A, C, and E cleanse the liver and aid digestion, and its potassium and fibre help regulate blood pressure and cholesterol. This one will make your heart happy."
Ingredients
1.5 cups orange juice
1/2 cup water, or more if needed
1/4 cup avocado
1/2 teaspoon finely grated lime zest
2 cups frozen mango (I used an entire 300g bag)
Pure maple syrup, to taste (optional - I added a teaspoon)
Directions
Add all of the ingredients into a high speed blender and blend on high for 30-60 seconds, until smooth and creamy. If using the Vitamix, you can use the tamper stick to get things moving. If the mixture seems too thick you can thin it with a bit more water.
Tip:
Note: Tess says you can boost this smoothie with 1/2 teaspoon wheatgrass powder, 1 teaspoon chia seeds, and 1 teaspoon of flaxseed oil.
Nutrition Information
(click to expand)