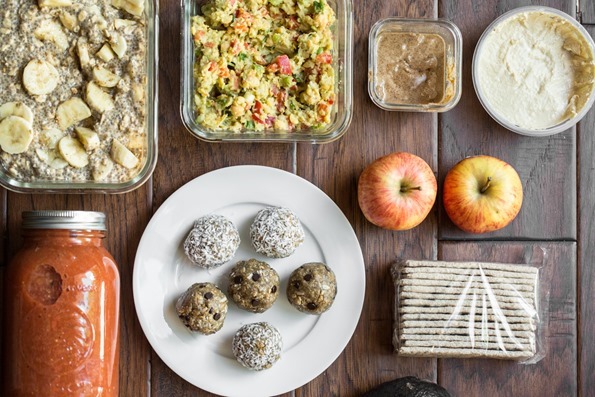 We're off to a wedding, a birthday party, my in-laws, and then to visit my grammy (Adriana gets to meet her Great-Grammy!) over the long weekend. This means we're going to clock a ton of hours on the road, so I am coming prepared! Even though a lot of our meals will be made for us (such as dinner Saturday and Sunday night), I like to fill in the blanks by packing some light meals and healthy snack options to have on hand.
After I made the recipes Eric said, "Whoa, that didn't take you long at all!" – and he was right, it took me just over 1 hour to prepare 4 recipes. Granted, I was going turbo mode, but still. I purposely selected quick and easy recipes (many are from the 2-day meal plan) which I also tend to have most of the ingredients for in my fridge and pantry. And if I don't have all the ingredients I just improvise! So when Eric commented on how quickly the packed foods came together it struck me that this would be fun to share on the blog. I hope you'll enjoy this glimpse into what I'm packing for a weekend away. (Keep in mind this isn't intended to cover all of your meals – just to supplement when necessary. Feel free to tweak it as you see fit.)

What I made (click the links to the brought to the recipe!):
Not shown: I'm also packing a few of my Coconut-Cardamom Overnight Oat Parfaits for the car! If I had more time I would've also made a batch of my Lightened Up Summer Granola.
What else I packed:
Hummus, portable fruit, homemade maple cinnamon almond butter (or store-bought), my favourite crackers, food for Adriana. Eric says he's bringing the Vitamix to make green monsters at his parent's house. Who is this guy? I don't know how we're going to fit everything in the car…especially with a stroller, baby stuff, and my shoes for every terrain (rustic, outdoor wedding!). Should be interesting…
Tips:
– These are my go-to glass storage containers. Mason jars also work lovely!
– Pack several ice packs to ensure the food stays cool and fresh. You don't want to arrive at your destination with room temperature food.
– Pack the energy bites on top so they don't get squished.
– You can improvise with these recipes a lot. I make all kinds of versions of Gazpacho, the energy bites, and the chickpea salad. For this chickpea salad I didn't have any celery so I just used a whole red bell pepper (diced) instead. It's pretty forgiving so don't worry!
– Pack the gazpacho in a thermos if you want to save room in the cooler. Otherwise a large 2-quart mason jar will hold the batch.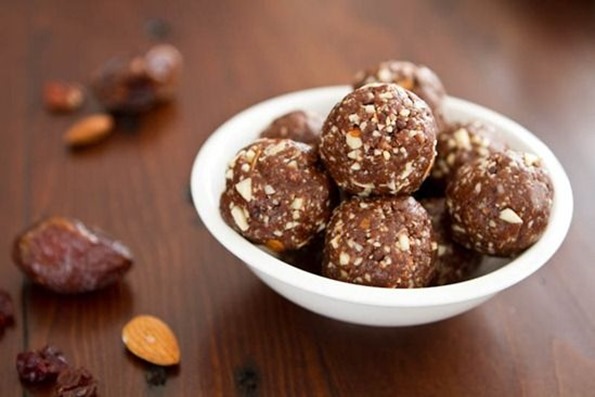 Ok, now I'm turning it over to you. Which foods do you like to pack for trips? Share your favs below!
Well guys…I seriously cannot believe it's August 1st. *still in a 2015 time warp* I hope you are enjoying the dog days of summer. Soak it up and have a fun + safe weekend!!