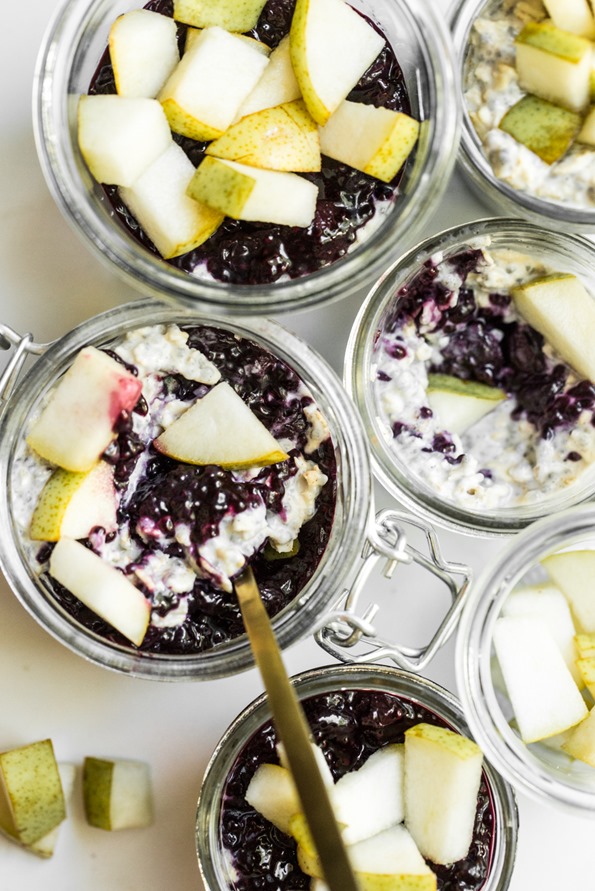 Food photography has been sparse in my house these days (Now, if we're talking baby photography on iPhones, well let's just say I'm killing it.) Lately, I only have 15-20 minutes for food photoshoots, so I've learned to be super quick when it comes to snapping pictures. I used to be militant about using my tripod, but I haven't pulled it out in months. I used to give photoshoots a bit of planning before diving in, but that rarely happens anymore. It's taken me a while to realize that my expectations of how things should be done aren't always practical for the stage of my life that I'm in. This applies to life in general too. I'm going to do what I can and try to be a bit easier on myself. Perfectionism kills creativity. It's also the killer of fun! If I only have 10 minutes to snap some photos, so be it. I'd rather share a little bit than nothing at all.
I started off this photoshoot using this darker background – it's a scratched up piece of metal signage I found at an antique market last year (the front of the sign says "DO NOT ENTER"). I thought it was going to work perfectly, but I actually found it to be too moody for this recipe. It just looks too dark for the light, summery mood I was going for.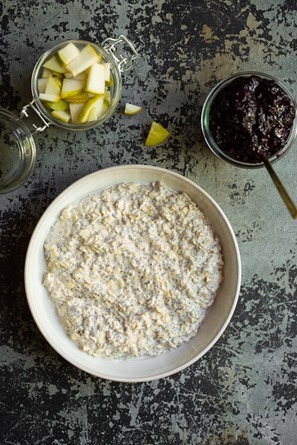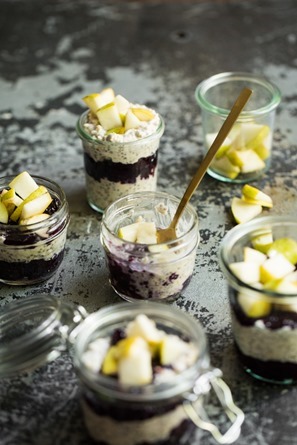 So I switched to my trusty slab of white quartz instead. It's the surface I've used the most in the past year. It's heavy as heck and I actually managed to dent the hardwood with it one day (*headsmack*). Anyway, I like this clean and fresh feel much better even though the lighting wasn't the best because I shot at noon when the sun is overhead. The inspiration for the photo came from Ashley. She did a cool multi-jar shot with homemade milk for my cookbook. Too much fun!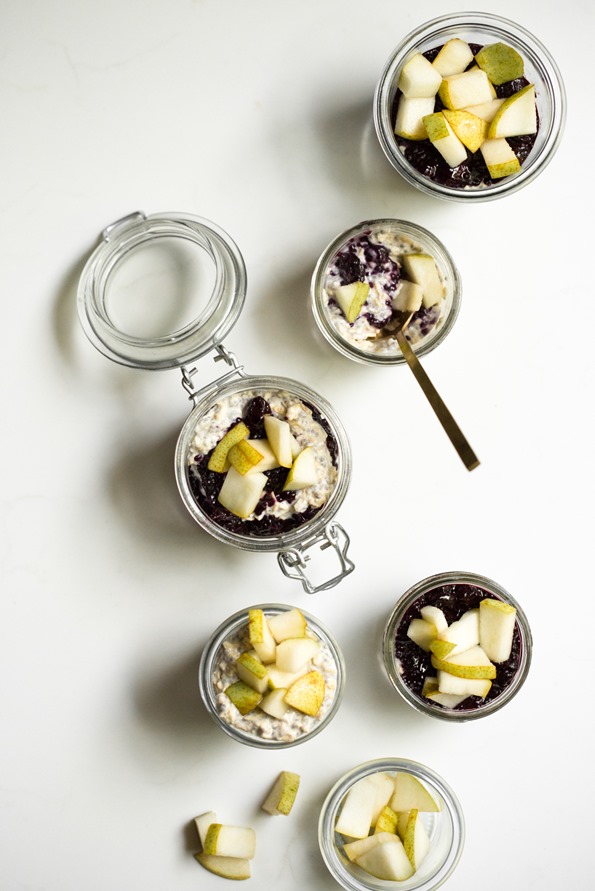 In Lightroom, I made minor edits to the photo: increased clarity, exposure, whites, saturation, and removed blue and adjusted temperature. It took me about 30 seconds. There are things about the lighting I'm not super happy with and I probably blew it out too much, but oh well. Gotta pick your battles!
This is the same photo before editing…50 shades of grey!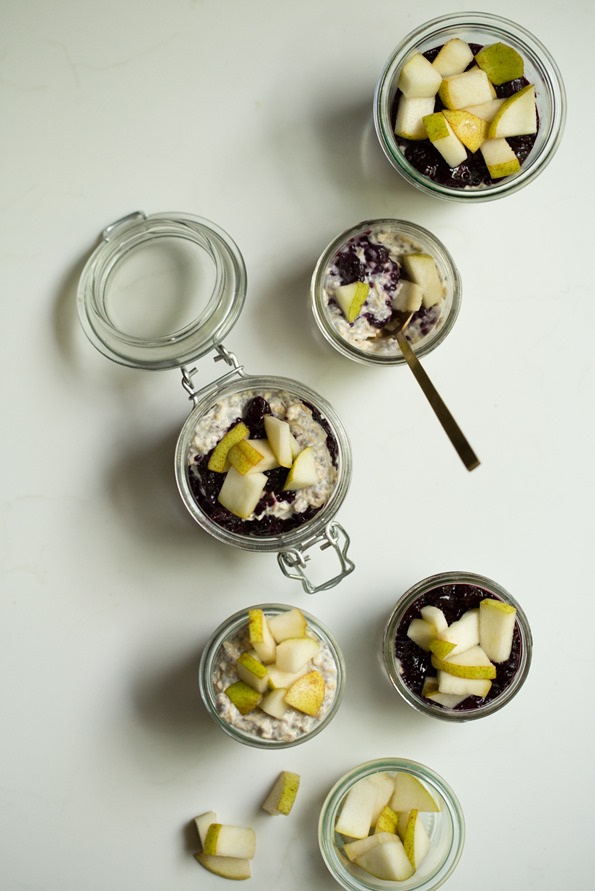 So that's where my head is at with photography lately. I'd love to spend more time on it again, but right now I'm rolling with doing it under a time crunch. I'm beyond excited that Ashley is shooting the photography for my next cookbook. I honestly can't imagine doing over 100 photos again with a baby crawling at my feet (and stealing the food). You guys are going to be blown away by the photos in the next book. We'll have to show you some sneak peeks!
Now, finally onto the food. This is my newest overnight oat parfait creation. Six to seven years later, I'm still making vegan overnight oats on the regular. I'll often make a large batch that lasts 2-3 days in the fridge. Or sometimes I eat it all in one day because I just can't help myself. It's so easy, perfect for the summer, and endlessly customizable. Make it parfait-style in portable jars and you'll have snacks for days. Toss it in your bag and run out the door. Bring one for your friend and he/she will love you even more.
If you haven't tried overnight oats layered with chia seed jam, you really must. It's divine. This would be great with granola on top too.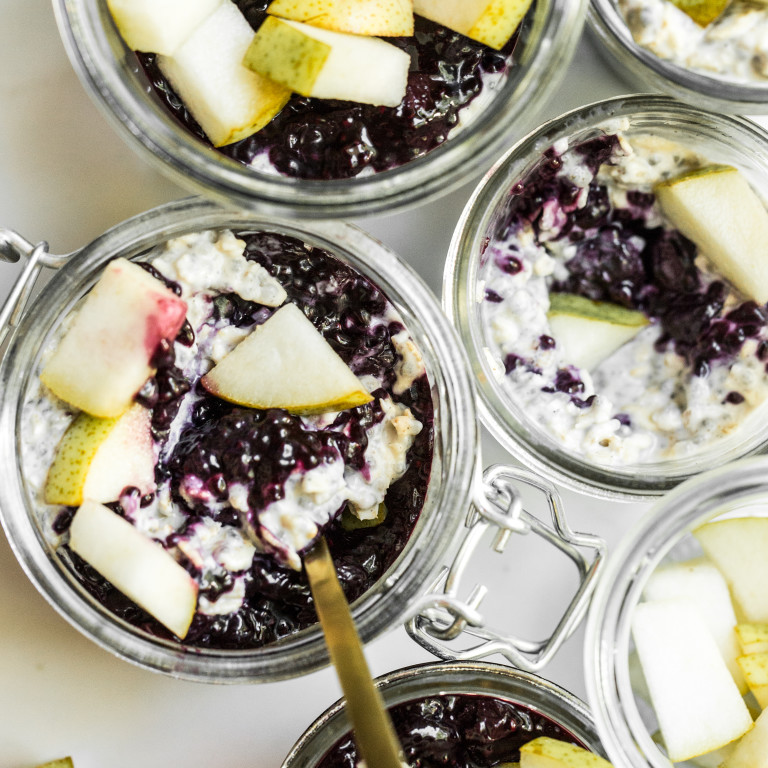 Coconut-Cardamom Vegan Overnight Oat Parfait with Blueberry Chia Seed Jam
Vegan, gluten-free, nut-free, oil-free, refined sugar-free, soy-free

Yield

4-6 small jars
Prep time

Cook time

Total time

Overnight oats are getting fancy up in here! Coconut milk, oats, and chia seeds are mixed with ground cardamom, cinnamon, and maple syrup, and then layered with blueberry chia seed jam and sliced pear. You'll want to eat this for breakfast, lunch, snacks, and dinner! Chia seeds don't lie. Also, can I just say how awesome a layer of vegan ice cream or banana soft serve would be in this?
Ingredients
For the blueberry chia seed jam:
550g frozen blueberries (about 4 cups + 2 tablespoons)
1/4 cup pure maple syrup, or to taste
Dash fine sea salt
3 tablespoons chia seeds
1 teaspoon fresh lemon juice, or more to taste
For the vegan overnight oats:
1 (15-oz) can full-fat coconut milk (yes you can use light, but full-fat is super creamy and delish)
1 cup rolled oats (use gluten-free if necessary)
3 tablespoons chia seeds
1 tablespoon pure maple syrup
1/2 teaspoon ground cardamom , or more to taste
1/4 teaspoon cinnamon, or more to taste
1-2 small ripe pears, diced (for layering)
Directions
Prepare the chia seed jam

: In a medium pot, stir together the blueberries and maple syrup until combined. Add a dash of salt. Simmer over medium-high heat, uncovered, for about 8-10 minutes until softened (the berries will release a lot of water during this time).
Add the chia seeds and stir until combined. Continue simmering and stirring frequently (reducing heat if necessary to avoid sticking) about 8-15 minutes longer, until most of the water cooks off and the jam reduces in volume. it will look thickened.
Remove from heat and stir in the  lemon juice. Transfer the mixture to a bowl, uncovered, and into the fridge until cool, for at least a couple hours. For a quicker cooling method, pop the jam in the freezer, uncovered, for 45-60 minutes, stirring every 15 minutes, until cool.

For the vegan overnight oats

: In a medium container (with a lid) or in a medium bowl, stir together the entire can of coconut milk, oats, chia seeds, maple syrup, cardamom, and cinnamon until combined. Cover and chill for 1-2 hours, or overnight, until the oats soften and the mixture thickens. Stir to combine before using.
Layer the chia jam, overnight oats, and diced pear into small jars. Secure lids (or cover with wrap) and store leftovers in the fridge for up to 3-4 days. The chia seed jam will keep in an air-tight container in the fridge for up to 2 weeks. Also, leftover jam can be frozen in plastic baggies and it thaws beautifully.
Nutrition Information
(click to expand)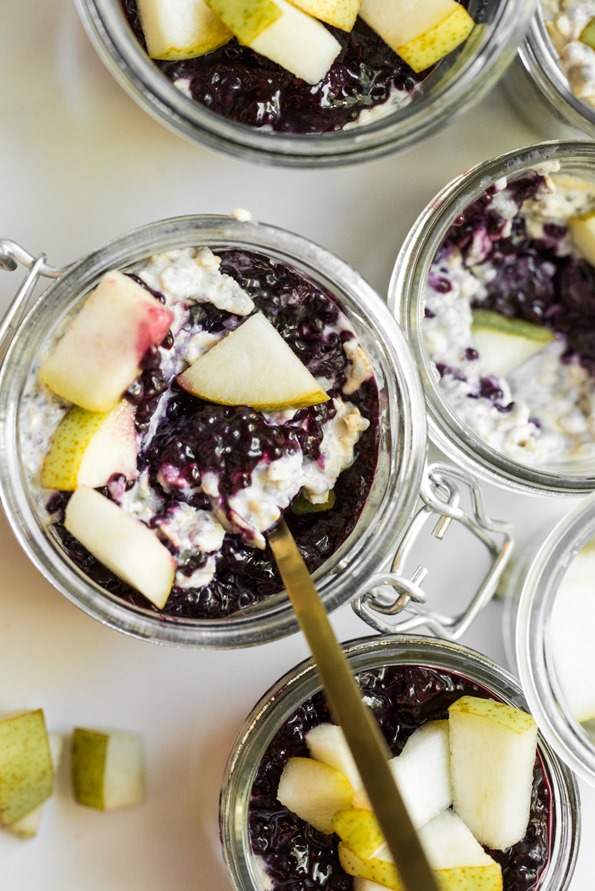 PS – Thank you for your enthusiasm regarding my 2-Day Meal Plan! I'm so thrilled by your response and hope to do another in the future.