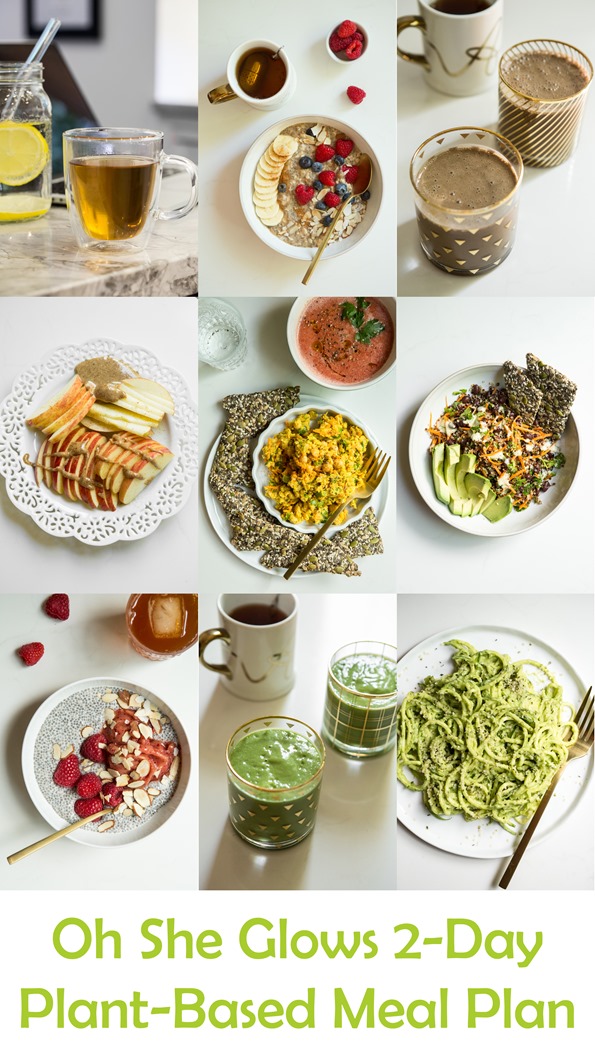 I'm so excited for today's post! Many of you have been asking me to put together some plant-based meal plans or menus – What does a full day of plant-based eating look like? How do I combine easy, healthy recipes into a full day of eating? It's something I struggled with in the beginning too – and even now, on occasion – so I totally get it. With the summer season in mind, this 2-day meal plan below is filled with healthy, energizing, quick-to-prepare options. All of the recipes (except the avocado sauce and smoothies) can be made in advance and keep well in the fridge. Yes!
This post was also crafted for a selfish reason too; I tested cake and frosting all last week for the next cookbook. The end result turned out pretty mind-blowing, but to say I was looking for a bit of a "reset" is an understatement. I try my best to eat balanced, but that doesn't always happen as a recipe tester. When the dessert chapter needs to be wrapped up, the dessert chapter needs to be wrapped up! So in an effort to bring back balanced meals, I came up with this easy, veggie-packed menu to get back on track. I think we can all relate to this desire now and then, especially after summer holidays and traveling. After just half a day, my energy levels returned and I had a kick to my step again! The power of plants. I hope you enjoy it too whether you follow it to a tee or just mix and match some recipes into your normal routine. If you are just making these for yourself, you'll likely have leftovers that carry over into day 3…never a bad thing.
Note: All the recipes are linked in the chart below. From there, you can print the recipes if desired.
Oh She Glows 2-Day Summer Reset Button Meal Plan
Tips:
– Lately I start my morning with white tea and I drink it until about 2-3pm. I find it gives me really consistent energy throughout the day (without the crash that coffee often gives me, but feel free to drink what YOU prefer). If I'm on the ball I will also try to have some warm lemon water (squeeze half a lemon into a couple cups of warm water – sweeten to taste if desired) first thing in the morning or I simply add lemon slices into a 1-litre mason jar filled with water and sip on it throughout the day. Between outdoor summer workouts and breastfeeding, it's a constant effort for me to stay hydrated.
– See here for a printable grocery list!
– All recipes can be made in advance except for the smoothies (I always prefer those fresh as the flavours start to change as they sit) and Avocado pasta sauce.
– Be sure to try out my Hidden Greens Chocolate Protein Smoothie – it's a new recipe to the site and is bursting with nutrients! Not to mention…chocolate for breakfast. You can thank me later.
– Please keep in mind that this meal plan is not intended to be a one size fits all plan; tweak and personalize it as you see fit! I often have a mid-morning snack such as hummus and crackers to get me through to lunch.
– You can serve the 15-Minute Creamy Avocado Pasta with whole-grain pasta or zucchini noodles. I use this spiralizer to make zucchini noodles. It's a great summer option!
~~~
Well, this was a beast of a post to put together so if I've forgotten anything feel free to let me know. Do you like these kinds of posts? I'm open to your feedback as always.
Wishing you boundless energy this week and all summer long!