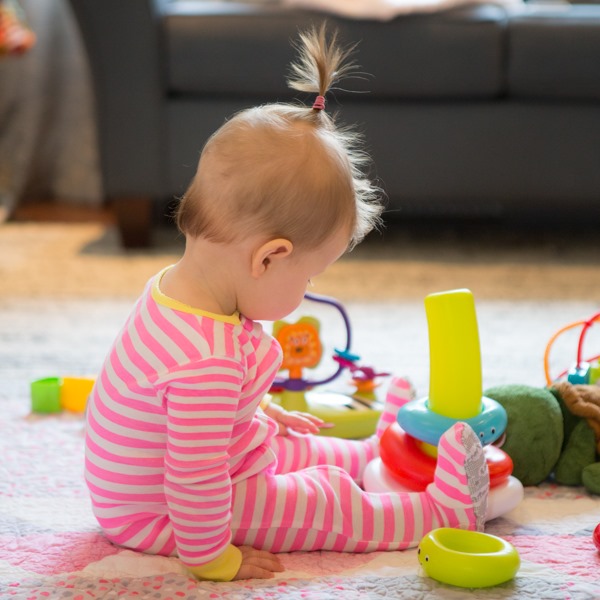 It's been awhile since I did a Life with a Baby update – 2 months in fact! This is for a couple reasons. First, my cookbook creation has been taking up all of my time when I'm not with Adriana. And second, after the reaction to my post about Adriana's diet, I questioned whether I wanted to write about her on the baby blog in the future. I don't mind that my post created debate, but what got to me was that I inadvertently put her under this scrutiny that she didn't ask for. I felt HUGE guilt. So I went into this "protective mommy defensive mode", and I removed every. single. picture. of her face from my blog and social media. Call it rash, call it being overprotective, call it hormonal, but it was something I felt compelled to do after the hateful words that were being directed to my family. Obviously, I never knew that it would cause such a hateful reaction by a select few people, but as they say, live and learn. Some of you noticed and applauded my decision, some of you said you wished that I would continue to share. I get both sides, I really do.
I think many families today struggle with the question of how much to share about their children online. It's something we've discussed at great length. How much is too much? Should her pictures be online at all? And if so, until what age? We don't have all the answers or even many, but we're just trying to be aware and make the best decisions for our family. We've always erred on the side of "less is more", but lately even more so. Our views will likely change and evolve over the years, I'm sure.
I don't think I have to abandon these updates all together though. They are, I feel, an amazing way to document milestones in her life and to connect with all of you. I love reading your stories and comments. Plus, I don't want this blog to be impersonal or robotic; what made my blog successful from the beginning was my ability to share my story honestly and candidly. Writing is a huge part of who I am. But as the blog has grown, I've felt this internal conflict between what to share and what not to share. I think it's something many bloggers can relate to. You go from having one reader to thousands of readers and suddenly you scrutinize every word on the page. I know a lot of bloggers chose not to share anything about their personal lives, which I respect entirely, but that has never felt like a good fit for my own style. I love to write and share about daily life. I guess it's a balance that I'll struggle with daily.
I'd love to hear your thoughts below on this topic of sharing and social media. Do you struggle with how much to share online?