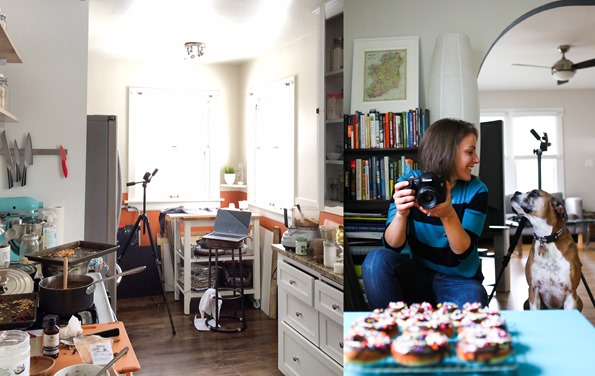 photo credit: Ashley McLaughlin (left), Laura Ramos (right)

Good morning! I'm excited for today's post. There's been a lot going on behind the scenes over here so I want to share some recent news with you.
Shortly after my first cookbook launched last March, I was offered to write second and third cookbooks. To say that I felt grateful is an understatement. However, my energy levels were pretty shot after a recent move, house renovation, the first trimester of pregnancy, and book launch. I knew I wanted to create another book someday, but I also knew the timing had to be right. Would I ever have the chance to create another book with a baby on the way? When would the timing be right? How would I continue to do chase career dreams while being a mother? I struggled, and still do, with these questions. I don't have it all together, or even many answers on how to achieve a great balance, but I just try to put my heart into everything I do. I honestly didn't know if I would want to write another cookbook for a long time. Not because I didn't enjoy the first book, but the cookbook process is long, intense, and taxing. I've never been one to rush into big decisions so I decided to wait. My editors were super supportive and understanding, thankfully. I needed the passion and drive to return.
Sure enough though, that drive and creative spark did come back – and much sooner than I anticipated. During fall of last year, I started to feel a passion for creating a collection of recipes again. After a pregnancy that left me feeling lackluster about food, I now had an insatiable appetite thanks to round the clock nursing sessions. Food was exciting again!!! Recipes started flooding my mind and I worked on a recipe list during middle of the night feedings. Weird, I know, but there I was at 3am typing ideas into my iPhone. Before I knew it, I had over 200 recipe ideas and the rough outline for book #2 drafted. I was in the kitchen testing every chance I had – during naps and after Adriana's bedtime mostly. No one was more shocked than I was with this sudden burst of creativity. My editors were thrilled to hear the news that I had been secretly working away on book #2 for months. But I was still unsure if I could make it all come to life. I've always been an independent worker, but it struck me then that I didn't have to do it all on my own. In fact, I couldn't anymore. Even though I enjoy food photography (and shooting the first book was one of my pride and joys), I knew with a baby in the house shooting over 100 photos for the book in addition to everything else just wasn't going to happen!
The first person I thought of is my friend, Ashley. Our blogs and granola bar businesses brought us together way back in 2008 and we have stayed close ever since. She needs no introduction for many of you; she's an incredibly talented blogger, recipe developer, and photographer (you can check out her gorgeous portfolio here). I sent her an email one day asking her if she'd be interested in shooting an entire cookbook (she recently shot the photography for her own cookbook – Baked Doughnuts for Everyone), and she got back to me almost instantly with…Am I interested? Umm let me think….YES!!!!!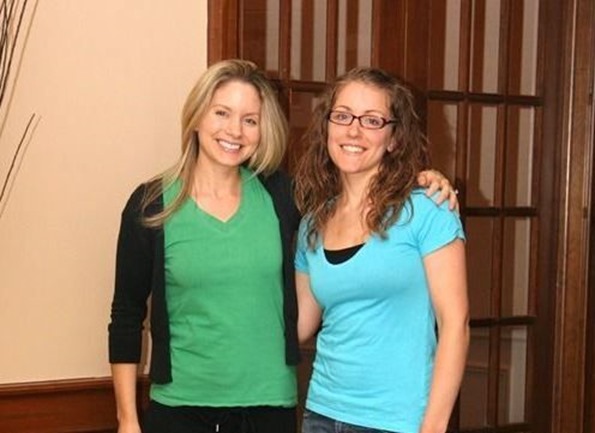 Here we are back in 2010!
Obviously, I had to iron out the project proposal and all the details, but seeing her enthusiasm for this project made me certain she had to be a part of it. Her passion for food photography is exactly what I want for this next book, not to mention I admire her all-natural, unaltered approach with food styling. (You want to bet that she eats every recipe after she shoots it!) I knew she could capture the essence of my healthy, approachable, and fuss-free recipes while show-casing the food's natural beauty.
Here are a few beautiful trial photos that she shot: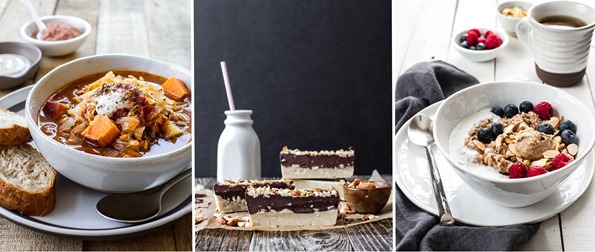 photo credits: Ashley McLaughlin
I'm so excited to have Ashley on board to shoot 100+ photos for my next cookbook. This allows me to focus on my biggest passion – developing and testing recipes for you. Not having to do the photography has allowed me to focus exclusively on developing and testing recipes, writing, and running my recipe tester website. It's working out well (most of my recipes are completed and just need re-testing) and I couldn't be happier with how it's coming along. Ashley will be shooting the photography this summer, so this spring has been a really busy one for me. I know things have been quieter around here on the blog lately, and I appreciate your patience as I put my heart and soul into this next book. I hope to get back into a regular blog posting schedule soon. I miss this space so much!
Many of you have asked when the next cookbook will be published and I can now tell you that it's due out early fall 2016. It'll be out in time for the start of the holiday season which I think is the perfect time for this collection of recipes.
Here are a few more details about the next book:
– It will feature a mix of my favourite "every day" go-to recipes perfect for busy and active lifestyles, as well as more elaborate or special occasion recipes! I'm sharing the recipes that work for my actual life, the things I make on a regular basis, my go-to potluck/holiday recipes, etc. I think it'll be a great mix.

– All recipes are plant-based/vegan. Almost all of the recipes are gluten-free (with the exception of a few recipes with spelt flour), and soy-free.

– I offer a lot of nut-free recipes as well as many nut-free substitutions in this book. There are plenty of nut-free snacks for kids!!

– Think "healthy comfort food" recipes that won't weigh you down! Examples: nut-free chili and cheese nachos, creamy roasted detox salad, cheesy lentil pasta casserole, and the ultimate flourless sea salt brownies (totally bean-free, grain-free!), as well as a mix of lighter recipes like healthy parfaits, salads, soups, dips, smoothies, and more. No strange ingredients, just real food.
I've been sharing behind the scenes action for months now on Instagram. You can follow all the behind the scenes action with the #osgcookbook2 hashtag! Ash will be sharing behind the scenes sneak peaks this summer too (I'm a sucker for those glimpses into someone's work!). You can follow us on Instagram: @ohsheglows and @edibleash (you can read her announcement post here, by the way).
Well, I can't wait for this next book to come to life. I'm incredibly grateful to continue this journey and for your amazing support. More updates to come!
P.S. I'd like to pass along some recent interviews!
1) A review of The Oh She Glows Cookbook by Katie Hay of T.O.F.U. Magazine
"This cookbook is full of simple, approachable recipes that the whole family will enjoy. Most can be made with ease on a weeknight (<45min), with downtime in-between. The recipes are such that they are practical, and don't sacrifice flavour for speed. The included photos done by Angela are absolutely stunning, but what is more exciting is that the dishes end up looking like the photos! This is homey, craveable cooking at its finest, and Oh She Glows will be a go-to cookbook stained and splattered." ~Katie Hay
2) An interview with Barre3 – We chatted about cookbook creation, favourite recipes, balance, and more.
"Running a business and being a new mom has reinforced something I've known for a while—it's impossible for every aspect of my life to feel balanced at the same time. It reminds me of the saying, "you can have it all, but just not all at once." I've made peace with the unbalance in my life right now. Yes, I'm sleep deprived, my laundry is piled up, and my pre-baby jeans are still a bit tight, but there is so much in my life to be grateful for."
3) An interview and Oh She Glows Cookbook recipe feature in The Telegraph (UK)